Brandon Starc is out of the high jump final, finishing in fifth position. His best jump was at 2.35 metres, one centimetre off his personal best of 2.36 metres.
Starc's first attempt at 2.39 was a bit of a disaster, essentially going under the bar. His second and final attempt (Starc missed at 2.37 and then passed and you are eliminated if you miss three attempts in a row at any height) was much better but ultimately not enough.
The remaining athletes are currently going for 2.39, which would be equal to the Olympic record set in 1996 at Atlanta by US athlete Charles Austin.
The men's 100-metre final is due to start in about 20 minutes' time. There won't be an Australian in the final after Rohan Browning missed out in the semi-finals earlier this evening. Here's a bit of a look at who holds the records in the men's 100. Guess who?
Peter Bol is pumped. The first qualifier from his semi-final could not wipe the smile off his face as he talked to the media after his race. The Sundanese-born, Perth-educated middle distance runner said after his win in Sunday night's semi that he was ready to put himself into the medal equation.
Bol said after his heats he would usually be tired, but he rebounded quicker than he expected.
"I was thinking these guys are going to be in trouble today," he said at Tokyo Olympic Stadium on Sunday night. "I'm just so happy."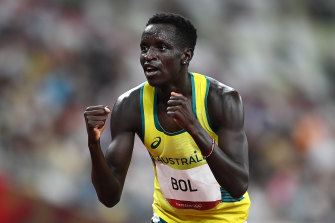 The Australian record holder said he had considered cutting down his social media to focus on the race.
"I was thinking to myself, I better get off Instagram too. And I'm like, wait, I'm not like that. I got to keep the same thing that I keep doing. I love creating noise, I love creating the hype. and I tend to do very well not believing in staying humble and I do perfectly fine."
Bol dominated the race, particularly in the back half, setting himself up to become the first Australian in more than half-a-century to race in an Olympic final.
"I just wanted to be in the best position," he said. "The best way is to literally put yourself in the top two at the start. So I had to put myself there even though I was using a lot more energy at the start."
Brandon Starc misses his first attempt at 2.37. His personal best is 2.36.
Italy's Gianmarco Tamberi and Qatari world champion Mutaz Essa Barshim are yet to miss an attempted jump.
Barshim came second in Rio and third in London.
Starc has now decided to take a pass for his second attempt at 2.37. This mean's he has chosen to advance to the next height without having cleared 2.37. He will still get three attempts at that height of 2.39 metres.
After needing three attempts to make 2.33, Brandon Starc has nailed the next height of 2.35 to be well within medal contention in the high jump.
Absolutely brilliant. That's a season's best jump for Starc.
His personal best is 2.36.
Australian hurdler Liz Clay said three false starts at the beginning of her 100-metre hurdles cost her a finals spot despite running a personal best in Tokyo. Clay said the calibre of competition this year "was insane," pointing to her 12.7-second run, which would have qualified her for the final in any previous Olympics.
The hurdler missed out by less than a 10th of second on a finals spot after the third semi-final went through in Olympic record time.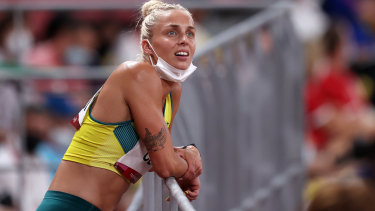 "I'm pretty upset," she said.
"It was pretty frustrating to finally get going on the fourth start. It is my first major, so I thought I held myself together pretty well."
The event is loaded with historical significance for Australian athletics. Sally Pearson won gold in the 100 metres at the 2012 Games.
"Sally and I had a really different path to our success,"said Clay.
"I feel like I deserved to be out there just as much as she did. I was a late bloomer, Sally was a prodigy from you know, when she was 18."
Clay, 26, said she would like to be an inspiration to other late bloomers. "But it's great to be, you know, coming up the ranks behind her because she's an Australian icon," she said.
https://news.google.com/__i/rss/rd/articles/CBMirAFodHRwczovL3d3dy50aGVhZ2UuY29tLmF1L3Nwb3J0L3Rva3lvLW9seW1waWNzLWxpdmUtdXBkYXRlcy1tY2tlb24tcy1tZWRhbC1xdWVzdC1icm93bmluZy1pbnRvLTEwMG0tc2VtaXMtYXQtdGhlLXRyYWNrLXdlYXJuLXMtbGFwLWZvci1nb2xkLTIwMjEwODAxLXA1OGVxei5odG1sP3Bvc3Q9cDUybGlx0gGgAWh0dHBzOi8vYW1wLnRoZWFnZS5jb20uYXUvc3BvcnQvdG9reW8tb2x5bXBpY3MtbGl2ZS11cGRhdGVzLW1ja2Vvbi1zLW1lZGFsLXF1ZXN0LWJyb3duaW5nLWludG8tMTAwbS1zZW1pcy1hdC10aGUtdHJhY2std2Vhcm4tcy1sYXAtZm9yLWdvbGQtMjAyMTA4MDEtcDU4ZXF6Lmh0bWw?oc=5
2021-08-01 13:52:22Z
52781767964651