By

Devika Krishna Kumar

and

Jonathan Allen
New Orleans: Hurricane Ida made landfall in the United States on Sunday as an extremely dangerous Category 4 storm that was set to plunge much of the Louisiana shoreline under water as the state grapples with a COVID-19 surge already taxing hospitals.
Ida gathered more strength overnight and made landfall near Port Fourchon at 11:55am, the National Hurricane Centre said.
It is the toughest test yet for the hundreds of kilometres of new levees built around New Orleans after the devastation of Hurricane Katrina, which made landfall 16 years ago to the day, inundating historically Black neighbourhoods and killing more than 1,800 people.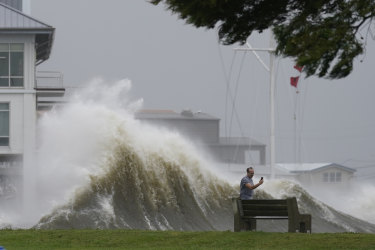 Louisiana Governor John Bel Edwards said Ida could be the state's worst direct hit by a hurricane since the 1850s.
The state is also dealing with the nation's third-highest rate of new COVID-19 infections, with about 3,400 new cases reported on Friday alone.
Just three days after emerging as a tropical storm in the Caribbean Sea, Ida had swelled into a Category 4 hurricane on the five-step Saffir-Simpson scale with top sustained winds of 240kmh, the NHC said.
Palm trees trembled as rain gusted in sideways through New Orleans on Sunday morning, where retired 68-year-old Robert Ruffin had evacuated with his family to a downtown hotel from their home in the city's east.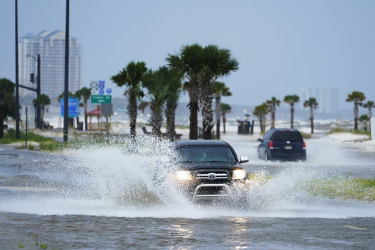 "I thought it was safer," he said. "It's double trouble this time because of COVID."
The NHC warned of life-threatening storm surges, potentially catastrophic wind damage and up to 61 cm of rainfall in some areas. The National Weather Service station in New Orleans warned the many residents who have no interior rooms in their home to move to a closet or bathroom for protection. Some parishes imposed curfews beginning on Sunday evening, forbidding people from going outside.
"We're as prepared as we can be, but we're worried about those levees," said Kirk Lepine, president of Plaquemines Parish on the state's Gulf Coast.
Some $14 billion was spent strengthening levees after Katrina, but the stronger walls in many places may still be insufficient in the face of climate change, he said. Climate change has led to more intense and wetter hurricanes in the region.
Reuters
https://news.google.com/__i/rss/rd/articles/CBMiigFodHRwczovL3d3dy5zbWguY29tLmF1L3dvcmxkL25vcnRoLWFtZXJpY2EvaHVycmljYW5lLWlkYS1tYWtlcy1sYW5kZmFsbC1pbi1sb3Vpc2lhbmEtd2l0aC13aW5kcy1zdHJvbmdlci10aGFuLWthdHJpbmEtMjAyMTA4MzAtcDU4bXpvLmh0bWzSAYoBaHR0cHM6Ly9hbXAuc21oLmNvbS5hdS93b3JsZC9ub3J0aC1hbWVyaWNhL2h1cnJpY2FuZS1pZGEtbWFrZXMtbGFuZGZhbGwtaW4tbG91aXNpYW5hLXdpdGgtd2luZHMtc3Ryb25nZXItdGhhbi1rYXRyaW5hLTIwMjEwODMwLXA1OG16by5odG1s?oc=5
2021-08-29 18:08:31Z
52781846351688