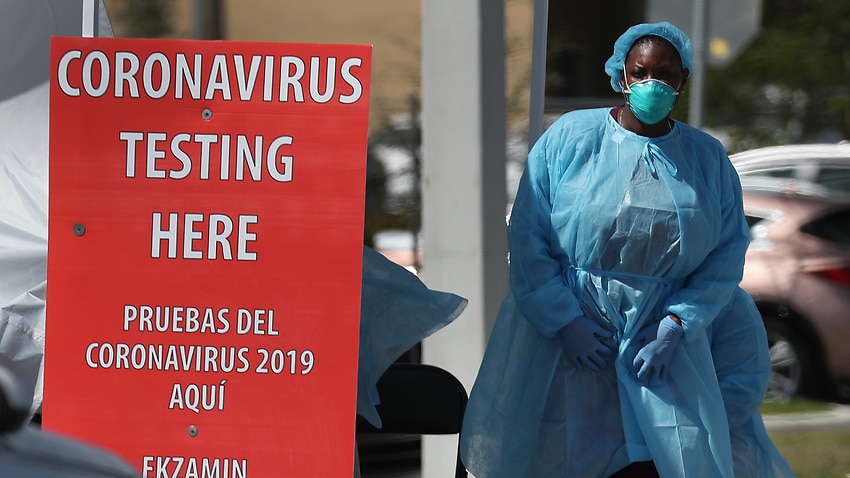 Florida has reported 21,683 new cases of COVID-19, the state's highest one-day total since the start of the pandemic, according to federal health data.
The state has become the new national epicentre for the virus, accounting for around a fifth of all new cases in the US.
It comes as millions of Americans could find themselves homeless as a nationwide ban on evictions expires, against a backdrop of surging coronavirus cases and political finger-pointing.
Cases jump 50 per cent in one week
Republican Florida Governor Ron DeSantis has resisted mandatory mask mandates and vaccine requirements, and along with the state Legislature, has limited local officials' ability to impose restrictions meant to stop the spread of COVID-19.
Mr DeSantis on Friday barred school districts from requiring students to wear masks when classes resume next month.
The latest numbers were recorded on Friday and released on Saturday on the US Centres for Disease Control and Prevention's website.
The figures show how quickly the number of cases is rising in the Sunshine State: only a day earlier, Florida reported 17,093 new daily cases.
The previous peak in Florida had been 19,334 cases reported on 7 January, before the availability of vaccinations became widespread.
The Florida Hospital Association said on Friday that statewide COVID-19 hospitalisations are nearing last year's peak, and one of the state's largest health care systems, AdventHealth's Central Florida Division, this week advised it would no longer be conducting non-emergency surgeries in order to free up resources for COVID-19 patients.
Health officials on Friday announced that coronavirus cases in Florida had jumped 50 per cent over the past week with COVID-19 hospitalisations in the state nearing last year's peak.
SeaWorld on Saturday posted on its website that it was recommending that visitors follow recently updated federal recommendations and wear face coverings while indoors.
The change in policy this week at the theme park resorts came after the US Centres for Disease Control and Prevention recommended that everyone wear masks indoors, regardless of vaccination status.
Millions of Americans face homelessness
Progressive Democrats have staged a protest as a pandemic-based nationwide ban on evictions looks set to expire.
With billions in government funds meant to help renters still untapped, President Joe Biden this week urged Congress to extend the 11-month-old moratorium, after a recent Supreme Court ruling meant the White House could not do so.
But Republicans balked at Democratic efforts to extend the eviction ban through mid-October, and the House of Representatives adjourned for its summer vacation Friday without renewing it.
Several left-wing Democrats spent the night outside the Capitol in protest - calling out their colleagues over the failure to act.
"We slept at the Capitol last night to ask them to come back and do their jobs. Today's their last chance," tweeted Congresswoman Cori Bush, who has herself experienced homelessness and was joined by fellow progressives Ilhan Omar and Ayanna Pressley.
With the clock ticking, the country was braced for a heartbreaking spectacle - families with their belongings at the curbside wondering where to go.
Unlike other pandemic-related aid that was distributed from Washington, such as stimulus checks, it was states, counties and cities that were responsible for building programs from the ground up to dole out assistance earmarked for renters.
The Treasury Department said that as of June, only $US3 billion in aid had reached households out of the $US25 billion sent to states and localities in early February, less than three weeks after Mr Biden took office.
The Centres for Disease Control and Prevention (CDC) ordered the eviction moratorium in September 2020, as the world's largest economy lost over 20 million jobs amid the pandemic shutdowns. The CDC feared homelessness would boost coronavirus infections.
Although more than half of those jobs were since recovered, many families still have not caught up on missed rent payments.
The Census Bureau's latest Household Pulse survey showed that of 51 million renters surveyed, 7.4 million were behind on rent and nearly half of those said they risked being evicted in the next two months.
- With AFP.
https://news.google.com/__i/rss/rd/articles/CBMieWh0dHBzOi8vd3d3LnNicy5jb20uYXUvbmV3cy9mbG9yaWRhLWJyZWFrcy1yZWNvcmQtZm9yLW5ldy1jb3ZpZC0xOS1jYXNlcy1hcy1kZWx0YS12YXJpYW50LXN1cmdlcy1hY3Jvc3MtdGhlLXVuaXRlZC1zdGF0ZXPSAaoBaHR0cHM6Ly9hbXAuc2JzLmNvbS5hdS9lZHMvbmV3cy9hcnRpY2xlL2Zsb3JpZGEtYnJlYWtzLXJlY29yZC1mb3ItbmV3LWNvdmlkLTE5LWNhc2VzLWFzLWRlbHRhLXZhcmlhbnQtc3VyZ2VzLWFjcm9zcy10aGUtdW5pdGVkLXN0YXRlcy9lN2E3ZWFmNi0wY2E2LTQ4OGUtYTU4Zi05MmM5ZWFkYThmMTk?oc=5
2021-07-31 22:03:07Z
CAIiEF46HtRQelfsNHBIwtkvTd8qGQgEKhAIACoHCAowzYuBCzDM_PsCMN3e7AU