Queensland is extending its COVID-19 restrictions for another seven days as Victoria prepares for a second week of lockdown.
Health minister Yvette D'Ath said Queensland would continue to declare Victoria a COVID-19 hotspot, meaning only returning Queensland residents would be allowed in and have to undergo a fortnight of hotel quarantine.
She said people who entered Queensland before the hard border closure was imposed last week would also have to continue to abide by Victoria's lockdown rules.
"If you're in Queensland and not in quarantine, we ask you to continue to follow the Victorian restrictions at whatever place you are residing in Queensland," she said.
Acting Chief Health Office Sonya Bennett said authorities would continue to review the border restrictions with Victoria closely.
"We're keen to lift those as soon as possible but we really want to provide the community confidence that when they're lifted, they'll remain lifted," she said.
"Because of the uncertainty around the outbreak and the evolving situation, they'll stay in place here in Queensland for seven days."
Dr Bennett said she was looking for "some assurance that there is no unknown transmission in Victoria and in greater Melbourne".
"Not that there are no cases, but if new cases are detected, there is some understanding of where they acquired their case and that they haven't been infectious in the community to continue transmitting for very long," she said.
"There's no rule at the moment about when it'll be lifted, it really is an ongoing review."
She described the Victorian outbreak as "very large and complex".
Ms D'Ath said she was also concerned that new exposure sites were added in New South Wales.
She also urged anyone who had been in NSW recently to check the latest developments and "follow the advice".
18 vaccination hubs to be up and running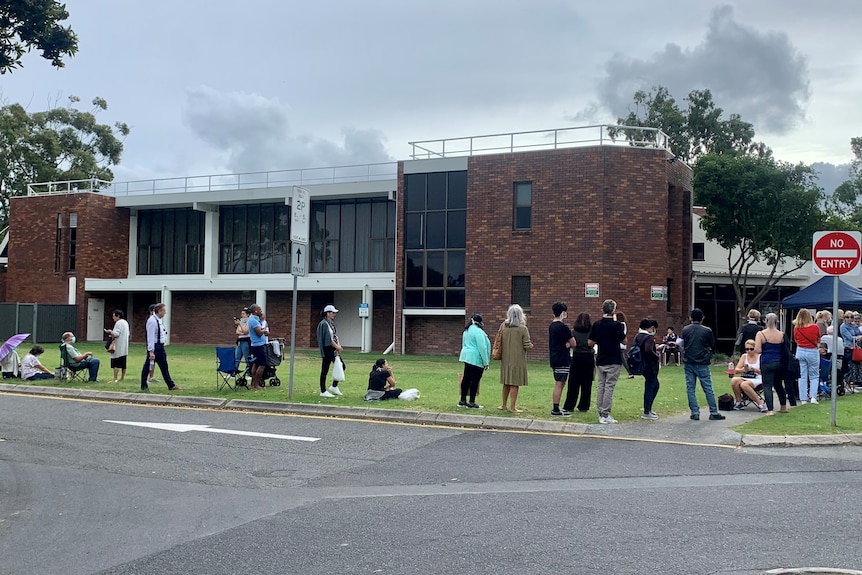 Ms D'Ath also announced the state was boosting its vaccination hubs to 18 this weekend, with authorities hoping to administer around 15,000 vaccinations over the two days.
In addition to the state's 15 existing sites, there will be hubs at the Logan Entertainment Centre, the Springfield Tower and the Rocklea showgrounds, with the latter opening yesterday.
"All of them will be open on Saturday and 10 [of the 18 sites] will be operational on Sunday as well," she said.
"We hope this weekend will be a platform for us to go forward and to build on our capacity."
Ms D'Ath called on residential aged care and disability workers to book in for a vaccination this weekend, saying they would be given priority.
"So please if you have not already and you're a residential aged care or disability worker, we want you to do that today."
She said the sites would also be open for those aged 40 to 49 years old who have registered to be vaccinated.
"I want to be clear, these sites are not for the general public, they are not open for walk ins," she said.
More than 9,100 vaccines were administered yesterday, Ms D'Ath said.
"We're hitting a new peak every single day," she said.
Meanwhile, Queensland recorded two new cases in hotel quarantine overnight, both were acquired overseas.
There are now 14 actives cases in the state.
What you need to know about coronavirus:
https://news.google.com/__i/rss/rd/articles/CBMiamh0dHBzOi8vd3d3LmFiYy5uZXQuYXUvbmV3cy8yMDIxLTA2LTAzL3F1ZWVuc2xhbmQtY29yb25hdmlydXMtcmVzdHJpY3Rpb25zLWV4dGVuZGVkLXZhY2NpbmUtaHVicy8xMDAwNjczMzDSAShodHRwczovL2FtcC5hYmMubmV0LmF1L2FydGljbGUvMTAwMDY3MzMw?oc=5
2021-06-03 00:05:45Z
CAIiEKPiaDExCgPxogXZCaFMRecqFwgEKg4IACoGCAow3vI9MPeaCDDEvrgG