Washington: During the Democratic Party presidential primaries in 2019, Joe Biden described British Prime Minister Boris Johnson as a "physical and emotional clone" of Donald Trump.
Given Biden was positioning himself as the soothing, well-qualified yin to Trump's disruptive and inexperienced yang, he didn't mean it as a compliment.
Biden was reflecting the widespread view in America that Johnson was essentially a transatlantic carbon copy of Trump. This was always an oversimplified caricature, but it's one Trump himself embraced and promoted.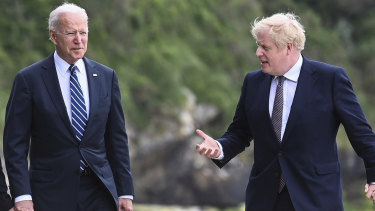 In Johnson - a leading proponent of Brexit - Trump saw a fellow charismatic right-wing populist who was sticking it to the left-wing global elites.
In the lead-up to a 2018 meeting with the embattled prime minister Teresa May, Trump humiliated her by telling The Sun that Johnson would make a "great prime minister".
Trump even described Johnson as "Britain Trump", overlooking the fact Johnson had called Trump "clearly out of his mind" and a purveyor of "stupefying ignorance" during his time as Mayor of London.
Johnson responded by heaping praise on Trump, reportedly telling US diplomats that his counterpart was "increasingly popular" in the UK and that "America is back under Trump".
Because of this back story, Biden and Johnson's first face-to-face meeting was closely scrutinised when the pair met in Cornwall on Friday (AEST) ahead of the G7 summit.
Adding to the anticipation was tension over the future of the Good Friday peace agreement in Ireland. Biden, who is proud of his Irish heritage, has expressed concern that a trade row between the United Kingdom and European Union could endanger the landmark peace deal.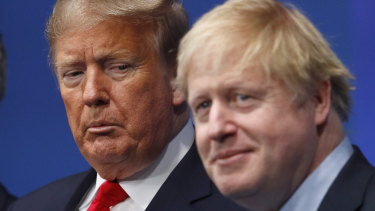 The day before their meeting, The Times reported that America's top diplomat Yael Lempert had told Brexit Minister David Frost that Johnson's government was "inflaming" tensions in Ireland and Europe with its opposition to checks at ports in the province.
Lempert even issued the Johnson government with a demarche, a formal diplomatic reprimand that is seldom exchanged between allies.
Johnson, for his part, has bristled at Biden's repeated reference to the "special relationship" between the two countries, apparently seeing it as patronising towards the UK.
But when they came together in Cornwall, the two leaders were all smiles with no friction on display.
After enjoying a walk along the seaside with their wives, Biden and Johnson spoke briefly before the cameras. Biden remarked to Johnson that they had something in common: "We both married way above our station".
Johnson replied that he was "not going to dissent from that point, I'm not going to disagree with the president there".
He then added: "Or indeed on anything else, I think it highly likely."
Johnson was clearly determined to be on his best behaviour as he tries to shed his Trumpian image and develop a bond with the new US President.
After their 80-minute meeting, Johnson said: "It's wonderful to listen to the Biden administration and to Joe Biden, because there's so much they want to do together with us - from security, NATO, to climate change.
"And it's fantastic, it's a breath of fresh air," he added, suggesting he was delighted with the change from Trump to Biden.
Johnson's famed political flexibility - derided as opportunism by his critics - was on full display. And the special relationship between the US and UK appeared very much intact, even if it's a term Johnson would rather avoid.
Matthew Knott is North America correspondent for The Sydney Morning Herald and The Age.
https://news.google.com/__i/rss/rd/articles/CBMihAFodHRwczovL3d3dy5zbWguY29tLmF1L3dvcmxkL2V1cm9wZS9uby10cmFuc2F0bGFudGljLXRydW1wLWJvcmlzLW9uLWhpcy1iZXN0LWJlaGF2aW91ci1hcy1iaWRlbi1hcnJpdmVzLWluLXRvd24tMjAyMTA2MTEtcDU4MDRxLmh0bWzSAYQBaHR0cHM6Ly9hbXAuc21oLmNvbS5hdS93b3JsZC9ldXJvcGUvbm8tdHJhbnNhdGxhbnRpYy10cnVtcC1ib3Jpcy1vbi1oaXMtYmVzdC1iZWhhdmlvdXItYXMtYmlkZW4tYXJyaXZlcy1pbi10b3duLTIwMjEwNjExLXA1ODA0cS5odG1s?oc=5
2021-06-10 22:49:11Z
52781659790372