At least 23 people are dead and 65 hospitalised after an overpass carrying Mexico City metro train cars partially collapsed onto a road, authorities have said.
Key points:
Twenty-three people have died, including some minors, says Mexico City's Mayor
Rescue efforts were paused shortly due to the risk that more metro cars could fall
The Metro 12 line that runs over the collapsed overpass was built almost a decade ago
A video on local channel Milenio TV showed the structure plummeting onto a stream of cars near Olivos station in the southeast of the city around 10:30pm (local time), sending up clouds of dust and rubble.
Mexico City Mayor Claudia Sheinbaum said some minors were included in the death toll, but did not specify how many.
Authorities said rescue efforts for potential survivors were paused shortly after the accident because of the risk that more of the metro overpass and train cars could fall onto the road.
Ms Sheinbaum said the rescue had been suspended "because the train is very weak".
A crane transported to the site was working to stabilise the train carriages so rescuers could resume their search to see "if there are more people inside the train car," she said.
Ms Sheinbaum said a person trapped in their car underneath the rubble had been rescued alive and was taken to hospital.
Seven of the people transported to hospital were in a "grave condition" and undergoing surgery, she said.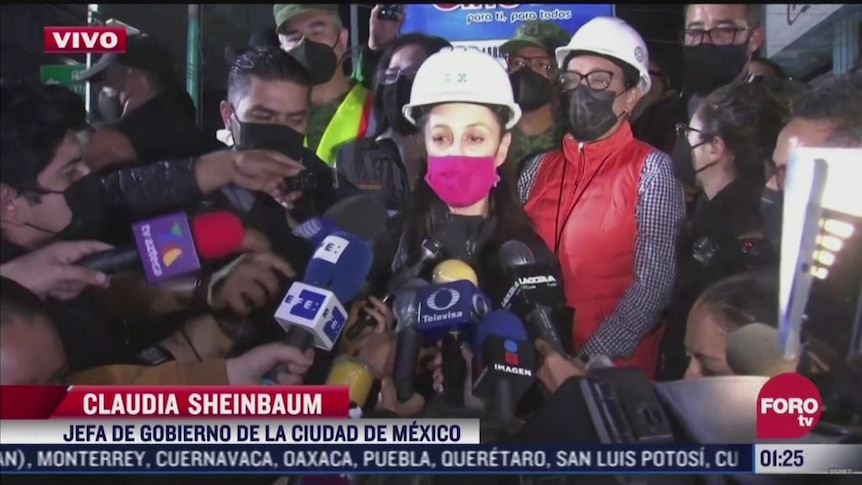 Ms Sheinbaum said it appeared a girder had given way on the overpass but the cause was being investigated.
The Metro 12 line that runs over the collapsed overpass was built almost a decade ago when Foreign Minister Marcelo Ebrard was mayor of Mexico City.
"What happened today with the Metro is a terrible tragedy. My solidarity with the victims and their families," Mr Ebrard said on Twitter.
"Of course, the causes must be investigated and responsibilities defined. I reiterate I am at the disposal of authorities to help in whatever is necessary."
Reuters
https://news.google.com/__i/rss/rd/articles/CBMiVGh0dHBzOi8vd3d3LmFiYy5uZXQuYXUvbmV3cy8yMDIxLTA1LTA0L21leGljby1jaXR5LXJhaWwtb3ZlcnBhc3MtY29sbGFwc2VzLzEwMDExNTcwMtIBAA?oc=5
2021-05-04 06:58:28Z
CAIiEMkduFr_85AjUQK9mWuj1R4qFwgEKg4IACoGCAow3vI9MPeaCDD7kIkG