Updated
first published at
Minneapolis: A 12-person jury has gone into lockdown to decide whether former Minneapolis police officer Derek Chauvin committed murdered by pressing his knee into the neck of George Floyd for over nine minutes last May.
The jury verdict will be one of the most closely watched and consequential in recent American history given the high-profile, emotionally charged nature of the trial.
Graphic mobile phone footage of Floyd's death sparked protests across the world agaisnt racial injustice and triggered a nation-wide debate on police reform.
Residents and business owners in Minneapolis are bracing for violence and unrest greater than they suffered last year following Floyd's death if Chauvin is aquitted by the jury.
Chauvin, a 19-year police force veteran, has been charged with two counts of murder and one count of manslaughter.
The jury has been sequestered in a hotel and will not allowed to return to normal life until they have reached a verdict.
The judge overseeing the trial, Peter Cahill, denied the prosecution's request for a mistrial on the grounds that recent comments by Democratic congresswoman Maxine Waters may have prejudiced the jury.
But he expressed frustration with Waters and said the congresswoman had given the defence "something on appeal that may result in this whole trial being overturned".
Speaking in Brooklyn Center, a city just outside Minneapolis, over the weekend Waters urged protesters to "get more confrontational" if Chauvin is not convicted of murder.
Chauvin, who did not testify, appeared for the first time during the trial without wearing a mask on Tuesday (AEDT). Some observers saw this as a possible attempt to humanise the police officer in the jurors' minds.
In his concluding remarks, prosecutor Steve Schleicher repeatedly urged the jurors to "believe your eyes" and reach the "commonsense" conclusion that Chauvin had murdered Floyd.
"This case is exactly what you thought when you saw that video," Schleicher said.
"It's what you felt in your gut; it's what you now know in your heart."
He continued: "This was not policing; it was murder."
Schleicher stressed that it was only Chauvin on trial, rather than the police force as a whole.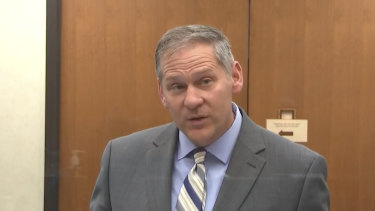 "This case is called 'The State of Minnesota vs Derek Chauvin'," he said.
"It is not called 'The State of Minnesota vs the police'.
Adding that policing is a "noble profession", Schleicher said: "He's not on trial for who he is. He's on trial for what he did."
Schleicher said that Chauvin had been driven by ego to keep his knee on Floyd's neck even as alarmed bystanders at the scene pleaded with him to stop.
"He chose pride over policing," Schleicher said.
"He betrayed the badge and everything it stood for."
Schleicher said the defence had introduced "nonsense" arguments, including the suggestion Floyd may have died of a drug overdose or carbon monoxide poisoning from a car exhaust.
Police had been called after Floyd allegedly tried to use a counterfeit $US20 bill at a Minneapolis grocery store.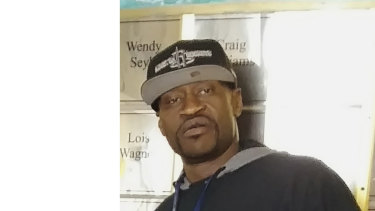 Chauvin's defence attorney Eric Nelson said that the prosecution's focus on the video ignored the difficult situation Chauvin faced when he arrived at the scene.
Floyd, apparently feeling claustrophobic, had resisted getting into a cramped police car.
"The nine minutes and 29 seconds ignores the previous 16 minutes and 59 seconds," Nelson said.
"You have to take into account that officers are human beings, capable of making mistakes in highly stressful situations."
He said that Chauvin, by holding Floyd down for almost 10 minutes, had deployed an "authorised use of force, as unattractive as it may be".
He said that Chauvin did not mean to hurt Floyd, pointing out that officers called for an ambulance twice while holding Floyd down.
"All of the evidence shows that Mr Chauvin thought he was following his training," he said.
"It all demonstrates a lack of intent. There is absolutely no evidence that Officer Chauvin intentionally, purposefully applied an unlawful force."
Second-degree murder, the most serious of Chauvin's three charges, requires prosecutors to prove beyond reasonable doubt that Chauvin caused Floyd's death while committing or attempting to commit another felony – in this case, a physical assault.
"It is not necessary for the state to prove the defendant had an intent to kill George Floyd," Cahill told the jury. "But it must prove that the defendant committed, or attempted to commit, the underlying felony."
Third-degree murder is to unintentionally cause someone's death while acting with "reckless disregard for human life".
Second-degree manslaughter is when a person creates an unreasonable risk by consciously behaving in a way that could cause death or great bodily harm to someone else.
Chauvin did not testify during the trial, instead choosing to plead the Fifth Amendment to the US Constitution.
What in the World
Matthew Knott is North America correspondent for The Sydney Morning Herald and The Age.
https://news.google.com/__i/rss/rd/articles/CBMiggFodHRwczovL3d3dy5zbWguY29tLmF1L3dvcmxkL25vcnRoLWFtZXJpY2EvbXVyZGVyLW5vdC1wb2xpY2luZy1wcm9zZWN1dG9ycy1maW5pc2gtY2FzZS1pbi1kZXJlay1jaGF1dmluLXRyaWFsLTIwMjEwNDIwLXA1N2tsYi5odG1s0gGCAWh0dHBzOi8vYW1wLnNtaC5jb20uYXUvd29ybGQvbm9ydGgtYW1lcmljYS9tdXJkZXItbm90LXBvbGljaW5nLXByb3NlY3V0b3JzLWZpbmlzaC1jYXNlLWluLWRlcmVrLWNoYXV2aW4tdHJpYWwtMjAyMTA0MjAtcDU3a2xiLmh0bWw?oc=5
2021-04-19 20:23:10Z
52781505906024