Singapore: It's the terrible outcome that was feared inevitable when a submarine vanished off the coast of Bali three days ago.
Indonesia's navy on Saturday announced that debris from its missing KRI Nanggala 402 submarine had been found in the search area.
With 53 personnel on board – 49 crew men, three gunners and the commander – the submarine has been declared lost, a national tragedy for Indonesia and for the families of the sailors.
The submarine disappeared in the early hours of Wednesday during a diving manoeuvre that was part of a training exercise.
"In last few days we found debris and things from the sub [near where] it was about to dive," navy chief Admiral Yudo Margono said.
"These are believed to be the components attached to the sub and will not come out from the sub without any pressure from the torpedo. They are floating.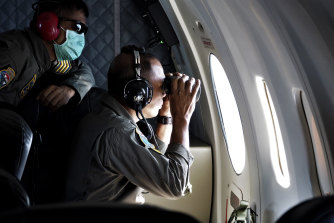 "We are convinced they belong to the KRI Nanggala 402. These things do not belong to common people, were within the radius of 10 nautical miles [of where the submarine last made contact] and there were no other vessels sailing."
The navy believes the submarine has sunk to a depth of 850 metres below the surface, way beyond its maximum operating capacity or crush depth of 500m. But although acknowledging a miracle would be needed for anyone to have survived, the navy chief said the multinational search effort, which has been aided by Australia, would continue.
"We are preparing medical evacuation for the crews who may still possibly be safe," Margono said.
The navy believed the 42-year-old diesel-powered vessel may have suffered a blackout and said in that scenario there was only sufficient oxygen supply to last for three days.
That period expired at 3am local time (6am AEST) on Saturday but search crews had refused to give up hope, with ships from Singapore and Malaysia rushing to the scene to join Indonesian warships and helicopters. Australia's sonar-equipped HMA Ballarat frigate joined the rescue bid on Friday.
The German-built vessel, one of two of its kind in Indonesia's fleet of five submarines, entered active service in 1981 but was refurbished in South Korea between 2010 and 2012.
More to come.
What in the World
Chris Barrett is the south-east Asia correspondent for The Sydney Morning Herald and The Age.
Karuni Rompies is Assistant Indonesia Correspondent for The Sydney Morning Herald and The Age
https://news.google.com/__i/rss/rd/articles/CBMibGh0dHBzOi8vd3d3LnNtaC5jb20uYXUvd29ybGQvYXNpYS9pbmRvbmVzaWFuLXN1Ym1hcmluZS1kZWNsYXJlZC1zdW5rLWFmdGVyLWRlYnJpcy1mb3VuZC0yMDIxMDQyNC1wNTdtMzMuaHRtbNIBbGh0dHBzOi8vYW1wLnNtaC5jb20uYXUvd29ybGQvYXNpYS9pbmRvbmVzaWFuLXN1Ym1hcmluZS1kZWNsYXJlZC1zdW5rLWFmdGVyLWRlYnJpcy1mb3VuZC0yMDIxMDQyNC1wNTdtMzMuaHRtbA?oc=5
2021-04-24 09:01:31Z
52781537071008