Summary
Pfizer is now the preferred vaccine for people aged under 50 and the timing of Australia's rollout is in doubt after medical experts expressed concerns about rare blood clots potentially linked to the AstraZeneca vaccine – the mainstay of the country's existing COVID-19 strategy.
National cabinet will meet on Friday to discuss the issue of border closures, along with a "rethink" of the COVID-19 vaccination rollout timeline in light of the new advice regarding the AstraZeneca vaccine.
Australia's decision follows changes by European medical regulators after a review of data confirmed a rare blood clotting condition seen in a small number of patients was linked to the AstraZeneca vaccine.
Prime Minister Scott Morrison said the new advice from the Australian Technical Advisory Group on Immunisation was not a prohibition on the use of the AstraZeneca vaccine in people aged under 50.
Federal Chief Medical Officer Professor Paul Kelly says the country will need to pivot its vaccine rollout, as the Pfizer vaccine becomes the preference for the younger population.
One new overseas acquired COVID-19 case in Queensland
By

Sarah McPhee
Queensland has recorded one new overseas acquired case of COVID-19 in hotel quarantine.
The state reported no new local cases and has 63 active cases in total.
Former Papua New Guinean governor Malcolm Kela Smith died on Tuesday afternoon in Redcliffe Hospital, Brisbane from complications due to COVID-19.
How do you feel about the vaccine rollout?
By

Sarah McPhee
The federal government has accepted recommendations from the Australian Technical Advisory Group on Immunisation (ATAGI) regarding the administration of the AstraZeneca COVID-19 vaccine for people aged under 50 years.
The advice differs for those who are yet to receive a single dose, with the preference now for Pfizer, compared to those who have received their first AstraZeneca dose. We're expecting to hear more after national cabinet today.
NSW, Vic administer total of 12,230 vaccines on Thursday
By

Sarah McPhee
NSW Health says 6173 COVID-19 vaccines were administered in the 24 hours to 8pm on Thursday, bringing the total administered by the department to 146,724.
The state reported no new locally acquired cases but two new overseas acquired cases.
In Victoria, there were no new local or overseas cases.
Melbourne yesterday welcomed its first international arrivals in two months, as the state's hotel quarantine program resumed for the third time.
Victoria reported 6057 COVID-19 vaccine doses administered in 24 hours, bringing the total to 137,320.
Readers respond to delays in vaccine rollout
By

Orietta Guerrera
Our Reader Editor Orietta Guerrera has compiled reader responses about the vaccine rollout for her latest What You Said piece.
Many addressed Australia's position when compared to other countries.
Scott55 asked: "How did Australia go from a country with no cases to one that can't get the vaccine rollout right?"
MotorMouth said: "I think it's somewhat disgraceful, and embarrassingly selfish, that we have the vaccine at this time, given how few new cases we have compared to many other parts of the world. Seriously, we should be exporting vaccines to places like the UK and happily waiting until they are all vaccinated before we put up our hands for any supply at all."
Read more here
Border closures, rollout timeline on the national cabinet agenda: CMO
By

Sarah McPhee
Chief Medical Officer Paul Kelly appeared on breakfast television this morning ahead of national cabinet.
He said the issue of border closures will be discussed by Prime Minister Scott Morrison and state and territory leaders, along with a "rethink" of the COVID-19 vaccination rollout timeline.
"There will be specific discussions about the reopening of Australia at the national cabinet today," Professor Kelly told ABC News on Friday morning.
"I will not pre-empt those discussions, only to say that the Australian Health Protection Principal Committee, with the chief health officer group that I chair, has had really strong and meaningful and very good discussions about our reactions to outbreaks and so forth, including the issue of border closures.
"That information will go to national cabinet today and will be discussed by the premiers and the Prime Minister and I'll be there to assist them."
Professor Kelly said the country will need to pivot its vaccine rollout, as the Pfizer vaccine becomes the preference for the younger population.
"We have those 20 million [Pfizer] doses coming in. They have guaranteed they will increase the rate at which that's coming," Professor Kelly told Nine's Today show, adding that the government was in negotiations with Pfizer in terms of "potentially increasing that number of doses".
And he did not rule out that a deal with Moderna might now also be considered.
"All of those things are on the table," he said.
Read more here
Labor questions vaccine backup options
By

Sarah McPhee
Labor health spokesman Mark Butler has also questioned the availability of alternative vaccines.
"We said you've got to have redundancy," he told ABC radio on Friday morning. "You've got to have backup in this situation."
Asked by host Hamish Macdonald, "Isn't that what Pfizer and Novavax are?" Mr Butler noted the 51 million Novavax doses on pre-order are not due to arrive until the third or fourth quarter of 2021, pending regulatory approvals.
"We're right at the end of the year when the Americans are doing 4 million doses a day, they're moving to their young adults in the next couple of weeks," he said. "The UK's already done about 60 per cent of their adults. We've not even done 3 or 4 per cent of our adults, and we've got this terrible situation that's arisen in relation to really our only mainstay vaccine in the portfolio."
Federal Health Minister Greg Hunt on Thursday night said he had spoken with the global vice president of Novavax earlier in the day.
"They remain on track, on their advice to us, for a likely delivery in the third quarter," Mr Hunt said.
ATAGI co-chair on young people choosing AstraZeneca
By

David Estcourt
Co-chair of the Australian Technical Advisory Group on Immunisation Professor Allen Cheng has defended the group's advice on the AstraZeneca vaccine as a balancing act between the risk of potential side effects brought on by inoculation against the benefit of the vaccine reducing the risk of COVID-19.
"While DVTs (deep clots) in general are common and don't seem to be increased following vaccination, emerging evidence suggests that this unusual disorder is probably caused by vaccination," Professor Cheng, who is a member of the medical group, said on Twitter.
"The risk of severe COVID is strongly linked to age. The risk of death from COVID rises roughly three-fold for every 10 years of age. A 50-year-old is roughly 10 times more likely to die from COVID than a 30-year-old.
"So the benefit of getting vaccinated (and not getting COVID) is much higher for older people than younger people. Thus, the benefit in preventing COVID through vaccination is greater with age, and risk of this clotting condition possibly decreases with age."
Professor Cheng said health authorities did not mandate the 50-year-old threshold and were careful to make clear it was a choice so patients can still exercise autonomy over the vaccine.
"If a younger person said that they were happy to take a one in 200,000 risk of clotting for the benefit of getting protected from COVID earlier, then as long as this was an informed decision, we should respect that choice," he said.
Professor Cheng said that even though he's not privy to vaccine acquisition discussions that happen on a federal level, there was no question this decision would slow the rollout down.
"There's no question that this decision will slow things down - having onshore capacity to produce vaccine is very valuable," he said.
"So over the next few days, Commonwealth and state governments will be working out how the program will look in the coming weeks and months. But because we're thankfully not dealing with ongoing COVID outbreaks, we can make this choice to take a safer path."
PM 'trying to change the goal posts': Albanese
By

Sarah McPhee
Opposition Leader Anthony Albanese says the COVID-19 vaccine rollout is a "debacle".
He said Prime Minister Scott Morrison was "trying to change the goalposts" and had not confirmed on Thursday night that the plan to have all adult Australians receive their first of two vaccine doses by October this year would remain.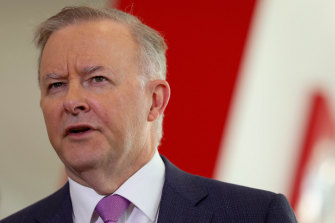 "This is critical for our health, but it's also critical for our national economy," Mr Albanese said. "Because if we don't get the health response right, then we won't be able to return our economic activity and our normal way of going about our lives, back to what it was before this pandemic."
He said the federal government had placed all its eggs in one basket and should have struck deals with Moderna or Johnson & Johnson.
"Once that egg is broken, there's been nowhere to go," the Labor leader said. "Australians just want to know when they'll be vaccinated and they deserve that certainty."
'We'll get through it': Hunt urges calm
By

David Estcourt
Health Minister Greg Hunt has reassured Australians, saying the country will get through the vaccination program despite the unexpected AstraZeneca setback on Thursday.
"Nobody has ever said that [the vaccine rollout] would all be [done] on one day," Mr Hunt told ABC radio. "This is a program through the course of the year."
He said the fluctuating rollout timeline was "a reality in a world of a global pandemic, with immense, immense international competition".
"Against that background, we have secured one of the higher rates in the world for vaccine availability."
The government's plan to vaccinate the entire population by October is now in doubt as authorities review Australia's vaccine portfolio with the entire rollout now requiring an overhaul.
"We'll get through it, we'll protect everybody, and the programme continues," Mr Hunt said. "There will be some adjustments, but we'll keep Australians safe, and we'll get them vaccinated."
Aged care vaccination will continue: Hunt
By

David Estcourt
Health Minister Greg Hunt has rejected the suggestion that the federal government's strategy on vaccine acquisition was too reliant on the rollout of the AstraZeneca jab.
Mr Hunt said decisions on which vaccine to acquire was driven by medical advice.
"Our job has been to commission the medical advice, and then to implement that medical advice," Mr Hunt told ABC radio.
The government is now reviewing Australia's vaccine portfolio as the entire rollout will require an overhaul, putting the government's plan to vaccinate the entire population by October in doubt.
Mr Hunt said the government was working on how changes to the rollout would impact October commitment to have Australians vaccinated.
"So we are going to work through that over the coming days and weeks. The aged care vaccination program will continue to receive the Pfizer vaccine until medical advisers suggest otherwise," Mr Hunt said.
The development came as it emerged yesterday that Victoria had been dipping into its backup vaccine supply to ensure people who had appointments were not being turned away as Commonwealth deliveries arrived consistently late.
https://news.google.com/__i/rss/rd/articles/CBMikQFodHRwczovL3d3dy5zbWguY29tLmF1L25hdGlvbmFsL2Nvcm9uYXZpcnVzLXVwZGF0ZXMtbGl2ZS1hc3RyYXplbmVjYS1ibG9vZC1jbG90LWNhc2VzLWZvcmNlLW1ham9yLWNoYW5nZXMtdG8tdmFjY2luZS1yb2xsb3V0LTIwMjEwNDA5LXA1N2hxdC5odG1s0gGRAWh0dHBzOi8vYW1wLnNtaC5jb20uYXUvbmF0aW9uYWwvY29yb25hdmlydXMtdXBkYXRlcy1saXZlLWFzdHJhemVuZWNhLWJsb29kLWNsb3QtY2FzZXMtZm9yY2UtbWFqb3ItY2hhbmdlcy10by12YWNjaW5lLXJvbGxvdXQtMjAyMTA0MDktcDU3aHF0Lmh0bWw?oc=5
2021-04-09 01:30:21Z
52781491296352