Minneapolis: It's spring time in America but Minneapolis didn't get the memo.
Other cities in the United States, buoyed by rising temperatures and a successful coronavirus vaccine rollout, are flush with optimism. Minneapolis, meanwhile, is ashen and anxious: a city that has suffered enough and is preparing for worse to come.
It was here 11 months ago that George Floyd died after Derek Chauvin, a white police officer, pressed his knee into the black man's neck for almost 10 minutes.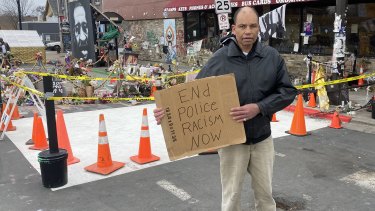 This mid-sized Midwestern city - long a bastion of progressive values - suddenly became ground zero in a once-in-a-generation reckoning on race and policing. The protests started here before fanning out to New York and Seattle and Washington DC, and, eventually, to Paris and London and Sydney.
Now the eyes of the nation, and the world, are again fixated on Minneapolis as a 12-person jury weighs Chauvin's fate. The end, as TS Eliot wrote in The Four Quartets, is where we start from.
There's broad agreement here that anything other than a murder conviction for Chauvin will result in an eruption of rage that easily eclipses last year's unrest.
"The whole nation will go up in flames if they don't find him guilty," said Jerome Grant, a black man from Los Angeles who drove for four days to be in Minneapolis when the verdict is handed down.
The tension intensified last week when police shot dead Daunte Wright, a 20-year-old black man, during a traffic stop in the Minneapolis suburb of Brooklyn Centre. According to police, the officer responsible intended to taser Wright but accidentally shot him instead.
Shane Waidande, who travelled to Minnesota from Maryland, said: "A not-guilty verdict would be absolutely devastating. The initial reaction will be absolute chaos and not just in Minneapolis."
As the prosecution and defence laywers presented their final arguments on Tuesday (AEDT), flurries of snow fell from the grey sky. The court house where the trial is taking place is encircled by military humvees and barbed wire fencing, giving it the appearance of the US Capitol after the January 6 insurrection.
The downtown streets were desolate, except for chanting Black Lives Matter protesters and National Guard troops in their khakis. Many businesses are boarded up with plywood to protect against damage. Parents have been asked to keep their children home from school in case it becomes too dangerous to move around the city.
A 10-minute drive away from the court house, a television set at the Cup Foods grocery store was beaming the trial's closing arguments. It was outside Cup Foods that Chauvin pressed his knee against Floyd's neck after a store employee reported Floyd for allegedly tried to use a counterfeit $US20 note.
The area outside the store, since christened George Floyd Square, is now a place of pilgrimage.
"I feel compelled to be here," Paul Johnson said, standing beside a golden statue of a clenched fist. "I raised my children two blocks from here. We used to come to Cup Foods all the time."
Most of the legal pundits on television believe the prosecution did a powerful job during the trial. Among their witnesses: Minneapolis Police Chief Medaria Arradondo, who testified that Chauvin violated police policy by holding Floyd down for so long.
"It's not part of our training and it's certainly not part of our ethics or values," Arradondo said.
But it would take only one juror harbouring a sense of reasonable doubt about Chauvin's guilt for the ex-officer to walk free.
"The police in this country have acted with impunity," Johnson said. "I don't feel hopeful we will get justice."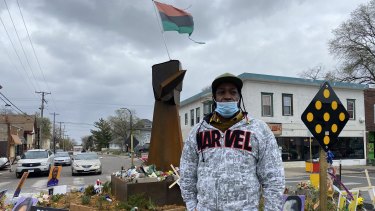 It's not unprecedented for a police officer to be found guilty of murdering a civilian in this country. It was in the same court house two years ago that Mohamed Noor was sentenced to jail for shooting Australian Justine Damond outside her Minneapolis home. But in that case the racial dynamics were reversed: Noor was a black man and Damond a white, blonde woman.
The members of the jury have been instructed to reach their verdict dispassionately, based only on the evidence presented to them and after affording Chauvin the presumption of innocence.
But there is no doubt their decision will have consequences that transcend this particular case.
Standing in George Floyd Square as closing arguments were being made, Derrick Johnson, the president of the National Association for the Advancement of Coloured People, declared: "Our justice system is on trial." He added: "the globe is watching".
It's too much pressure for one city to take. Too much of a burden to place on 12 ordinary citizens who happened to get a jury notice in the mail. But that's how it is. Now all everyone can do is wait.
What in the World
Matthew Knott is North America correspondent for The Sydney Morning Herald and The Age.
https://news.google.com/__i/rss/rd/articles/CBMihAFodHRwczovL3d3dy5zbWguY29tLmF1L3dvcmxkL25vcnRoLWFtZXJpY2EvYW1lcmljYS13aWxsLWdvLXVwLWluLWZsYW1lcy1taW5uZWFwb2xpcy1vbi1lZGdlLWFzLWp1cnktZGVsaWJlcmF0ZXMtMjAyMTA0MjAtcDU3a29nLmh0bWzSAYQBaHR0cHM6Ly9hbXAuc21oLmNvbS5hdS93b3JsZC9ub3J0aC1hbWVyaWNhL2FtZXJpY2Etd2lsbC1nby11cC1pbi1mbGFtZXMtbWlubmVhcG9saXMtb24tZWRnZS1hcy1qdXJ5LWRlbGliZXJhdGVzLTIwMjEwNDIwLXA1N2tvZy5odG1s?oc=5
2021-04-20 04:20:56Z
52781505906024