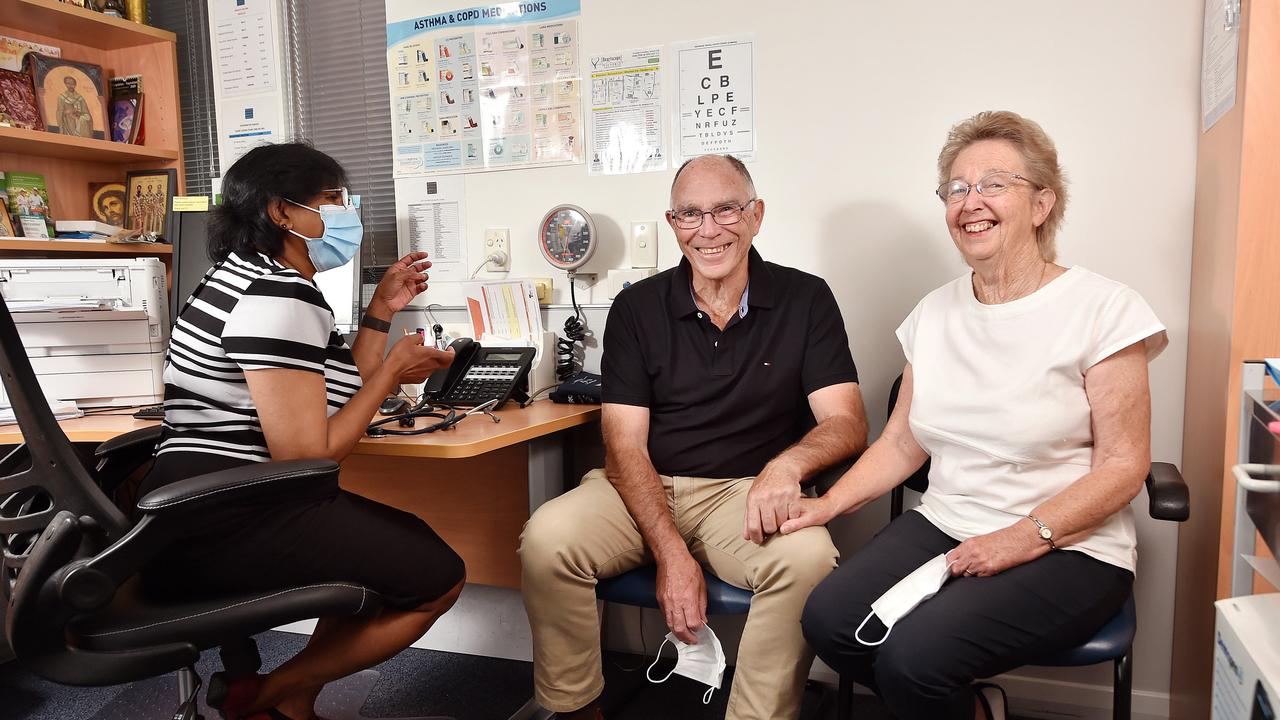 The national rollout of the COVID vaccine is about to ramp up — see here if you're now eligible to get the jab from this week.
Thousands of Victorians will start receiving the coronavirus vaccine from Monday in the next phase of the national rollout.
Two of Melbourne's most iconic buildings — the Melbourne Convention and Exhibition Centre and Royal Exhibition Building — will be transformed into mass COVID jab clinics.
GP clinics were solidly booked on Sunday afternoon.
It comes after The Therapeutic Goods Administration gave CSL approval to manufacture the AstraZeneca vaccine at its Melbourne factory in what it hailed a "critical and very exciting milestone".
Six million Australians are expected to receive the vaccine in phase 1B over the next three months include those aged over 70, Aboriginal and Torres Strait Islanders over 55, healthcare and ­emergency service workers and younger people with underlying health conditions.
High-volume vaccination centres are also open at the Heidelberg Repatriation Hospital and Sunshine Hospital. The Royal Melbourne Hospital is busy converting its library into the vaccinate centre for health professionals in the Parkville precinct, starting from Wednesday.
"We'll be starting slow and steady at these high-volume sites, conducting dry runs over the first few days and ensuring all the systems and processes are safely in place," a state government spokesman said.
State Employment Minister Jaala Pulford said more than 52,000 vaccines — 35,000 to health workers and 4000 to hotel quarantine staff — had been administered in Victoria since mid-February.
Thousands of residents and staff in public-sector residential aged-care facilities, and border workers, had also received the jab.
"We're very pleased that in our first four weeks, our target of 40,000 (vaccinations) has been comfortably exceeded," Ms Pulford said.
"The program is gearing up to be extended … the ­Victorian government has a very specific role and ­target groups."
The state's nine other hospital vaccination hubs will also continue to vaccinate Victorians with the AstraZeneca vaccine.
People eligible for the vaccine are now able to book to receive the jab at more than 1000 GP clinics nationwide.
More than 1000 scheduled deliveries had already been made, however, clinics would only receive 50 doses a week for their most elderly and unwell patients.
About 200,000 doses were allocated to GPs for the coming week and 50,000 doses to GP respiratory clinics.
Phones rang off the hook last week at Hanover Street Medical Centre in Oakleigh — one of the first GP clinics that will start the community rollout. They have 80 doses to distribute this week, with another 100 due to arrive.
Dr Darshika Herath, who will also get her jab this week when they open the first vials, said more than 300 people called wanting to book a dose on the first day the list of clinics was made public.
"There is a lot of demand, more than we expected," Dr Herath said.
Victoria has now gone 24 days without local transmission, with no new cases reported statewide on Monday,
Just one active case remains and more than 9300 tests were received on Sunday.
https://news.google.com/__i/rss/rd/articles/CBMimQFodHRwczovL3d3dy5oZXJhbGRzdW4uY29tLmF1L2Nvcm9uYXZpcnVzL3JvbGxpbmctY292ZXJhZ2UtY292aWQtdmFjY2luZS1yb2xsb3V0LXJhbXBzLXVwLWFzLW5leHQtcGhhc2UtYmVnaW5zL25ld3Mtc3RvcnkvZGM2MTVlZDQwYTQwMGIzZDE3MDgyNjdhMDdmNDUzMDfSAZ0BaHR0cHM6Ly93d3cuaGVyYWxkc3VuLmNvbS5hdS9jb3JvbmF2aXJ1cy9yb2xsaW5nLWNvdmVyYWdlLWNvdmlkLXZhY2NpbmUtcm9sbG91dC1yYW1wcy11cC1hcy1uZXh0LXBoYXNlLWJlZ2lucy9uZXdzLXN0b3J5L2RjNjE1ZWQ0MGE0MDBiM2QxNzA4MjY3YTA3ZjQ1MzA3P2FtcA?oc=5
2021-03-22 06:53:18Z
52781452586905