Summary
Prince Harry and Meghan, the Duchess of Sussex, have sat down with Oprah Winfrey for the biggest royal interview since Princess Diana's famous 1995 tell-all with the BBC's Panorama program that airs on CBS, Sunday night in the US (about midday AEDT).
The duke and duchess resigned as working members of the royal family in January 2020 and relocated to Montecito, California, where they have effectively embarked on a commercial enterprise, signing lucrative deals with Spotify, Netflix, Disney and, setting the stage for the explosive TV interview, Winfrey's production company Harpo.
The Queen has spoken of "selfless dedication to duty" in a Commonwealth Day message broadcast in the UK just hours before the tell-all television interview airs in the US.
The 94-year-old monarch will be briefed on the couple's encounter with the American talkshow host when she wakes at Windsor Castle on Monday morning UK time but reportedly has no intention of watching it. Meanwhile, Prince Philip has spent his 19th night in hospital after contracting an infection and undergoing heart surgery.
Sources say William and Catherine, the Duke and Duchess of Cambridge, privately remain "hopeful of a reconciliation" with their brother and sister-in-law despite the prospect of criticism in the Oprah interview.
Meghan claims palace was not going to give Archie security
By

Bevan Shields
Meghan claims the palace wasn't going to give her son Archie security protection because he would not be afforded the title of prince.
"They were saying they didn't want him to be a prince, which would be different to protocol, and that he wasn't going to receive security. This went on for the last few months of our pregnancy."
"How does that work?" a bemused Oprah asks.
Meghan replies: "Our son needs to be safe."
Introducing 'the Firm'
By

Michael Idato
So we're meeting one of the key unseen central players in the story - "the Firm" - the name given to the people running the administrative operations of the Royal Family, particularly the private secretaries, equerries and senior staff who control logistics and protocol.
The term has been in use for a long time, but has come under new scrutiny because it featured heavily in promos aired ahead of this interview.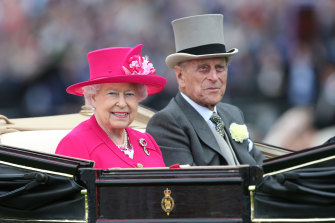 "I don't know how they could expect that, after all of this time, we would still just be silent if there's an active role that the Firm is playing in perpetuating falsehoods about us," is the now heavily played quote from Meghan.
Aside from the unusual nature of her use of the word - members of the Royal Family have never used it publicly - "the Firm" itself does not have a good track record.
Penny Junor's 2005 book The Firm: The Troubled Life of the House of Windsor credited Harry's grandfather, Prince Philip, with coining the term.
But it had emerged in the 1990s as a term used by Harry's mother, Diana, Princess of Wales, and his aunt, Sarah, Duchess of York, both of whom had clashed with the people Diana once described as the "men in grey".
Meghan praises the Queen, but says she was lonely and alone in Kensington Palace
By

Bevan Shields
Meghan stressed the Queen always made her feel welcome.
What about the rest of them, Oprah prods?
Meghan says people were welcoming but appearances dominated.
"So often people in the firm would say 'you can't do this because it would look like that'," Meghan says.
She complains that she wasn't allowed to go out for lunch with her friends and was stuck inside Kensington Palace.
"There was very little that I was allowed to do so of course that breeds loneliness. The easiest way to understand it is what we've all gone through with [coronavirus] lockdowns."
'They were willing to lie ... but not to protect me and my husband': Meghan accuses royal family of lying
By

Bevan Shields
Meghan says everyone in her life was instructed to say "no comment".
"It was through the lens of 'we will protect you'," she says.
She thought she was being protected, but the strategy did not combat negative press coverage of her.
"It was only when things really started to worsen that I realised I wasn't being protected but they were willing to lie to protect other members of the family but not me and my husband."
A mixed-race woman, an American and a divorcee
By

Bevan Shields
We move on to a very serious topic in the interview: race.
Oprah notes Meghan was the first mixed-race woman to marry into the royal family.
She also came in as an American, an actress and a divorcee, Oprah adds.
Meghan says "thank god" she had that life experience before the wedding.
"I've always worked. I've always valued independence. I've always been outspoken, especially about women's rights.
"I have advocated so long for women to use their voice and then I was silent."
Were you silent or silenced, Oprah asks?
"The latter."
Gender predictions: Boy or girl?
We've heard that Meghan and Harry will reveal the gender of their second child during this interview. So, place your predictions here:
Baby bump wars: Meghan speaks of the press coverage of her first pregnancy
By

Bevan Shields
Meghan gets defensive when Oprah reads out newspaper headlines about her first pregnancy.
The press coverage is more flattering of Prince William's wife.
Was there one standard for Catherine and one for you, Oprah asks?
"I don't know why," Meghan says.
"They really seem to want a narrative of a hero and a villain."
Meghan's interview dress has sold out
By

Melissa Singer
Although the world got a glimpse last week of the Giorgio Armani dress Meghan is wearing, it's worth recapping that the dress, which retails for approximately $6500, is sold out worldwide. One question I have been pondering: as a serving royal, Meghan had to pay for all her own clothes but now she and Harry have stepped back, is she open to receiving clothing sponsorships and the like?
She made me cry, Meghan says of Catherine
By

Bevan Shields
Oprah has asked about rumours the duchess was 'Hurricane Meghan' and rumours she made Catherine, the Duchess of Cambridge, cry ahead of the 2018 wedding.
"Did you make her cry," Oprah asks?
"No," Meghan replies through heavy sighs.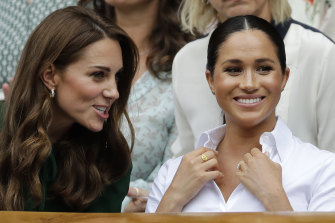 Meghan says Catherine actually made her cry.
"A few days before the wedding she was upset about something ... and it made me cry and it really hurt my feelings," Meghan says of her soon-to-be sister-in-law.
The dispute was apparently about a flower girl's dress.
"What was hard to get over was being blamed for something not only I didn't do, but happened to me."
Meghan says "it's a good question" why the record wasn't corrected publicly by the palace.
This is not Harry and Meghan's mansion
By

Michael Idato
So, where are we? Key detail: we're neither at Oprah's house nor Harry and Meghan's house.
According to Winfrey, the interview is being staged at the home of a mutual friend of the pair.
Meghan and Harry live at Riven Rock, a chateau in Montecito, California. The three-hectare property, with a 1672-square-metre Italian-style villa main house, sits at the end of a driveway lined with Cypress trees, and a two-bedroom guest house.
The property includes a swimming pool, tennis court and the guest house which media reports say is being used by Meghan's mother, Doria Ragland.
The neighbourhood of Montecito is also star-studded. Neighbours include Katy Perry and Orlando Bloom, Rob Lowe, Ariana Grande, Ellen DeGeneres and Portia de Rossi, and - surprise, surprise - Oprah Winfrey and Stedman Graham.
Other past and present residents of the neighbourhood include Julia Louis-Dreyfus, Dame Judith Anderson, Drew Barrymore, Steve Martin, John Travolta, Tom Cruise and Jimmy Connors.
https://news.google.com/__i/rss/rd/articles/CBMihgFodHRwczovL3d3dy5zbWguY29tLmF1L3dvcmxkL2V1cm9wZS9wcmluY2UtaGFycnktYW5kLW1lZ2hhbi1pbnRlcnZpZXctbGl2ZS11cGRhdGVzLXJveWFsLWNvdXBsZS10ZWxsLWFsbC10by1vcHJhaC0yMDIxMDMwOC1wNTc4bnouaHRtbNIBhgFodHRwczovL2FtcC5zbWguY29tLmF1L3dvcmxkL2V1cm9wZS9wcmluY2UtaGFycnktYW5kLW1lZ2hhbi1pbnRlcnZpZXctbGl2ZS11cGRhdGVzLXJveWFsLWNvdXBsZS10ZWxsLWFsbC10by1vcHJhaC0yMDIxMDMwOC1wNTc4bnouaHRtbA?oc=5
2021-03-08 01:33:46Z
52781415449045