Summary
Prince Harry and Meghan, the Duchess of Sussex, have sat down with Oprah Winfrey for the biggest royal interview since Princess Diana's famous 1995 tell-all with the BBC's Panorama program that airs on CBS, Sunday night in the US (about midday AEDT).
The duke and duchess resigned as working members of the royal family in January 2020 and relocated to Montecito, California, where they have effectively embarked on a commercial enterprise, signing lucrative deals with Spotify, Netflix, Disney and, setting the stage for the explosive TV interview, Winfrey's production company Harpo.
The Queen has spoken of "selfless dedication to duty" in a Commonwealth Day message broadcast in the UK just hours before the tell-all television interview airs in the US.
The 94-year-old monarch will be briefed on the couple's encounter with the American talkshow host when she wakes at Windsor Castle on Monday morning UK time but reportedly has no intention of watching it. Meanwhile, Prince Philip has spent his 19th night in hospital after contracting an infection and undergoing heart surgery.
Sources say William and Catherine, the Duke and Duchess of Cambridge, privately remain "hopeful of a reconciliation" with their brother and sister-in-law despite the prospect of criticism in the Oprah interview.
Meghan recalls her first encounter with the Queen
By

Bevan Shields
Meghan is asked about the first time she met the Queen.
"We were going to lunch at Royal Lodge ... and then it turned out the Queen was finishing a church service there in Windsor," she says.
"I remember Harry and I are in the car and he said, 'OK, you are going to meet my grandma'."
Harry asked Megahn if she knew how to courtesy and she replied "What?" .
She asked why she would courtesy inside to his grandmother and he explained: "Because she's the Queen."
Meghan isn't speaking slowly or choosing her words particularly carefully. She seems to be answering the questions quite directly. So far.
No subject off-limits
By

Michael Idato
It may be a decade since The Oprah Winfrey Show left the airwaves - it aired between 1986 and 2011 - but the Duke and Duchess of Sussex's sit-down with Oprah Winfrey, America's confessor-in-chief, is a very familiar setup. During its 25-year-run, Winfrey's confessional was visited by everyone from Ellen DeGeneres, Kirstie Alley, Michael Jackson, Mariah Carey and Whitney Houston, to a sofa-jumping Tom Cruise, Meg Ryan and Queen Rania of Jordan. Winfrey's show was criticised at times too, for giving a platform to some controversial figures, such as vaccine denialist Jenny McCarthy.
These televised confessions are typically framed as no-topic-off-limits discussions, but it is interesting to note that there have been exceptions to that rule. One very high profile example: Winfrey agreed not to ask acting legend Elizabeth Taylor about her relationships and marriages during their interview. It took several years for Taylor to return to the show and apologise for making the demand.
'I've never looked up my husband online': Meghan
By

Bevan Shields
Oprah says surely you would do research before getting married to a member of the royal family?
"I've never looked up my husband online," Meghan replies.
"I didn't feel a need because everything I needed to know he was telling me."
Meghan says she and Harry were "aligned" on their interests. "I didn't romanticise any element of it, but I think as Americans especially, what you think you know about the royals is what you see in fairytales."
Meghan says the "perception and the reality" are very different things.
She says she is judged on the perception when the reality was actually quite ugly.
'It wasn't our day': The fairytale ... or not
By

Bevan Shields
The interview began with images of Meghan's 2018 wedding to Harry.
"I think we both knew in advance this wasn't our day. This was the day that was planned for the world," Meghan says.
Oprah suggests Meghan wasn't just marrying a family but an institution. Meghan says she went into it "naively" and the royal family was not something she followed as a child.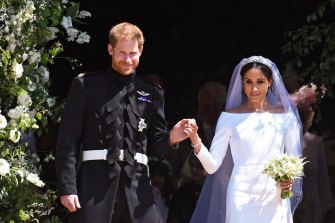 Gender reveal to come: Meghan promises to reveal gender of their second baby
And it begins!
The prime-time special is underway and has kicked off with a big promise. As we know, Meghan is pregnant with the couple's second child and says she will reveal the gender of the baby once she and Oprah are joined by Harry later in the interview.
Why isn't Archie a prince?
Twitter is now a-flurry with royal watchers explaining the finer details of hereditary titles after the latest teaser was aired in the US, which we mentioned earlier.
The children and grandchildren of the Queen automatically get HRH – Prince and Princess prefixes.
Great-grandchildren only get them if the Queen decides to bestow the title as she did for Charlotte and Louis (Prince George is an heir to the throne).
But when Archie's grandfather Prince Charles becomes King, Archie will become the grandson of a monarch and therefore a Prince.
Both Princess Anne and Prince Edward asked the Queen to withhold the royal titles, so their children are not princes or princesses. Prince Andrew's daughters Beatrix and Eugenie are Princesses.
Meghan wears Diana's bracelet
Plenty has already been written about the similarities between Meghan's appearance here and Princess Diana's 1995 Panorama interview with Martin Bashir, notes our fashion editor Melissa Singer.
From a fashion perspective, it's worth noting that Meghan is wearing Diana's Cartier diamond bracelet, which was also used to craft her engagement ring.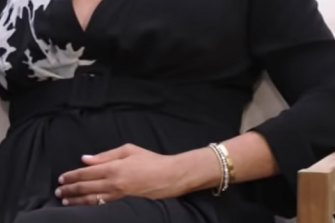 Meghan's love of Cartier has been well documented; she is often seen wearing the brand's iconic Love bracelets, and in the past couple of years reportedly bought one for Harry as a gift.
Featured on Meghan's dress is a white lotus flower. Interestingly, the royal jewellery collection includes a lotus flower tiara, which has been worn by Catherine, Duchess of Cambridge.
'I didn't know how bad it was': New revelations in the Meghan 'bullying' investigation
By

Bevan Shields
Valentine Low, the respected journalist from The Times who last week broke the news that Meghan had been the subject of a bullying complaint in 2018, has offered some new details into the allegations.
The Times reported that Jason Knauf, Harry and Meghan's communications chief in 2018, sent an email in October that year to Simon Case, the then-private secretary to Prince William, raising concerns about how staff were being treated.
Harry and Meghan had been married several months earlier and were living in Kensington Palace with William and his wife, Catherine, the Duchess of Cambridge.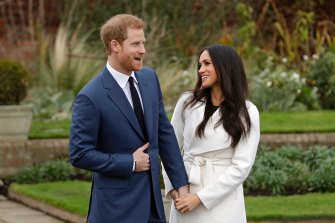 Buckingham Palace has launched an investigation into the allegations and claims the royal household did not take it seriously at the time.
In an interview with Good Morning America, Low said rumours about tensions inside Kensington Palace had been known for a long time but he was "shocked" by what he heard when researching the story this year.
"It was a very serious situation and a lot of people talked about how can you tell the difference between a bully and a demanding boss? It's obviously a legitimate question but the point is that these people who felt they were bullied, who left their jobs, are still in an emotionally fragile and fraught state today – literally today. And that speaks not of being spoken to harshly by a demanding boss, it speaks of bullying and the psychological effects of that bullying.
"They have come to me because they are concerned about two things. One is that these victims of bullying, their stories have never been told. They are silent victims, their lives have been affected by what they went through. And secondly, they're keen to correct the narrative. They think that Meghan has been having it all her own way. She's portrayed herself as a victim of the royal family but what they are saying is actually it's a more complicated story than that.
"I was shocked by what I heard. I knew that she was difficult - I didn't know how difficult. I didn't know how bad it was."
Low said Harry and Meghan's law firm, Schillings, was "very aggressive" and said the couple had already scored some victories against newspapers in court over unrelated stories.
"But The Times was prepared for this. We spent a long time making sure all the allegations that we were going to put into the newspaper were absolutely correct, were checked and double-checked. And we were entirely confident about what our sources were saying and why they were saying it."
A new teaser airs in the US: Why isn't Archie a prince?
A new teaser has just aired in the US promoting the prime-time special. In this clip, shared by ITV royal news editor Chris Ship (which he appears to have filmed on his mobile phone), Oprah asks Meghan why her son Archie was not given the title of Prince like his father.
Meghan's answer is not aired ... yet.
'Duty means everything': Front page headlines in the UK
It's just after midnight Sunday in the UK (about an hour before the interview airs there), but we're already seeing a taste of the front pages of Monday morning's newspapers via Twitter.
If Harry and Meghan were hoping their big interview would turn hearts and minds in the UK in their favour, the answer is, probably not.
https://news.google.com/__i/rss/rd/articles/CBMihgFodHRwczovL3d3dy5zbWguY29tLmF1L3dvcmxkL2V1cm9wZS9wcmluY2UtaGFycnktYW5kLW1lZ2hhbi1pbnRlcnZpZXctbGl2ZS11cGRhdGVzLXJveWFsLWNvdXBsZS10ZWxsLWFsbC10by1vcHJhaC0yMDIxMDMwOC1wNTc4bnouaHRtbNIBhgFodHRwczovL2FtcC5zbWguY29tLmF1L3dvcmxkL2V1cm9wZS9wcmluY2UtaGFycnktYW5kLW1lZ2hhbi1pbnRlcnZpZXctbGl2ZS11cGRhdGVzLXJveWFsLWNvdXBsZS10ZWxsLWFsbC10by1vcHJhaC0yMDIxMDMwOC1wNTc4bnouaHRtbA?oc=5
2021-03-08 00:57:57Z
52781415449045