Summary
Democrats are resuming their case against Donald Trump in the US Senate on the third day of the former president's second impeachment hearing.
Senators are being asked to convict Trump of inciting insurrection via his comments and tweets prior to a violent mob of his supporters storming the Capitol on January 6.
The Democrats have made extensive use of previously unseen and graphic security footage during the trial.
Trump is expected to be acquitted because conviction requires two-thirds of senators to vote in favour, and the Senate is made up of 50 Democrats and 50 Republicans.
Trump-supporting Republicans have remained unswayed by the evidence presented to date.
Latest posts
Five more Proud Boys associates charged
By

Latika Bourke
A group that has received a lot of attention from House impeachment managers is the far-right group Proud Boys.
Many members attended the rally and identify as supporters of Donald Trump.
Police have arrested and charged five more members, bringing to 18 the number who have been charged in relation to the riot.
Read more: Five more linked with Proud Boys charged for Capitol riot
Trump lawyers will only use one day to mount defence
By

Latika Bourke
The hearing is taking a 15-minute break.
While senators refresh, it's worth bringing your attention to a comment from Jason Miller, an adviser to Donald Trump.
Miller has confirmed a report by CNN that Trump's legal team will only use one of their two days to mount their defence. Each side has 16 hours, over two days, to make their arguments.
The Democrats were allocated Wednesday and Thursday, leaving Friday and Saturday for Trump's team.
But Miller said on Twitter: "We will finish up our presentation tomorrow/Friday."
That could mean we might see a vote as early as Saturday, making this the fastest impeachment trial in history.
Officers 'sustained brain injuries' in riot
By

Latika Bourke
House impeachment manager David Cicilline is now giving a presentation about the injuries caused to the Capitol building staff, including cleaners and police officers, during the riot.
At least 81 Capitol Police members and 65 members of the Metropolitan Police suffered injuries.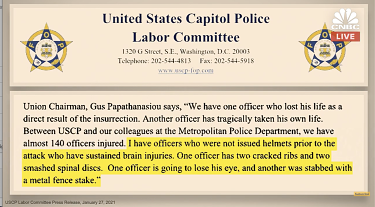 He said these included brain injuries, smashed ribs and, in one instance, an officer lost the tip of their finger.
Cicilline also detailed how officers reported instances of self-harm in the days after the riot and one female officer turned in her gun because she was afraid of what might happen.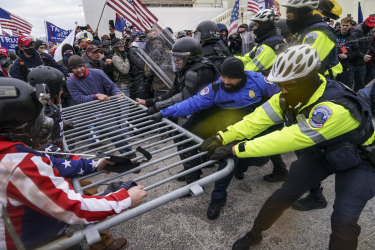 Impeaching Trump not aimed at punishing him, Dems say
By

Latika Bourke
House impeachment manager Diana DeGette has concluded her second presentation of the day by declaring that impeaching Donald Trump would be an act of patriotism.
The link is clearly aimed at Republicans who regularly describe themselves as patriots.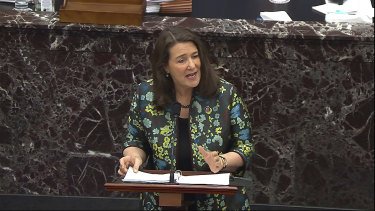 DeGette said that the intention of convicting Trump was not to serve as punishment but prevention.
"President Trump told them repeatedly that their insurrectionist activities were the pinnacle of patriotism," De Gette said.
"Well let today be the day that we reclaim the definition of patriotism.
"Impeachment is not to punish but to prevent, we are not here to punish Donald Trump, we are here to prevent the seeds of hatred that he planted from bearing any more fruit."
Cost of National Guard exceeded half a billion dollars
By

Latika Bourke
House impeachment manager Diana DeGette is back making her second presentation of the day.
She is highlighting the increased activity and violent chatter online by far-right Trump supporters after the Capitol riot.
She showed senators an intelligence bulletin published on January 13 that said, since the January 6 event, "violent online rhetoric regarding the 20 January Presidential inauguration has increased".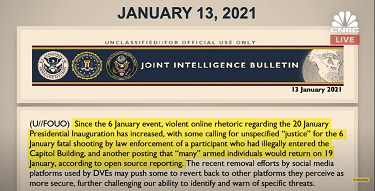 DeGette also showed another slide outlining the cost of deploying the National Guard to the Capitol and across several other states in the days after the riot.
The costs are at least $US483,988, 816 ($624,505,288).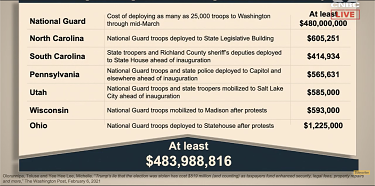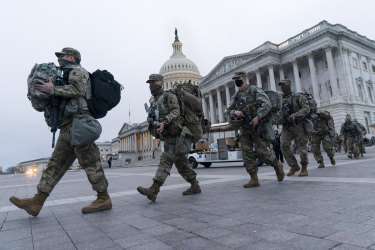 Republicans' response to riot under scrutiny
By

Latika Bourke
Interestingly, House impeachment manager Ted Lieu has spent the final portion of his presentation focusing on the criticisms made of Trump by senior Republicans.
Given many of the GOP Senators being asked to convict Trump have positioned themselves with the former president so as not to upset the Republican base, this is a more surprising tactic from the Democrats.
Lieu has played comments from Trump's former aides, including his former national security advisers H.R. McMaster and John Bolton, chief of staff John Kelly and former envoy to Northern Ireland Mick Mulvaney.
Lieu pointed to the string of resignations from the Trump administration that came after the riot (and only two weeks before Joe Biden's inauguration).
Trump effectively derided his former aides after falling out with them, meaning their criticisms of him have carried little weight with other Republicans over time because of the former president's dominance over the GOP.
Trump has not ruled out running again, but Lieu said that was not his main fear.
"I'm not afraid of Donald Trump running again in four years," he said.
"I'm afraid he's going to run again and lose— because he can do this again."
Trump's lack of remorse poses 'continuing danger'
By

Latika Bourke
Now House impeachment manager Ted Lieu is homing in on what he describes as Donald Trump's lack of remorse about the deadly riot on January 6.
Lieu is quoting Trump's video message in which he praised the rioters as "very special" and told them to go home, but that they should "remember this day".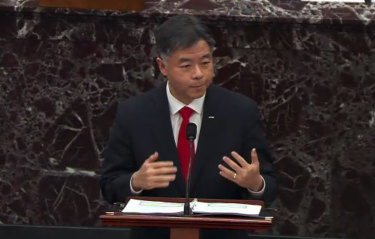 "President Trump's lack of remorse and refusal to take accountability after the attack poses its own unique and continuing danger," Lieu told senators.
"It sends a message that it is acceptable to overthrow the will of the people ... that's why we have to hold president Trump accountable."
Lieu also played a clip of Trump saying after the riot that he was "only just beginning".
"What's next?" if Trump gets away with it, Dems ask
By

Latika Bourke
House impeachment manager Jamie Raskin is concluding his presentation by imploring senators to consider how much worse it will be if Donald Trump is acquitted and continues to incite his supporters to carry out more violence.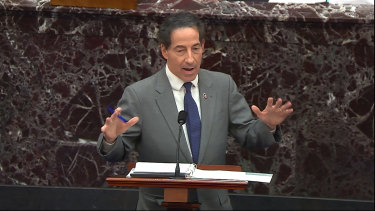 This is a direct plea to Republicans who might privately fear Trump's political revival and the effects that would have on right-wing voters.
"If we don't draw the line here, what's next?" Raskin asked jurors.
"What makes you think the nightmare of Donald Trump and his law-breaking and violent mobs is over?
"If we let him get away with it and then it comes to your state capitol or it comes back here again, what are we going to say?
"So if he gets back into office and it happens again, we'll have no-one to blame but ourselves."
Trump had history of approving violence, trial told
By

Latika Bourke
House impeachment manager Jamie Raskin is now making the case that Donald Trump had a long history of "explicitly sanctioning" and "conditioning" his supporters to carry out violence.
Senators are being shown clips of Trump endorsing instances of violence carried out by supporters and at his rallies.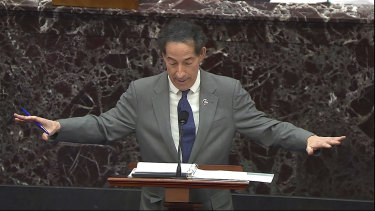 These included Trump praising a Republican candidate who assaulted a journalist, praising Klansmen and neo-Nazis and Proud Boys as "fine people", and describing an attack on a black protester as "very appropriate".
Raskin pointed out that "appropriate" was the same word Trump used to defend his own actions on January 6.
"Time after time he encouraged violence ... so there's a pattern staring us in the face," Raskin said.
Rioters proudly declared they were acting for Trump, trial told
By

Latika Bourke
DeGette is presenting a string of video clips of numerous rioters saying they behaved the way they did because they were following Donald Trump's instructions.
She says it's "uncanny" how the insurrectionists repeated the same slogans, including Stop the Steal, that Trump had been saying to them.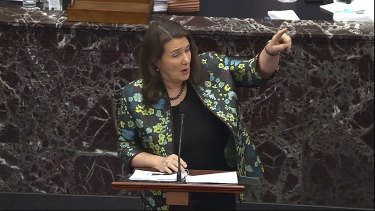 "They said what Donald Trump said and they echoed each other," she said.
She concluded by urging senators not to take her word but those of the rioters who all declared they were following Trump's urgings.
"They said so, they were invited here, they were invited by the president of the United States," DeGette said, as she played a final clip of rioters yelling: "We were invited here."
https://news.google.com/__i/rss/rd/articles/CBMirgFodHRwczovL3d3dy5zbWguY29tLmF1L3dvcmxkL25vcnRoLWFtZXJpY2EvdHJ1bXAtaW1wZWFjaG1lbnQtbGl2ZS11cGRhdGVzLXRyaWFsLWNvbnRpbnVlcy1hZ2FpbnN0LWZvcm1lci11cy1wcmVzaWRlbnQtZG9uYWxkLXRydW1wLW92ZXItY2FwaXRvbC1oaWxsLXJpb3QtMjAyMTAyMTEtcDU3MW9qLmh0bWzSAa4BaHR0cHM6Ly9hbXAuc21oLmNvbS5hdS93b3JsZC9ub3J0aC1hbWVyaWNhL3RydW1wLWltcGVhY2htZW50LWxpdmUtdXBkYXRlcy10cmlhbC1jb250aW51ZXMtYWdhaW5zdC1mb3JtZXItdXMtcHJlc2lkZW50LWRvbmFsZC10cnVtcC1vdmVyLWNhcGl0b2wtaGlsbC1yaW90LTIwMjEwMjExLXA1NzFvai5odG1s?oc=5
2021-02-11 19:44:00Z
52781349573162