Summary
The US Senate is sitting to hear Donald Trump's second impeachment trial with previously unseen and graphic security footage expected to be shown as evidence
Senators are being asked to convict the former president of inciting insurrection via his comments and tweets prior to a violent mob of his supporters storming the Capitol on January 6
Six Republican senators combined with 50 Democrats on Tuesday, local time, to pass a vote ruling that the trial was constitutional and could go ahead
Trump is expected to be acquitted because conviction requires two-thirds of senators to vote in favour and the Senate is made up of 50 Democrats and 50 Republicans
Trump is reportedly fuming at the performance so far of his legal team, which was hastily formed at the start of this month after few lawyers agreed to represent him
Pinned post from
Day 2 of Trump's impeachment hearing - watch live
By

Latika Bourke
If you'd like to watch as well as following our live coverage of Donald Trump's impeachment hearing, you can join our live stream here.
Latest posts
Fox cuts away from impeachment hearing as dramatic footage is shown
By

Matthew Knott
Washington: After a relatively dry few hours in which the Democratic impeachment managers examined the lead-up to the January 6 riot, the Senate trial has reached a more gripping phase.
The impeachment managers are now using previously unseen security footage to provide a sweeping view of what occurred inside the Capitol that day.
It's compelling television, but not compelling enough for Fox News which has cut away from the trial and returned to regular programming.
Fox's ratings have been down since Donald Trump's election loss, and the channel has faced new competition from right-wing rivals Newsmax and OAN.
Fox's programmers have presumably calculated that their conservative viewers would prefer not to relive the events of January 6 in detail.
Read more: Unreality shows: the extremist networks battling for pro-Trump viewers
Senators just '58 steps away from the mob'
By

Latika Bourke
Senators have been told they were just 58 steps away from the mob at the height of the siege on January 6.
Democrat and House impeachment manager Eric Swalwell has shown them footage of police officers using their bodies as a physical line to protect senators from the rioters.
"Leader [Chuck] Schumer and the members of his protective detail had a near-miss with the mob," Swalwell told the jurors. "They came within just yards of the rioters and had to turn around."
'Take your pins off': members feared being recognised
By

Latika Bourke
Audio is being played of members of Congress urging each other to "take their pins off" so they will not be as easily recognised by the rioters.
In the background, a buzzing sound can be heard, which House impeachment manager Eric Swalwell says is the sound of gas masks being used.
You can watch some of the extended footage being shown to jurors here:
Members of Congress told to prepare tear gas masks
By

Latika Bourke
House impeachment manager Eric Swalwell is now taking up the case once more.
Swalwell is showing new security footage of the rioters breaking into the building.
"If you look closely, the first person through the door is holding a Trump flag," he says.
He plays footage recorded at the same time one floor below of scores of Trump supporters entering and swarming the Capitol building through the crypt.
"We were told there were tear gas masks under our seats and be prepared to use them," he says.
He recounts how the House chaplain, on her fourth day in the job, walked to the front and started saying a prayer for peace.
Swalwell said he sent his wife a text: "I love you and the babies, please give them a hug for me." He says he imagines many senators sent similar messages.
'If they found Speaker Pelosi they would have killed her'
By

Latika Bourke
House impeachment manager Stacey Plaskett is now outlining how serious the threat of murder was for key lawmakers, including Vice-President Mike Pence, GOP Senator Mitt Romney and House Speaker Nancy Pelosi.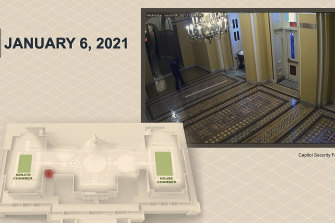 Audio of the Speaker's staff whispering in fear as the door to the room where they are hiding is being pounded on has been played.
"We know from the rioters themselves that if they had found Speaker Pelosi, they would have killed her," Plaskett said.
Video of one rioter calling out in a sing-song voice: "Nancy, oh Nancy, where are you Nancy?" has been shown to senators.
Pelosi's office was ransacked. And Plaskett showed that the rioter who was pictured seated at her desk, Richard Barnett, had a 950,000-volt stun gun walking stick attached to his waist.
"They were talking about assassinating the Vice-President of the United States," Plaskett said.
In another astonishing statement, she said, "Vice-President Pence was threatened with death by the President's supporters."
Watch: Dramatic never-before-seen footage of Capitol riot
By

Latika Bourke
Here is some of the footage we've been describing that has been presented to the impeachment hearing.
You can watch the dramatic scenes for yourself.
Romney saved by officer who turned him away from mob
By

Latika Bourke
Plaskett is showing security footage showing how close the rioters came to Vice-President Mike Pence and Republican senator and Trump critic Mitt Romney.
Pence and his family were being evacuated down the stairs as the rioters spread throughout the building as those inside let in rioters outside as they hunted for Pence.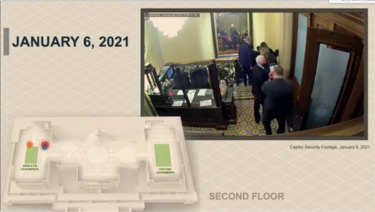 Outside, the rioters erected a gallows and were shouting for Pence.
Another video showed police officer Eugene Goodman potentially saving Romney's life. Romney was unwittingly heading towards the mob but was redirected by the officer.
Dramatic footage shows Capitol being breached
By

Latika Bourke
Plaskett is now showing security footage captured from inside the Capitol building.
This is footage that has previously never been aired.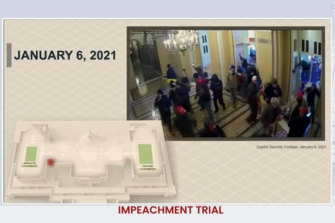 In the video, the first breach occurs when a rioter breaks through a window with a wooden beam.
He jumps in through the broken window and is greeted by a lone police officer who responds and uses his spray, but he is immediately overwhelmed.
The second man through the window is carrying a baseball bat and wearing full tactical gear, something Plaskett points out. Others hold shields and carry Trump flags.
Within seconds, the foyer is filled with Trump supporters carrying flags, weapons and defence gear.
Audio of emergency call played to senators
By

Latika Bourke
House impeachment manager Stacey Plaskett has resumed proceedings.
She has played audio of radio communications made by Metropolitan police to highlight the chaos inside the building.
In one call, an officer says it appears members of the mob are letting off fireworks.
In another call, an officer declares the incident a riot.
Footage of Vice-President Mike Pence being ushered out of the chamber is also played in sequence as Plaskett recreates the timeline of the riot.
Biden not watching the impeachment hearing
By

Latika Bourke
The hearing has adjourned for about 15 minutes - it's coming up to 4pm in Washington.
If you're wondering what US President Joe Biden is doing through all this, well he's definitely not watching the impeachment proceedings.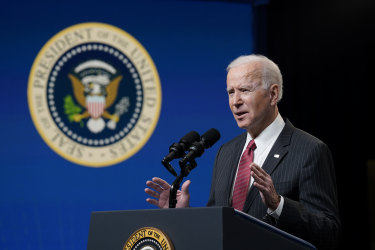 Biden has today ordered new sanctions against the military regime that staged last week's coup in Myanmar.
Read more: Joe Biden orders sanctions against Myanmar after military coup
https://news.google.com/__i/rss/rd/articles/CBMioAFodHRwczovL3d3dy5zbWguY29tLmF1L3dvcmxkL25vcnRoLWFtZXJpY2EvdHJ1bXAtaW1wZWFjaG1lbnQtbGl2ZS11cGRhdGVzLWZvcm1lci11cy1wcmVzaWRlbnQtb24tdHJpYWwtb3Zlci1pbmNpdGVtZW50LW9mLWNhcGl0b2wtaGlsbC1yaW90LTIwMjEwMjEwLXA1NzFhbS5odG1s0gGgAWh0dHBzOi8vYW1wLnNtaC5jb20uYXUvd29ybGQvbm9ydGgtYW1lcmljYS90cnVtcC1pbXBlYWNobWVudC1saXZlLXVwZGF0ZXMtZm9ybWVyLXVzLXByZXNpZGVudC1vbi10cmlhbC1vdmVyLWluY2l0ZW1lbnQtb2YtY2FwaXRvbC1oaWxsLXJpb3QtMjAyMTAyMTAtcDU3MWFtLmh0bWw?oc=5
2021-02-10 22:08:00Z
52781349573162