Summary
The US Senate is sitting to hear Donald Trump's second impeachment trial with previously unseen and graphic security footage expected to be shown as evidence
Senators are being asked to convict the former president of inciting insurrection via his comments and tweets prior to a violent mob of his supporters storming the Capitol on January 6
Six Republican senators combined with 50 Democrats on Tuesday, local time, to pass a vote ruling that the trial was constitutional and could go ahead
Trump is expected to be acquitted because conviction requires two-thirds of senators to vote in favour and the Senate is made up of 50 Democrats and 50 Republicans
Trump is reportedly fuming at the performance so far of his legal team, which was hastily formed at the start of this month after few lawyers agreed to represent him
Pinned post from
Day 2 of Trump's impeachment hearing - watch live
By

Latika Bourke
If you'd like to watch as well as following our live coverage of Donald Trump's impeachment hearing, you can join our live stream here.
Latest posts
Trump knew his supporters were armed
By

Latika Bourke
The next house impeachment manager to make the case against Donald Trump is Democracy Stacy Plaskett.
She is highlighting Trump's refusal to condemn white supremacists and the far-right Proud Boys group.
Two leaders of the group were photographed heading to the Capitol on January 6 and later charged.
Plaskett says Trump intended for his supporters to be armed and to carry out violence on January 6.
"He had every reason to know that they were armed, that they were violent and that they would actually fight," Plaskett said.
"He knew who he was calling and the violence that they were capable of.
"And he still gave that marching order to go to the Capitol and quote 'fight like hell and stop the steal.'"
Plaskett repeats a point made by other impeachment managers that Trump did nothing to stop the mob and instead praised them.
'He turned to the violent mob that attacked your chamber'
By

Latika Bourke
Quite the crescendo from House impeachment manager Ted Lieu, who spent most of his time defending Trump's loyal Vice-President Mike Pence.
He concluded by urging senators, who will decide whether to convict Trump, to vote in solidarity with the many figures who stood up to Trump's bullying, as he tried to hold onto power after his election loss.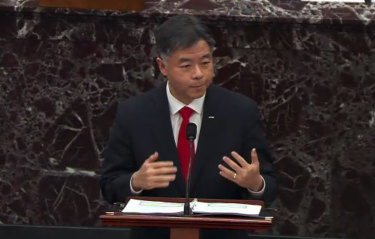 "When he ran out of non-violent measures, he turned to the violent mob that attacked your Senate chamber on January 6," Lieu told the senators.
"I hope each of you will think of the bravery of all these people who said no to President Trump because they knew that this was not right, that this was not America."
'He was coming for you': Lieu to Republicans
By

Latika Bourke
The next House impeachment manager to take up the case against Donald Trump is Democrat Ted Lieu.
He says Trump used "any means necessary" to try and keep a hold of the presidency and finally in his "desperation" turned on his own Vice-President Mike Pence.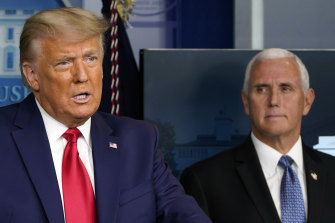 Lieu is providing examples of numerous occasions where Trump pressured, goaded or ridiculed Pence, often in front of his own supporters, some of whom hunted out the Vice-President during the Capitol siege.
Trump had tried to pressure Pence to stop the certification of Joe Biden's election win. Pence refused.
This is the second time the Democrat impeachment managers have singled out Pence – who remained hugely loyal to Trump until the final days of his presidency and was a favourite with Trump supporters right up until January 6 – as a victim of Trump's actions.
"The President wasn't just coming for one or two people, or Democrats like me," Lieu told the senators, who will decide whether to convict Trump.
"He was coming for Republicans and Democrats, for you," Lieu added.
McConnell reported to be considering guilty vote
By

Latika Bourke
Make of this what you will.
CNN reporter Jamie Gangel is reporting that Senate GOP leader Mitch McConnell has not decided yet how he will vote in the impeachment trial.
The idea of McConnell voting to convict Trump, however, doesn't sit squarely with his decision yesterday to vote for the impeachment hearing to be ruled unconstitutional.
Trump's 62 lawsuits 'an attempt to steal election'
By

Latika Bourke
House impeachment manager Madeleine Dean is resuming the Democrats' case against Donald Trump.
She is presenting evidence about the 62 court cases Trump's campaign lodged against the election result – all of which failed.
"Donald Trump was asking the judiciary to take away votes from Americans so that he could steal the election for himself," Dean told senators.
"Not a single court, not a single judge agreed that the election results were invalid.
"The judiciary resoundingly rejected Trump's fraud allegations and upheld the election results."
She says when the lawsuits failed, Trump then tried to pressure election officials.
Impeachment hearing takes a 15-minute break
By

Latika Bourke
OK, go grab a coffee.
The impeachment hearing is breaking for 15 minutes.
I'll be back with you shortly for more rolling coverage.
If you have any questions or comments, please do leave a comment on the blog and I'll do my best to answer any queries you may have.
Trump prepared supporters for 'act of war'
By

Latika Bourke
House impeachment manager Eric Swalwell is now outlining the numerous times that Donald Trump urged his followers to show up in Washington DC on January 6.
Swalwell says the repeated urgings were incitements, and frequently featured the slogan "Stop the steal," which stood for his false claim that the election had been rigged.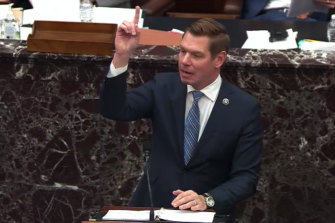 He is also presenting tweets from Trump republishing messages from his supporters, one of whom was an organiser of a Facebook group called "Stop the Steal," saying the "cavalry was coming."
He presented a tweet in which Trump claimed that if a Democrat candidate was the victim of election rigging, Democrat senators would consider it an "act of war."
"This is all connected," Swalwell said. "An act of war - that's how Donald Trump prepared his supporters for January 6."
Swalwell draws on his pre-political career prosecuting violent crimes.
"Was this a heated passion crime or was it something more deliberate?," he asked
"The evidence here is overwhelming, President Trump's conduct leading up to January 6 was deliberate, planned and premeditated."
'Dead people voted' claims debunked
By

Latika Bourke
Joaquin Castro has now handed over to his fellow Democrat and House impeachment manager Eric Swalwell.
Swalwell is presenting as evidence Donald Trump's bogus claims of election fraud.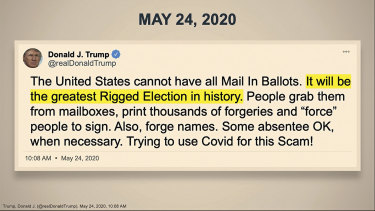 He points to a Tweet issued in mid-November in which Trump claimed: "Dead people voted."
"'Dead people voted' - that's it - no evidence, just 'dead people voted,'" an incredulous Swalwell told the Senate.
Castro then plays footage of angry Trump supporters surrounding the house of the Michigan Secretary of State, claiming the election had been stolen and that she was a felon.
He says this showed a history of Trump's supporters using "threats and intimidation" and the President doing nothing to stop it.
"President Trump cannot say 'I didn't know what I was inciting' [based on] what manager Castro showed and what I just showed," Swalwell said.
Trump didn't stop armed supporters: Castro
By

Latika Bourke
House impeachment manager Joaquin Castro is now outlining the link between violence, Donald Trump's tweets and words, and the mob of supporters that stormed the Capitol on January 6.
Castro is showing footage of Trump supporters becoming violent and bearing arms at rallies prior to the January 6 riot as they falsely claimed the election result was stolen.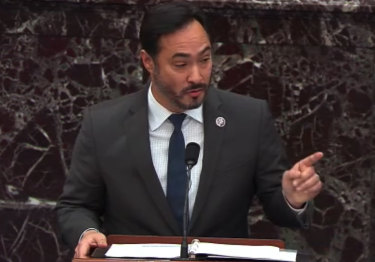 He says this shows that Trump knew that his supporters were armed and that they could become violent, but still did nothing to stop them.
"When he did know and it was all over the news, President Trump didn't stop it," Castro told the Senate.
He says Trump repeatedly sold his base "the big lie" of the election being robbed from them, while also issuing specific instructions about where to turn up on January 6 as Joe Biden's victory was being certified.
"This violent mob that showed up here on January 6 didn't come out of thin air, President Donald John Trump incited this violence," Castro finished.
https://news.google.com/__i/rss/rd/articles/CBMioAFodHRwczovL3d3dy5zbWguY29tLmF1L3dvcmxkL25vcnRoLWFtZXJpY2EvdHJ1bXAtaW1wZWFjaG1lbnQtbGl2ZS11cGRhdGVzLWZvcm1lci11cy1wcmVzaWRlbnQtb24tdHJpYWwtb3Zlci1pbmNpdGVtZW50LW9mLWNhcGl0b2wtaGlsbC1yaW90LTIwMjEwMjEwLXA1NzFhbS5odG1s0gGgAWh0dHBzOi8vYW1wLnNtaC5jb20uYXUvd29ybGQvbm9ydGgtYW1lcmljYS90cnVtcC1pbXBlYWNobWVudC1saXZlLXVwZGF0ZXMtZm9ybWVyLXVzLXByZXNpZGVudC1vbi10cmlhbC1vdmVyLWluY2l0ZW1lbnQtb2YtY2FwaXRvbC1oaWxsLXJpb3QtMjAyMTAyMTAtcDU3MWFtLmh0bWw?oc=5
2021-02-10 19:44:00Z
52781349573162