New Zealand woman Ann Bodkin had been trapped inside a building crumpled by the Christchurch earthquake for 22 hours, tapping on the rubble and calling for help, when she heard the voices of her Australian rescuers.
"We told her to trust us, that we'd get her out," firefighter Bruce Cameron recalls. "She told one of the firefighters on the search and rescue team her husband's phone number and said, 'Can you call him and tell him I'm alive?'."
Monday, February 22 marks 10 years since the magnitude-6.3 earthquake killed 185 people, injured thousands more and destroyed scores of buildings when it ripped through New Zealand's second-biggest city in 2011.
The disaster triggered a massive recovery effort, bolstered by 64 members of Fire and Rescue NSW's urban search and rescue team, police and paramedics. They were recognised on Monday at a memorial service for victims in Christchurch, while the NSW team watched the event from Sydney.
NSW Fire and Rescue Commissioner Paul Baxter, who was a senior commander in the New Zealand Fire Service in 2011, praised the crews' courage saying he knew the "terrible toll" the tragedy took on the city and country.
Ms Bodkin was the first survivor Australian rescue crews pulled from the rubble; she would also be the last.
Inspector Cameron was the leader of Alpha One, the first of four teams that left Australia hours after the earthquake shook the South Island about 12.51pm. They arrived the next day as the sun rose on a broken city.
"There were buildings still smouldering, there were people hanging out of hotels waving white bath towels out their windows. They didn't have the resources to get to those people because the lift shafts had all collapsed."
New Zealand rescue crews had sprayed a message on the ground in large writing that read "help is on the way".
The NSW rescuers were deployed to the collapsed Pyne Gould Corporation building, where an estimated 20 people were missing.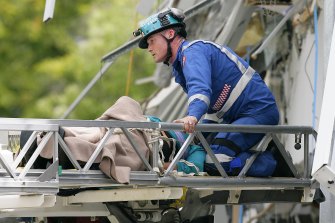 "It wasn't long after we got there that a Nine news crew told us they could hear someone tapping, someone calling out," Inspector Cameron said.
Ms Bodkin was stuck beneath a desk she'd scrambled under when the quake struck. Rescuers battled 20 aftershocks in the four hours it took to free her from the building, where 18 bodies were later recovered.
"It was a cloudy day and a big beam of sunlight came down and lit up where she was strapped to a stretcher. Her husband came over and held her hand and she was taken to hospital with a few cracked ribs and some bruises.
"It was this sense of relief. It was wonderful to know you were part of the team to get Ann out. But looking around there were paramedics everywhere, helicopters, fire alarms were still going off. It was very surreal.
"Once we got Ann out it was a quick bottle of water and a muesli bar and onto the next task."
Leading firefighter Paul Sharratt, who devised the plan to extricate the "stoic" Ms Bodkin, said there was "certainly a buzz around that, that someone had been pulled out alive".
"But it wasn't just about that one event for me. It was about giving people peace."
The team stayed about 10 days to recover bodies and help with "beyond the rubble work", such as welfare checks.
Ten years on, Mr Sharratt said the service brought memories "flooding back".
"I think for a long time we focused on the small picture of what we were doing. Today was an occasion where the big picture comes crashing in and it's overwhelming. But good."
Catch all the day's breaking news
At the end of each day, we'll send you the most important breaking news headlines, evening entertainment ideas and a long read to enjoy. Sign up here.
Megan Gorrey is the Urban Affairs reporter at The Sydney Morning Herald.
https://news.google.com/__i/rss/rd/articles/CBMif2h0dHBzOi8vd3d3LnNtaC5jb20uYXUvbmF0aW9uYWwvbnN3L3RoZS1yZXNjdWVycy13aG8tcHVsbGVkLXRoZS1sYXN0LXN1cnZpdm9yLWZyb20tY2hyaXN0Y2h1cmNoLWVhcnRocXVha2UtMjAyMTAyMjItcDU3NHBkLmh0bWzSAX9odHRwczovL2FtcC5zbWguY29tLmF1L25hdGlvbmFsL25zdy90aGUtcmVzY3VlcnMtd2hvLXB1bGxlZC10aGUtbGFzdC1zdXJ2aXZvci1mcm9tLWNocmlzdGNodXJjaC1lYXJ0aHF1YWtlLTIwMjEwMjIyLXA1NzRwZC5odG1s?oc=5
2021-02-22 08:30:00Z
CAIiEOCXOBjsarCSYPmkzcwwI0YqGQgEKhAIACoHCAowxqmICzDg_IYDMIGkmwY