We have made our live blog of the coronavirus pandemic free for all readers. Please consider supporting our journalism with a subscription.
Latest posts
Queensland's Anzac Day parade a 'priority': Palaszczuk
By

Lydia Lynch
Queensland Premier Annastacia Palaszczuk says her state will host traditional Anzac Day marches during the pandemic because she has made it a "priority".
Victorian Premier Daniel Andrews said it was too early for his state to make a decision about whether it would allow mass gatherings to commemorate Anzac Day on April 25.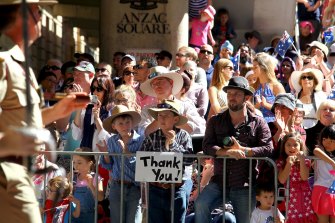 Asked what made Queensland different, Ms Palaszczuk said, "well we have sat down and we have got on with it".
"We have been making this a priority, I tasked this to my Assistant Minister, he reported back to me, we talked with [the Chief Health Officer] and today we are able to make this announcement.
"People have got to put plans in place, Anzac Day is not too far away."
'No community transmission in Australia today': Queensland CHO
By

Lydia Lynch
Queensland's Chief Health Officer says there is probably no community transmission of COVID-19 circulating in Australia today.
Explaining why she had decided to recommend that Anzac Day marches were safe to go ahead this year, Dr Jeannette Young said Queensland had seven active cases, compared with more than 270 on April 25 last year.
"We do not have community transmission here in Queensland today, and we probably do not have community transmission anywhere in the country today," she said.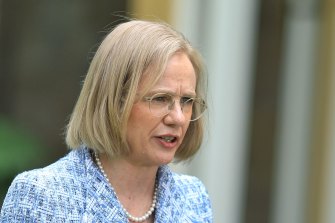 "That is what the difference is, that is why we can move forward and, quite rapidly really, return to normal."
Why are politicians getting vaccinated?
By

Rachel Clun
Politicians and high profile Australians have been getting vaccinated around the country.
On Sunday, Prime Minister Scott Morrison got his first dose, alongside Chief Health Officer Professor Paul Kelly and Chief Nursing Officer Professor Alison McMillan. Yesterday, South Australia's premier Steven Marshall also received the vaccine in front of a pack of journalists and cameras.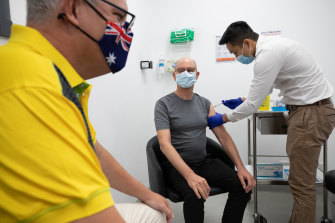 And this morning Opposition Leader Anthony Albanese and Greens leader Bandt were the latest in a string of high profile Australians to receive the vaccine.
But why are politicians getting vaccines already?
Health Minister Greg Hunt explained the thinking yesterday. He said it was not about politicians skipping the queue, but rather about showing confidence in the vaccines.
"There is a reticence about being seen to seek a priority and none of us have wanted to do that," he said.
"But equally, there's a duty to provide that confidence, and so what we're doing is showing, if we think it's safe, if we're willing to do this, then it's safe for every Australian."
Breaking: JobSeeker to rise permanently by $25 a week
By

Jennifer Duke

and

Shane Wright
As we flagged earlier today, the government has committed to increasing the JobSeeker payment.
Unemployed Australians will be given a permanent $25 a week rise to the JobSeeker payment when the coronavirus supplement ends in March, following months of speculation about the future of the dole.
The government's expenditure review committee met on Friday to discuss the rate of JobSeeker and held a cabinet meeting on Monday night. A proposal to increase the unemployment benefits to $615.70 a fortnight or about $44 a day after March 31 – up from the base rate worth $565.70 a fortnight – is set to be taken to the party room this morning.
The new rate would be equivalent to an increase of just under $4 a day.
At the moment, with the $150 supplement, unemployed households are receiving $715.70 a fortnight. The supplement is also paid to those on other government payments, such as Youth Allowance, Austudy and Parenting Payments.
The extra supplement was worth $550 at the height of the pandemic when the unemployment rate spiked in July at 7.5 per cent but was tapered down as the economy recovered.
No new cases in Queensland
By

Lydia Lynch
Queensland had recorded its 47th consecutive day of no locally acquired COVID-19 cases.
Premier Annastacia Palaszczuk said no new cases were detected in hotel quarantine on Tuesday either.
There are seven cases active across the state and 6176 tests were conducted in the past 24 hours.
Watch live: Queensland COVID update
Queensland Premier Annastacia Palaszczuk provided an update on COVID-19 in her state this morning. You can watch her press conference, below:
Where are you in the vaccine queue?
Once the highest priority Australians are vaccinated, attention will turn to rolling out the vaccine, in several stages depending on age and other risk factors, to the rest of the population.
The plan is to vaccinate enough people by October that herd immunity is reached, meaning that the spread of coronavirus will be stopped in its tracks.
So where in the vaccine queue are you? Fill out this short form, and we will tell you which group you have likely been assigned to for receiving the jab.
You can also explore our vaccine tracker, which shows how many people in each country have received two doses of the vaccine.
'We're not at the end yet': Andrews
By

David Estcourt
Victorian Premier Daniel Andrews said it will take until the end of the year – when the COVID vaccine is rolled out to enough people – for rules governing the pandemic to "completely change".
"It's going to take us the rest of this year to get enough people with a jab to completely change things," Mr Andrews said.
"It's not a matter of will the rules be off by the end of the year – I think probably the better way to look at it is there may be an opportunity to change some of the rules as we progressively get more and more people [vaccinated].
"We're at the beginning of the end of this pandemic. We're not at the end of it yet."
In photos: Australia's second vaccine shipment arriving
These photos are from the federal government, showing Australia's second shipment of the Pfizer vaccine (166,000 doses to be specific) arriving last night: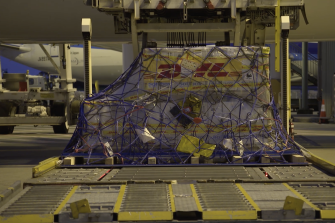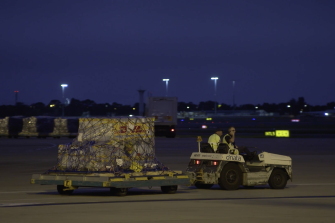 Victorian government working to have 'close to normal' ANZAC Day
By

David Estcourt
The Victorian government is now working towards holding a COVID-safe Anzac Day event this year, Premier Daniel Andrews says.
Earlier this month (as we mentioned this morning), the RSL said Melbourne's traditional Anzac Day parade had been called off. The organisation said the dawn service at the Shrine of Remembrance would go ahead with "a limited number of attendees" and would be streamed live online.
But Mr Andrews said the government was now looking at different options for the march.
"It's too early for us to be definitive about it, but obviously the march is an important part of that day," Mr Andrews said.
"And we're all working as hard as we can to have a day that is as close to normal as possible, not just at the Shrine but a whole range of other events out in suburbs and regional communities.
"We're all working as hard as we can to make sure that it's a day where we appropriately commemorate those who made the ultimate sacrifice for all of us. And to those who this day, serve in the defence of our freedom, it's a very important day, and we'll make sure it's as close to normal as possible and no one should underestimate the amount of work that's going on to try and achieve that."
https://news.google.com/__i/rss/rd/articles/CBMivwFodHRwczovL3d3dy5zbWguY29tLmF1L25hdGlvbmFsL2Nvcm9uYXZpcnVzLXVwZGF0ZXMtbGl2ZS1jb3ZpZC1haXJwb3J0LXZhY2NpbmF0aW9ucy1iZWdpbi1qb2JzZWVrZXItc2V0LWZvci1pbmNyZWFzZS11ay1wcmltZS1taW5pc3Rlci1mbGFncy1wbGFuLWZvci12YWNjaW5lLWNlcnRpZmljYXRlcy0yMDIxMDIyMi1wNTc0dHAuaHRtbNIBvwFodHRwczovL2FtcC5zbWguY29tLmF1L25hdGlvbmFsL2Nvcm9uYXZpcnVzLXVwZGF0ZXMtbGl2ZS1jb3ZpZC1haXJwb3J0LXZhY2NpbmF0aW9ucy1iZWdpbi1qb2JzZWVrZXItc2V0LWZvci1pbmNyZWFzZS11ay1wcmltZS1taW5pc3Rlci1mbGFncy1wbGFuLWZvci12YWNjaW5lLWNlcnRpZmljYXRlcy0yMDIxMDIyMi1wNTc0dHAuaHRtbA?oc=5
2021-02-22 23:20:50Z
52781397165140