We have made our live blog of the coronavirus pandemic free for all readers. Please consider supporting our journalism with a subscription.
Latest posts
Aged care provider to put extra measures in place after vaccine error
By

Stuart Layt
The Brisbane nursing home where two residents were given incorrect doses of the coronavirus vaccine says it will report the GP involved in the incident to the medical regulator.
Lincoln Hopper, the CEO St Vincent's Care Services which operates the Holy Spirit Nursing Home at Carseldine in Brisbane's north said the incident had been "distressing" and "concerning" for them.
"It has caused us to question whether some of the clinicians given the job of administering the vaccine have received the appropriate training," Mr Hopper said in Brisbane on Wednesday.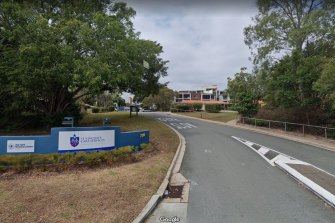 "Before vaccinations continue at any of our sites, Healthcare Australia or any other provider will need to confirm that this training and expertise of the clinicians they have engaged so that an incident like this does not happen again."
The doctor involved has been stood down pending a review of the incident, after a nurse raised concerns that incorrect doses had been given to the man and woman.
Mr Hopper stressed they still had confidence in the vaccine rollout but were seeking assurances from the Commonwealth that processes were in place to avoid a repeat of the situation.
"What has happened is an individual error and I am sure there will be a review of the process by Healthcare Australia as well as the federal government to ensure that does not happen again," he said.
"St Vincent's has put that extra measure of validating credentials for staff on site. That is as an extra precaution."
'It breaks my heart': Pandemic puts business owner out of work at 58
Today, The Age continues its series on people whose livelihoods were upended when the pandemic hit.
Fiona Caffery tells reporters Henrietta Cook and Clay Lucas she never thought she'd be looking for a job at 58.
The small business owner was planning on working for another five years before selling her travel agency, scaling back her hours and retiring.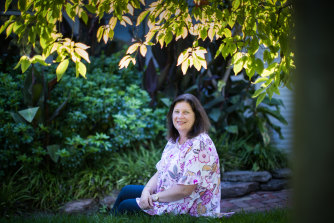 "That's all been thrown out of the window," she says.
Like many operators in the travel industry, the coronavirus pandemic has wreaked havoc on Caffery's small, but previously profitable, business in Melbourne's Malvern East.
While Caffery and two of her employees at Travel Sense each receive a fortnightly JobKeeper payment of $1000 from the federal government, her share has been entirely consumed by business costs and customer refunds.
At the end of March, the JobKeeper payments keeping her 13-year-old travel agency afloat are set to come to an end. She'll have to let go of her staff, a sad, but unavoidable outcome after a horror 12 months.
"It breaks my heart," she says, her voice wavering.
She's applied for work in office administration, catering and at hotels, but hasn't heard back from anyone yet. She knows competition is fierce and suspects her age might be working against her.
How many people in Australia have received their first vaccine dose?
It's been said many times before – we watch the daily COVID-19 figures like we watch the weather forecast. But now there's a new figure to watch, the vaccine tally.
This is what we know so far about how many vaccine does have been administered in Australia:
NSW: More than 3200 front-line workers (about 1300 on Monday, 1900 on Tuesday).
Victoria: More than 1200 front-line workers (580 on Monday, 675 on Tuesday).
Queensland: About 530 front-line workers (about 203 on Monday, 327 on Tuesday).
These tallies have been put out by state premiers or health departments.
The federal government is responsible for vaccinating residents in private aged care homes, so the numbers do not reflect the total number of vaccines administered across these states, or the rest of the country.
You can check out the current version of our vaccine data centre below, which shows the progress other nations are making towards achieving herd immunity:
A new record: NSW reaches 38 consecutive days without a local COVID case
It is official, NSW has clocked up 38 days without a local COVID case. And that comes after 17,917 people were tested for the virus.
As health reporter Kate Aubusson noted below, that's the longest stretch of zero community transmissions in the course of the pandemic in NSW by a long way.
The previous longest stretch was 26 days, when no cases were recorded in NSW between 8pm on November 6 and 8pm on December 2, 2020, before the northern beaches outbreak.
Melburnians in quarantine in South Australia to be released from midnight tomorrow
By

David Estcourt
People from Melbourne who are currently in quarantine in South Australia will be granted their freedom at 12.01am on Friday.
Their release is consistent with the easing of restrictions for people travelling from Greater Melbourne, who will be allowed back into the state at the same time.
"The people who are currently in quarantine from the greater Melbourne area will be able to end their quarantine period at one minute past midnight on Friday morning," said SA Police Commissioner Grant Stevens.
Police will also remove all road checkpoints that are in place along the Victorian-South Australian border.
"We will be removing all border restrictions and the checkpoints that we have in place across the southeastern part of South Australia," Commissioner Stevens said.
"This is good news because it frees up resources for us. We still have obligations in relation to [the] COVID response so being able to reduce that workload on South Australian police ... is a great benefit to us."
South Australia welcomes Melburnians back to the state
By

David Estcourt
South Australia will ease its border restrictions for people from Greater Melbourne from Friday.
And any South Australian residents who return home from Melbourne will not be required to have a COVID-19 test.
"Victoria has got on top of their outbreak, we're very grateful for the work that they have done. And now we're looking forward to welcoming people from across that border," South Australian Premier Steven Marshall said.
"So, from one minute past midnight on Friday morning, people coming in from Greater Melbourne will be able to come in. More than that they will not have testing requirements on day one, day five."
Can we dance at Mardi Gras?
By

Kate Aubusson
'Can we dance at Mardi Gras?' is the question of the morning, after NSW Premier Gladys Berejiklian announced that up to 30 people will be allowed to dance at weddings on rotation.
The answer at this point is looking like a 'no'. When asked if people could dance at events other than nuptials, Ms Berejiklian said "not yet".
Dancing at clubs and pubs is still off the cards for now, along with standing while drinking at these venues.
This year's gay and lesbian Mardi Gras will be held at the Sydney Cricket Ground on Saturday, March 6. Up to 23,000 spectators will be permitted inside the sporting venue to watch the parade, which will feature 5000 participants.
'Mammoth task': More than 3200 people vaccinated in NSW
By

Megan Gorrey
Premier Gladys Berejiklian says more than 3200 people have received their first COVID-19 jab in the first two days of the vaccination program in NSW.
"[This] is a wonderful effort in just 48 hours and that is only in the three state-run hospitals.
"So far there is enormous enthusiasm and positivity around people receiving the vaccine and those administering the vaccine.
"I want to commend everybody at NSW Health for that mammoth task."
Ms Berejiklian said she encouraged "everybody to take up the opportunity to get the vaccine".
"As I have said I will be getting the AstraZeneca one as soon as it is made available to demonstrate to the community that it is as good as the Pfizer vaccine and most of us will be offered the AstraZeneca when it is available."
More than 1200 Victorian front-line workers receive first COVID vaccine shot
By

Paul Sakkal
Yesterday 675 front-line quarantine and health workers in Victoria received their first COVID-19 vaccine, on top of the 580 who received the shot on Monday.
Victoria's Transport Infrastructure Minister Jacinta Allan said the government was taking a "very steady, cautious" approach to the vaccine rollout.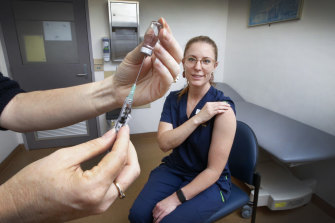 The federal government is responsible for vaccinating residents in private aged care homes, so the numbers do not reflect the total number of vaccines administered across the state.
The Andrews government's initial focus is vaccinating hotel quarantine staff and healthcare workers.
Ms Allan said she was aware that two elderly people in Queensland had been given an overdose of the vaccine. She said it was a matter for the federal government and emphasised the thorough safety tests each vaccine had gone through.
"The vaccine is a very safe procedure to take part in," she said.
50 visitors, some dancing allowed: NSW eases restrictions at homes, weddings, venues
By

Kate Aubusson

and

Megan Gorrey
NSW residents will be allowed to dance at weddings (albeit in rotating groups) and hold gatherings of 50 people at their homes, under new coronavirus restrictions.
Premier Gladys Berejiklian has confirmed what we flagged earlier – restrictions will ease in Greater Sydney and across NSW from 12.01am on Friday, February 26.
Here is a quick summary of the new rules:
50 visitors will be allowed in the home.
30 people will be allowed to dance at weddings, with guests allowed to rotate on and off the dance floor (Ms Berejiklian said the government was looking to increase the current 300-person cap on wedding guests in several weeks.)
50 people at gym classes subject to the 4 square metre rule
30 people (up from five) will be allowed to sing indoors subject to social distancing requirements – congregants at places of worship are allowed to sing if they are wearing face masks subject to the 4 square metre rule
100 per cent capacity at cinemas
If there are no locally acquired cases over the next couple of weeks, drinking while standing up at indoor venues will be allowed from Wednesday, March 17.
Ms Berejiklian said "with the rollout of the vaccine now underway, and no new locally acquired cases in NSW, we are able to make further changes towards a new COVID normal".
"I thank the community for following the health advice to keep the virus at bay, however we cannot be complacent."
https://news.google.com/__i/rss/rd/articles/CBMizwFodHRwczovL3d3dy5zbWguY29tLmF1L25hdGlvbmFsL2Nvcm9uYXZpcnVzLXVwZGF0ZXMtbGl2ZS1uZXctY292aWQtY2FzZXMtaW4tYXVja2xhbmQtbW9ycmlzb24tZ292ZXJubWVudC13b24tdC1idWRnZS1vbi1qb2JzZWVrZXItcy0yNS1hLXdlZWstcmlzZS10Z2EtYmFucy1icmFuZC1uYW1lLXZhY2NpbmUtYWR2ZXJ0aXNpbmctMjAyMTAyMjQtcDU3NTl0Lmh0bWzSAc8BaHR0cHM6Ly9hbXAuc21oLmNvbS5hdS9uYXRpb25hbC9jb3JvbmF2aXJ1cy11cGRhdGVzLWxpdmUtbmV3LWNvdmlkLWNhc2VzLWluLWF1Y2tsYW5kLW1vcnJpc29uLWdvdmVybm1lbnQtd29uLXQtYnVkZ2Utb24tam9ic2Vla2VyLXMtMjUtYS13ZWVrLXJpc2UtdGdhLWJhbnMtYnJhbmQtbmFtZS12YWNjaW5lLWFkdmVydGlzaW5nLTIwMjEwMjI0LXA1NzU5dC5odG1s?oc=5
2021-02-24 00:01:41Z
52781400134500