We have made our live blog of the coronavirus pandemic free for all readers. Please consider supporting our journalism with a subscription.
Latest posts
Calls to extend JobKeeper grow after Victoria's lockdown
By

Jennifer Duke
Victoria's five-day lockdown and state border closures to limit the spread of coronavirus have renewed union and business group calls for the multibillion-dollar wage subsidy scheme JobKeeper to be extended beyond March despite federal government plans to wind back support.
More than 1.5 million workers were on JobKeeper at the end of 2020, new figures compiled by the Tax Office and released by the government show. But about 520,000 employers and 2.13 million staff who were receiving the subsidy when it was first introduced last March were no longer receiving the payments by the end of 2020.
But the present lockdown in Victoria, scheduled to end on Wednesday night, has fuelled debate about the future of both the wage subsidy scheme and the rate of the dole payment JobSeeker, formerly known as Newstart.
Australian Council of Trade Unions secretary Sally McManus said on ABC's Sunday Insiders program that the Morrison government should retain the JobKeeper scheme "for as long as the pandemic is with us".
"If you are in Melbourne at the moment, you would be pretty worried about JobKeeper being removed," she said. "What we say is JobKeeper should be extended for those businesses that are still affected by the coronavirus ... We say that because that will save jobs."
Melbourne church under investigation for flouting lockdown rules
By

Marissa Calligeros
A church in Melbourne's south-east is under police investigation after footage emerged showing about 50 worshippers gathering without masks, singing and praying on Sunday despite the state's stage-four lockdown.
The service at Revival Christian Church in Narre Warren was filmed by right-wing YouTube activist Avi Yemini, who purports to work as a journalist for Rebel Media.
Outside the church, the leader told police: "I guess the question is do I obey God, or do I obey man? And so I have chosen today to open up the church and to keep my doors open to the people in obedience under God."
The man, referred to as the pastor, later told Mr Yemini that he believed it was "time to draw a line in the sand".
In a statement, police said officers were called to a religious service on Victor Crescent about 11am on Sunday and would issue the organiser with an infringement notice for breaching the directions of the Chief Health Officer.
"There were also several people seated at an adjoining café connected with the religious group," police said.
"People dispersed without incident upon police arrival. The investigation into the incident remains ongoing with inquiries being made in relation to possible incitement offences."
A Facebook page associated with the church has previously shared discredited conspiracy theories about COVID-19 and claimed lockdown directions are unlawful.
Last year Mr Yemini launched legal action against the state of Victoria, as the responsible body for Victoria Police, over his arrest at two anti-lockdown protests, accusing the force of false imprisonment, battery and hindering his career as a journalist. He also raised $100,000 through crowdfunding for a constitutional challenge against the lockdown.
The seven-day case average in the US drops below 100,000 for the first time in months
Average daily new coronavirus cases in the United States dipped below 100,000 in recent days for the first time in months, but experts cautioned Sunday that infections remain high and precautions to slow the pandemic must remain in place.
The seven-day rolling average of new infections was well above 200,000 for much of December and went to roughly 250,000 in January, according to data kept by Johns Hopkins University. That average dropped below 100,000 on Friday (local time) for the first time since November 4. It stayed below 100,000 on Saturday.
Rochelle Walensky, director of the Centers for Disease Control and Prevention, said on NBC's "Meet the Press that the data was encouraging but that case numbers are still more than double what the United States was recording during the middle of last year.
"It's encouraging to see these trends coming down, but they're coming down from an extraordinarily high place."
AP
Israeli study finds 94% drop in symptomatic COVID-19 cases with Pfizer vaccine
Israel's largest healthcare provider on Sunday reported a 94 per cent drop in symptomatic COVID-19 infections among 600,000 people who received two doses of the Pfizer's vaccine in the country's biggest study to date.
Health maintenance organization (HMO) Clalit, which covers more than half of all Israelis, said the same group was also 92% less likely to develop severe illness from the virus.
The comparison was against a group of the same size, with matching medical histories, who had not received the vaccine.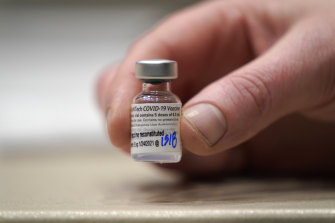 "It shows unequivocally that Pfizer's coronavirus vaccine is extremely effective in the real world a week after the second dose, just as it was found to be in the clinical study," said Ran Balicer, Clalit's chief innovation officer.
He added that the data indicates the Pfizer vaccine, which was developed in partnership with Germany's BioNTech, is even more effective two weeks or more after the second shot.
Reuters
Experts put poor virus controls in spotlight
By

Liam Mannix

and

Sumeyya Ilanbey
An infectious diseases expert and member of the federal government's powerful Infection Control Expert Group says the significant problem that led to the latest Victorian coronavirus outbreak was poor infection control, and not the more-contagious British variant blamed by the state government.
While evidence suggests the new variant is between 30 and 50 per cent more infectious than the original, Professor Peter Collignon said the "real issue [in Victoria] is infection control. If you look at the three hotel outbreaks in Melbourne over the past week, all of them had infection control breaches."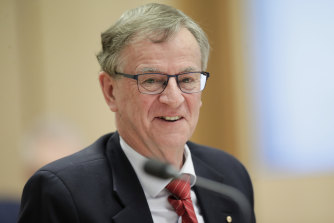 Professor Collignon pointed to security guards not wearing eye protection, poor governance and supervision, and a lack of awareness that positive pressure inside hotel rooms could push the virus into the corridor when the door was opened, along with a guest using a nebuliser in a room, as contributing factors to the spate of outbreaks.
"When you look at the data, it is being used to some degree to say, 'There is nothing we can do about this because it's the UK strain', when in reality there is a lot you can do about it. Basic infection control procedures have not been followed, and that has resulted in either spread or outbreaks," Professor Collignon said.
The Age sought comment about Professor Collignon's remarks from the Health Department and was referred to a transcript of Sunday's news conference.
Staff member at Melbourne hospital mental health service tests positive
By

Ashleigh McMillan
Staff at the NorthWestern Mental Health service in Epping were told on Sunday that a co-worker has tested positive for COVID-19.
It is not yet known if the staff member's positive result is a new virus case, or if the alert relates to an existing infection in Victoria.
In an email sent to staff, the affected areas where the person worked were identified as the BIPIU and mental health Wards 7 and 8, based at the Northern Hospital in Epping.
The email stated the infected staff member had now been "furloughed and cared for appropriately", with team members who may need to isolate being identified.
"We have undertaken a number of precautionary steps to ensure the safety of our colleagues and consumers, these steps include identifying team members and consumers who may be impacted, testing impacted individuals and furloughing," the mental health service said in an email.
"We will also be installing scrubbers in staff-only areas to assist in reducing the likelihood of the virus still lingering in areas."
When approached for comment on Sunday night the Royal Melbourne Hospital, which manages the Northern Hospital, referred The Age and Sydney Morning Herald to Victoria's Department of Health.
The Department of Health declined to comment on the email or whether a new case had been discovered.
We'll likely get some clarification around this case this morning once the state's daily case numbers are released.
New Melbourne exposure sites
Four new exposure sites were added to Melbourne's watchlist by the Department of Health late on Sunday afternoon.
All four exposure sites relate to Thursday, February 11:
Yarra Trams No. 11 between 7.55am and 8.10am. (Start: D16 - Harbour Esplanade/Collins Street. Finish: William Street/Collins Street stop #3)
Yarra Trams No. 58 between 8.10am and 8.25am. (Start: Bourke Street/William Street stop #5. Finish: Queen Victoria Market/Peel Street stop #9)
Queen Victoria Market, between 8.25am and 10.10am. (Visited section 2 with fruit and vegetables, and used the section 2 female toilet.)
Yarra Trams No. 58 between 9.40am and 9.55am (Start: Queen Victoria Market/Peel Street stop #9. Finish: Bourke Street/William Street stop #5)
The four new exposure sites are considered tier one sites, with anyone present required to isolate for 14 days and get tested for the virus.
This pockmarked map shows the current exposure sites in Melbourne:
Australia suspends Kiwi travel bubble
Late yesterday, Australia suspended its quarantine-free travel arrangement with New Zealand following the detection of COVID-19 in a couple and their daughter in Auckland at the weekend.
After initially saying there would be no change to the travel bubble, Australia's Chief Medical Officer Paul Kelly convened an urgent meeting late on Sunday with the chief health officers from NSW, Queensland and Victoria.
"It was decided at this meeting today that all flights originating in New Zealand will be classified as Red Zone flights for an initial period of 72 hours from 12.01am on 15 February", a statement from the Department of Health reads.
"As a result of this, all people arriving on such flights originating within this three-day period will need to go into 14 days of supervised hotel quarantine.
"The Australian Health Protection Principal Committee will consider further updates from New Zealand tomorrow and provide advice to the Chief Medical Officer regarding the management of travel arrangements between New Zealand and Australia."
It comes after New Zealand Prime Minister Jacinda Ardern announced a snap three-day lockdown on Sunday night following the detection of the new cases, New Zealand's first since late January, when a returned traveller tested positive after leaving quarantine. At the time, Australia temporarily suspended the travel bubble with New Zealand and mandated 14-day hotel quarantine for arrivals.
Welcome to today's live blog
Good morning and welcome to the latest edition of our COVID-19 live blog. Thanks for joining us for our coverage of the coronavirus pandemic.
My name is Craig Butt and I will be on the blog today, tomorrow and Wednesday - essentially the last three days of the scheduled Victorian lockdown. Originally I was planning to go away to regional Victoria for these three days, but that's obviously not happening anymore! As always, shoot me an email if you have something to share or leave a post in the comments section of the blog.
Here's a quick recap of where we are as we start the day: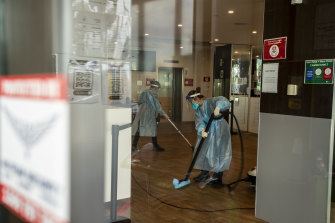 https://news.google.com/__i/rss/rd/articles/CBMingFodHRwczovL3d3dy5zbWguY29tLmF1L25hdGlvbmFsL2Nvcm9uYXZpcnVzLXVwZGF0ZXMtbGl2ZS1uZXctemVhbGFuZC10cmF2ZWwtYnViYmxlLXN1c3BlbmRlZC1jb3ZpZC0xOS1jYXNlcy13b3JsZHdpZGUtc3VycGFzcy0xMDgtbWlsbGlvbi0yMDIxMDIxNS1wNTcyZ2QuaHRtbNIBngFodHRwczovL2FtcC5zbWguY29tLmF1L25hdGlvbmFsL2Nvcm9uYXZpcnVzLXVwZGF0ZXMtbGl2ZS1uZXctemVhbGFuZC10cmF2ZWwtYnViYmxlLXN1c3BlbmRlZC1jb3ZpZC0xOS1jYXNlcy13b3JsZHdpZGUtc3VycGFzcy0xMDgtbWlsbGlvbi0yMDIxMDIxNS1wNTcyZ2QuaHRtbA?oc=5
2021-02-14 20:26:00Z
52781374349699