Summary
President-elect Joe Biden has been certified the winner of the 2020 Presidential election by the House and Senate, just hours after a pro-Trump mob stormed the US Capitol.
President Donald Trump has released a statement promising an orderly transition of power to Biden, despite disagreeing with the election results.
Washington DC Mayor Muriel Bowser extended the 6pm-6am curfew for another 15 days, bringing its end date to the day after Biden's inauguration on January 20.
The woman shot and killed in the Capitol riots has been identified as a US Air Force veteran. Three other people died in what police called "medical emergencies".
The violence prompted senior Republicans to launch their most fierce attacks on Trump since his election four years ago.
Pinned post from
Trump banned from Facebook and Instagram 'indefinitely'
By

Latika Bourke
Facebook's founder Mark Zuckerberg has banned Donald Trump from Facebook and Instagram indefinitely, saying the risks to America's democracy are too great for the US President to be allowed back on the platforms, amid concerns Trump will continue to incite his supporters to carry out more riots.
Zuckerberg released a statement on his Facebook page saying that "the shocking events clearly demonstrate that President Donald Trump intends to use his remaining time in office to undermine the peaceful and lawful transition of power to his elected successor, Joe Biden."
"Over the last several years, we have allowed President Trump to use our platform consistent with our own rules, at times removing content or labelling his posts when they violate our policies," Zuckerberg wrote.
"We did this because we believe that the public has a right to the broadest possible access to political speech, even controversial speech.
"But the current context is now fundamentally different, involving use of our platform to incite violent insurrection against a democratically elected government.
"We believe the risks of allowing the President to continue to use our service during this period are simply too great.
"Therefore, we are extending the block we have placed on his Facebook and Instagram accounts indefinitely and for at least the next two weeks until the peaceful transition of power is complete."
Facebook also owns Instagram.
Twitter also locked Trump out of his Twitter account for 12 hours and demanded he remove three of his tweets.
It does not appear that the President has regained access to his account as he has not yet resumed tweeting.
Latest updates
Pelosi says Trump is a 'very dangerous person'
By

Latika Bourke
Speaker of the US House of Representatives Nancy Pelosi is joining fellow Democrats in calling for President Donald Trump to be removed from office immediately.
She has joined Chuck Schumer, the Democratic Senate leader, in calling for Trump to be removed using the constitution's 25th amendment.
She said Trump incited sedition and was a "very dangerous person who should not continue in office".
"This is urgent, this an emergency of the highest magnitude."
Pelosi called on the cabinet to immediately improve the security of the United States by removing Trump as President. She said impeachment was also an option if the cabinet did not act.
This sounds like a neat solution but invoking the 25th, which would transfer power to Vice-President Mike Pence, is actually no quick fix, considering Trump has just 13 days left in office.
Read more: How the 25th Amendment could be used to remove Trump from the White House
Pelosi's office was targetted by Trump supporters, one of whom posed for photographs sitting at her desk and stole a personalised envelope from Pelosi's desk as a souvenir.
Richard "Bigo" Barnett, 60, insisted he didn't steal the custom stationery as he left a quarter on the House Speaker's desk.
Read more: Legislators vow investigation over 'embarrassing' Washington security failure
Joe Biden says rioters were 'domestic terrorists'
By

Latika Bourke
President-elect Joe Biden has launched an attack on the rioters, saying they were not protesters but "domestic terrorists".
"Don't you dare call them protesters, they were a riotous mob, insurrectionists, domestic terrorists," Biden said.
"It's that basic, it's that simple."
He has strongly attacked Donald Trump, saying yesterday's violence was the direct result of the President's actions, his attacks on America's institutions and his false claims that the election was stolen.
He said Trump had tried to use a mob to silence the voices of nearly 160 million Americans.
He said Black Lives Matter protesters would have been treated "very, very differently to the mob of thugs who stormed the Capitol".
"We all know that's true and it's unacceptable, it's unacceptable," he said.
Trump's transport secretary quits cabinet
By

Latika Bourke
Elaine Chao is quitting as Transportation Secretary, making her the first cabinet minister to resign in protest at Donald Trump's role in inciting the Capitol siege.
Chao said the "traumatic" and "entirely avoidable" storming of the Capitol building had "deeply troubled me in a way that I simply cannot set aside."
Chao is married to Senate Majority leader Mitch McConnell who has just released a statement in which he notably does not criticise the President.
McConnell instead laid into the "massive failure of institutions, protocols, and planning" and said the ultimate blame lay with the "unhinged criminals" and "those who incited them."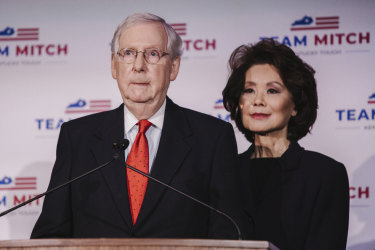 He did not single out Trump for inciting the violence as other Republicans and many Democrats have done.
"The ultimate blame for yesterday lies with the unhinged criminals who broke down doors, trampled our nation's flag, fought with law enforcement, and tried to disrupt our democracy, and with those who incited them," McConnell said.
"But this fact does not and will not preclude our addressing the shocking failures in the Capitol's security posture and protocols," he said.
Trump's former Attorney-General calls for President's removal
By

Latika Bourke
More and more Trump supporters are joining the condemnation of Trump's role in inciting Wednesday's siege on the Capitol.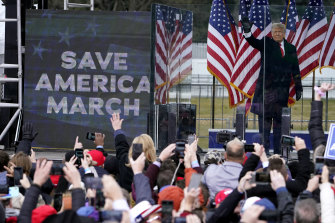 The latest is Trump's former Attorney-General William Barr, who described President's Trump's conduct as a "betrayal of his office and supporters".
Barr was one of Trump's most loyal and ardent defenders in the cabinet but he's told The Associated Press that Trump's role in "orchestrating a mob to pressure Congress is inexcusable".
Barr resigned last month amid lingering tension over the President's baseless claims of election fraud and the investigation into Joe Biden's son.
Rioter who wore employee badge while storming Capitol is fired
By

Latika Bourke
Earlier we brought you the statement from the FBI, who are seeking the public's help to identify the rioters from photographs and footage taken during Wednesday's mayhem.
One of the rioters has already been fired from his job at a marketing company after being easily identifiable thanks to the company ID badge he was pictured wearing while storming the Capitol.
Boris Johnson says Trump was 'completely wrong' to encourage riots
By

Bevan Shields
British Prime Minister Boris Johnson has directly linked US President Donald Trump to Wednesday's siege at the Capitol building.
In some of the strongest criticism of Trump by a US ally to date, Johnson said Trump was "completely wrong" to encourage his supporters to descend on the building while members of Congress were certifying the November 3 presidential election result.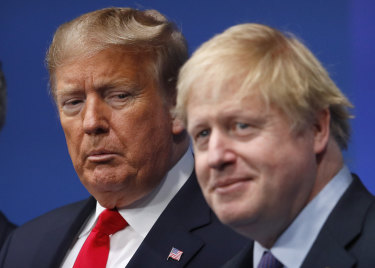 "Insofar as he encouraged people to storm the Capitol and insofar as the President consistently cast doubt on the outcome of a free and fair election, I think that was completely wrong," Johnson said.
"I think what President Trump has been saying about that is completely wrong and I unreservedly condemn encouraging people to behave in the disgraceful way they did in the Capitol."
Australian Prime Minister Scott Morrison has criticised the violence but told reporters in Canberra it was not his job to offer a "running commentary" on President Trump.
Read more: Boris Johnson says Donald Trump is to blame for Capitol siege
Some rioters will be charged today, says US Acting Attorney-General
By

Latika Bourke
Jeffrey Rosen, the Acting Attorney-General, has just released a statement saying some of the rioters will be charged in the coming hours.
Police have come under heavy criticism for allowing the mob of Trump supporters to overtake the Capitol.
Rosen said multiple law enforcement agencies had been working through the night to identify the perpetrators.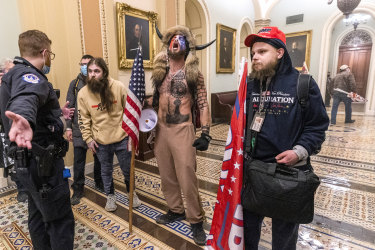 "The Department of Justice is committed to ensuring that those responsible for this attack on our government and the rule of law face the full consequences of their actions under the law," Rosen said in a statement.
"Some participants in yesterday's violence will be charged today, and we will continue to methodically assess evidence, charge crimes and make arrests in the coming days and weeks to ensure that those responsible are held accountable under the law."
Twitter urged to follow Facebook's ban on Trump
By

Latika Bourke
Returning to the news that we brought you earlier about Mark Zuckerberg banning Donald Trump from Facebook and Instagram; Twitter is being urged to also ban the President from the social media site.
Democratic Senator Joe Manchin said Twitter's CEO Jack Dorsey needed to act "in the interest of public safety."
Twitter said the President would regain access to his Twitter account after 12 hours but so far Trump has not tweeted, despite that time expiring.
Chuck Schumer says Trump should be removed from office immediately
By

Latika Bourke
Chuck Schumer has called on Mike Pence to remove Donald Trump from office "immediately" as the Vice-President is empowered to do under section 25 of the US constitution.
Under the 25th amendment, the Vice-President can immediately assume the powers and duties and become acting president if the majority of cabinet agrees that the President "is unable to discharge the powers and duties" of office.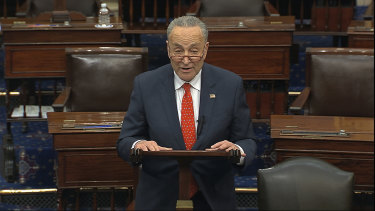 Schumer, the Senate Democratic Leader, said if the Vice-President and cabinet refused to stand up, Congress must be recalled to impeach Trump, whom he said had "incited insurrection".
"This President should not hold office one day longer," Schumer said in a statement.
"The quickest and most effective way – it can be done today – to remove this President from office would be for the Vice-President to immediately invoke the 25th amendment.
"If the Vice-President and the cabinet refuse to stand up, Congress should reconvene to impeach the president."
FBI seeks help to identify rioters
By

Latika Bourke
The FBI is asking the public to help them identify the rioters who overtook the Capitol on Wednesday.
A special webpage has been established inviting people to upload photos and videos of those carrying out and inciting "unlawful violent actions".
Democratic Congresswoman Karen Bass had a not-so-subtle tip.
https://news.google.com/__i/rss/rd/articles/CBMiwwFodHRwczovL3d3dy5zbWguY29tLmF1L3dvcmxkL25vcnRoLWFtZXJpY2EvdXMtcmlvdHMtbGl2ZS11cGRhdGVzLWNhcGl0b2wtaGlsbC12aW9sZW5jZS1jb25kZW1uZWQtYXMtZGVtb2NyYXRzLXJlcHVibGljYW5zLXVuaXRlLWFnYWluc3QtdHJ1bXAtcy1mYWxzZS1jbGFpbXMtb2YtZWxlY3Rpb24tZnJhdWQtMjAyMTAxMDctcDU2c2ZlLmh0bWzSAcMBaHR0cHM6Ly9hbXAuc21oLmNvbS5hdS93b3JsZC9ub3J0aC1hbWVyaWNhL3VzLXJpb3RzLWxpdmUtdXBkYXRlcy1jYXBpdG9sLWhpbGwtdmlvbGVuY2UtY29uZGVtbmVkLWFzLWRlbW9jcmF0cy1yZXB1YmxpY2Fucy11bml0ZS1hZ2FpbnN0LXRydW1wLXMtZmFsc2UtY2xhaW1zLW9mLWVsZWN0aW9uLWZyYXVkLTIwMjEwMTA3LXA1NnNmZS5odG1s?oc=5
2021-01-07 19:08:00Z
52781288812412