Summary
The US Capitol in Washington DC is currently locked down as supporters of President Donald Trump clashed with police and stormed the building. Trump has called on the rioters to 'go home'.
House and Senate members have resumed their joint session to complete the work to certify the electoral college votes.
A woman has died after being shot in the Capitol building during the riot.
The Democrats have been called the winners in both Georgia Senate seats following run-offs yesterday. Jon Ossoff has been called the winner of his contest with David Perdue while Raphael Warnock narrowly defeated Republican Kelly Loeffler earlier.
Police and security officials are still working to clear all rioters from the area.
Pinned post from
Watch live: Joint session resumes
Vice-President Mike Pence has resumed the joint session after today's riot.
Latest updates
'We will stay as long as it takes': Pelosi
US House Speaker Nancy Pelosi has pledged that her branch of government will stay working as long as needed to complete the counting of the electoral college votes tonight.
"We will stay as long as it takes," Pelosi said in her remarks as the house resumed its session.
The Senate had earlier resumed its session.
It's not clear how quickly the house and senate could complete their debates and vote to certify the electoral college votes or whether there will be any more challenges to the votes.
'A disgraceful ending': NBA teams kneel in protest over Capitol violence
Travel advice for US changed in the wake of riots
Prime Minister Scott Morrison says the national travel advice for the United States has been changed in the wake of violent riots at Capitol Hill in Washington DC.
He said the scenes coming out of the US were "terribly distressing".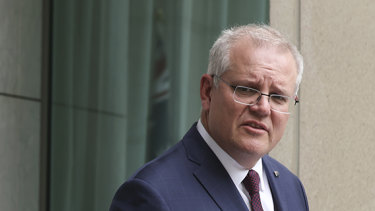 "They are very concerning," he said. "As a result we are making some changes to our travel advice."
Australians are being advised not to travel to areas in the US where there are riots due to the "ongoing potential for violence".
Those who are in the United States are being urged to take care and listen to officials.
Mr Morrison said he hoped a "peaceful transition" would take place.
The SmartTraveller website has been updated, advising Australians not to travel to America, including Alaska, Puerto Rico and the Hawaiin Islands.
"Due to violent protests in Washington DC, curfews are in place in the District of Columbia and Commonwealth of Virginia from 6pm on Wednesday 6 January to 6am on Thursday 7 January 2021," the advice reads.
"You should avoid areas where protests are occurring due to the ongoing potential for violence.
"Follow the instructions of local authorities including curfews and stay at home orders. Monitor the media for information and updates.
"COVID-19 remains a serious health risk. Various restrictions and public health measures are in place and vary by location. Follow the instructions of local authorities, including those related to quarantine, self-isolation, social-distancing and the wearing of masks. Monitor the Embassy website for further COVID-19 related information."
Senators continue to debate
By

Roy Ward
Debate is continuing in the Senate chamber over whether to accept the electoral college results from Arizona.
The Republicans who have so far spoken have said this is not the time to debate the results, among those who have opted not to debate is Georgia Senator Kelly Loeffler who yesterday lost her run-off with Democratic candidate Rev Raphael Warnock.
"I cannot now, in good conscience, object to the certification of these electors," Loeffler said.
The debate over the Arizona results had already been called for when the senators were forced to leave the chamber due to the riot so it appears they are going to complete it.
'Let's get back to work': Pence speaks as joint session resumes
By

Roy Ward
US Vice President Mike Pence has re-opened the joint session of congress after today's riot.
Members of congress and senators plan to continue the process of counting the electoral college certificates. It's still unclear if there will be any challenges from Republicans beyond the one already raised against the results from Arizona before the US Capitol was breached.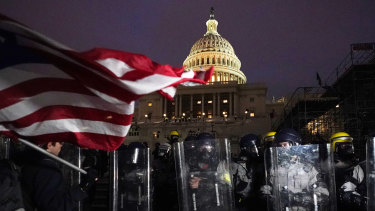 "To those who wreaked havoc in our capital today, you did not win. Violence never wins. Freedom wins. And this is still the people's house," Pence said.
Senate majority leader Mitch McConnell said the rioters had failed in their plans to stop the session.
"We'll complete the process, the right way, by the book, we'll follow our precedents and our laws, and our constitution, to the letter," McConnell said.
"And we will certify the winner of the 2020 presidential election."
Senate minority leader Chuck Schumer has called for no leniency towards the 'thugs' and he has also called out President Donald Trump for his role in 'egging on' the rioters.
"The president who promoted conspiracy theories who motivated the thugs, the president who extorted them to come to our nation's capital, egg them on, he hardly ever discourages violence and more often encourages it, this president bears a great deal of the blame," Schumer said.
"This mob was in good part President Trump's doing, incited by his words, his lies. This violence in good part his responsibility, his everlasting shame."
Schumer spoke directly to those concerned about America's democracy.
"Democracy will triumph as it has for centuries," Schumer said.
"So to my fellow Americans, who were shocked and appalled by the images on their televisions today, and who are worried about the future of this country, let me speak to you directly - the divisions in our country clearly run deep.
"But we are a resilient, forward-looking, and optimistic people. And we will begin the hard work of repairing this nation tonight, because here in America, we do hard things. In America, we always overcome our challenges."
'Keep stoking the raging fires or choose reality': Obama calls for Republican leaders to condemn protests
By

Simone Fox Koob
Former US President Barack Obama has released a statement urging Republican leaders to "take the first steps toward extinguishing the flames" in the wake of riots at Capitol Hill.
"History will rightly remember today's violence at the Capitol, incited by a sitting president who has continued to baselessly lie about the outcome of a lawful election, as a moment of great dishonour and shame for our nation. But we'd be kidding ourselves if we treated it as a total surprise," he said in a statement.
"For two months now, a political party and its accompanying media ecosystem has too often been unwilling to tell their followers the truth – that this was not a particularly close election and that President-Elect Biden will be inaugurated on January 20.
"Their fantasy narrative has spiralled further and further from reality, and it builds upon years of sown resentments. Now we're seeing the consequences, whipped up into a violent crescendo.
"Right now, Republican leaders have a choice made clear in the desecrated chambers of democracy. They can continue down this road and keep stoking the raging fires. Or they can choose reality and take the first steps toward extinguishing the flames. They can choose America.
"I've been heartened to see many members of the President's party speak up forcefully today. Their voices add to the examples of Republican state and local election officials in states like Georgia who've refused to be intimidated and have discharged their duties honourably.
"We need more leaders like these — right now and in the days, weeks, and months ahead as President-Elect Biden works to restore a common purpose to our politics. It's up to all of us as Americans, regardless of party, to support him in that goal."
Senators under guard as they return to chamber
By

Roy Ward
Senators are returning to the Senate chamber with the joint session expected to resume shortly, at 8pm local time (midday AEDT).
CNN's Ali Zaslav has posted some videos showing the presence of various armed guards for the Senators as they march back to the chamber.
It remains to be seen if Senator Ted Cruz and other Republicans who wanted to challenge the electoral college certificates from each state will continue their tactics.
Other senators including Mitt Romney have lobbied them to stop and allow the process to be completed.
Protesters remain on the streets in defiance of the curfew
There are still dozens of pro-Trump protesters on the streets of Washington DC in defiance of the curfew imposed in the city after rioters stormed the Capitol.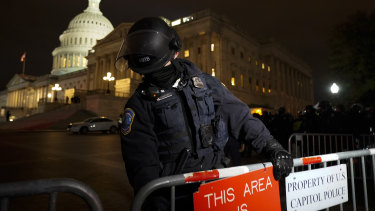 The mostly maskless crowd was forcibly removed from the Capitol after breaking into the building and halting the constitutional process of voting to certify President-elect Joe Biden's win.
They were pushed out of the immediate area and moved down the hill, where they taunted law enforcement and moved barricades.
Police said anyone found on the streets after the 6pm curfew would be arrested. Officers in full riot gear with shields lined the streets near the US Capitol.
House Speaker Nancy Pelosi said their debate on affirming Biden's victory would continue after the Capitol was secured.
A CNN reporter on the ground said an emergency alert was sent to the phones of those in the area, reminding them of the curfew. The journalist said the crowds are getting smaller.
With AP
Bill Clinton blames 'poison politics' for fuelling riot
Former US President Bill Clinton says the attack on the US Capitol was fuelled by over four years of "poison politics" and lit by President Donald Trump.
Clinton said in a statement Wednesday night (US time) that the riot at the Capitol was fanned by the deliberate spreading of disinformation that created distrust in the system and which pitted Americans against one another.
He wrote, "The match was lit by Donald Trump and his most ardent enablers, including many in Congress, to overturn the results of an election he lost."
His wife, Hillary Clinton, lost a bitter election to Trump in 2016 and conceded to him immediately. Trump has refused to accept his defeat by Democrat Joe Biden in November and is trying to cast him as an illegitimate president.
Trump had encouraged his supporters to come to Washington to fight Congress' formal approval of Biden's win. He held a rally earlier Wednesday and urged his supporters to march to the Capitol, telling them to "get rid of the weak Congress people" and saying, "get the weak ones get out; this is the time for strength".
AP
https://news.google.com/__i/rss/rd/articles/CBMizAFodHRwczovL3d3dy5zbWguY29tLmF1L3dvcmxkL25vcnRoLWFtZXJpY2EvZ2VvcmdpYS1ydW4tb2Zmcy1saXZlLXVwZGF0ZXMtZGVtb2NyYXRzLW9uLWJyaW5rLW9mLXNlbmF0ZS1jb250cm9sLWpvZS1iaWRlbi1zLXVzLWVsZWN0aW9uLXdpbi10by1iZS1yYXRpZmllZC1kb25hbGQtdHJ1bXAtdG8tc3BlYWstYXQtcmFsbHktMjAyMTAxMDYtcDU2czQ1Lmh0bWzSAcwBaHR0cHM6Ly9hbXAuc21oLmNvbS5hdS93b3JsZC9ub3J0aC1hbWVyaWNhL2dlb3JnaWEtcnVuLW9mZnMtbGl2ZS11cGRhdGVzLWRlbW9jcmF0cy1vbi1icmluay1vZi1zZW5hdGUtY29udHJvbC1qb2UtYmlkZW4tcy11cy1lbGVjdGlvbi13aW4tdG8tYmUtcmF0aWZpZWQtZG9uYWxkLXRydW1wLXRvLXNwZWFrLWF0LXJhbGx5LTIwMjEwMTA2LXA1NnM0NS5odG1s?oc=5
2021-01-07 02:07:00Z
52781289775166