Summary
The US Capitol in Washington DC is currently locked down as supporters of President Donald Trump clashed with police and stormed the building. Trump has called on the rioters to 'go home'.
House members have been told to don gas masks, as the DC mayor called for a 6pm-6am curfew across the city
Vice-President Mike Pence has refused Donald Trump's pleas, saying he doesn't have the unilateral ability to discard electoral votes that will make Joe Biden President
The US Congress is meeting to certify Joe Biden's victory in the November election, with more than 100 Republican congress members vowing to object to the results in several states
The Democrats have been called the winners in both Georgia Senate seats following run-offs yesterday. Jon Ossoff has been called the winner of his contest with David Perdue while Raphael Warnock narrowly defeated Republican Kelly Loeffler earlier.
Latest updates
After US President Donald Trump urged supporters not to stand for his election defeat, a furious mob stormed the Capitol Building around 6am AEST to halt the certification of President-elect Joe Biden's victory.
In remarkable and terrifying scenes, the rioters breached the complex, smashing windows and swarming through the building - making it as far as the Senate floor where the vice president had stood shortly before.
The extraordinary breach halted Trump's election defeat and the US Senate and House of Representatives were evacuated.
The National Guard was called in after police were overwhelmed.
One person was shot.
Biden told Trump to call off the 'mob'. "At this hour our democracy is under unprecedented assault, unlike anything we've seen in modern times," Biden said in a national address.
Eventually, President Trump told supporters to "go home", however, he repeated unfounded fraud claims.
Morrison condemns US riots
Australian Prime Minister Scott Morrison condemned the scenes in Washington.
"Very distressing scenes at the US Congress. We condemn these acts of violence and look forward to a peaceful transfer of Government to the newly elected administration in the great American democratic tradition," Morrison tweeted.
World leaders condemn rioters for breaching US Capitol
A number of world leaders have condemned the rioters who breached the US Capitol, using Twitter and other channels to express their dismay and their support for the results of the 2020 election.
Protester breaches Senate chamber, sits in Vice-President's seat
There are stunning images circulating of a protester who broke into the evacuated Senate chamber and took the presiding seat Vice-President Mike Pence sat at just hours earlier.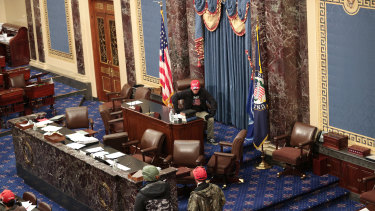 Our graphics department has come up with this map to set the scene of some of today's events.
DC protesters used chemical irritants on police
The police chief of Washington, DC, says pro-Trump protesters deployed "chemical irritants" on police in order to break into the US Capitol.
Police Chief Robert Contee says officials have declared the scene a riot. One civilian was shot inside the Capitol on Wednesday. Thirteen arrests were made of people from out of the area.
Mayor Muriel Bowser says the behaviour of the Trump supporters was "shameful, unpatriotic and above all is unlawful". She said, "There will be law and order and this behaviour will not be tolerated."
Metropolitan police have been sent to the Capitol, and authorities were coming in from Maryland, Virginia and New Jersey to help out. The National Guard was also deployed, as were Homeland Security investigators and Secret Service.
Trump had encouraged his supporters to come to Washington to fight Congress' formal approval of President-elect Joe Biden's win.
He held a rally earlier Wednesday and urged his supporters to march to the Capitol, telling them to "get rid of the weak Congress people" and saying, "get the weak ones get out; this is the time for strength".
AP
Omar draws up Articles of Impeachment for Trump
Democratic legislator Ilhan Omar from Minnesota will call for US President Donald Trump to face a fresh impeachment hearing and be removed from office.
Omar has tweeted that she is drawing up Articles of Impeachment.
Gallery: US Congress under attack
The United States Senate and House of Representatives have been evacuated after furious supporters of President Donald Trump stormed the Capitol Building in an attempt to halt the certification of President-elect Joe Biden's victory.
Click here to see a selection of the pictures.
Ossoff wins Georgia Senate race, giving Biden control of the US Senate
Georgia Democrat Jon Ossoff has won his Senate run-off election.
His victory gives Democrats control of the Senate for the opening of Democrat Joe Biden's presidency. Democrats needed to win both of Georgia's Senate run-off elections on Tuesday to claim the Senate majority.
The 33-year-old Ossoff defeated 71-year-old Republican David Perdue, who held the seat for the past six years and had the strong support of President Donald Trump.
Trump tells protesters to go home
President Donald Trump, in a video message, is urging supporters to "go home" but is also keeping up false attacks about the presidential election.
The video was issued more than two hours after protesters began storming the Capitol on Wednesday as lawmakers convened for an extraordinary joint session to confirm the Electoral College results and President-elect Joe Biden's victory.
Trump opened his video, saying, "I know your pain. I know your hurt. But you have to go home now."
He also went on to call the supporters "very special". He also said, "We can't play into the hands of these people. We have to have peace. So go home. We love you. You're very special."
Republican lawmakers and previous administration officials had begged Trump to give a statement to his supporters to quell the violence. The statement came as authorities struggled to take control of a chaotic situation at the Capitol that led to the evacuation of lawmakers.
AP
https://news.google.com/__i/rss/rd/articles/CBMizAFodHRwczovL3d3dy5zbWguY29tLmF1L3dvcmxkL25vcnRoLWFtZXJpY2EvZ2VvcmdpYS1ydW4tb2Zmcy1saXZlLXVwZGF0ZXMtZGVtb2NyYXRzLW9uLWJyaW5rLW9mLXNlbmF0ZS1jb250cm9sLWpvZS1iaWRlbi1zLXVzLWVsZWN0aW9uLXdpbi10by1iZS1yYXRpZmllZC1kb25hbGQtdHJ1bXAtdG8tc3BlYWstYXQtcmFsbHktMjAyMTAxMDYtcDU2czQ1Lmh0bWzSAcwBaHR0cHM6Ly9hbXAuc21oLmNvbS5hdS93b3JsZC9ub3J0aC1hbWVyaWNhL2dlb3JnaWEtcnVuLW9mZnMtbGl2ZS11cGRhdGVzLWRlbW9jcmF0cy1vbi1icmluay1vZi1zZW5hdGUtY29udHJvbC1qb2UtYmlkZW4tcy11cy1lbGVjdGlvbi13aW4tdG8tYmUtcmF0aWZpZWQtZG9uYWxkLXRydW1wLXRvLXNwZWFrLWF0LXJhbGx5LTIwMjEwMTA2LXA1NnM0NS5odG1s?oc=5
2021-01-06 22:47:00Z
52781289641551