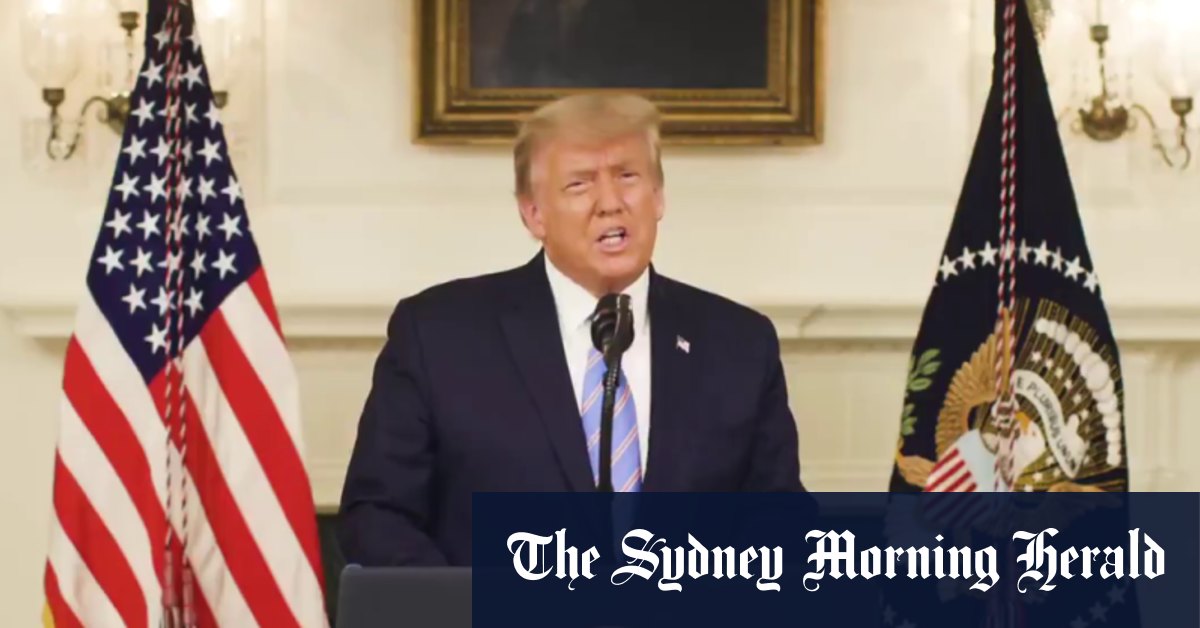 Washington: US President Donald Trump has vowed to spend his final days in office working to ensure a smooth transition to a Biden administration, in an abrupt change in tone after the most senior Democrats in Congress demanded he be removed from office for inciting violence in the US capital.
A day after his supporters stormed into the Capitol building - resulting in at least five deaths - Trump released a video message in which he effectively conceded that the Biden administration would take over on January 20.
At the end of the video Trump told his supporters that "our incredible journey is only just beginning", suggesting he may run for President again in 2024.
He called for calm and condemned the violence in Washington.
"Now Congress has certified the results, a new administration will be inaugurated on January 20th," Trump said in the video message.
"My focus now turns to ensuring a smooth, orderly and seamless transition of power. This moment calls for healing and reconciliation."
Trump released a statement earlier in the day acknowledging Biden would be the next president but this was the first time he had recognised this fact on camera.
Trump's message represented a dramatic shift from the previous day when he addressed supporters near the White House, saying: "We will never concede...You don't concede when there's theft involved."
Since the assault on the Capitol, Trump has faced fierce condemnation from Republicans, as well as Democrats, for encouraging his supporters to fight to overturn Biden's victory.
In the video Trump said: "The demonstrators who infiltrated the Capitol have defiled the seat of American democracy.
"To those who engaged in the acts of violence and destruction, you do not represent our country. And to those who broke the law: you will pay."
Trump said that while many Americans feel angry about the election "tempers must be cooled and calm restored".
"We must get on with the business of America," he said.
Pulling back from his previous claims of systematic election fraud, Trump said only that he believed election laws should be reformed to give Americans more trust in the accuracy of the results.
Earlier in the day Democratic House Speaker Nancy Pelosi called for Trump to be removed under the 25th amendment - which allows his cabinet to appoint Vice-President Mike Pence to fill his place.
If Trump isn't removed, Pelosi said the House may move forward with a second impeachment accusing Trump of inciting violence.
A police officer who defended the Capitol Building during the riots died on Friday (AEDT), taking the total death count to five.
Gretchen Whitmer, the Democratic Governor of Michigan, said Trump's recognition he had not won a second term came far too late.
"It's about damn time," she told MSBNC. "If he'd done this earlier lives would have been saved."
In an editorial The Wall Street Journal, which is owned by Rupert Murdoch's News Corp and is extremely influential on the US political right, on Friday (AEDT) called for Trump to quit.
"If Mr Trump wants to avoid a second impeachment, his best path would be to take personal responsibility and resign," the paper's editorial board said.
"This would be the cleanest solution since it would immediately turn presidential duties over to Mr Pence.
"And it would give Mr. Trump agency, a la Richard Nixon, over his own fate."
Matthew Knott is North America correspondent for The Sydney Morning Herald and The Age.
https://news.google.com/__i/rss/rd/articles/CBMie2h0dHBzOi8vd3d3LnNtaC5jb20uYXUvd29ybGQvbm9ydGgtYW1lcmljYS90cnVtcC1jYWxscy1mb3ItcmVjb25jaWxpYXRpb24tY29uY2VkZXMtZGVmZWF0LXRvLWpvZS1iaWRlbi0yMDIxMDEwOC1wNTZzbnouaHRtbNIBe2h0dHBzOi8vYW1wLnNtaC5jb20uYXUvd29ybGQvbm9ydGgtYW1lcmljYS90cnVtcC1jYWxscy1mb3ItcmVjb25jaWxpYXRpb24tY29uY2VkZXMtZGVmZWF0LXRvLWpvZS1iaWRlbi0yMDIxMDEwOC1wNTZzbnouaHRtbA?oc=5
2021-01-08 00:55:00Z
52781288812412