Summary
Democrats are within reach of seizing control of the US Senate after Democrat Raphael Warnock narrowly defeated Republican Kelly Loeffler in the Senate run-off in Georgia.
In the other run-off contest, Democrat Jon Ossoff narrowly leads Republican Senator David Perdue.
If both Warnock and Ossoff win, the Senate will be tied 50-50 between Democrats and Republicans with Vice-President-elect Kamala Harris able to cast a tie-breaking vote.
On Thursday (AEDT), the US Congress will meet to certify Joe Biden's victory in the November election, with more than 100 Republican congress members vowing to object to the results in several states.
President Donald Trump has urged his supporters to gather in the capital for a massive protest, raising fears of violence in Washington.
Pinned post from
Ossoff claims a win, but race is too early to call
US Senate candidate Jon Ossoff is claiming victory in his race against Republican David Perdue, thanking Georgians for "electing me to serve you".
The Associated Press has not declared a winner in the race between Ossoff and Perdue, which is too early to call.
Ossoff made the comments early on Thursday (AEDT) in a speech on social media, which you can watch below. He said the campaign has been about health, jobs and justice for Georgians.
He added that he intends to serve all people in the state.
With 98 per cent of votes in and counting mostly stopped overnight, Ossoff led Perdue by more than 16,000 votes, or 0.4 percentage points, just shy of the state's 0.5 per cent threshold to avoid a recount.
Georgia's two Senate run-off elections will decide control of the US Senate. In the other race, the Reverend Raphael Warnock, a Democrat, defeated incumbent Republican Kelly Loeffler.
AP
Latest updates
Biden says Georgia sends a 'resounding message'
President-elect Joe Biden is heralding a Democratic victory in at least one of Georgia's two US Senate run-offs as part of "a resounding message".
Biden in a statement on Wednesday local time (Thursday AEDT) congratulated Reverend Raphael Warnock on his "groundbreaking win" over Republican Kelly Loeffler, noting he was "hopeful" that fellow Democrat Jon Ossoff would also win his race.
Biden, the first Democrat in decades to win Georgia's electoral votes, campaigned several times for the Senate candidates, whose performances affect his legislative agenda's success. Ossoff's victory would mean a 50-50 Senate split, with Vice President-elect Kamala Harris serving as a tie-breaking vote.
Ossoff held a small lead over Republican David Perdue as of Wednesday morning, though it was too early to call the race. Under Georgia law, a trailing candidate may request a recount when the margin of an election is less than or equal to 0.5 percentage points.
'We will never give up,' Trump tells supporters at rally
Outgoing US President Donald Trump has addressed thousands of his supporters at a rally in Washington DC as Congress prepares to meet to confirm Joe Biden's victory in November's presidential election.
Trump, who has spent much of his time since November in a failed effort to reverse his defeat, falsely said he won the election as he spoke on an outdoor stage framing the White House.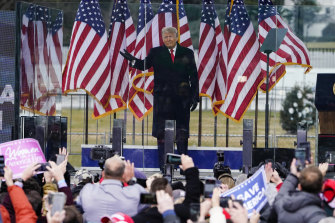 "We will never give up. We will never concede. It doesn't happen. You don't concede when there's theft involved," Trump said, repeating the groundless conspiracy theories that have consumed his final days in office.
"We won this election, and we won it by a landslide. This was not a close election."
Crowds gathered at the "Save America March" wore red baseball caps and cheered as Trump spoke.
The President also continued to pile pressure on Vice-President Pence to block the congressional count of the Electoral College votes, set to begin at 1pm local time (5am AEDT). The Constitution does not give the vice-president that power.
"I hope Mike is going to do the right thing. I hope so. I hope so, because if Mike Pence does the right thing, we win the election," Trump said. "All Vice-President Pence has to do is recertify, and we become president and you are the happiest people."
With Reuters
Giuliani calls for 'trial by combat' at DC rally
President Donald Trump's personal lawyer, Rudy Giuliani, has addressed the large crowd gathered outside the White House and urged the presidential election to be settled by "trial by combat".
Giuliani has spent much of the past few months promoting false allegations of widespread voter fraud in November's presidential election. He has been a staunch supporter of Trump, who spent much of his election-eve rally in Georgia this week falsely claiming he had won the presidential election in a "landslide".
At Wednesday's rally, Giuliani falsely claimed that Vice-President Mike Pence had the power to unilaterally reject the electoral vote tally, even though Pence has no such authority.
He said if the President and his team were wrong, "we will be made fools of".
"But if we're right, a lot of them will go to jail," he said, to cheers from the crowd.
"So, let's have trial by combat," Giuliani said. "I'm willing to stake my reputation – the President is willing to stake his reputation – on the fact that we're going to find criminality there. Is Joe Biden willing to stake his reputation that there's no crime there?"
Some immediately condemned the violent imagery of his comments.
Trump is expected to address the rally in the coming hours.
'BIG CROWDS!': Trump supporters protest in Washington DC
Thousands of supporters of US President Donald Trump, including members of far-right groups, have gathered in Washington DC to protest a meeting of Congress to certify Joe Biden's victory in November's presidential election.
Trump, who lost the election, promised to address the protesters at the Ellipse, a park near the White House.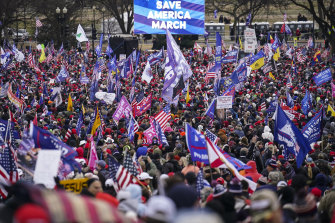 "BIG CROWDS!" Trump wrote on Twitter.
One of his sons, Eric Trump, warmed up the flag-waving crowds with unfounded conspiracy theories.
"Is there any person here that actually thinks that Joe Biden won this election?" Eric Trump said to shouts of "No."
The states have all certified that Biden, a Democrat, won the election by 306 Electoral College votes to Trump's 232, and Trump's challenges to Biden's victory have floundered in courts across the country.
"It doesn't matter," Eric Trump said. "They can lie; they can cheat; they can steal. My father has started a movement and this movement will never, ever die."
Congress was due to certify Biden's victory on Wednesday. Many of Trump's fellow Republicans have promised a stonewalling effort that could stretch proceedings past midnight but was almost certain to fail.
Crowd control largely fell to the Metropolitan Police Department, which mobilised all 3750 officers, the Capitol Police, the Park Police, the US Secret Service, and more than 300 members of the city's National Guard, according to Washington police chief Robert Contee and other officials.
Police have told protesters not to bring their guns to Washington, which has some of the nation's strictest gun laws and bans the open carrying of firearms.
Reuters
Romney says Trump 'disgraced the office of the presidency'
Republican Senator Mitt Romney says President Donald Trump's election challenge has "disgraced the office of the presidency".
Romney told reporters on Capitol Hill ahead of Wednesday's joint session to confirm Joe Biden's Electoral College win that he was certain of the outcome.
"I'm confident that we'll proceed as the Constitution demands and tell our supporters the truth – whether or not they want to hear it," Romney said.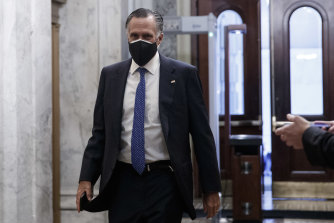 Republicans are picking up Trump's demands to challenge the results from several states. But they are not expected to have enough votes in Congress to change the results. Biden is set to be inaugurated on January 20.
Romney said: "President Trump has disrespected the American voters, has dishonoured the election system and has disgraced the office of the presidency".
He called the "gambit" of the challenges in Congress "very disappointing".
The US Congress will meet from 1pm local time (5am AEDT) to certify Biden's victory, with more than 100 Republican congress members vowing to object to the results in several states.
AP
Hillary Clinton's response to the Georgia run-offs
One person who is watching the Georgia run-off with great enthusiasm is former presidential candidate Hillary Clinton:
Republicans begin to blame Trump for poor performance
Even before the race between John Ossoff and David Perdue was called, Republicans were already beginning to blame President Donald Trump for the party's poor performance.
Some Republicans say his futile, baseless effort to challenge his own loss in November bitterly divided the party and undercut candidates, who were trying to portray a Republican Senate majority as a firewall against Democratic power.
"The President effectively eliminated the most potent Republican argument by refusing to acknowledge he lost in November," said Josh Holmes, a Republican strategist close to Senate Majority Leader Mitch McConnell of Kentucky, who described the mood of the Republican Party now as "boiling".
Holmes said Republicans' embrace of Trump-era conspiracy theories had especially hurt the party among suburban voters.
LA Times
Trump pressures powerless Pence ahead of electoral count
By

Jill Colvin

and

Zeke Miller
President Donald Trump has tightened the screws on his most loyal soldier, trying to pressure Vice-President Mike Pence to use powers he does not have to overturn the will of voters in a desperate and futile bid to undo President-elect Joe Biden's victory in the November election.
Pence finds himself in the most precarious position of his tenure as he prepares to preside over the congressional tally of Electoral College votes, bearing witness to the formality of the Trump-Pence team's defeat.
Beginning at 1pm on Wednesday local time (5am AEDT), Pence's role is to open the certificates of the electoral votes from each state and present them to the appointed "tellers" from the House and Senate in alphabetical order. At the end of the count, Pence, seated on the House of Representatives' rostrum, has the task of announcing who has won the majority of votes for both president and vice-president.
Despite his largely ceremonial assignment, Pence is under intense pressure from the President and legions of supporters who want the Vice-President to use the moment to overturn the will of the voters in a handful of battleground states.
"All Mike Pence has to do is send them back to the States, AND WE WIN," Trump tweeted Wednesday morning. "Do it Mike, this is a time for extreme courage!"
Pence has no such unilateral power under the Constitution and congressional rules that govern the count. It is up to the House and Senate to voice objections, and states' electors were chosen in accordance with state law, not fraudulently.
"We've fought on every front on legally viable methods that are based on the Constitution of the United States. We don't want anarchy here, folks," said lawyer Jay Sekulow, who represented Trump during his impeachment, on his radio show on Tuesday. Sekulow dismissed the notion that Pence could act to overturn the vote. "Elections have consequences," Sekulow said.
Pence told Trump during their weekly lunch in the West Wing on Tuesday that he did not believe he had the power to unilaterally overturn electoral votes, according to a person briefed on the one-on-one conversation. This person was not authorised to publicly discuss the private discussion, which was first reported by The New York Times, and spoke on condition of anonymity.
AP
Trump supporters rally near White House awaiting President
Thousands of people are gathering outside the White House to show their support for President Donald Trump, who continues to make baseless claims of election fraud.
Trump is expected to address his supporters in a few hours during a rally on the Ellipse, just south of the White House.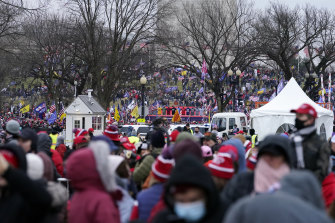 People began lining up before sunrise on Wednesday morning, local time, for a chance to attend the event.
Organisers are planning an afternoon march to the Capitol, where Congress will be voting to affirm the Electoral College results, which Trump continues to dispute.
A number of prominent Trump supporters are expected to attend the protest events, which began on Tuesday, local time, with a rally at Freedom Plaza near the White House. They include Texas Attorney-General Ken Paxton and long-time Trump ally Roger Stone, the recipient of a pardon by the President.
Trump tweeted his support for the protesters: "Washington is being inundated with people who don't want to see an election victory stolen by emboldened Radical Left Democrats. Our Country has had enough, they won't take it anymore! We hear you (and love you) from the Oval Office."
The rallies had local officials and law enforcement bracing for potential violent street clashes. Many businesses in downtown Washington boarded up their windows, fearful that the protest could devolve into the unrest seen in May and June when dozens of businesses were vandalised.
AP
'I can't wait to get to work,' Warnock says after win
Hours after winning one of Georgia's high-stakes run-offs, the Reverend Raphael Warnock says people in his state "are feeling a sense of hope this morning".
Speaking in a round of morning television interviews, Warnock noted that he grew up in public housing as one of 12 children and was the first in his family to attend college.
He said his victory "pushes against the grain of so many expectations, but this is America and I want some young person who's watching this to know anything's possible".
Georgia is now in "an incredible place when you think of the arc of our history," he said.
"This is the reversal of the old southern strategy that sought to divide people," Warnock said on ABC's Good Morning America.
"In this moment we've got to bring people together to do the hard work and I look forward to doing that."
He told NBC's Today that "we can ill-afford to be divided. And I hope to be the pastor among peers in the United States Senate to appeal to the better angels of our nature and to remind us that Dr King was right, we're tied of a single garment of destiny."
Warnock defeated Republican incumbent Kelly Loeffler.
The other race for the US Senate in Georgia – that one between incumbent Republican Senator David Perdue and Democratic challenger Jon Ossoff – remained too early to call early on Thursday AEDT.
AP
https://news.google.com/__i/rss/rd/articles/CBMizAFodHRwczovL3d3dy5zbWguY29tLmF1L3dvcmxkL25vcnRoLWFtZXJpY2EvZ2VvcmdpYS1ydW4tb2Zmcy1saXZlLXVwZGF0ZXMtZGVtb2NyYXRzLW9uLWJyaW5rLW9mLXNlbmF0ZS1jb250cm9sLWpvZS1iaWRlbi1zLXVzLWVsZWN0aW9uLXdpbi10by1iZS1yYXRpZmllZC1kb25hbGQtdHJ1bXAtdG8tc3BlYWstYXQtcmFsbHktMjAyMTAxMDYtcDU2czQ1Lmh0bWzSAcwBaHR0cHM6Ly9hbXAuc21oLmNvbS5hdS93b3JsZC9ub3J0aC1hbWVyaWNhL2dlb3JnaWEtcnVuLW9mZnMtbGl2ZS11cGRhdGVzLWRlbW9jcmF0cy1vbi1icmluay1vZi1zZW5hdGUtY29udHJvbC1qb2UtYmlkZW4tcy11cy1lbGVjdGlvbi13aW4tdG8tYmUtcmF0aWZpZWQtZG9uYWxkLXRydW1wLXRvLXNwZWFrLWF0LXJhbGx5LTIwMjEwMTA2LXA1NnM0NS5odG1s?oc=5
2021-01-06 17:51:00Z
52781288468705