Pinned post from
Democrats threaten to impeach Trump if he is not removed immediately
By

Latika Bourke
Speaker of the US House of Representatives Nancy Pelosi is joining fellow Democrats in calling for President Donald Trump to be removed from office immediately.
She has joined Chuck Schumer, the Democratic Senate leader, in calling for Trump to be removed using the constitution's 25th amendment.
She said Trump incited sedition and was a "very dangerous person who should not continue in office".
"This is urgent, this an emergency of the highest magnitude."
Pelosi called on the cabinet to immediately improve the security of the United States by removing Trump as President. She said impeachment was also an option if the cabinet did not act.
Read more: 'A threshold was crossed': Pelosi calls to impeach Trump
This sounds like a neat solution but invoking the 25th, which would transfer power to Vice-President Mike Pence, is actually no quick fix, considering Trump has just 13 days left in office.
Pelosi's office was targeted by Trump supporters, one of whom posed for photographs sitting at her desk and stole a personalised envelope from Pelosi's desk as a souvenir.
Richard "Bigo" Barnett, 60, insisted he didn't steal the custom stationery as he left a quarter on the House Speaker's desk.
Latest updates
'Tempers must be cooled and calm restored': Trump concedes to Biden
President Donald Trump has conceded to President-elect Joe Biden and condemned the violent supporters who stormed the US Capitol on Wednesday.
In a new video message, Trump said that now that Congress has certified the results, the "new administration will be inaugurated on January 20" and his "focus now turns to ensuring a smooth orderly and seamless transition of power".
He is also spoke out against the violence, calling it a "heinous attack" that left him "outraged by the violence lawlessness and mayhem."
He did not address his role in inciting the violence. But he told his supporters that, while he knows they are "disappointed," he wants them to know "our incredible journey is only just beginning." - AP
You can read the full speech here:
"I'd like to begin by addressing the heinous attack on the United States Capitol. Like all Americans I am outraged by violence, lawlessness and mayhem. I immediately deployed the National Guard and federal law enforcement to secure the building and expel the intruders. America is and must always be a nation of law and order.
"The demonstrators who infiltrated the Capitol have defiled the seat of American democracy. To those who engaged in the acts of violence and destruction, you do not represent our country. And to those who broke the law, you will pay.
"We have just been through an intense election and emotions are high. But now tempers must be cooled and calm restored. We must get on with the business of America. My campaign vigorously pursued every legal avenue to contest the election results. My only goal was to ensure the integrity of the vote. In so doing I was fighting to defend American democracy. I continue to strongly believe that we must reform our election laws to verify the identity and eligibility of all voters and ensure faith and confidence in all future elections.
"Now Congress has certified the results a new administration will be inaugurated on January 20. My focus now turns to ensuring a smooth, orderly and seamless transition of power. This moment calls for healing and reconciliation.
"2020 has been a challenging time for our people. A menacing pandemic has up-ended the lives of our citizens, isolated millions in their homes, damaged their economy and claimed countless lives. Defeating this pandemic and rebuilding the greatest economy on Earth will require a renewed emphasis on the civic values of patriotism, faith, charity, community and family.
"We must revitalise the sacred bonds of love and loyalty that bind us together as one national family. To the citizens of our country, serving as your President has been the honour of my lifetime and to all of my wonderful supporters, I know you are disappointed but I also want you to know that our incredibly journey is only just beginning. Thank you, God bless you and God bless America."
US Capitol police officer dies following riots: CNN
A US Capitol police officer has died following the storming of the Capitol by supporters of President Donald Trump, CNN said on Thursday.
The officer was the fifth person to die after Trump's supporters swarmed the building on Wednesday in a failed attempt to disrupt efforts to certify President-elect Joe Biden's victory.
Quoting three sources, CNN offered no further details.
Reuters
US registers highest COVID-19 deaths yet on the day of riots, fears of super-spreader event
The US recorded more COVID-19 deaths in a single day than ever before – nearly 3,900 – on the same day a mob attacked the Capitol.
A new, more contagious variant of the virus is spreading around the globe and in the US, and it remains to be seen what effect the thousands of supporters of President Donald Trump who converged this week in Washington, many of them without masks, will have on the spread of the virus.
Trump has long downplayed the virus and scorned masks, and many of his ardent supporters have followed his example.
On Wednesday, the day a horde of protesters breached the US Capitol and disrupted efforts to certify the election of Joe Biden, the US recorded 3865 virus deaths according to Johns Hopkins University.
The numbers can fluctuate dramatically after holidays and weekends, and the figure is subject to revision.
An epidemiologist from the University of California, Los Angeles, told The New York Times that the concern was that people who rushed into the Capitol building itself were infected.
"It has all the elements of what we warn people about," said Dr Anne Rimoin. "People yelling and screaming, chanting, exerting themselves – all of those things provide opportunity for the virus to spread, and this virus takes those opportunities."
"I'm less worried about what was happening outdoors," Dr Rimoin said. "The risk increases exponentially indoors."
The virus is surging in several states, with California hit particularly hard, reporting on Thursday a record two-day total of 1042 coronavirus deaths. Skyrocketing caseloads there are threatening to force hospitals to ration care and essentially decide who lives and who dies.
"Folks are gasping for breath. Folks look like they're drowning when they are in bed right in front of us," said Dr Jeffrey Chien, an emergency room physician at Santa Clara Valley Regional Medical Centre, urging people to do their part to help slow the spread.
"I'm begging everyone to help us out because we aren't the front line. We're the last line."
With AP
Capitol Police chief resigning after mob attack
The head of the US Capitol Police will resign effective January 16 following the breach of the Capitol by a pro-Trump mob.
Chief Steven Sund said Thursday that police had planned for a free speech demonstration and did not expect the violent attack. He said it was unlike anything he'd experienced in his 30 years in law enforcement.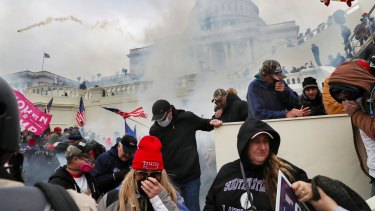 He resigned Thursday after House Speaker Nancy Pelosi called on him to step down. His resignation was confirmed to The Associated Press by a person familiar with the matter who was not authorised to speak publicly.
The breach halted the effort by Congress to certify President-elect Joe Biden's victory. Protesters stormed the building and occupied for hours. The lawmakers eventually returned and finished their work.
AP
Sedition charge possible for pro-Trump rioters
More from the top federal prosecutor in Washington DC, Michael Sherwin, who spoke to the media several hours ago.
He said that "all options are on the table" for charging members of the violent pro-Trump mob that stormed the U.S. Capitol — including sedition charges.
He said prosecutors plan to file 15 federal cases on Thursday for crimes including unauthorised access and theft of property, and investigators are combing through reams of evidence to bring additional charges.
"All of those charges are on the table," he said. "We're not going to keep anything out of our arsenal for potential charges. We will bring the most maximum charges we can based upon the conduct."
Sherwin said 40 other cases had already been filed in District of Columbia Superior Court.
More than 90 people have been arrested in Washington and more arrests are likely. US attorneys from across the country have vowed to find and bring to justice any residents who participated in the insurrection aimed at thwarting the peaceful transfer of power. But it could take weeks to build cases against the rioters.
AP
Biden says cabinet to decide whether to remove Trump using 25th amendment
President-elect Joe Biden is leaving it up to the current cabinet to decide whether to remove President Donald Trump from office using the 25th Amendment.
Transition aide Andrew Bates said in a statement released not long ago that Biden and Vice President-elect Kamala Harris are "focused on their duty" – the transition work in preparation for their inauguration on January 20 – "and will leave it to Vice President Pence, the cabinet and the Congress to act as they see fit."
The 25th Amendment allows for a majority of the cabinet to vote to transfer the powers of the presidency to the vice president in cases where the president is unable to perform his duty.
Trump officials are facing growing calls to consider the move after pro-Trump protesters broke into the Capitol on Wednesday in a violent melee that forced lawmakers to evacuate.
Biden avoided weighing in on whether Trump should be impeached again, a move already gaining traction among House Democrats.
The statement from Bates came after Biden tweeted comparing the response by law enforcement to Wednesday's riots with the response to the Black Lives Matter protests earlier this year.
"No one can tell me that if it had been a group of Black Lives Matter protestors yesterday that they wouldn't have been treated very differently than the mob that stormed the Capitol," he said.
"We all know that's true - and it's unacceptable."
With AP
Trump awards Medals of Freedom to golfers the morning after the riots
Less than 24 hours after pro-Trump insurrectionists stormed the Capitol building and stalled congressional efforts to certify electoral college votes for President-elect Joe Biden, President Donald Trump awarded the Presidential Medal of Freedom to golfers Annika Sorenstam, Gary Player and the late Babe Zaharias in a closed-door ceremony Thursday.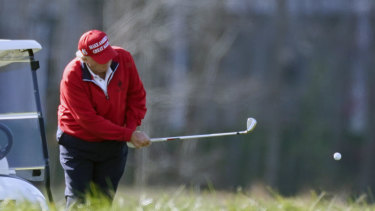 The Presidential Medal of Freedom, considered the nation's highest civilian honour, is awarded by the President "to individuals who have made especially meritorious contributions to the security or national interests of the United States, to world peace, or to cultural or other significant public or private endeavours," according to the White House.
Player and Sorenstam were announced recipients last March, but the ceremony was postponed due to the coronavirus pandemic.
Sorenstam, a 10-time major champion and eight-time LPGA Player of the Year winner, is regarded as one of the best golfers in history. A 2003 Women's Golf Hall of Fame inductee, her 72 LGPA Tour wins are third-most all-time.
Her foundation's announcement on Twitter that she would attend came just as the riots on Capitol Hill escalated, prompting her followers to urge her to boycott the ceremony.
Read the rest of this story here.
Trump not off limits in investigation into riots: US Attorney
The top federal prosecutor in Washington DC has not ruled out investigating outgoing President Donald Trump for his part in Wednesday's riots, according to the Washington Post.
The newspaper reports that acting US Attorney Michael Sherwin said "all actors" would be examined to determine if they broke the law.
When asked if federal agents and prosecutors will look at the statements made by speakers at Trump's rally shortly before the riots, he said: "Yes, we are looking at all actors here, not only the people that went into the building, but … were there others that maybe assisted or facilitated or played some ancillary role in this. We will look at every actor and all criminal charges."
He was asked whether that specifically included Trump.
"We are looking at all actors here, and anyone that had a role, if the evidence fits the element of a crime, they're going to be charged," he responded.
Capitol police chief defends response to 'criminal' rioters, Pelosi calls for his resignation
The head of the US Capitol Police has defended his department's response to the storming of the Capitol, saying that officers "acted valiantly when faced with thousands of individuals involved in violent riotous actions".
Washington's mayor called the police response "a failure".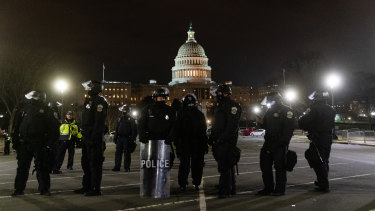 Chief Steven Sund, in his first public comment on the mayhem from Wednesday, said in a statement that rioters "actively attacked" Capitol police and other law enforcement officers with metal pipes, discharged chemical irritants and "took up other weapons against our officers".
The siege, as the House and Senate were affirming President-elect Joe Biden's election victory, was "unlike any I have ever experienced in my 30 years in law enforcement here in Washington DC" said Sund, a former city police officer.
House Speaker Nancy Pelosi says she is seeking Sund's resignation.
The California Democrat also said on Thursday that House Sergeant-at-Arms Paul Irving, another key security official, had already submitted his resignation. He reports directly to Pelosi, while Sund answers to both the House and Senate.
Incoming Senate Majority Leader Chuck Schumer said he'll fire the Senate Sergeant-at-Arms Michael Stenger.
AP
Trump lawyer asks to withdraw, citing that his services were used to 'perpetuate a crime'
By

Rosalind S. Helderman
A lawyer who had been representing President Trump's campaign in Pennsylvania has asked a judge to be allowed to withdraw from the case, saying that his services were used "to perpetuate a crime".
Jerome M. Marcus, a lawyer based in Merion Station, Pennsylvania, added: "The client insists upon taking action that the lawyer considers repugnant and with which the lawyer had a fundamental disagreement".
The filing came a day after pro-Trump rioters stormed the US Capitol, incited by Trump's false rhetoric that the election had been stolen from him in Pennsylvania and other key swing states won by Biden.
Marcus had represented the campaign in a case that was filed two days after the election against the Philadelphia County Board of Elections. It had asked a federal judge to order the board to stop counting ballots because the campaign claimed Republican observers were not being given access to the count.
At the time, Trump still officially led in Pennsylvania, but it was clear that as additional ballots were tallied, Biden would take the lead and eventually be declared the winner.
US District Judge Paul Diamond held an emergency hearing in the case, where he pressed Marcus as to whether observers had been allowed into the counting room.
Marcus conceded at the time that there were a "nonzero number of people in the room," to which Diamond responded, "I'm sorry, then what's your problem?"
Diamond refused to grant the request on November 6. Nothing else has happened in the case since then, meaning that Marcus's request to withdraw is a largely symbolic gesture of protest against Trump's actions. Marcus did not immediately respond to a request for comment.
Washington Post
https://news.google.com/__i/rss/rd/articles/CBMiwwFodHRwczovL3d3dy5zbWguY29tLmF1L3dvcmxkL25vcnRoLWFtZXJpY2EvdXMtcmlvdHMtbGl2ZS11cGRhdGVzLWNhcGl0b2wtaGlsbC12aW9sZW5jZS1jb25kZW1uZWQtYXMtZGVtb2NyYXRzLXJlcHVibGljYW5zLXVuaXRlLWFnYWluc3QtdHJ1bXAtcy1mYWxzZS1jbGFpbXMtb2YtZWxlY3Rpb24tZnJhdWQtMjAyMTAxMDctcDU2c2ZlLmh0bWzSAcMBaHR0cHM6Ly9hbXAuc21oLmNvbS5hdS93b3JsZC9ub3J0aC1hbWVyaWNhL3VzLXJpb3RzLWxpdmUtdXBkYXRlcy1jYXBpdG9sLWhpbGwtdmlvbGVuY2UtY29uZGVtbmVkLWFzLWRlbW9jcmF0cy1yZXB1YmxpY2Fucy11bml0ZS1hZ2FpbnN0LXRydW1wLXMtZmFsc2UtY2xhaW1zLW9mLWVsZWN0aW9uLWZyYXVkLTIwMjEwMTA3LXA1NnNmZS5odG1s?oc=5
2021-01-08 00:21:00Z
CBMiwwFodHRwczovL3d3dy5zbWguY29tLmF1L3dvcmxkL25vcnRoLWFtZXJpY2EvdXMtcmlvdHMtbGl2ZS11cGRhdGVzLWNhcGl0b2wtaGlsbC12aW9sZW5jZS1jb25kZW1uZWQtYXMtZGVtb2NyYXRzLXJlcHVibGljYW5zLXVuaXRlLWFnYWluc3QtdHJ1bXAtcy1mYWxzZS1jbGFpbXMtb2YtZWxlY3Rpb24tZnJhdWQtMjAyMTAxMDctcDU2c2ZlLmh0bWzSAcMBaHR0cHM6Ly9hbXAuc21oLmNvbS5hdS93b3JsZC9ub3J0aC1hbWVyaWNhL3VzLXJpb3RzLWxpdmUtdXBkYXRlcy1jYXBpdG9sLWhpbGwtdmlvbGVuY2UtY29uZGVtbmVkLWFzLWRlbW9jcmF0cy1yZXB1YmxpY2Fucy11bml0ZS1hZ2FpbnN0LXRydW1wLXMtZmFsc2UtY2xhaW1zLW9mLWVsZWN0aW9uLWZyYXVkLTIwMjEwMTA3LXA1NnNmZS5odG1s