Washington: Mitch McConnell, the most senior Republican in the US Congress, has congratulated Joe Biden on his election victory for the first time, even as President Donald Trump continued to question the validity of the results.
McConnell's speech to the US Senate came a day after the Electoral College officially certified Biden as the winner of the election, effectively shutting off any hope Trump had of reversing the outcome.
While the Senate majority leader has not echoed Trump's claims of widespread fraud, he had conspicuously avoided recognising Biden as the winner of the election until now.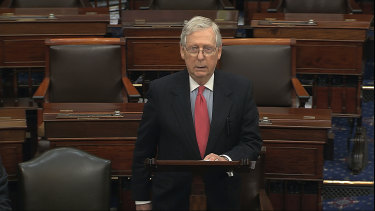 "Many of us hoped that the presidential election would yield a different result, but our system of government has processes to determine who will be sworn in on January 20," Mr McConnell said.
"The Electoral College has spoken. So today, I want to congratulate President-elect Joe Biden."
McConnell said that Biden was "no stranger to the Senate", having served there for 36 years, and that he has "devoted himself to public service for many years".
He also congratulated Biden's running mate Kamala Harris, saying: "Beyond our differences, all Americans can take pride that our nation has a female Vice President-elect for the very first time."
Trump has continued to refuse to concede defeat, tweeting on Wednesday (AEDT): "Tremendous evidence pouring in on voter fraud. There has never been anything like this in our Country!"
McConnell spent much of his speech praising Trump's time in office, saying: "The outsider who swore he would shake up Washington and lead our country to new accomplishments at home and abroad proceeded to do exactly that."
A growing number of Republicans in Congress have begun recognising Biden as the President-elect in recent days.
The previous day John Thune, the Republican Party's Senate Whip, said: "I understand there are people who feel strongly about the outcome of this election.
"But in the end at some point you have to face the music. And I think that once the Electoral College settles the issue today, it's time for everybody to move on."
Republican Senator Shelley Moore Capito of West Virginia said that "it's time to turn the page and begin a new administration" while colleague Rob Portman of Ohio said the Electoral College had made clear that Biden was the President-elect.
But some Republicans in Congress continue to reject the election outcome. Mo Brooks, a congressman from Alabama, told Fox News Business that he would not be part of what he deemed the "surrender caucus".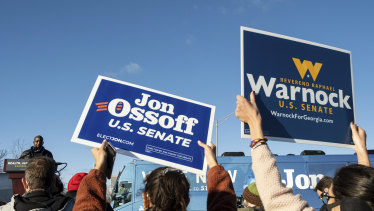 "I'm quite confident that if we only counted lawful votes cast by eligible American citizens, Donald Trump won the Electoral College, and we should not be counting illegal votes and putting in an illegitimate President of the United States," Brooks said.
On Wednesday (AEDT) Biden will travel to Georgia to campaign for Democrats competing for two Senate seats there.
If Democrats Jon Ossoff and Rafael Warnock win both seats on January 5, Democrats will take take control of the Senate; if Republicans win one or both seats they will remain in control of that chamber.
In a speech after he was declared the winner, Biden offered his sharpest criticism of US President Donald Trump since the election, saying: "In America, politicians don't take power – the people grant power to them."
Biden described the Republicans' legal argument to change the election outcome as "a position so extreme we've never seen it before – a position that refused to respect the will of the people, refused to respect the rule of law, and refused to honour our constitution".
Matthew Knott is North America correspondent for The Sydney Morning Herald and The Age.
https://news.google.com/__i/rss/rd/articles/CBMihgFodHRwczovL3d3dy5zbWguY29tLmF1L3dvcmxkL25vcnRoLWFtZXJpY2EvZm9yLWZpcnN0LXRpbWUtbWl0Y2gtbWNjb25uZWxsLXJlY29nbmlzZXMtam9lLWJpZGVuLWFzLXByZXNpZGVudC1lbGVjdC0yMDIwMTIxNi1wNTZuc3YuaHRtbNIBhgFodHRwczovL2FtcC5zbWguY29tLmF1L3dvcmxkL25vcnRoLWFtZXJpY2EvZm9yLWZpcnN0LXRpbWUtbWl0Y2gtbWNjb25uZWxsLXJlY29nbmlzZXMtam9lLWJpZGVuLWFzLXByZXNpZGVudC1lbGVjdC0yMDIwMTIxNi1wNTZuc3YuaHRtbA?oc=5
2020-12-15 18:49:00Z
52781239578227