London: Britain and Europe have struck a Brexit trading deal just a week out from the transition deadline, ending four years of bitter break-up talks since the UK voted to leave the single market in the 2016 referendum.
The Christmas Eve breakthrough came after Britain and the EU made big concessions on key sticking points, including fishing rights, how the trade deal will be enforced and fair competition for companies.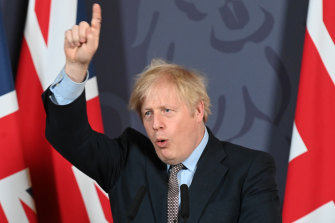 Prime Minister Boris Johnson said the deal was worth £668 billion ($1.19 trillion) per year and would create a "giant free trade zone" of which Britain would be a member, while also allowing it to strike other new free trade deals.
Under the deal, the EU and Britain will continue to trade with no limits or tariffs on goods that comply with the appropriate rules of origin.
"We've taken back control of our destiny, we've taken back every jot and tittle of our regulation," he said at a news conference at Number 10.
However, he said Britain would remain "emotionally" attached to Europe.
"We will be your friend, your ally, your supporter and indeed never let it be forgotten – your number one market, because although we have left the EU, this country will remain culturally, emotionally, historically, strategically, geologically attached to Europe," he said.
He said the "good news" was the resolution of a problem that had bedevilled British politics for years.
EU Commission chief Ursula von der Leyen said the deal was "fair and balanced" and that it was "time to turn the page and look to the future."
"I only feel quiet satisfaction and, frankly speaking, relief," she told a news conference.
"I know this is a difficult day for some and to our friends in the United Kingdom, parting is such sweet sorrow.
"But to use a line from T.S Eliot to say 'What we call the beginning is often the end. And to make an end is to make a beginning'."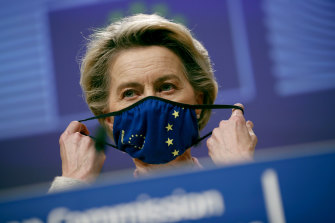 The deal was welcomed by key member states including France, Germany and the Netherlands.
Britain's chief negotiator, David Frost, said the deal restored Britain's sovereignty "in full".
"EU law ceases to apply; the jurisdiction of the European Court of Justice ends; there is no alignment with EU rules; and our Parliament sets all laws for our country once again," he said.
Frost's EU counterpart, Michel Barnier, said "today is a day of relief".
But Barnier expressed regret that Britain chose not to continue participating in an Erasmus – a multibillion-dollar EU educational and vocational training and exchange program. Johnson said the scheme was too expensive and would be replaced by a new one named in honour of code-breaker Alan Turing.
The deal will go to a special sitting of the Commons on December 30 where it is expected to pass, with the changes to come into effect on January 1.
The news was widely welcomed. Former prime minister David Cameron, who took the UK to the referendum and quit after losing to Leave, said it was good to end a difficult year with some positive news.
"Trade deal is very welcome – and a vital step in building a new relationship with the EU as friends, neighbours and partners," he said.
"Many congratulations to the UK negotiating team."
Tony Danker, Director-General of Britain's leading business lobby group the CBI, praised the "courage" of political leaders in reaching a deal.
"This will come as a huge relief to British business at a time when resilience is at an all-time low," he said.
"But coming so late in the day, it is vital that both sides take instant steps to keep trade moving and services flowing while firms adjust."
He called on the government to issue immediate guidance, with the changes set to take effect in just over a week's time.
"Above all, we need urgent confirmation of grace periods to smooth the cliff edge on everything from data to rules of origin and we need to ensure we keep goods moving across borders," he said.
Latika Bourke is a journalist for The Sydney Morning Herald and The Age, based in London.
https://news.google.com/__i/rss/rd/articles/CBMihQFodHRwczovL3d3dy5zbWguY29tLmF1L3dvcmxkL2V1cm9wZS9icml0YWluLWFuZC1ldS1zdHJpa2UtY2hyaXN0bWFzLWV2ZS10cmFkaW5nLWRlYWwtYS13ZWVrLWZyb20tYnJleGl0LWRlYWRsaW5lLTIwMjAxMjI0LXA1NnB4Ny5odG1s0gGFAWh0dHBzOi8vYW1wLnNtaC5jb20uYXUvd29ybGQvZXVyb3BlL2JyaXRhaW4tYW5kLWV1LXN0cmlrZS1jaHJpc3RtYXMtZXZlLXRyYWRpbmctZGVhbC1hLXdlZWstZnJvbS1icmV4aXQtZGVhZGxpbmUtMjAyMDEyMjQtcDU2cHg3Lmh0bWw?oc=5
2020-12-24 15:04:00Z
52781259169935