Summary
Nearly 100 million Americans have already cast their ballots early, and now it falls to election day voters to finish the job
Joe Biden enters election day with multiple paths to victory while President Donald Trump has a narrower but still feasible road to clinch 270 Electoral College votes
Joe Biden will head to Philadelphia and his native Scranton on Tuesday before awaiting election results in his hometown of Wilmington, Delaware
Trump plans to visit his campaign headquarters in Virginia. He has invited hundreds of supporters to an election night party in the East Room of the White House
It may be days before the election result is known, especially if legal challenges focused on postal ballots are accepted in the event of a tight race
Latest updates
'Anti-scaling' fencing erected outside the White House
By

Latika Bourke
So-called "anti-scaling" fencing has been erected around the White House as a precautionary measure in case of violence as voters in the US make their decision between President Donald Trump and Democratic challenger Joe Biden.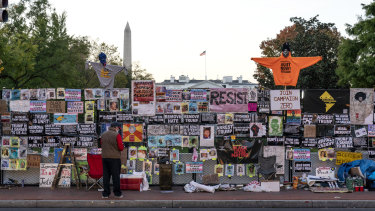 The National Park Service said the fencing was installed at the request of the Secret Service "regarding the unique security requirements with the upcoming presidential election, and the need to quickly de-escalate potentially violent encounters, protect park resources, and maintain public safety."
The fencing was installed on Monday and will remain in place for five days. On Tuesday, the fence was photographed covered in signs, most advocating Trump's removal from the building it is protecting.
with The Washington Post
Two tiny towns cast votes just after midnight
Two tiny New Hampshire towns that vote for president in the first minutes of election day, just after the stroke of midnight, have already cast their ballots, with one of them marking 60 years since the tradition began.
The results in Dixville Notch, near the Canadian border, were a sweep for Biden, who won the town's five votes.
In nearby Millsfield, Trump won 16 votes to Biden's five. Normally, there would be a big food spread and many people crammed into a small space to watch the voting in Dixville Notch, but the coronavirus pandemic shelved those plans.
"Sixty years – and unfortunately, we can't celebrate it," Tom Tillotson, the town moderator in Dixville Notch, said
With AP
Biden, Trump fight for every vote
Joe Biden will head to Philadelphia and his native Scranton on Tuesday as part of a closing get-out-to-vote effort before awaiting election results in his hometown of Wilmington, Delaware.
His running mate, Senator Kamala Harris, will visit Detroit, a heavily black city in battleground Michigan.
President Donald Trump, after a morning appearance on his favoured network, Fox News Channel, planned to visit his campaign headquarters in Virginia. He has invited hundreds of supporters to an election night party in the East Room of the White House.
The candidates blitzed through the battleground states on Monday, with Biden also pushing into Ohio, a state once thought to be safe for Trump.
The President, for his part, packed in five rallies, Air Force One streaking across the sky as he drew crowds in North Carolina, Pennsylvania, Michigan, Wisconsin and then back to Michigan again. His finale stretched past midnight in Grand Rapids, where he had also held his last rally in 2016.
Polls opened in some eastern states at 6am, local time. The most closely watched results will start to trickle in after 7pm on Tuesday (11am Wednesday AEDT) when polls close in states such as Georgia, although definitive national results could take days if the contest is tight.
Election day dawns in the United States
By

Megan Levy
Good morning and welcome to our live coverage of election day in the US, as Americans make their choice between President Donald Trump and Democrat Joe Biden in a bitter campaign that has divided a nation.
Nearly 100 million Americans have already voted early, an astonishing figure equal to about 70 per cent of the total turnout four years ago.
Now it falls to election day voters to finish the job, ending a campaign that was upended by the coronavirus pandemic and defined by tensions over who could best address it.
Biden enters election day with multiple paths to victory while Trump, playing catch-up in a number of battleground states, has a narrower but still feasible road to clinch 270 Electoral College votes.
The nation is braced for what is to come – and be warned: a result may not be known for several days to come. Stick with us as we take you through the day's developments.
https://news.google.com/__i/rss/rd/articles/CBMiswFodHRwczovL3d3dy5zbWguY29tLmF1L3dvcmxkL25vcnRoLWFtZXJpY2EvdXMtZWxlY3Rpb24tbGl2ZS11cGRhdGVzLWpvZS1iaWRlbi1tYWludGFpbnMtbGVhZC1vdmVyLWRvbmFsZC10cnVtcC1hcy1yZWNvcmQtbnVtYmVyLW9mLWFtZXJpY2Fucy1oZWFkLXRvLXRoZS1wb2xscy0yMDIwMTEwMy1wNTZiNnQuaHRtbNIBswFodHRwczovL2FtcC5zbWguY29tLmF1L3dvcmxkL25vcnRoLWFtZXJpY2EvdXMtZWxlY3Rpb24tbGl2ZS11cGRhdGVzLWpvZS1iaWRlbi1tYWludGFpbnMtbGVhZC1vdmVyLWRvbmFsZC10cnVtcC1hcy1yZWNvcmQtbnVtYmVyLW9mLWFtZXJpY2Fucy1oZWFkLXRvLXRoZS1wb2xscy0yMDIwMTEwMy1wNTZiNnQuaHRtbA?oc=5
2020-11-03 13:34:00Z
52781131890781