Latest updates
Voter intimidation complaints grow on eve of election day
Election advocacy groups are preparing for the possibility of voter intimidation at the polls Tuesday, although weeks of early voting remained mostly peaceful despite the country's unsettled mood in a year with simmering partisan and sometimes violent conflicts on the streets.
There has been an uptick in complaints about voter intimidation to the hotline run by the nonpartisan Election Protection program at the Lawyers Committee for Civil Rights Under Law, Kristen Clarke, the group's president and chief executive officer, said on Monday, US time.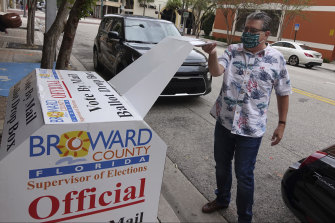 Police used pepper spray to break up a march of largely Black voters to the Alamance County polls in North Carolina on Saturday, and a number of people who intended to vote but "were unable to do so because they were literally detained at the local jail," Clarke said during a National Task Force on Election Crises briefing.
And Clarke said the group is working to address complaints from Lane County, Oregon, that armed individuals wearing militia attire were approaching people Sunday at a ballot drop box site - the kind of activity they are on high alert about for Election Day.
"When one voter attempted to drive to drop off their ballot, one of the individuals that was a part of this militia group asked the voter to roll down their window [and] asked where they were going," Clarke said. "The voter was very concerned for their safety and rather than proceeding to the drop box, drove off very scared and reported the incident."
The country has been bracing for unrest at the polls and in the streets, with businesses boarding up windows in Washington DC, Denver and other places that saw protests and riots.
Rachel Kleinfeld of the Carnegie Endowment for International Peace pointed out that even if there are horrible incidents, it is in the context of 13,000 separate elections going on around the country, each with many polling places.
"Despite a huge spike of protests, despite months of attempts to scare people, and despite weeks of early voting, we have had a remarkably peaceful election season up until now," Kleinfeld said.
Tribune News
Trump campaign loses lawsuit in Nevada
After Republicans experienced another legal loss in Texas, President Donald Trump's campaign has lost an effort to halt the counting of ballots in Nevada's most populous county after a state court judge ruled last week that there was no evidence of any wrongdoing by election officials.
The campaign and the Nevada Republican Party sued last week, alleging Clark County – home to Las Vegas – refused to allow full observation of the ballot-counting process as required under state law. But Judge James E. Wilson ruled October 29, in a decision reported on Monday, US time, that the campaign hadn't provided enough evidence to back its claim.
"The president's deliberate attempts to undermine Nevada's elections have failed yet again," Nevada Attorney General Aaron Ford, a Democrat, said in a statement. "He has made every attempt to control the outcome of this election without any regard for the health and safety of residents or Nevada's state laws designed to protect the sanctity of the ballot."
The Nevada suit alleged some observers are being kept as far as 25 feet away from the counting process, where they can't see election workers' computer screens or observe phone calls to voters who need to fix issues with their ballots. It also said that an offer by Republicans to pay for a camera to record the process as an alternative to in-person observation was refused.
The judge said there's no constitutional right to photograph or videotape the ballot-counting process.
Bloomberg
Trump didn't want to go to a Lady Gaga concert anyway
As we have reported, Joe Biden will be ending his final day of campaigning in a couple of hours at an event with Lady Gaga in Pittsburgh, Pennsylvania. President Donald Trump made a few comments about that in Scranton earlier today:
"Now he's got Lady Gaga. I could tell you plenty of stories about Lady Gaga. I know a lot of stories about her."
The President also criticised Biden's use of singer Jon Bon Jovi, who joined him on the campaign trail last month, saying his rallies drew bigger crowds than the Democrat celebrity spectacles.
"That happened to Hillary, too," Trump said in reference to Clinton's 2016 campaign. "They got Beyoncé and they got Jay-Z, right?"
He's not wrong, and it should be noted that the Democrat campaign has won Beyoncé's endorsement again this morning:
'We better ask Ben': The quiet architect of Biden's plan to rescue the US economy
In recent months, Joe Biden's campaign developed a virtual road show to reassure executives, investment fund managers and financiers who were nervous that the Democratic candidate's plans to increase taxes could hurt the US economic recovery.
Penny Pritzker, the billionaire former commerce secretary under President Barack Obama, would lead off with an overview of Biden's plans. But the worried capitalists always wanted details, and for that, Pritzker would turn over the video calls to the little-known fulcrum of the Biden campaigns economic policymaking: a 43-year-old tax and budget specialist named Ben Harris.
Biden has a sprawling and secretive orbit of economists offering him policy advice as he seeks to pacify an insurgent liberal wing of economic thinkers within the Democratic Party and the business leaders who still feel mistreated by the Obama-Biden administration. Harris, an economist who is relatively anonymous even to other economists, has taken a starring role in both efforts.
A former chief economist for Biden in the White House, Harris helped fashion a campaign agenda from the work of a small inner circle and hundreds of outside economists and sell it to the donors, executives, labor unions and activists that Biden needs behind him to win the election. He has two other jobs but works up to 50 hours a week for Biden, unpaid.
The economy will present an immediate challenge for whoever wins the presidency. The nation is rebounding from its pandemic recession, but economic indicators show that the improvement has slowed or stopped in key areas. Economists are pushing Biden to quickly rally support for the type of trillion-dollar economic stimulus plan that Congress and the White House have yet to agree on, while also pressing him to bring about the kind of economic equality that Democrats say will require a big rethinking about tax and spending policies.
Widely shared photo of Biden without mask was taken in 2019
And here's some more fake news from the Trump camp, who have seized on a photo circulating on Twitter since late Sunday that shows Democratic presidential nominee Joe Biden not wearing a mask while he talks to a campaign staffer on a plane.
Why wasn't Biden, who has made a point to put on a facial covering throughout the campaign, wearing a mask? Because the photo was taken in November 2019, before the first case of the new coronavirus was reported, and months before global health officials began urging people to wear masks in order to stop the spread of the virus.
The image was shared on Twitter by Trump's former acting Director of National Intelligence Richard Grenell, where it was liked and shared from his account more than 50,000 times. Grenell, who currently serves as special presidential envoy for Serbia and Kosovo peace negotiations, was a US ambassador to Germany for two years before resigning in June.
When contacted by The Associated Press, Grenell did not answer questions about whether he knew the image was old before sharing it with his 671,000 followers.
Mask wearing has become a political issue on the campaign trail, with Biden frequently putting one on in public and Trump rarely doing so, and even mocking Biden for wearing a mask so often.
AP
The other presidential candidates
Of course, all of the focus this week will be on President Donald Trump and Democrat candidate Joe Biden, but there are more than two names on the respective state presidential ballots.
Most state ballots have four candidates on the ballot: Trump, Biden and the alliterative duo of Libertarian Jo Jorgensen and Green Howie Hawkins.
Are Jorgensen or Hawkins in contention? Of course not. But an interesting difference between the US and Australian electoral systems is there is only preferential voting in one US state – Maine, and only since 2016 – so these other candidates can take votes away from the main players.
There are also seven other candidates who have made it onto at least five of the states' presidential ballots, they are Don Blankenship, Brian T Carroll, Roque De La Fuente, Alyson Kennedy, Gloria La Riva, Brock Pierce and, yes, Kanye West, who is encouraging people to write his name in on ballots where it does not appear.
Two candidates, two different messages
These two tweets, posted seconds apart, by the two presidential candidates indicate something of the difference in their approach: Trump's tightly packed crowd, Biden's succinct pandemic policy statement.
Trump is now on a plane to Michigan, his third state of the day after his Florida rally ran into the early hours of Monday morning.
Biden will be staying in Pennsylvania until this evening: he will have a drive-in event for the black community in Pittsburgh about 9.40am AEDT before his Gaga concert Monday night, US time (about 11am AEDT for us).
Speaking of Twitter, here's their plan to stop fake news on election day
Twitter has outlined a plan for placing warning labels on tweets from US election candidates and campaigns that claim victory in advance of official results.
The move comes as the social network braces for what it has called an unusual election due to a high number of mail-in ballots that may cause a delay in final results.
Beginning on election night through to the inauguration, Twitter said it would place warning labels such as "official sources called this election differently", or "official sources may not have called the race when this was tweeted".
US-based accounts with more than 100,000 followers and a significant engagement will also be considered for labelling, Twitter said.
The company said it would consider state election officials and national news outlets such as ABC News, Associated Press, CNN and Fox News that have independent election decision desks as official sources for results.
Twitter flags fake Biden video shared by Trump supporters
Twitter has flagged a fake video shared widely by Donald Trump supporters as "manipulated media" as social media services attempt to crack down on misinformation.
The video appeared to show Democrat candidate Joe Biden saying "Hello, Minnesota!", despite signs behind him and a text line beneath him in the video indicated the video was taken in Florida. The trouble? The signs and text line had been doctored.
Several sources prove that Biden did not address the wrong state in his greeting and he was indeed in Minnesota.
The video had more than a million views on Twitter on Sunday and was spreading quickly.
On Monday, US time, Twitter marked the video as "manipulated media", but not after it had been shared by a number of Trump supporters with high follower counts.
with AP
US virus death toll passes 230,000
As you can see from the pictures of that Trump rally, there are hundreds of people gathered standing shoulder to shoulder and some without masks.
It's a rather foreign sight for Australian readers, some of whom are not allowed to leave the house without a mask and most of whom are not allowed to gather in such numbers.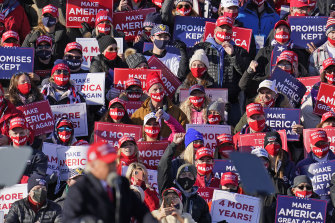 So, as the US death coronavirus death toll passes 230,000 – the CDC reported more than 77,000 new cases in its latest 24-hour reporting period – what is the coronavirus situation like in Pennsylvania?
Like many states in the US, Pennsylvania has seen an uptick in cases since September: a record high 2527 new cases were recorded on Friday, followed by 2009 on Saturday and 1755 on Sunday.
https://news.google.com/__i/rss/rd/articles/CBMipgFodHRwczovL3d3dy5zbWguY29tLmF1L3dvcmxkL25vcnRoLWFtZXJpY2EvdXMtZWxlY3Rpb24tbGl2ZS11cGRhdGVzLWRvbmFsZC10cnVtcC1qb2UtYmlkZW4taGl0LXRoZS1sYXN0LWRheS1vZi10aGUtY2FtcGFpZ24tdHJhaWwtaW4tc3dpbmctc3RhdGVzLTIwMjAxMTAyLXA1NmF0cy5odG1s0gGmAWh0dHBzOi8vYW1wLnNtaC5jb20uYXUvd29ybGQvbm9ydGgtYW1lcmljYS91cy1lbGVjdGlvbi1saXZlLXVwZGF0ZXMtZG9uYWxkLXRydW1wLWpvZS1iaWRlbi1oaXQtdGhlLWxhc3QtZGF5LW9mLXRoZS1jYW1wYWlnbi10cmFpbC1pbi1zd2luZy1zdGF0ZXMtMjAyMDExMDItcDU2YXRzLmh0bWw?oc=5
2020-11-02 22:16:00Z
52781131890781