Pinned post from
WATCH LIVE: Biden stays in Pennsylvania, Trump lands in Michigan
Joe Biden will be staying in Pennsylvania for the rest of Monday, US time. He has just started to address members of the African American community in Pittsburgh at a drive-in rally.
Meanwhile, Trump has arrived in Michigan, where he will be stepping up to speak at a "Make America Great Again Victory Rally" at Cherry Capital Airport in Traverse City.
Latest updates
Obama criticises Trump's 'COVID spreader tour'
Former US president Barack Obama has ended his day of campaigning for his former vice president, Joe Biden – and the woman who could follow him to be the second black person on a winner presidential ticket, Kamala Harris – by addressing supporters at a drive-in rally in Miami, Florida.
He drew attention to the fact that he and the Democrats found themselves speaking to people in cars, while President Donald Trump embarks on what Obama termed a "COVID spreader tour".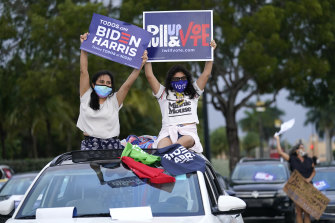 "He's a super spreader, he just goes around because nothing is more important to him than crowds to make him feel good, rather than keeping the American people safe," Obama said, drawing attention to Trump's comments foreshadowing he would like to fire infectious diseases expert Dr Anthony Fauci if re-elected.
"Just in case you were worried he was taking things too seriously, now we find out his intention is to eliminate from his administration one of the world's leading experts in infectious disease."
As Trump's comments were booed by the crowd, Obama told them: "Don't boo, vote."
Trump's rambles lead to criticism of taking the knee
President Donald Trump has stood up in Michigan for another rambling rally speech in front of a crowd with seemingly fewer masks than in Pennsylvania.
The President managed to swing a comment about Canadian oil production into a comment on the act of taking a knee when the US national anthem plays.
"O Canada," Trump mused. "They stand for their national anthem, and we should too."
The President criticised the NBA's decision to allow players to take a knee during the US national anthem earlier this year, remarking he "thought we taught [the NFL] a lesson" when players in the football league began the practice.
Trump's supporters have erupted into three chants during the ongoing rally: "USA!", "Thank you, Trump!" and "Drain the swamp!"
It is all in stark contrast to Biden's recently concluded appearance, in which he appealed to the black vote by voicing his support for the Black Lives Matter movement and the disproportionate impact of the pandemic on black communities.
While Obama stumps for Biden, Bush will not make 2020 vote public
While former President Barack Obama is out campaigning for Joe Biden across two states on Monday (US time), former President George W. Bush and his wife, Laura, will not make public how they voted in this year's presidential race, four years after the couple revealed on election day that they had selected "none of the above" in the 2016 White House contest.
Bush spokesman Freddy Ford – who has stressed repeatedly over the 2020 campaign cycle that the former Republican president is "retired from presidential politics" – on Monday confirmed that the Dallas residents are keeping their ballot box decisions to themselves this year.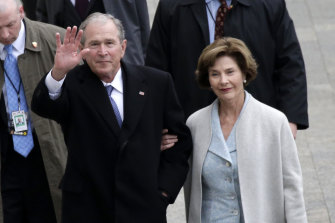 That it's even a question is remarkable, underscoring yet again how Trump has transformed the Republican Party from the party it was under Bush.
Political pundits and others have debated for months whether the Bushes would cast a vote this election for President Donald Trump, a Republican; former Vice President Joe Biden, a Democrat; or, as the they did four years ago, neither major-party candidate.
The former first couple voted early and in-person on October 15, according to Dallas County election records reported to the Texas Secretary of State, making them part of the record-setting early voting turnout that played out this year in North Texas and beyond.
Dallas Morning News
'The first step to beating the virus is defeating Donald Trump': Biden
Democrat presidential candidate Joe Biden has received deafening horns in support of his healthcare policy at a rally directed towards the African American community in Pittsburgh on Monday night, US time.
Biden focused on the "race-based disparities" evident in the US's coronavirus statistics: One in 1000 black Americans have died of coronavirus, a mortality rate three times higher than the general population, and the black community have been disproportionately represented in case numbers and in unemployment figures.
"He knew it was worse than the flu – he lied to the American people," Biden said of President Donald Trump's coronavirus response, noting – if the modelled additional 200,000 Americans die from COVID-19, the death rate for black Americans will increase to 1 in 500.
Addressing Trump's comments that he "might" fire infectious disease expert Anthony Fauci if re-elected, Biden said: "I've got a better idea: let's fire Trump and I'll hire Dr Fauci.
"The first step to beating the virus is defeating Donald Trump."
Voter intimidation complaints grow on eve of election day
Election advocacy groups are preparing for the possibility of voter intimidation at the polls Tuesday, although weeks of early voting remained mostly peaceful despite the country's unsettled mood in a year with simmering partisan and sometimes violent conflicts on the streets.
There has been an uptick in complaints about voter intimidation to the hotline run by the nonpartisan Election Protection program at the Lawyers Committee for Civil Rights Under Law, Kristen Clarke, the group's president and chief executive officer, said on Monday, US time.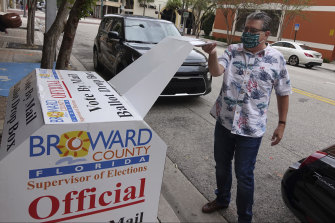 Police used pepper spray to break up a march of largely Black voters to the Alamance County polls in North Carolina on Saturday, and a number of people who intended to vote but "were unable to do so because they were literally detained at the local jail," Clarke said during a National Task Force on Election Crises briefing.
And Clarke said the group is working to address complaints from Lane County, Oregon, that armed individuals wearing militia attire were approaching people Sunday at a ballot drop box site - the kind of activity they are on high alert about for Election Day.
"When one voter attempted to drive to drop off their ballot, one of the individuals that was a part of this militia group asked the voter to roll down their window [and] asked where they were going," Clarke said. "The voter was very concerned for their safety and rather than proceeding to the drop box, drove off very scared and reported the incident."
The country has been bracing for unrest at the polls and in the streets, with businesses boarding up windows in Washington DC, Denver and other places that saw protests and riots.
Rachel Kleinfeld of the Carnegie Endowment for International Peace pointed out that even if there are horrible incidents, it is in the context of 13,000 separate elections going on around the country, each with many polling places.
"Despite a huge spike of protests, despite months of attempts to scare people, and despite weeks of early voting, we have had a remarkably peaceful election season up until now," Kleinfeld said.
Tribune News
Trump campaign loses lawsuit in Nevada
After Republicans experienced another legal loss in Texas, President Donald Trump's campaign has lost an effort to halt the counting of ballots in Nevada's most populous county after a state court judge ruled last week that there was no evidence of any wrongdoing by election officials.
The campaign and the Nevada Republican Party sued last week, alleging Clark County – home to Las Vegas – refused to allow full observation of the ballot-counting process as required under state law. But Judge James E. Wilson ruled October 29, in a decision reported on Monday, US time, that the campaign hadn't provided enough evidence to back its claim.
"The president's deliberate attempts to undermine Nevada's elections have failed yet again," Nevada Attorney General Aaron Ford, a Democrat, said in a statement. "He has made every attempt to control the outcome of this election without any regard for the health and safety of residents or Nevada's state laws designed to protect the sanctity of the ballot."
The Nevada suit alleged some observers are being kept as far as 25 feet away from the counting process, where they can't see election workers' computer screens or observe phone calls to voters who need to fix issues with their ballots. It also said that an offer by Republicans to pay for a camera to record the process as an alternative to in-person observation was refused.
The judge said there's no constitutional right to photograph or videotape the ballot-counting process.
Bloomberg
Trump didn't want to go to a Lady Gaga concert anyway
As we have reported, Joe Biden will be ending his final day of campaigning in a couple of hours at an event with Lady Gaga in Pittsburgh, Pennsylvania. President Donald Trump made a few comments about that in Scranton earlier today:
"Now he's got Lady Gaga. I could tell you plenty of stories about Lady Gaga. I know a lot of stories about her."
The President also criticised Biden's use of singer Jon Bon Jovi, who joined him on the campaign trail last month, saying his rallies drew bigger crowds than the Democrat celebrity spectacles.
"That happened to Hillary, too," Trump said in reference to Clinton's 2016 campaign. "They got Beyoncé and they got Jay-Z, right?"
He's not wrong, and it should be noted that the Democrat campaign has won Beyoncé's endorsement again this morning:
'We better ask Ben': The quiet architect of Biden's plan to rescue the US economy
In recent months, Joe Biden's campaign developed a virtual road show to reassure executives, investment fund managers and financiers who were nervous that the Democratic candidate's plans to increase taxes could hurt the US economic recovery.
Penny Pritzker, the billionaire former commerce secretary under President Barack Obama, would lead off with an overview of Biden's plans. But the worried capitalists always wanted details, and for that, Pritzker would turn over the video calls to the little-known fulcrum of the Biden campaigns economic policymaking: a 43-year-old tax and budget specialist named Ben Harris.
Biden has a sprawling and secretive orbit of economists offering him policy advice as he seeks to pacify an insurgent liberal wing of economic thinkers within the Democratic Party and the business leaders who still feel mistreated by the Obama-Biden administration. Harris, an economist who is relatively anonymous even to other economists, has taken a starring role in both efforts.
A former chief economist for Biden in the White House, Harris helped fashion a campaign agenda from the work of a small inner circle and hundreds of outside economists and sell it to the donors, executives, labor unions and activists that Biden needs behind him to win the election. He has two other jobs but works up to 50 hours a week for Biden, unpaid.
The economy will present an immediate challenge for whoever wins the presidency. The nation is rebounding from its pandemic recession, but economic indicators show that the improvement has slowed or stopped in key areas. Economists are pushing Biden to quickly rally support for the type of trillion-dollar economic stimulus plan that Congress and the White House have yet to agree on, while also pressing him to bring about the kind of economic equality that Democrats say will require a big rethinking about tax and spending policies.
Widely shared photo of Biden without mask was taken in 2019
And here's some more fake news from the Trump camp, who have seized on a photo circulating on Twitter since late Sunday that shows Democratic presidential nominee Joe Biden not wearing a mask while he talks to a campaign staffer on a plane.
Why wasn't Biden, who has made a point to put on a facial covering throughout the campaign, wearing a mask? Because the photo was taken in November 2019, before the first case of the new coronavirus was reported, and months before global health officials began urging people to wear masks in order to stop the spread of the virus.
The image was shared on Twitter by Trump's former acting Director of National Intelligence Richard Grenell, where it was liked and shared from his account more than 50,000 times. Grenell, who currently serves as special presidential envoy for Serbia and Kosovo peace negotiations, was a US ambassador to Germany for two years before resigning in June.
When contacted by The Associated Press, Grenell did not answer questions about whether he knew the image was old before sharing it with his 671,000 followers.
Mask wearing has become a political issue on the campaign trail, with Biden frequently putting one on in public and Trump rarely doing so, and even mocking Biden for wearing a mask so often.
AP
https://news.google.com/__i/rss/rd/articles/CBMipgFodHRwczovL3d3dy5zbWguY29tLmF1L3dvcmxkL25vcnRoLWFtZXJpY2EvdXMtZWxlY3Rpb24tbGl2ZS11cGRhdGVzLWRvbmFsZC10cnVtcC1qb2UtYmlkZW4taGl0LXRoZS1sYXN0LWRheS1vZi10aGUtY2FtcGFpZ24tdHJhaWwtaW4tc3dpbmctc3RhdGVzLTIwMjAxMTAyLXA1NmF0cy5odG1s0gGmAWh0dHBzOi8vYW1wLnNtaC5jb20uYXUvd29ybGQvbm9ydGgtYW1lcmljYS91cy1lbGVjdGlvbi1saXZlLXVwZGF0ZXMtZG9uYWxkLXRydW1wLWpvZS1iaWRlbi1oaXQtdGhlLWxhc3QtZGF5LW9mLXRoZS1jYW1wYWlnbi10cmFpbC1pbi1zd2luZy1zdGF0ZXMtMjAyMDExMDItcDU2YXRzLmh0bWw?oc=5
2020-11-02 23:19:00Z
52781131890781