Latest updates
Confused Trump blames US Supreme Court for ballot ruling
President Donald Trump – whose rally is still going, nearly an hour after Biden's finished – is assailing a decision that allows Pennsylvania's elections officials to count mailed ballots that are received in the three days after Tuesday's election.
Trump falsely blamed the US Supreme Court when, in fact, Pennsylvania's top court ordered the extension until November 6, even if the ballot doesn't have a clear postmark, as long as there is not proof it was mailed after the polls closed. The US Supreme Court then refused to block Pennsylvania's decision.
Addressing a campaign rally Monday in battleground Pennsylvania, Trump called the situation "very dangerous, and I mean dangerous, physically dangerous".
He argued that "you can't extend dates" and claimed — without evidence — that cheating goes on in the Democratic stronghold of Philadelphia.
Trump has previously said that once the polls close Tuesday, "we're going in with our lawyers" to try to stop Pennsylvania from counting the mailed ballots received after the election.
AP
Texas drive-through votes will count, rules judge
By

Jan Wolfe

and

Jennifer Hiller
A federal judge in Texas on Monday denied an attempt by Republicans to throw out about 127,000 votes already cast in the US presidential election at drive-through voting sites in Houston, a Democratic-leaning area.
The plaintiffs had accused County Clerk Chris Hollins, a Democrat, of acting illegally when he allowed drive-through voting as an alternative during the coronavirus pandemic.
US District Judge Andrew Hanen said the plaintiffs lacked standing to bring the case.
The lawsuit was brought last Wednesday by plaintiffs including state Representative Steve Toth, conservative activist Steve Hotze, and judicial candidate Sharon Hemphill.
Harris County, home to the city of Houston and about 4.7 million people, is the third most populous county in the United States. It currently has 10 drive-through polling sites, which are available to all voters.
Reuters
Meanwhile, Trump brings Farage to Biden's hometown
Donald Trump is still speaking in Scranton, Pennsylvania, alongside unexpected hype man, British pro-Brexit, anti-lockdown politician Nigel Farage.
Scranton is, of course, Joe Biden's hometown (unless you ask Trump, who has accused Biden of leaning too heavily on coming from an area he left when he was 10). Our reporter Farrah Tomazin was there back in September and was told by some residents, after four years of Donald Trump, they're desperately hoping their home town hero wins the White House in November.
"He comes to visit now and then," said shop assistant Alyssa Owens, whose family run the Hanks Hoagies sandwich shop where Biden's cardboard image has pride of place near the main entrance.
"Whenever he's here he always goes to visit his old house down on North Washington Avenue to say hello to the lady that lives there. It's very sweet. We hope to see him again soon, though - before his big day!"
It is no coincidence that both Biden and Trump have found themselves in Pennsylvania on the last day of the campaign: the rust-belt state is a crucial part of their path to victory, along with the mid-west battlefields of Michigan and Wisconsin.
Biden and Harris bring star power to Pennsylvania on final day of campaign
Like plenty of Democrat tickets before them, Joe Biden and Kamala Harris have not struggled for celebrity endorsements this election and it seems they've flipped to the the gold-plated end of the filofax for Monday's final push.
Lady Gaga is going to be joining Biden and his wife, Jill, at an election night drive-in event in Pittsburgh on Monday night, US time. The singer posted her vote for the pair at a drop-off box last week.
Meanwhile Kamala Harris and her husband, Doug Emhoff, will be accompanied by John Legend when they hold a similar event in Philadelphia. Legend has been lobbying hard for votes on certain Democrat-backed California propositions, notably prop 17, which will allow parolees to vote in the safe blue state.
Wall Street rallies higher as election looms
US stocks are higher on Monday (US time), kicking off a potentially turbulent stretch for markets, as Wall Street recovers some of its sharp sell-off from last week.
The S&P 500 was 0.7 per cent higher in early afternoon trading after more companies reported stronger profits for the summer than Wall Street feared and reports on manufacturing came in better than expected. The Dow Jones Industrial Average was up 0.9 per cent and the Nasdaq composite has shed 0.5 per cent. At 5.10am AEDT, futures are pointing to a gain of 9 points, or 0.1 per cent, at the open for the ASX.
The rally came on the heels of gains for European and Asian stocks following their own better-than-expected economic data.
Caution, though, was continuing to hang over markets as the pandemic raises worries that customers will stay away from businesses and pushes more European governments to bring back restrictions. Uncertainty about Tuesday's US elections is also weighing on markets, and Treasury yields were dipping.
AP
'Honk if you're ready to vote': Obama addresses crowd in Georgia
Former president Barack Obama has delivered a rousing address to a crowd at a drive-in rally in the traditionally red state of Georgia. The Democrats believe there has been a swell of support for their cause in the state, largely due to an increase in the black vote.
The former president, the first black man to hold the role, addressed matters directly, expressing support for the Black Lives Matter movement – "no more, no less: that's all we want" – and concern about voter suppression.
"Your governor here in Georgia seems to make it hard for some Georgians to vote," Obama said.
"There must be a reason why they make it hard for you to vote. It's because they know if you vote, things change!"
Kamala Harris is also in Georgia. If elected, she will be the first black person to serve as vice-president of the US.
"Tomorrow, we can elect leaders that reflect our best instincts and not our worst; tomorrow we can elect hope over fear and unity over division," Obama told the crowd.
"We will vote like our lives depend on it because they do. Now, honk if you're ready to vote!"
Earlier today: Biden in Ohio, Trump in North Carolina
The videos below show President Donald Trump and Democrat candidate Joe Biden addressing voters in Pennsylvania, overnight each began their final day of campaigning in different states, heres a recap from the Associated Press:
Biden makes working class pitch in Ohio
At a drive-in rally Monday at an airplane hangar in Cleveland, Biden said President Donald Trump "sees the world from Park Avenue," but "Wall Street didn't build America — the middle class built America!"
Biden also spoke about manufacturing jobs lost in Ohio and his plan to boost those jobs by incentivising companies and the federal government to make more products in the US.
Ohio is a perennial swing state, and no Republican has won the presidency without it. While Trump won it by about 8 percentage points in 2016, Biden's aides believe he has a shot here because of his appeal to blue-collar workers and suburban voters in the state.
'We're going to win anyway': Trump tells North Carolina
President Donald Trump is projecting confidence and declaring at a North Carolina rally that "we're going to win anyway" despite investigations he says were launched as part of an attempted takedown.
Opening the first of five campaign rallies on the eve of Election Day, Trump openly wondered what the political landscape would have looked like "had it been legit".
He was referring to the special counsel's investigation into ties between his 2016 presidential campaign and Russia and his impeachment by the Democratic-run House. Special counsel Robert Mueller found multiple links between the Russian government and the Trump campaign, but ultimately did not establish that the Trump campaign conspired with Russia to interfere in the election.
Armies of lawyers ready for murky US election outcome
Signature matches, late-arriving absentee votes, drop boxes secrecy envelopes: Democratic and Republican lawyers already have gone to court over these issues in the run-up to Tuesday's election (US time). But the legal fights could take on new urgency, not to mention added vitriol, if a narrow margin in a battleground state is the difference between another four years for President Donald Trump or a Joe Biden administration.
Roughly 300 lawsuits already have been filed over the election in dozens of states across the country, many involving changes to normal procedures because of the coronavirus pandemic, which has killed more than 230,000 people in the US and sickened more than 9 million.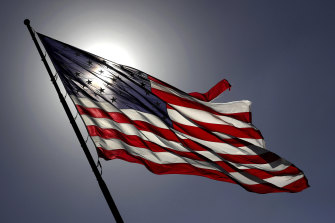 Most of the potential legal challenges are likely to stem from the huge increase in absentee balloting brought on by the coronavirus pandemic. In Pennsylvania, elections officials won't start processing those ballots until Election Day, and some counties have said they won't begin counting those votes until the following day. Mailed ballots that don't come inside a secrecy envelope have to be discarded, under a state Supreme Court ruling.
Like Pennsylvania, North Carolina also has seen a court fight between Democrats who support extending the deadline for absentee ballots and Republicans who oppose it. The issue is a six-day extension approved by a state court — beyond the three extra days after Election Day that the Republican-controlled legislature agreed to in response to the pandemic.
In Minnesota, late-arriving ballots also will be segregated from the rest of the vote because of ongoing legal proceedings, under a federal appeals court order.
Republican lawsuits have challenged local decisions that could take on national significance in a close election: In Nevada, a state court judge rejected a bid by the Trump campaign and state Republicans to stop the count of mail-in ballots in Las Vegas, the state's most populous and Democratic-leaning county.
AP
WATCH LIVE: Trump and Biden make final day pitch to key states
President Donald Trump and Democrat presidential hopeful Joe Biden are each making speeches in key states on Monday afternoon, US time.
The President is attending a "Make America Great Again Victory Rally" at Wilkes-Barre Scranton International Airport in Pennsylvania. If that place sounds familiar it's because Scranton is Biden's oft-cited hometown. Meanwhile Biden is also in Pennsylvania, speaking from Beaver County.
US surpasses 95 million early ballots on eve of election day
More than 95 million Americans have cast their votes in the 2020 presidential election, according to a tally by the US Elections Project at the University of Florida, a harbinger of what is expected to be the highest turnout of modern times.
Just a day before election day, the record-breaking number is equal to 69 per cent of the entire voter turnout for the 2016 election.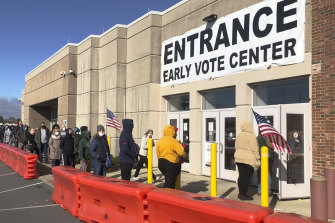 A sharp increase in mail-in and early in-person voting was largely prompted by the coronavirus pandemic, which has killed more than 230,000 people in the United States and continues unabated in many US states.
President Donald Trump, his administration criticised for its handling of the COVID-19 pandemic, trails Democratic challenger Joe Biden in national opinion polls. A Reuters/Ipsos poll taken on October 27-29 shows Biden ahead, 51 per cent to 43 per cent.
A large number of Trump's Republican supporters are expected to turn up in person to vote on election day after Trump sowed distrust, without evidence, of mail-in voting by asserting it was riddled with fraud. Meanwhile Democrats have largely embraced early voting, not only because of the pandemic, but also because of steps the Trump administration has taken to slow down the processing of US mail.
https://news.google.com/__i/rss/rd/articles/CBMipgFodHRwczovL3d3dy5zbWguY29tLmF1L3dvcmxkL25vcnRoLWFtZXJpY2EvdXMtZWxlY3Rpb24tbGl2ZS11cGRhdGVzLWRvbmFsZC10cnVtcC1qb2UtYmlkZW4taGl0LXRoZS1sYXN0LWRheS1vZi10aGUtY2FtcGFpZ24tdHJhaWwtaW4tc3dpbmctc3RhdGVzLTIwMjAxMTAyLXA1NmF0cy5odG1s0gGmAWh0dHBzOi8vYW1wLnNtaC5jb20uYXUvd29ybGQvbm9ydGgtYW1lcmljYS91cy1lbGVjdGlvbi1saXZlLXVwZGF0ZXMtZG9uYWxkLXRydW1wLWpvZS1iaWRlbi1oaXQtdGhlLWxhc3QtZGF5LW9mLXRoZS1jYW1wYWlnbi10cmFpbC1pbi1zd2luZy1zdGF0ZXMtMjAyMDExMDItcDU2YXRzLmh0bWw?oc=5
2020-11-02 20:51:00Z
52781131890781