Pinned post from
Watch: Donald Trump speaks in Iowa, Joe Biden campaigns in Philadelphia
US President Donald Trump is hosting a rally in Iowa.
Joe Biden is speaking at an event in Philadelphia.
Latest updates
Biden maintains convincing lead over Trump in final election polls
By

Matthew Knott
Miami, Florida: Democratic presidential nominee Joe Biden has maintained a commanding national lead over President Donald Trump in the final US election polls, as well as smaller leads in the most important battleground states.
If the state polls were underestimating Trump's support by the same amount as 2016, Biden would still be far enough ahead to win the required 270 Electoral College votes on November 3. The President would require a bigger polling miss than four years ago in order to win a second term.
The final NBC News/Wall Street Journal poll released on Monday (AEST) showed Biden with a 10 point national lead.
The final polls by Siena College and The New York Times showed Biden leading by between three and 11 points in four of the most competitive states. These polls showed Biden leading Trump by three points in Florida, four points in Arizona, six points in Pennsylvania and 11 points in Wisconsin - all states Trump won narrowly in 2016.
Opinion: Even if Biden wins, we have little to celebrate
By

Cole Brown
I was a student in Washington D.C. the last time we did this dance. Like many, I greeted election day 2016 with a grin, anticipating history, the ringing in of America's first woman president. Instead, I witnessed history of another kind and, like many, remember all too well the dismay that followed. An eerie silence blanketed my college in the wake of that event.
In the days that followed, each walk across campus carried me past no-less-than three distinct groups of grown folks crying in despair before I'd made it to class.
There was a lesson to be gained in that moment about the futility of high hopes. Democrats overlearned it. On the eve of this election, in Democratic circles, even the suggestion that Biden might win is met with the inevitable, "we said that last time". We've grown guarded, refusing to feel that same hurt we felt four years ago. We were fooled once, no one wants to be fooled again.
That said – and, here goes nothing – I think Biden will win. Call me crazy, but the polling's convinced me. Biden leads by nine points nationally, and by five or more points in many key swing states. I wouldn't bet the house on it, but I think he'll pull it off.
Cole Brown is a Philadelphia native living in Sydney and the author of Greyboy: Finding Blackness in a White World.
Lady Gaga, John Legend to appear with Biden, Harris in final day
By

Tyler Pager
Musician and actress Lady Gaga will accompany Joe Biden to a rally in Pennsylvania for the last day of the presidential race, while his running mate Kamala Harris will appear in the battleground state with singer and producer John Legend.
Both candidates have poured time and money into the fight for Pennsylvania, where polls show Biden ahead.
Trump won the state in 2016 and needs to hold it.
Trump was in Pennsylvania on Sunday AEDT and Biden campaigns there on Monday AEDT.
Biden will return to stump around Pittsburgh on Tuesday AEDT, while Harris will be in the eastern part of the state.
Their spouses, Jill Biden and Doug Emhoff, are also hitting the campaign trail in Pennsylvania.
Ahead of her appearance, Gaga posted to her 82 million Twitter followers a photo of her on a tractor from when she lived in Lancaster, Pennsylvania.
She also posted a photo of her with Biden with the caption:
"He's a good friend. He's the president this country needs to bring us back together."
Bloomberg
Harris says Biden plans to win decisively, give Trump no chance to claim victory
By

Roy Ward
Democratic vice-presidential candidate Senator Kamala Harris has poured cold water on reports President Donald Trump plans to prematurely declare victory on election night before millions of mail-in votes are counted.
A report from Axios emerged on Monday AEDT said Trump was planning to declare victory on election night and try to stop or discredit the count of mail-in votes despite 91 million of them being cast so far.
Mr Trump has set the stage for such a declaration by repeatedly making baseless claims that those early votes could be tampered with.
"We plan to decisively win this election so it won't get to that point," Senator Harris told media as she arrived in North Carolina for a campaign stop.
Floyd County Democrats cancel rally due to 'large militia presence' for Trump
The Floyd County Democratic Party has cancelled a rally planned for Sunday afternoon (Monday AEDT) due to a 'large militia presence' for a Donald Trump event which has also sapped police resources from their area.
The FCDP announced its decision with a Facebook post on Monday AEDT, the event was planned to counter Donald Trump's rally in Rome, Georgia.
Trump supporters harassed a Biden-Harris bus in Texas over the weekend with one video showing a ute with a Trump flag making contact with another car while chasing the bus with officials claiming the Trump supporters were trying to run it off the road.
Some businesses are boarding up their buildings ahead of any potential unrest following Wednesday's election.
"Today's rally is cancelled," the post from FCDP chair Ruth Demeter read.
"Out of an abundance of concern for the health and safety of our citizens, we are cancelling today's Democratic Party rally, at the recommendation of the Democratic Party of Georgia.
"We have been informed that a large militia presence is expected in Rome today due to Trump's visit. Additionally, we are not able to secure police presence for our event because of the airport rally.
"Stay safe and continue practicing COVID-19 prevention protocols. Exercise your democratic rights.
"If you have an absentee ballot, be sure to deliver it personally to a dropbox in your county before the end of election day.
"On behalf of the Floyd County Democratic Party, I promise you we will continue to work for democracy- we just won't be standing outside city hall this afternoon to do it."
Trump plans to declare victory on election night before mail in votes counted: report
US President Donald Trump and his campaign aides have been planning for several weeks how they will declare victory in Wednesday's election despite the millions of mail-in votes that will still need counting.
Axios' national political correspondent Jonathan Swan reports that 'Trump has privately talked through this scenario in some detail in the last few weeks, describing plans to walk up to a podium on election night and declare he has won.'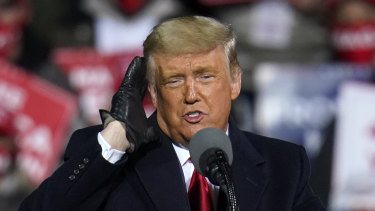 A record of more than 91 million early votes have been cast in the US with some states receiving more early votes than their state's whole tally in 2016.
Trump has been claiming for months mail-in ballots are not secure and that Democrats would try to steal the election - he has sighted no evidence for any of those claims and US votes have been counted after election day for decades with many states often not officially called for a candidate until days or weeks after election day.
Most states believe they will be able to complete counting the mail-in votes a few days after election day.
Axios reports Trump would need to be heavily leading or won the states of Ohio, Florida, North Carolina, Texas, Iowa, Arizona and Georgia to be able to attempt to claim victory.
Trump campaign's communications director Tim Murtaugh told Axios: "This is nothing but people trying to create doubt about a Trump victory. When he wins, he's going to say so."
Biden adviser confident about campaign's 'pathways to victory'
By

Shant Shahrigian
New York: An adviser to Democratic presidential nominee Joe Biden played down the importance of President Donald Trump's recent streak of rallies, saying on Sunday, "We feel confident about where we are and we feel very confident about our pathways to victory."
Adviser Anita Dunn had been asked on CNN's State of the Union about the larger number of rallies the president has been holding than the challenger.
"(Biden's) showed people what a responsible president does and how a responsible president acts," she said.
Earlier this year, both Biden and Trump temporarily halted in-person campaign events due to the coronavirus pandemic. Recent weeks have seen the Trump campaign hold larger and more frequent events, though Biden planned to campaign through this weekend.
Dunn claimed more states are in play in the November 4 AEDT election than expected.
She said the Biden campaign has been "on the offensive" in Pennsylvania, Michigan, Wisconsin, North Carolina, Florida and Arizona - all of which Trump won in 2016.
TNS, The New York Times
Coronavirus cases rise in grim march to Election Day
By

Doina Chiacu

and

Susan Cornwell
Washington: Coronavirus cases continued their grim climb in the United States on Sunday, local time, with Midwestern states experiencing record hospitalisations, as increasingly bitter rhetoric kept the virus front and center of campaigning two days before the presidential election.
Nearly 87,000 cases were reported on Saturday, with 909 deaths and record hospitalisations for the sixth straight day in the Midwest, according to a Reuters tally. In October, 31 states set records for increases in new cases, 21 for hospitalised COVID-19 patients and 14 for record increases in deaths.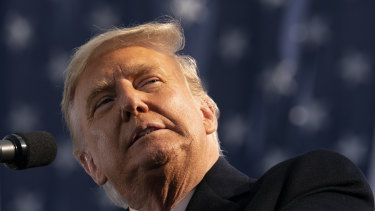 President Donald Trump, the Republican seeking re-election against Democratic challenger Joe Biden on Tuesday, downplays the virus and has accused Democrats of overblowing the pandemic that has killed more 230,000 Americans, more than any other country.
Biden and fellow Democrats have hammered Trump as a poor leader who failed to contain COVID-19 in the United States, which also leads the world in the daily average number of new cases.
Trump's false accusation Friday that doctors were profiting from COVID-19 deaths drew harsh criticism from the governor of the election battleground state of Wisconsin.
Reuters
Texas high court denies GOP effort to reject Houston votes -- case still to be heard on Federal court
The Texas Supreme Court on Sunday denied a Republican-led petition to toss nearly 127,000 ballots cast at drive-thru voting places in the Houston area.
The state's all-Republican high court rejected the request from a state representative and two GOP candidates without explaining its decision.
Their effort to have the Harris County ballots thrown out is still set to be taken up during an emergency hearing in federal court on Tuesday AEDT.
Conservative Texas activists have railed against expanded voting access in Harris County, where a record 1.4 million early votes have already been cast.
The county is the nation's third largest and a crucial battleground in Texas, where President Donald Trump and Republicans are bracing for the closest election in decades on Wednesday AEDT.
AP
https://news.google.com/__i/rss/rd/articles/CBMioQFodHRwczovL3d3dy5zbWguY29tLmF1L3dvcmxkL25vcnRoLWFtZXJpY2EvdXMtZWxlY3Rpb24tMjAyMC1saXZlLXVwZGF0ZXMtZG9uYWxkLXRydW1wLWhpdHMtbWljaGlnYW4taW93YS13aGlsZS1qb2UtYmlkZW4tdmlzaXRzLXBlbm5zeWx2YW5pYS0yMDIwMTEwMi1wNTZhbGsuaHRtbNIBoQFodHRwczovL2FtcC5zbWguY29tLmF1L3dvcmxkL25vcnRoLWFtZXJpY2EvdXMtZWxlY3Rpb24tMjAyMC1saXZlLXVwZGF0ZXMtZG9uYWxkLXRydW1wLWhpdHMtbWljaGlnYW4taW93YS13aGlsZS1qb2UtYmlkZW4tdmlzaXRzLXBlbm5zeWx2YW5pYS0yMDIwMTEwMi1wNTZhbGsuaHRtbA?oc=5
2020-11-01 21:48:00Z
52781131890781