Pinned post from
Watch: Donald Trump speaks in Iowa, Joe Biden campaigns in Philadelphia
US President Donald Trump is hosting a rally in Iowa.
Joe Biden is speaking at an event in Philadelphia.
Latest updates
Floyd County Democrats cancel rally due to 'large militia presence' for Trump
The Floyd County Democratic Party has cancelled a rally planned for Sunday afternoon (Monday AEDT) due to a 'large militia presence' for a Donald Trump event which has also sapped police resources from their area.
The FCDP announced its decision with a Facebook post on Monday AEDT, the event was planned to counter Donald Trump's rally in Rome, Georgia.
Trump supporters harassed a Biden-Harris bus in Texas over the weekend with one video showing a ute with a Trump flag making contact with another car while chasing the bus with officials claiming the Trump supporters were trying to run it off the road.
Some businesses are boarding up their buildings ahead of any potential unrest following Wednesday's election.
"Today's rally is cancelled," the post from FCDP chair Ruth Demeter read.
"Out of an abundance of concern for the health and safety of our citizens, we are cancelling today's Democratic Party rally, at the recommendation of the Democratic Party of Georgia.
"We have been informed that a large militia presence is expected in Rome today due to Trump's visit. Additionally, we are not able to secure police presence for our event because of the airport rally.
"Stay safe and continue practicing COVID-19 prevention protocols. Exercise your democratic rights.
"If you have an absentee ballot, be sure to deliver it personally to a dropbox in your county before the end of election day.
"On behalf of the Floyd County Democratic Party, I promise you we will continue to work for democracy- we just won't be standing outside city hall this afternoon to do it."
Trump plans to declare victory on election night before mail in votes counted: report
US President Donald Trump and his campaign aides have been planning for several weeks how they will declare victory in Wednesday's election despite the millions of mail-in votes that will still need counting.
Axios' national political correspondent Jonathan Swan reports that 'Trump has privately talked through this scenario in some detail in the last few weeks, describing plans to walk up to a podium on election night and declare he has won.'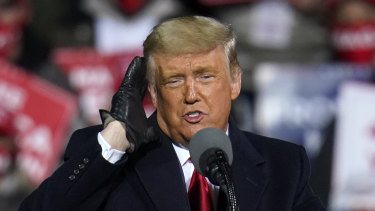 A record of more than 91 million early votes have been cast in the US with some states receiving more early votes than their state's whole tally in 2016.
Trump has been claiming for months mail-in ballots are not secure and that Democrats would try to steal the election - he has sighted no evidence for any of those claims and US votes have been counted after election day for decades with many states often not officially called for a candidate until days or weeks after election day.
Most states believe they will be able to complete counting the mail-in votes a few days after election day.
Axios reports Trump would need to be heavily leading or won the states of Ohio, Florida, North Carolina, Texas, Iowa, Arizona and Georgia to be able to attempt to claim victory.
Trump campaign's communications director Tim Murtaugh told Axios: "This is nothing but people trying to create doubt about a Trump victory. When he wins, he's going to say so."
Biden adviser confident about campaign's 'pathways to victory'
By

Shant Shahrigian
New York: An adviser to Democratic presidential nominee Joe Biden played down the importance of President Donald Trump's recent streak of rallies, saying on Sunday, "We feel confident about where we are and we feel very confident about our pathways to victory."
Adviser Anita Dunn had been asked on CNN's State of the Union about the larger number of rallies the president has been holding than the challenger.
"(Biden's) showed people what a responsible president does and how a responsible president acts," she said.
Earlier this year, both Biden and Trump temporarily halted in-person campaign events due to the coronavirus pandemic. Recent weeks have seen the Trump campaign hold larger and more frequent events, though Biden planned to campaign through this weekend.
Dunn claimed more states are in play in the November 4 AEDT election than expected.
She said the Biden campaign has been "on the offensive" in Pennsylvania, Michigan, Wisconsin, North Carolina, Florida and Arizona - all of which Trump won in 2016.
TNS, The New York Times
Coronavirus cases rise in grim march to Election Day
By

Doina Chiacu

and

Susan Cornwell
Washington: Coronavirus cases continued their grim climb in the United States on Sunday, local time, with Midwestern states experiencing record hospitalisations, as increasingly bitter rhetoric kept the virus front and center of campaigning two days before the presidential election.
Nearly 87,000 cases were reported on Saturday, with 909 deaths and record hospitalisations for the sixth straight day in the Midwest, according to a Reuters tally. In October, 31 states set records for increases in new cases, 21 for hospitalised COVID-19 patients and 14 for record increases in deaths.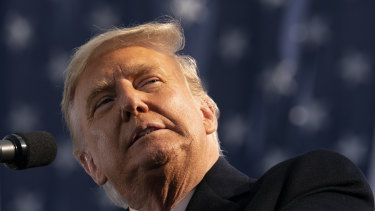 President Donald Trump, the Republican seeking re-election against Democratic challenger Joe Biden on Tuesday, downplays the virus and has accused Democrats of overblowing the pandemic that has killed more 230,000 Americans, more than any other country.
Biden and fellow Democrats have hammered Trump as a poor leader who failed to contain COVID-19 in the United States, which also leads the world in the daily average number of new cases.
Trump's false accusation Friday that doctors were profiting from COVID-19 deaths drew harsh criticism from the governor of the election battleground state of Wisconsin.
Reuters
Texas high court denies GOP effort to reject Houston votes -- case still to be heard on Federal court
The Texas Supreme Court on Sunday denied a Republican-led petition to toss nearly 127,000 ballots cast at drive-thru voting places in the Houston area.
The state's all-Republican high court rejected the request from a state representative and two GOP candidates without explaining its decision.
Their effort to have the Harris County ballots thrown out is still set to be taken up during an emergency hearing in federal court on Tuesday AEDT.
Conservative Texas activists have railed against expanded voting access in Harris County, where a record 1.4 million early votes have already been cast.
The county is the nation's third largest and a crucial battleground in Texas, where President Donald Trump and Republicans are bracing for the closest election in decades on Wednesday AEDT.
AP
Good morning everyone!
By

Roy Ward
G'day all! It's Roy Ward here and I'm once again in the driver's seat for our US Election live blog as we arrive at the second last day of the campaign before we reach Election Day on Wednesday AEDT.
We find both US President Donald Trump and former vice-president Joe Biden chasing votes in the key swing states in the midwest today building on visits earlier in the week.
Trump is in Iowa and Michigan today, a poll yesterday gave Trump the lead in Iowa but otherwise the polls hand leads to Biden in those other midwest states including a slight edge in Pennsylvania where he is today making some stops in Philadelphia and other key cities.
Please enjoy our coverage and enjoy the day to come.
https://news.google.com/__i/rss/rd/articles/CBMioQFodHRwczovL3d3dy5zbWguY29tLmF1L3dvcmxkL25vcnRoLWFtZXJpY2EvdXMtZWxlY3Rpb24tMjAyMC1saXZlLXVwZGF0ZXMtZG9uYWxkLXRydW1wLWhpdHMtbWljaGlnYW4taW93YS13aGlsZS1qb2UtYmlkZW4tdmlzaXRzLXBlbm5zeWx2YW5pYS0yMDIwMTEwMi1wNTZhbGsuaHRtbNIBoQFodHRwczovL2FtcC5zbWguY29tLmF1L3dvcmxkL25vcnRoLWFtZXJpY2EvdXMtZWxlY3Rpb24tMjAyMC1saXZlLXVwZGF0ZXMtZG9uYWxkLXRydW1wLWhpdHMtbWljaGlnYW4taW93YS13aGlsZS1qb2UtYmlkZW4tdmlzaXRzLXBlbm5zeWx2YW5pYS0yMDIwMTEwMi1wNTZhbGsuaHRtbA?oc=5
2020-11-01 20:37:00Z
52781131890781