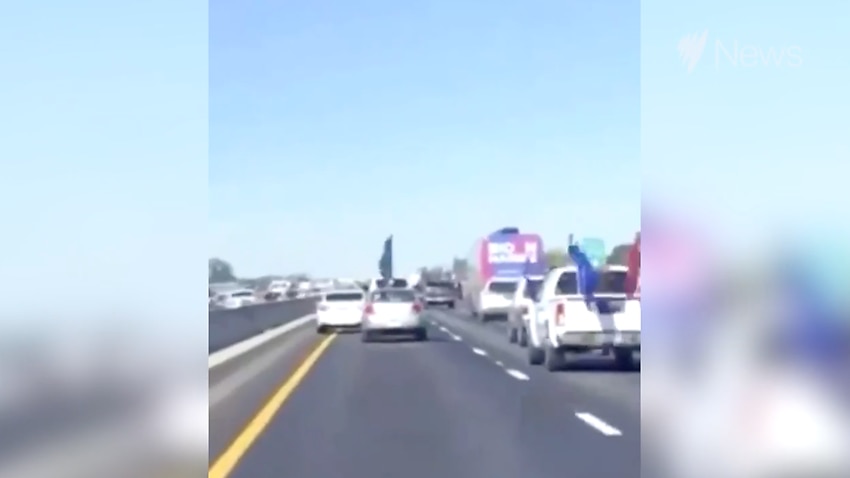 US President Donald Trump has hit back at an FBI investigation into a convoy of his supporters who appeared to surround a campaign bus of Democratic challenger Joe Biden as it travelled along a busy highway, labelling the protesters "patriots" that "did nothing wrong".
The Biden campaign cancelled a rally scheduled near Austin, Texas, last week after the bus was met by pro-Trump motorists on the road from San Antonio to Austin, who surrounded the moving vehicle and heckled those onboard.
A campaign spokesman said the incident appeared to be an attempt to slow the bus down and force it off the road.
The FBI confirmed they were investigating the incident on Monday. In response, Mr Trump tweeted that the FBI "should be investigating the terrorists, anarchists, and agitators of ANTIFA, who run around burning down our Democrat-run cities and hurting our people".
"In my opinion, these patriots did nothing wrong," he said.
State politician Rafael Anchía, a Democratic member of the Texas House of Representatives, tweeted following the incident that the Trump supporters were "armed", while fellow local politician Sheryl Cole said the event was cancelled because "pro-Trump protestors have escalated well beyond safe limits".
It is not clear whether any of the Trump supporters were armed.
One video of the incident appears to show a car flying a "Trump 2020" flag colliding briefly with another motorist.
On Sunday, however, Mr Trump tweeted a video showing a number of cars displaying pro-Trump paraphernalia surrounding the bus, alongside the caption "I LOVE TEXAS!".
Appearing at a rally shortly after he said his supporters were attempting to "protect" the bus. "You know they were protecting his bus yesterday, because they are nice," he told crowds. "They had hundreds of cars, Trump and the American flag."
According to CNN, Democratic officials on the bus called 911, who then assisted the bus to its destination. Neither Mr Biden or Vice-Presidential candidate Kamala Harris were on the bus at the time of the incident.
Days before the highway incident, Mr Trump's eldest son Donald Jr posted a video to social media ahead of a planned appearance by Senator Harris in Texas, urging his father's supporters "get out there and have some fun".
"It'd be great if you guys would all get together, head down to McAllen and give Kamala Harris a nice Trump Train welcome," he said.
"Don't forget to vote and bring all of your friends. Let's show them how strong Texas still is as Trump country."
The Texas Tribune quoted the state's Republican chairman, Allen West, as dismissing the incident as "fake news and propaganda," adding, "Stop bothering me."
Additional reporting by AFP.
https://news.google.com/__i/rss/rd/articles/CBMifmh0dHBzOi8vd3d3LnNicy5jb20uYXUvbmV3cy9mYmktaW52ZXN0aWdhdGluZy1jbGFpbXMtdGhhdC1kb25hbGQtdHJ1bXAtZmFucy10cmllZC10by1ydW4tYS1qb2UtYmlkZW4tYnVzLW9mZi10aGUtcm9hZC1pbi10ZXhhc9IBrgFodHRwczovL2FtcC5zYnMuY29tLmF1L3YxL25ld3MvYXJ0aWNsZS9mYmktaW52ZXN0aWdhdGluZy1jbGFpbXMtdGhhdC1kb25hbGQtdHJ1bXAtZmFucy10cmllZC10by1ydW4tYS1qb2UtYmlkZW4tYnVzLW9mZi10aGUtcm9hZC1pbi10ZXhhcy9hMWJkMDU4ZC0xMGYwLTQwODMtYjlmMS1mOTkyN2MxMDhkMDA?oc=5
2020-11-02 00:15:25Z
52781131890781