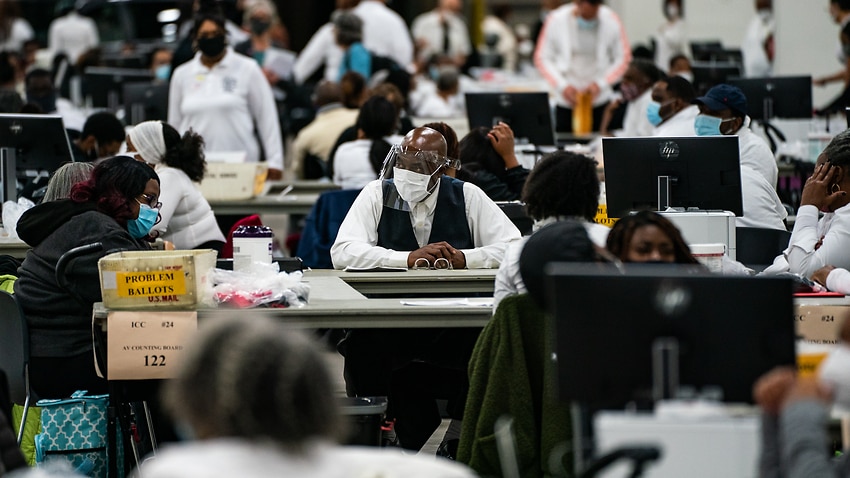 A group of Detroit voters is suing Donald Trump and his campaign for attempting to overturn the election result in Michigan, claiming it is openly seeking to disenfranchise black voters.
A lawsuit, filed in a DC federal court on Friday, describes the Trump campaign's allegations of voter fraud as one of the "worst abuses in our nation's history", accusing it of attempting to "intimidate" and "coerce" Michigan state and local officials into replacing electors.
Republicans have asked for a delay of two weeks to allow for a full audit of results in Wayne County, the state's largest county and home to majority-black Detroit. It was won overwhelmingly by president-elect Joe Biden.
"To effectuate this strategy, defendants are openly seeking to disenfranchise black voters, including voters in Detroit, Michigan," the lawsuit read.
More than three quarters of Detroit residents are black, according to US census data.
"Central to this strategy is disenfranchising voters in predominately black cities," the suit alleges.
"Repeating false claims of voter fraud, which have been thoroughly debunked, Defendants are pressuring state and local officials in Michigan not to count votes from Wayne County, Michigan (where Detroit is the county seat), and thereby disenfranchise hundreds of thousands of voters."
Mr Trump has repeatedly falsely accused several cities, including Detroit and Philadelphia, of orchestrating a massive election fraud.
His campaign has claimed, without evidence, that mail-in voting was corrupt.
"No more," the lawsuit says. "The Voting Rights Act of 1965 flatly prohibits Defendants' efforts to disenfranchise black people and assault our Republic."
Michigan's board of canvassers, which includes two Democrats and two Republicans, is due to meet on Monday to certify the results.
Republican Party national committee chairwoman, Ronna McDaniel, and the party's Michigan chair, Laura Cox, called on the board to "adjourn for 14 days to allow for a full audit and investigation into those anomalies and irregularities".
Michigan's Secretary of State Jocelyn Benson has said that audits cannot be conducted until after certification because officials do not have legal access to the documents needed until then.
On Saturday, Ms Benson posted on Twitter that there had been "no evidence" to draw into question the result of the election.
Mr Trump has rarely appeared in public since his electoral loss, but has not given up on his provocative Twitter campaign.
Meanwhile, a Pennsylvania judge on Saturday threw out Mr Trump's claims of widespread electoral fraud there.
The decision - announced in a scathing judgment which excoriated the Trump team's legal strategy - paves the way for Pennsylvania to certify Democrat Joe Biden's victory in the state, which is scheduled to take place on Monday.
Judge Matthew Brann wrote in his ruling that Mr Trump's team had presented "strained legal arguments without merit and speculative accusations" in their complaints about mail-in ballots in Pennsylvania.
"In the United States of America, this cannot justify the disenfranchisement of a single voter, let alone all the voters of its sixth most populated state," Justice Brann wrote.
"Our people, laws, and institutions demand more."
Only a limited number of Republicans have so far recognised Mr Biden as the winner and called on Mr Trump to concede.
The Pennsylvania court ruling prompted a Republican senator from the state, Pat Toomey, to join those ranks, saying Biden "won the 2020 election and will become the 46th president of the United States".
"President Trump should accept the outcome of the election and facilitate the presidential transition process," Mr Toomey said in a statement that congratulated Mr Biden while specifying he voted for Mr Trump.
- Additional reporting by AFP.
https://news.google.com/__i/rss/rd/articles/CBMijgFodHRwczovL3d3dy5zYnMuY29tLmF1L25ld3MvZG9uYWxkLXRydW1wLWlzLWJlaW5nLXN1ZWQtZm9yLWRpc2VuZnJhbmNoaXNpbmctYmxhY2stdm90ZXJzLWluLWhpcy1lZmZvcnRzLXRvLW92ZXJ0dXJuLW1pY2hpZ2FuLXMtZWxlY3Rpb24tcmVzdWx00gG-AWh0dHBzOi8vYW1wLnNicy5jb20uYXUvdjEvbmV3cy9hcnRpY2xlL2RvbmFsZC10cnVtcC1pcy1iZWluZy1zdWVkLWZvci1kaXNlbmZyYW5jaGlzaW5nLWJsYWNrLXZvdGVycy1pbi1oaXMtZWZmb3J0cy10by1vdmVydHVybi1taWNoaWdhbi1zLWVsZWN0aW9uLXJlc3VsdC8yNDgzMDY1ZC01MmYxLTRhYTQtODExYy04NTMzYWVmNWRlYmE?oc=5
2020-11-22 06:21:02Z
52781201575836