Washington: Donald Trump's doctor has triggered widespread confusion by saying that the US President was diagnosed with coronavirus 36 hours before it was revealed to the public, forcing the White House to quickly issue a correction.
The confusion only deepened when, moments after White House physician Sean Conley gave an optimistic account of the President's condition, a White House official told reporters that the President was "not on a clear path to a full recovery".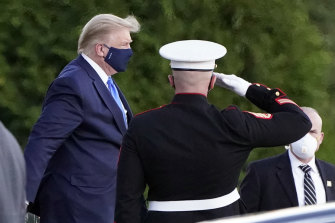 At a press briefing on Sunday (AEST) outside the Maryland hospital where Trump is being treated, White House physician Sean Conley said "we're 72 hours into [Trump's] diagnosis".
Given Conley was speaking at 11.30 am local time, this implied that Trump was diagnosed on Wednesday morning local time – the day after the presidential debate in Cleveland Ohio.
Trump did not reveal his diagnosis to the public until 1am Friday local time, 36 hours before Conley briefed the media outside Walter Reed Medical Centre.
White House officials later told reporters Conley had meant to say they were on "day three" of Trump's diagnosis rather than 72 hours into it. Trump tested positive on Thursday night local time, the White House said.
Conley later said in a statement that he had incorrectly used the 72 hours term at his briefing.
"The President was first diagnosed with COVID-19 on the evening of Thursday October 1st," he said.
At his briefing Conley said Trump was doing "very well" and was not having any difficulty breathing.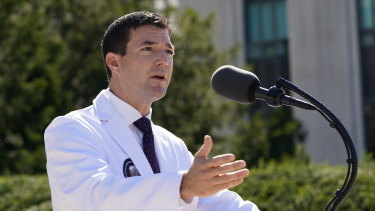 "He is in exceptionally good spirits and as we were completing multidisciplinary rounds this morning, he said, 'I feel like I could walk out of here today', and that was an encouraging comment from the president," Conley said.
Minutes later the White House pool – a group of reporters assigned to cover the White House – released a statement from an unnamed White House official saying: "The President's vitals over [the] last 24 hours were very concerning and the next 48 hours will be critical in terms of his care. We are still not on a clear path to a full recovery."
White House chief-of-staff Mark Meadows was seen around the same time speaking to reporters in an off-the-record discussion.
In his first tweet of the day, Trump said: "Doctors, Nurses and ALL at the GREAT Walter Reed Medical Centre, and others from likewise incredible institutions who have joined them, are AMAZING!!!
"Tremendous progress has been made over the last 6 months in fighting this PLAGUE. With their help, I am feeling well!"
The White House had been widely criticised the previous day for not being sufficiently transparent about the President's condition.
At his briefing, Conley refused to answer multiple direct questions about whether Trump had been placed on oxygen since being diagnosed with COVID-19.
Earlier in the day former New Jersey governor Chris Christie announced that he had tested positive for COVID-19, as did Republican senator Ron Johnson.
They joined a growing list of prominent Republican figures who have announced they have contracted COVID-19 in recent days.
As well as Trump and wife Melania, that group includes his campaign manager Bill Stepien, White House adviser Hope Hicks, and former Trump adviser Kellyanne Conway.
Matthew Knott is North America correspondent for The Sydney Morning Herald and The Age.
https://news.google.com/__i/rss/rd/articles/CBMilAFodHRwczovL3d3dy5zbWguY29tLmF1L3dvcmxkL25vcnRoLWFtZXJpY2EvdmVyeS1jb25jZXJuaW5nLXdoaXRlLWhvdXNlLWlzc3Vlcy1jb250cmFkaWN0b3J5LWNvbmZ1c2luZy11cGRhdGVzLW9uLXRydW1wLXMtaGVhbHRoLTIwMjAxMDA0LXA1NjFydS5odG1s0gGUAWh0dHBzOi8vYW1wLnNtaC5jb20uYXUvd29ybGQvbm9ydGgtYW1lcmljYS92ZXJ5LWNvbmNlcm5pbmctd2hpdGUtaG91c2UtaXNzdWVzLWNvbnRyYWRpY3RvcnktY29uZnVzaW5nLXVwZGF0ZXMtb24tdHJ1bXAtcy1oZWFsdGgtMjAyMDEwMDQtcDU2MXJ1Lmh0bWw?oc=5
2020-10-03 18:40:00Z
52781097425547