Summary
President Donald Trump is getting plenty of air miles on this Tuesday evening (US time), holding three rallies in Michigan, Wisconsin and Nebraska.
Democratic presidential nominee Joe Biden has also stepped up his appearances, hitting Warm Springs and then Atlanta in the key southern state of Georgia.
Former US president Barack Obama has mocked Trump during an appearance in Orlando, saying he was "jealous of COVID's media coverage".
Melania Trump has made her first solo appearance of the campaign, slamming Joe Biden, Democrats and the media.
Latest updates
Trump campaign website defaced by hackers
Here's a bit more information on the hack of Donald Trump's campaign website. Trump's campaign website was briefly taken over by hackers who defaced the site on Tuesday, local time.
The defacement lasted less than 30 minutes, but the incident came as Trump's campaign and that of his opponent, Joe Biden, as well as law enforcement and intelligence agencies, have been on high alert for digital interference ahead of next week's election.
In a statement, Tim Murtaugh, a spokesman for the Trump campaign, confirmed the website's defacement and said it was "working with law enforcement authorities to investigate the source of the attack."
He added, "There was no exposure to sensitive data because none of it is actually stored on the site. The website has been restored."
The FBI did not immediately comment on the incident. The defacement was first noted on Twitter by Gabriel Lorenzo Greschler, a journalist at the Jewish News of Northern California, while he was researching an article on climate change.
It was not clear whether the defacement was the work of foreign hackers or cybercriminals. But in a screed posted to Trump's website — donaldjtrump.com — the hackers claimed to have compromised "multiple devices" that gave them access to the "most internal and secret conversations" of the president and his relatives, including classified information. The New York Times
Seven reasons this year's US election is not a repeat of 2016
Donald Trump trails Joe Biden in polls by an average seven percentage points but America's electoral college system is keeping the Republicans in the game, writes US correspondent Matthew Knott.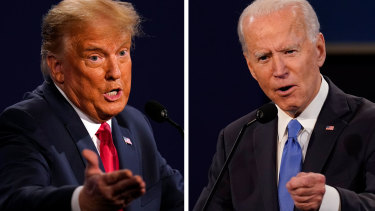 With just nine days remaining until the US presidential election, Democratic nominee Joe Biden continues to lead President Donald Trump by significant margins in the polls.
If Trump was anybody else, the conventional wisdom would be that he had little to no chance of victory. But given Trump scored such a surprising win in 2016, few are willing to make bold predictions this time around.
The Biden campaign says their internal polling shows a close race and are urging Democrats not to become complacent. Trump continues to insist that not only he is going to win but he will achieve an even bigger victory than four years ago. It's a good thing, in many ways, that people are sceptical of polls: ballots around the world, including Brexit in the UK and last year's Australian election, have shown that polls are not infallible.
But it's worth keeping in mind some important ways that this year's election is not like 2016.
A day after election rallies in Pennsylvania, police shooting sparks protests
Pennsylvania's governor deployed the National Guard on Tuesday, local time, after a police shooting on Monday sparked protests, just a week before the swing state will help decide the presidential election.
Governor Tom Wolf sent the National Guard to Philadelphia a day after demonstrators clashed with police following the death of a 27-year-old black man, Walter Wallace jnr. He was fatally shot by police, who said he was armed with a knife. Wallace's family said they had called for an ambulance to get him help with a mental health crisis, not for police intervention, the Associated Press reported.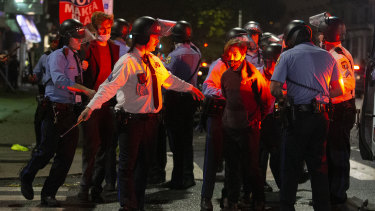 Police cars and dumpsters were set on fire as police struggled to contain the crowds. More than a dozen officers, many with batons in hand, formed a line as they ran down 52nd Street chasing protesters away from the main thoroughfare. The crowd largely dispersed then.
Thirty police officers were treated for cuts and bruises, caused in most cases by bricks, rocks and debris thrown by protesters, a police spokesman told The New York Times. A sergeant was treated at a hospital for a broken leg after she was hit by a pickup truck, the spokesman said. Some businesses were damaged.
The clashes in Philadelphia reignited the issue of police shootings of black men in the waning days of a presidential campaign that has been shaped by protests since the May killing of George Floyd in Minneapolis. The city's African-American community is considered key to Democrat Joe Biden's push to win Pennsylvania's electoral votes. Donald Trump's narrow victory in the state four years ago helped send him to the White House. AP, Bloomberg
In the Bible Belt it's love thy neighbour, not thy politics
By

Monique McCullough
Since Jesus was a boy, politics and religion have never made good bedfellows. This is painfully evident on Providence Lane in Charlotte, North Carolina. This has been my home away from home for the past 15 years. It is the buckle of the Bible Belt in the swingiest swing state for the 2020 US presidential election.
While the American South is known for its hospitality, the current political climate has resulted in a lethal cocktail of religious zealotry and political tribalism. Each side has retreated to its own echo chamber and is now firmly mired in the bogs of our own beliefs. We live in a black and white world of good versus evil, faithful versus faithless, oppressed versus suppressed, masked scaredy cats versus unmasked patriots.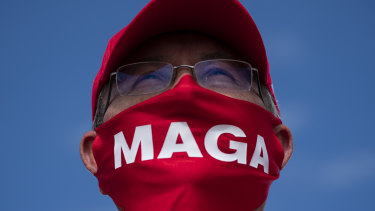 We are divided, and my street is a daily reminder of the deep ravine between us.
Our front yards reveal that we mirror the polls: half of us have cars in driveways with bumper stickers pleading for "Any Functioning Human 2020", while the other half display gargantuan MAGA flags signifying their land is "Trump Country". My street is in a tug of war between far-right Trump supporters and everyone else.
The issue is not that the United States – like so many other countries – is wrestling with an economic recession, a host of social reform issues, or the effects of COVID-19. Rather, the problem, as I have discovered on my own street, is that people on Providence Lane and all around the US have turned political issues into spiritual warfare. For those on the religious far right, the Democrats are not just the opposition party; they are agents of the Evil One, hell-bent on turning the US from that God-ordained "city upon a hill" into a soulless nation of amoral communists.
US early voting tops 70 million, continuing historic pace
More than 70 million Americans have cast ballots in the US presidential election, more than half the total turnout of the 2016 election with one week to go until election day, according to a Tuesday tally from the US Elections Project.
The tally, which shows a record-breaking pace that could lead to the highest voter turnout in percentage terms in more than a century, is the latest sign of intense interest in the contest between Republican President Donald Trump and Democratic challenger Joe Biden.
It also highlights voters' desire to reduce their risk of exposure to COVID-19 as the pandemic regathers strength heading into winter.
Democrats hold a significant advantage in early voting due to their embrace of mail balloting, which Republicans have historically cast in large numbers but have shunned amid repeated and unfounded attacks by Trump, who says the system is prone to widespread fraud.
Overall, Democrats hold roughly a two-to-one advantage in early voting numbers. However, Republicans in recent weeks have narrowed the gap in early, in-person voting, data shows.
The high level of early voting has led Michael McDonald, the University of Florida professor who administers the US Elections Project, to predict a record US voter turnout of about 150 million, representing 65 per cent of those eligible to vote, the highest rate since 1908.
US voters have already cast far more early votes during this presidential campaign than they did in all of 2016 when they passed the 47 million mark earlier this month, Reuters data shows.
Reuters
The whirlwind tour continues as Trump hits Nebraska
It's rally number three for US President Donald Trump, who has turned his attention to Nebraska's 2nd Congressional District.
Nebraska is one of two states that awards electoral votes to each of its congressional districts, in addition to awarding electoral votes for winning the entire state.
In 2016, Trump managed to take all five of Nebraska's electoral votes, but polls show the race for the Omaha area's 2nd District — and its single electoral vote — could be more difficult this time around.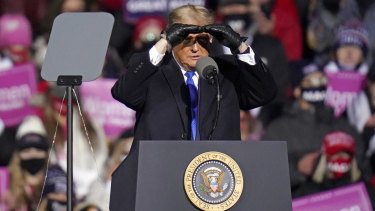 Trump told the big crowd gathered on Tuesday at the city's Eppley Airfield: "We have to win both Nebraskas."
Trump added that he believed his appearance could also be helpful with the race in neighbouring Iowa, which Trump won easily four years ago but which polls suggest is a tight race this year.
AP
Don't let pandemic 'disempower' you: Kamala Harris
Kamala Harris is rallying voters in Las Vegas a week out from election day, urging people to make a "special effort" not to let the circumstances of the coronavirus pandemic "disempower anybody".
The Democratic vice-presidential nominee's swing through Nevada on Tuesday, local time, including an earlier stop in Reno, came just days before early voting in the state concludes on Friday.
She described Joe Biden as a "student of American history" and "a truth teller" who can confront the crises facing the nation.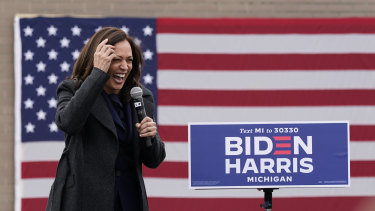 Harris ran through a litany of Biden's policies, including how he proposes tackling the pandemic, systemic racism, climate change and the economy.
She seemed to relish contrasting Biden's record with President Donald Trump's, laughing as she described how he recently said science doesn't know what's fuelling Western wildfires.
Talking about Trump's comments that the nation is "rounding the corner" on the pandemic, Harris quipped: "Come on, man," before noting, "That's a Joe Biden term."
Harris spoke in Las Vegas before roughly 230 voters, spread out on blankets and socially distanced. Nevada has a limit of 250 people for gatherings.
AP
Watch live: Donald Trump addresses supporters in Nebraska
Donald Trump has fronted up for his final rally of the day, in Omaha, Nebraska.
You can watch it live here:
Invitation only: while Trump goes big, Biden's rallies remain exclusive affairs
US correspondent Matthew Knott has been on the road, talking to voters in the swing states. He has filed from Joe Biden's drive-in rally held just hours ago in Atlanta, Georgia:
Natasha and Shailaja Singh are used to feeling outnumbered as Joe Biden fans in Suwanee, an Atlanta suburb where supporters of President Donald Trump are in the majority.
So when the mother and daughter heard that Biden was holding a drive-in rally in southern Atlanta just a week out from the election they hopped in their car and hit the freeway.
"We've already voted but we wanted to show our support in any way possible," Natasha said. "I wanted to get a sense that we could win this."
The Biden rally was invitation-only and the Singhs didn't have a ticket. So they parked their car outside the fenced-off amphitheatre where Biden was scheduled to appear. The scene they encountered wasn't exactly the Democratic jamboree they had imagined.
A large group of flag-waving Trump supporters had shown up as well, outnumbering the Biden supporters gathered outside the rally. The pro-Trump contingent was louder too: several of them were using megaphones to spread their message.
"If you don't like this country, you can leave," a Trump supporting man shouted into a loud-hailer. "We will never let socialism into this country. We are free."
Locals passing through the mostly-black neighbourhood were alarmed to see so many Trump supporters had shown up in their area. "This is ridiculous," a black woman shouted out. "The n----- should be out here reppin' their block."
It's not surprising that more Biden supporters hadn't come. The Biden campaign doesn't promote campaign events like this to the general public; in fact, it can take some skilled online sleuthing to figure out exactly where they're happening. Those invited to attend the drive-in Atlanta rally all had some connection to the local Democratic Party. Media access, like almost all of Biden's events, was restricted to a small number of campaign reporters.
'We're getting your husbands back to work': Trump's message to suburban women
President Donald Trump had a new message for suburban women at his first campaign rally of the day in Michigan: "We're getting your husbands back to work."
Trump, who polls show has diminishing support from suburban women, also criticised the restrictions put in place to slow the spread of COVID-19.
Trump told the women in the crowd of thousands in Lansing: "We're getting your husbands back to work, and everybody wants it and the cure can never be worse than the problem itself."
The comments came as part of criticism of the state's governor, Democrat Gretchen Whitmer. The crowd responded with a now-predictable chant of "lock her up!"
Trump took credit for the actions of federal law enforcement in disrupting an alleged plot to kidnap Whitmer, while seemingly raising questions about the seriousness of the threat.
"It was our people that helped her out with her problem," Trump says. "And we'll have to see if it's a problem. Right? People are entitled to say, 'Maybe it was a problem, maybe it wasn't.'"
AP
https://news.google.com/__i/rss/rd/articles/CBMi3AFodHRwczovL3d3dy5zbWguY29tLmF1L3dvcmxkL25vcnRoLWFtZXJpY2EvdXMtZWxlY3Rpb24tbGl2ZS11cGRhdGVzLWRvbmFsZC10cnVtcC10by1ob2xkLXJhbGxpZXMtaW4tbWljaGlnYW4td2lzY29uc2luLXdoaWxlLWpvZS1iaWRlbi1oaXRzLWdlb3JnaWEtYXMtdGhpcmQtY29yb25hdmlydXMtd2F2ZS1jb250aW51ZXMtdG8tc3dlZXAtbmF0aW9uLTIwMjAxMDI3LXA1Njk2by5odG1s0gHcAWh0dHBzOi8vYW1wLnNtaC5jb20uYXUvd29ybGQvbm9ydGgtYW1lcmljYS91cy1lbGVjdGlvbi1saXZlLXVwZGF0ZXMtZG9uYWxkLXRydW1wLXRvLWhvbGQtcmFsbGllcy1pbi1taWNoaWdhbi13aXNjb25zaW4td2hpbGUtam9lLWJpZGVuLWhpdHMtZ2VvcmdpYS1hcy10aGlyZC1jb3JvbmF2aXJ1cy13YXZlLWNvbnRpbnVlcy10by1zd2VlcC1uYXRpb24tMjAyMDEwMjctcDU2OTZvLmh0bWw?oc=5
2020-10-28 02:10:00Z
52781131890781