Summary
President Donald Trump is getting plenty of air miles on this Tuesday evening (US time) holding three rallies in Michigan, Wisconsin and Nebraska.
Democratic presidential nominee Joe Biden has also stepped up his appearances, hitting Warm Springs and then Atlanta in the key southern state of Georgia.
Former US president Barack Obama has mocked Trump during an appearance in Orlando, saying he was "jealous of COVID's media coverage".
Melania Trump has made her first solo appearance of the campaign, slamming Joe Biden, Democrats and the media.
Latest updates
1000-plus American pastors call for 'free and fair election'
More than 1000 clergy members, religious scholars and other faith-based advocates have signed onto a unique statement that supports a comprehensive path to "a free and fair election" and urges leaders to heed the verdict of "legitimate election results" regardless of who wins in November.
Signatories of the statement, shared in advance with The Associated Press, include senior officials at the National Association of Evangelicals and prominent progressive pastor the Reverend William Barber, as well as two past faith advisers to former President George W. Bush. The statement's wide swath of endorsements illustrates the extent to which the unprecedented nature of a mid-pandemic election has pushed organised religion to showcase its civic power.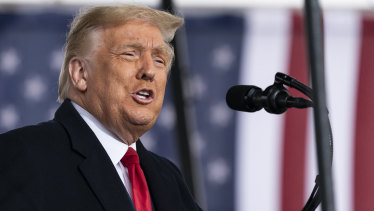 After listing four basic principles, including the importance of leaders sharing "timely, accurate information about the election results" rather than misinformation, the statement goes on to state that those ideas "are central to a functioning and healthy republic and they are supported by the vast majority of Americans, yet they are being challenged in unprecedented ways in the 2020 election".
"America is only as strong as its people's commitment to our democracy and the freedoms and rights it ensures," the joint statement adds.
Galen Carey, vice president of government relations at the evangelicals association, contrasted the current political climate with the contentious 2000 presidential election, when vote counting in the swing state of Florida was halted and Bush declared the winner following a Supreme Court ruling.
"Twenty years later, we're not in that place where we can just assume that once the outcome is announced and decided, everyone can just go on with their lives and wish the new leaders well," Carey, who signed the joint statement alongside NAE President Walter Kim, said in an interview.AP
Trump touches down in Wisconsin ahead of late afternoon rally
Fresh from a wet and cold rally in Michigan, the President has just touched down in Wisconsin, where he is due to hold a rally in just under an hour.
Justice Amy Coney Barrett enters fray of Trump's acrimonious legal battles
Newly confirmed US Supreme Court Justice Amy Coney Barrett will immediately be embroiled in some of the nation's biggest legal battles, including cases that could determine whether the president who nominated her gets four more years in the White House.
The 48-year-old Barrett, who takes her seat just a week before election day, joins a court already deliberating pending voting disputes from North Carolina and Pennsylvania. She could play a pivotal role in any post-election legal fights, and will take part when the court hears a challenge to the Affordable Care Act a week after the election.
The Republican-controlled Senate confirmed Barrett on an almost party-line 52-48 vote on Monday night.
Barely an hour later, she appeared alongside a beaming President Donald Trump at the White House, where arch-conservative Justice Clarence Thomas administered one of the two required oaths of office. Barrett took the second oath at the court Tuesday morning from Chief Justice John Roberts, letting her start work as a justice.
"The oath that I have solemnly taken tonight means at its core that I will do my job without any fear or favour and that I will do so independently of both the political branches and of my own preferences," Barrett said at the White House.
Never before has a justice joined the Supreme Court so close to an election - or with a president openly saying he might need the new member's vote to win another term. Barrett was studiously noncommittal when Democrats asked at her confirmation hearing whether she would disqualify herself from cases over the election.
Federal law gives justices broad latitude to decide when to recuse.
Biden hosts drive-in rally in key southern state
After a small and staid affair in Warm Springs several hours ago, Democratic presidential nominee Joe Biden has turned up the volume at a drive-in campaign rally in the key southern state of Georgia. You can watch it here:
Mike Bloomberg funds last-minute ad blitz for Biden in Texas and Ohio
Michael Bloomberg is funding a last-minute spending blitz to bolster former vice-president Joe Biden in Texas and Ohio, directing millions toward television advertising in two red states that have shifted away from President Donald Trump in the general election.
A political adviser to Bloomberg said the billionaire former mayor of New York City would use his super PAC, Independence USA, to air intensive ad campaigns in all television markets in both states. The cost of the two-state campaign is expected to total around $US15 million ($21 million).
The decision by Bloomberg reflects just how much the electoral landscape appears to have shifted in the final few months of the presidential race, as Trump's mismanagement of the coronavirus pandemic has intensified his unpopularity and further alienated crucial voting groups like women and suburbanites.
Biden's campaign has treated Ohio as a competitive battleground for some time, even though Trump carried it by a wide margin in 2016, and more recently, the Democratic ticket has been putting some time and money into Texas. Senator Kamala Harris of California, Biden's running mate, is planning to visit the state Friday.
Howard Wolfson, one of Bloomberg's closest aides, said the former mayor had recently asked his team to run a round of polls to see whether Trump had unexpected vulnerabilities that could be exploited in the campaign's closing weeks. Up to this point, Bloomberg's general-election activities have focused on Florida, where he has pledged to spend $US100 million supporting Biden. The New York Times
Melania Trump slams Biden, Democrats and the media in first solo campaign trip
Melania Trump has lined up squarely with her husband on her first solo trip of the 2020 campaign, slamming Joe Biden, Democrats and the media as she pushed the president's re-election message in the battleground state of Pennsylvania.
The first lady defended Donald Trump's record on COVID-19 even as he continues to play down the threat of a virus that has killed more than 226,000 Americans. She sought to shift the blame to Democrats, who she said tried to "put their own agendas ahead of the American people's wellbeing" and focused on a "sham impeachment" instead of the coronavirus.
She also denounced what she called Biden's "socialist agenda" and criticised media coverage of "idle gossip and palace intrigue" in the White House.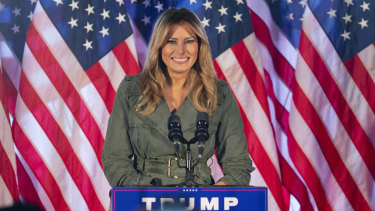 Biden's "policies and socialist agenda will only serve to destroy America and all that has been built in the past four years," she said. "We must keep Donald in the White House so he can finish what he's started and our country can continue to flourish."
The first lady, who recently recovered from what she has described as a mild case of COVID-19, appeared on a day when Pennsylvania health authorities reported a recording-shattering 2,751 new virus infections statewide. COVID-19 deaths and hospitalisations in Pennsylvania have more than doubled since the beginning of October.
Mrs Trump also struck an empathetic tone on the virus, calling herself a "worried mother and wife" who knows "there are many people who have lost loved ones or know people who have been forever impacted by this silent enemy".
But she defended her husband's handling of the virus and said his administration "chooses to keep moving forward during this pandemic, not backward," insisting that schools, restaurants and businesses have learned to operate safely during the pandemic.
"We don't close down and hide in fear. We get to work to find real and lasting solutions," she said.
The first lady's event 80 kilometres west of Philadelphia drew a couple of hundred supporters, who piled into a converted barn typically used for wedding receptions. Two large doors at the rear were opened to allow fresh air into the building. The overwhelming majority of those in attendance wore masks, but there was little social distancing.
Pennsylvania Democratic Chairwoman Nancy Patton Mills ridiculed the first lady's campaign stop, saying she would not have an answer for Pennsylvania's soaring unemployment rate or why her husband's administration has "stopped trying to combat a virus that's killed 8,700 Pennsylvanians and counting".
Mrs Trump spoke one day after the president held three rallies in Pennsylvania, a state that helped deliver him the White House in 2016 and one that is key to his re-election bid. Polls show a tight race in the state between Trump and Biden, who also visited the state Monday to boost get-out-the-vote efforts.
President Trump and the first lady flew together on Marine One from the White House to Joint Base Andrews before boarding planes for separate campaign trips.
"I'd like to go with her and be with her," Trump said. "She's going to make a speech in Pennsylvania. That's great. She does very well, very popular."
Chants of 'lock her up' return to Trump rallies
Chants of "lock her up" have returned to President Donald Trump's rallies: this time in reference to Governor Michigan Gretchen Whitmer.
The crowd at Lansing in Michigan, who waited up to four hours in cold and near-freezing conditions for the President, cheered as Trump attacked Whitmer for not opening up the state as much as he would like.
"This election is a choice between a Trump super-recovery or a Biden depression," he said. "It's a choice between a Trump boom or a Biden lockdown. But you're already locked down in this state."
Whitmer was the target of a foiled kidnapping plot earlier this month. She has written about her experience in US publication The Atlantic, published today.
Trump did not join in the chant, instead giving a wry smile and a short shake of the head.
Trump's handling of COVID-19 turned 'a crisis into a tragedy', Biden says
Joe Biden has also told Americans to "clear the decks for action" on everything from the coronavirus pandemic to the economy if he is elected president.
In more remarks at Warm Springs, Georgia, Biden went after President Donald Trump and his administration for saying they can't contain the virus, calling it a "capitulation" and "a waving of a white flag" on the virus. Biden said it revealed "the shocking truth of this White House: that they've never really tried" to deal with the pandemic. He says Trump "turned a crisis into a tragedy".
Biden warned that "with winter at hand, it's getting worse," noting the surging number of cases across the US.
In contrast with Trump, Biden pledged that he would act "on the first day of my presidency to get COVID under control". Biden also said he'd pass an economic plan that would "finally reward work", a health care plan and a climate plan, and he pledged to address systemic racism.
The remarks come as Biden made a late play for Georgia, a traditionally red state where Democrats see an opening because of Trump's mishandling of the pandemic. He's also slated to speak at a drive-in rally in Atlanta within the next couple of hours.
AP
'I'm running as a proud Democrat, but I will govern as an American president': Biden
Joe Biden has made a foray into traditional Republican territory by visiting Georgia a short time ago, in a show of optimism that his campaign can make Donald Trump a one-term president.
The Democrat delivered a message of unity in Georgia, which has not supported a Democrat in a US presidential election since 1992.
"I'm running as a proud Democrat, but I will govern as an American president. I'll work with Democrats and Republicans. I'll work as hard for those who don't support me as for those who do. That's the job of a president, a duty of care for everyone," Biden said.
He was speaking at a rally in Warm Springs, at the vacation home of former President Franklin Delano Roosevelt, the Democrat who led the nation during the Great Depression and through World War Two.
The 2020 presidential campaign has been unlike any other as a raging coronavirus pandemic that has so far killed more then 225,000 Americans pushes record early voting.
Nearly half a million people in the United States have contracted the novel coronavirus in the last seven days, according to a Reuters tally, as cases and hospitalizations set fresh records in hot spots in the Midwest. More than 5,600 people died from the virus nationwide in the last week.
Reuters
Trump supporters wait four hours in wet, near-freezing temperatures
President Donald Trump has started his busy day of campaigning with a cold, rain-soaked rally in Lansing, Michigan.
Most polls show Trump trailing Democrat Joe Biden in a state that Trump won narrowly in his 2016 victory. The president told the thousands that gathered on Tuesday that "seven days from now we're going to win the great state of Michigan."
Some of Trump's supporters waited four hours in the wet, near-freezing temperatures to see him.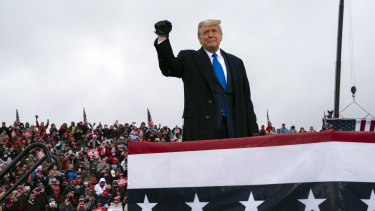 Trump says their enthusiasm underscores to him that he's got momentum going into the final days before the election.
Trump also plans to campaign Tuesday in Wisconsin and Nebraska.
AP
https://news.google.com/__i/rss/rd/articles/CBMi3AFodHRwczovL3d3dy5zbWguY29tLmF1L3dvcmxkL25vcnRoLWFtZXJpY2EvdXMtZWxlY3Rpb24tbGl2ZS11cGRhdGVzLWRvbmFsZC10cnVtcC10by1ob2xkLXJhbGxpZXMtaW4tbWljaGlnYW4td2lzY29uc2luLXdoaWxlLWpvZS1iaWRlbi1oaXRzLWdlb3JnaWEtYXMtdGhpcmQtY29yb25hdmlydXMtd2F2ZS1jb250aW51ZXMtdG8tc3dlZXAtbmF0aW9uLTIwMjAxMDI3LXA1Njk2by5odG1s0gHcAWh0dHBzOi8vYW1wLnNtaC5jb20uYXUvd29ybGQvbm9ydGgtYW1lcmljYS91cy1lbGVjdGlvbi1saXZlLXVwZGF0ZXMtZG9uYWxkLXRydW1wLXRvLWhvbGQtcmFsbGllcy1pbi1taWNoaWdhbi13aXNjb25zaW4td2hpbGUtam9lLWJpZGVuLWhpdHMtZ2VvcmdpYS1hcy10aGlyZC1jb3JvbmF2aXJ1cy13YXZlLWNvbnRpbnVlcy10by1zd2VlcC1uYXRpb24tMjAyMDEwMjctcDU2OTZvLmh0bWw?oc=5
2020-10-27 22:04:00Z
52781131890781