Summary
President Donald Trump is getting plenty of air miles on this Tuesday evening (US time) holding three rallies in Michigan, Wisconsin and Nebraska.
Democratic presidential nominee Joe Biden has also stepped up his appearances, hitting Warm Springs and then Atlanta in the key southern state of Georgia.
Former US president Barack Obama has mocked Trump during an appearance in Orlando, saying he was "jealous of COVID's media coverage".
Melania Trump has made her first solo appearance of the campaign, slamming Joe Biden, Democrats and the media.
Latest updates
Biden hosts drive-in rally in key southern state
After a small and staid affair in Warm Springs several hours ago, Democratic presidential nominee Joe Biden has turned up the volume at a drive-in campaign rally in the key southern state of Georgia. You can watch it here:
Mike Bloomberg funds last-minute ad blitz for Biden in Texas and Ohio
Michael Bloomberg is funding a last-minute spending blitz to bolster former vice-president Joe Biden in Texas and Ohio, directing millions toward television advertising in two red states that have shifted away from President Donald Trump in the general election.
A political adviser to Bloomberg said the billionaire former mayor of New York City would use his super PAC, Independence USA, to air intensive ad campaigns in all television markets in both states. The cost of the two-state campaign is expected to total around $US15 million ($21 million).
The decision by Bloomberg reflects just how much the electoral landscape appears to have shifted in the final few months of the presidential race, as Trump's mismanagement of the coronavirus pandemic has intensified his unpopularity and further alienated crucial voting groups like women and suburbanites.
Biden's campaign has treated Ohio as a competitive battleground for some time, even though Trump carried it by a wide margin in 2016, and more recently, the Democratic ticket has been putting some time and money into Texas. Senator Kamala Harris of California, Biden's running mate, is planning to visit the state Friday.
Howard Wolfson, one of Bloomberg's closest aides, said the former mayor had recently asked his team to run a round of polls to see whether Trump had unexpected vulnerabilities that could be exploited in the campaign's closing weeks. Up to this point, Bloomberg's general-election activities have focused on Florida, where he has pledged to spend $US100 million supporting Biden. The New York Times
Melania Trump slams Biden, Democrats and the media in first solo campaign trip
Melania Trump has lined up squarely with her husband on her first solo trip of the 2020 campaign, slamming Joe Biden, Democrats and the media as she pushed the president's re-election message in the battleground state of Pennsylvania.
The first lady defended Donald Trump's record on COVID-19 even as he continues to play down the threat of a virus that has killed more than 226,000 Americans. She sought to shift the blame to Democrats, who she said tried to "put their own agendas ahead of the American people's wellbeing" and focused on a "sham impeachment" instead of the coronavirus.
She also denounced what she called Biden's "socialist agenda" and criticised media coverage of "idle gossip and palace intrigue" in the White House.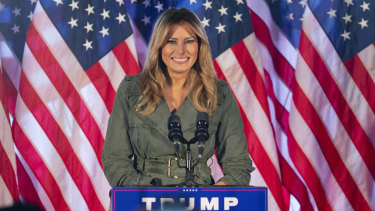 Biden's "policies and socialist agenda will only serve to destroy America and all that has been built in the past four years," she said. "We must keep Donald in the White House so he can finish what he's started and our country can continue to flourish."
The first lady, who recently recovered from what she has described as a mild case of COVID-19, appeared on a day when Pennsylvania health authorities reported a recording-shattering 2,751 new virus infections statewide. COVID-19 deaths and hospitalisations in Pennsylvania have more than doubled since the beginning of October.
Mrs Trump also struck an empathetic tone on the virus, calling herself a "worried mother and wife" who knows "there are many people who have lost loved ones or know people who have been forever impacted by this silent enemy".
But she defended her husband's handling of the virus and said his administration "chooses to keep moving forward during this pandemic, not backward," insisting that schools, restaurants and businesses have learned to operate safely during the pandemic.
"We don't close down and hide in fear. We get to work to find real and lasting solutions," she said.
The first lady's event 80 kilometres west of Philadelphia drew a couple of hundred supporters, who piled into a converted barn typically used for wedding receptions. Two large doors at the rear were opened to allow fresh air into the building. The overwhelming majority of those in attendance wore masks, but there was little social distancing.
Pennsylvania Democratic Chairwoman Nancy Patton Mills ridiculed the first lady's campaign stop, saying she would not have an answer for Pennsylvania's soaring unemployment rate or why her husband's administration has "stopped trying to combat a virus that's killed 8,700 Pennsylvanians and counting".
Mrs Trump spoke one day after the president held three rallies in Pennsylvania, a state that helped deliver him the White House in 2016 and one that is key to his re-election bid. Polls show a tight race in the state between Trump and Biden, who also visited the state Monday to boost get-out-the-vote efforts.
President Trump and the first lady flew together on Marine One from the White House to Joint Base Andrews before boarding planes for separate campaign trips.
"I'd like to go with her and be with her," Trump said. "She's going to make a speech in Pennsylvania. That's great. She does very well, very popular."
Chants of 'lock her up' return to Trump rallies
Chants of "lock her up" have returned to President Donald Trump's rallies: this time in reference to Governor Michigan Gretchen Whitmer.
The crowd at Lansing in Michigan, who waited up to four hours in cold and near-freezing conditions for the President, cheered as Trump attacked Whitmer for not opening up the state as much as he would like.
"This election is a choice between a Trump super-recovery or a Biden depression," he said. "It's a choice between a Trump boom or a Biden lockdown. But you're already locked down in this state."
Whitmer was the target of a foiled kidnapping plot earlier this month. She has written about her experience in US publication The Atlantic, published today.
Trump did not join in the chant, instead giving a wry smile and a short shake of the head.
Trump's handling of COVID-19 turned 'a crisis into a tragedy', Biden says
Joe Biden has also told Americans to "clear the decks for action" on everything from the coronavirus pandemic to the economy if he is elected president.
In more remarks at Warm Springs, Georgia, Biden went after President Donald Trump and his administration for saying they can't contain the virus, calling it a "capitulation" and "a waving of a white flag" on the virus. Biden said it revealed "the shocking truth of this White House: that they've never really tried" to deal with the pandemic. He says Trump "turned a crisis into a tragedy".
Biden warned that "with winter at hand, it's getting worse," noting the surging number of cases across the US.
In contrast with Trump, Biden pledged that he would act "on the first day of my presidency to get COVID under control". Biden also said he'd pass an economic plan that would "finally reward work", a health care plan and a climate plan, and he pledged to address systemic racism.
The remarks come as Biden made a late play for Georgia, a traditionally red state where Democrats see an opening because of Trump's mishandling of the pandemic. He's also slated to speak at a drive-in rally in Atlanta within the next couple of hours.
AP
'I'm running as a proud Democrat, but I will govern as an American president': Biden
Joe Biden has made a foray into traditional Republican territory by visiting Georgia a short time ago, in a show of optimism that his campaign can make Donald Trump a one-term president.
The Democrat delivered a message of unity in Georgia, which has not supported a Democrat in a US presidential election since 1992.
"I'm running as a proud Democrat, but I will govern as an American president. I'll work with Democrats and Republicans. I'll work as hard for those who don't support me as for those who do. That's the job of a president, a duty of care for everyone," Biden said.
He was speaking at a rally in Warm Springs, at the vacation home of former President Franklin Delano Roosevelt, the Democrat who led the nation during the Great Depression and through World War Two.
The 2020 presidential campaign has been unlike any other as a raging coronavirus pandemic that has so far killed more then 225,000 Americans pushes record early voting.
Nearly half a million people in the United States have contracted the novel coronavirus in the last seven days, according to a Reuters tally, as cases and hospitalizations set fresh records in hot spots in the Midwest. More than 5,600 people died from the virus nationwide in the last week.
Reuters
Trump supporters wait four hours in wet, near-freezing temperatures
President Donald Trump has started his busy day of campaigning with a cold, rain-soaked rally in Lansing, Michigan.
Most polls show Trump trailing Democrat Joe Biden in a state that Trump won narrowly in his 2016 victory. The president told the thousands that gathered on Tuesday that "seven days from now we're going to win the great state of Michigan."
Some of Trump's supporters waited four hours in the wet, near-freezing temperatures to see him.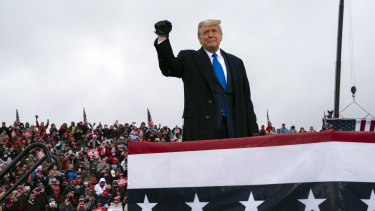 Trump says their enthusiasm underscores to him that he's got momentum going into the final days before the election.
Trump also plans to campaign Tuesday in Wisconsin and Nebraska.
AP
Obama accuses Trump of COVID-19 'incompetence' at Orlando rally
Campaigning in Orlando just hours ago, former President Barack Obama has lashed out at President Donald Trump and urged state voters to turn out "like never before" to put Joe Biden in the White House.
Obama focused on the president's response to the coronavirus pandemic, including his efforts to downplay it at recent campaign rallies even as cases surge nationwide.
"He's jealous of COVID's media coverage," Obama said, adding that instead of focusing on controlling its spread, "He's turned the White House into a hot zone."
Obama added: "Florida, we cannot afford four more years of this. We cannot afford this kind of incompetence and indifference."
Obama urged all Floridians to vote for Biden and if they've already voted, to help friends and family get to the polls.
Polls have shown a razor-thin margin between former vice-president Biden and Trump, so both candidates and their allies are campaigning nearly non-stop in the state. By Tuesday morning, about 6.4 million Floridians had either voted by mail or cast ballots at an early-voting location.
The drive-in rally, held outside Camping World Stadium in the park that was once Tinker Field, drew supporters in 273 cars, the campaign said. The vehicles wrapped around the podium, and drivers honked their horns and cheered in approval as Obama spoke. The audience was invitation-only, as the Biden campaign sought to limit crowd size and maintain social distancing because of the coronavirus pandemic.
Florida Agriculture Commissioner Nikki Fried and Orlando Mayor Buddy Dyer were among the speakers who warmed up the crowd.
"This is the biggest drive-up event that's been held in Florida," Dyer said. 'How about that?"
"You are the most important voters in this country," Dyer said. "We need to win Florida, and we need to win the I-4 corridor for Biden-Harris."
Fried said the work done by the late Justice Ruth Bader Ginsburg paved the way for higher office for herself and many other women. Ginsburg was succeeded Monday by Trump appointee Amy Coney Barrett, who is expected to turn the Supreme Court to the right.
"That is what's on the ballot this year," Fried said. "We have to make sure that Ruth Bader Ginsburg's legacy is not lost."
Biden campaign volunteer Mary Lou Nethers said she was "very hopeful" about Biden's chances of winning the state.
"I'm seeing a lot of Republicans come into our office for signs and 'Republicans for Biden' buttons and they're giving generous donations," said Nethers, who was sometimes drowned out by her friend honking their SUV's horn. "So that makes me think a good number of this Republican turnout is for Biden."
University of Central Florida senior Emma Trittin said her age group of 18- to 29-year-olds was coming out in force this year, with more than 200,000 voting early.
"I think it speaks volumes," Trittin said. "I think Floridians are really fed up with how the past four years have gone with the Trump administration. ... And there's still a week left until the election. Youth are really stepping up and voting because they know that they have power in their voice."
The trip comes after Obama held a drive-in car rally for the Biden campaign in Miami on Saturday.
Biden himself is scheduled to be in Broward County and Tampa on Thursday, part of a last-week campaign swing through the crucial swing state.
McClatchy
Biden goes on offence in Georgia while Trump targets Midwest
With just over 150 hours until the official polling day, the candidates are making the most of every minute. As we mentioned earlier, the Democratic presidential nominee Joe Biden is in Georgia now. He then plans to travel to Iowa, which Trump took by 10 points in 2016, later in the week.
His running mate, California Senator Kamala Harris, is heading to Arizona and Texas, where Republicans haven't lost any statewide office since 1994 – the nation's longest political winning streak.
The aggressive schedule is a sign of confidence by the Biden team, which is trying to stretch the electoral map and open up more paths to 270 electoral college votes. But after Democrats flirted with Republican territory in 2016, only to lose those states as well as their traditional Midwestern strongholds, Biden's campaign is mindful of overreaching.
The former vice-president will also visit in the coming days Wisconsin, Michigan and Florida.
Georgia, where Biden will make two stops on Tuesday, has increasingly become a draw for Democrats in recent years, as turnout increases among black voters and the Atlanta suburbs tilt away from the Republican Party.
"If this was the Georgia of 2008, 2012, I think there's no way we would have seen a Biden come this late," said Nsé Ufot, chief executive officer of the New Georgia Project, which aims to increase voter registration, especially among young people and minorities. "It's a loud signal and acknowledgment of Georgia as a battleground state."
President Donald Trump is staying focused on the so-called "blue wall" states that he flipped in 2016: Pennsylvania, Michigan and Wisconsin, where he'll return today to hit West Salem just three days after holding a Janesville rally. AP
Good morning and welcome to our live coverage of the final week of the 2020 US election! I'm Hanna Mills Turbet and I'll be with you until early afternoon.
With just one week until election day (it's still Tuesday in the US) Democratic presidential candidate Joe Biden has headed to Georgia – which hasn't backed a Democrat for president since 1992 – and plans to push into other territory where President Donald Trump was once expected to easily repeat his wins from four years ago.
President Trump, meanwhile, has a busy afternoon/evening schedule. He is in Michigan right now, and then plans to hold rallies in Wisconsin and Nebraska.
We will bring you the key developments as they happen, each day, right up until the November 3 election and beyond. Strap in for the ride.
https://news.google.com/__i/rss/rd/articles/CBMi3AFodHRwczovL3d3dy5zbWguY29tLmF1L3dvcmxkL25vcnRoLWFtZXJpY2EvdXMtZWxlY3Rpb24tbGl2ZS11cGRhdGVzLWRvbmFsZC10cnVtcC10by1ob2xkLXJhbGxpZXMtaW4tbWljaGlnYW4td2lzY29uc2luLXdoaWxlLWpvZS1iaWRlbi1oaXRzLWdlb3JnaWEtYXMtdGhpcmQtY29yb25hdmlydXMtd2F2ZS1jb250aW51ZXMtdG8tc3dlZXAtbmF0aW9uLTIwMjAxMDI3LXA1Njk2by5odG1s0gHcAWh0dHBzOi8vYW1wLnNtaC5jb20uYXUvd29ybGQvbm9ydGgtYW1lcmljYS91cy1lbGVjdGlvbi1saXZlLXVwZGF0ZXMtZG9uYWxkLXRydW1wLXRvLWhvbGQtcmFsbGllcy1pbi1taWNoaWdhbi13aXNjb25zaW4td2hpbGUtam9lLWJpZGVuLWhpdHMtZ2VvcmdpYS1hcy10aGlyZC1jb3JvbmF2aXJ1cy13YXZlLWNvbnRpbnVlcy10by1zd2VlcC1uYXRpb24tMjAyMDEwMjctcDU2OTZvLmh0bWw?oc=5
2020-10-27 21:23:00Z
52781131890781