Pinned post from
Watch live: Trump's rally in Martinsburg, Pennsylvania
Trump is speaking to an enthusiastic crowd at his third Pennsylvania rally today (Monday afternoon US time).
You can watch the rally live, below:
Latest updates
Biden hits back: 'I'm not eliminating fracking'
By

Farrah Tomazin
Presidential hopeful Joe Biden is also in the critical swing state of Pennsylvania to stave off a potential backlash over energy jobs.
Pennsylvania – once home to generations of coal miners and rail workers – is Biden's childhood home state.
Donald Trump has seized on comments Biden made during last Friday's debate, in which the Democratic nominee suggested he would "transition" away from the oil industry if he was elected.
At this rally, and two others today, Trump has accused Biden of "betraying" the state's working-class voters.
He also tweeted: "Last week, Joe Biden made perhaps the most shocking admission ever uttered in the history of presidential debates. On live television, Joe Biden confirmed his plan to ABOLISH the entire US Oil Industry - that means NO fracking, NO jobs, and NO energy for Pennsylvania Families!"
Biden, appearing at a voting centre in Chester, rejected this.
"Let me make it clear. I'm not shutting down oil fields. I'm not eliminating fracking. I'm investing in clean energy," he said.
Biden's policy involves transitioning away from fossil fuels and would end new federal permits and leases for drilling oil and gas on public lands, which would include any new fracking permits. The vast majority of fracking is done on private land.
He also wants to eliminate subsidies to the fossil fuel industry.
Pennsylvania is Democratic stronghold with a proud union tradition, but in 2016 residents were drawn to Trump's narrative as a political "outsider" who would bring back jobs to the region and put "America First".
However, this election is likely to be much closer, with Biden – who hails from the former coal-mining region of Scranton – framing himself as a hometown candidate.
US coronavirus deaths surpass 225,000, world's highest
Trump has repeatedly spruiked his government's achievements in saving American lives during the coronavirus pandemic.
But his claims come as the US death toll surpassed 225,000 today, the highest death toll in the world. Brazil has the second-highest number of deaths at 157,134, according to Johns Hopkins University.
Average deaths per day across the country are up 10 per cent over the past two weeks, from 721 to nearly 794 as of Sunday. Confirmed infections per day are rising in 47 states, and deaths are up in 34.
Deaths are still well below the US peak of over 2200 per day in late April. But experts are warning of a grim autumn and winter, with a widely cited model from the University of Washington projecting about 386,000 dead by February 1. A vaccine is unlikely to become widely available until mid-2021.
The seven-day rolling average for daily new cases hit a record high on Sunday of 68,767, according to Johns Hopkins, eclipsing the previous mark of 67,293, set in mid-July.
The US recorded more than 80,000 new cases on both Friday and Saturday - the highest marks ever - though testing has expanded dramatically over the course of the outbreak, making direct comparisons problematic.
Trump, who spent several days in the hospital after contracting the virus, has said repeatedly over the weekend and today that the country is "rounding the turn".
As we reported earlier, Trump's remarks come amid another outbreak in the White House inner circle - several close aides to Vice-President Mike Pence tested positive, including his chief of staff.
You can follow the latest coronavirus news in our live blog by my colleague Tammy Mills, here.
'You will lose your jobs': Trump tells crowd
Trump has played a video to the crowd featuring soundbites of Biden talking about China and the North American Free Trade Agreement (NAFTA), and of course, fracking.
The president said Biden voted for China to join NAFTA, robbing Pennsylvania of manufacturing jobs. "We want to see China rise," Biden says in the video clip.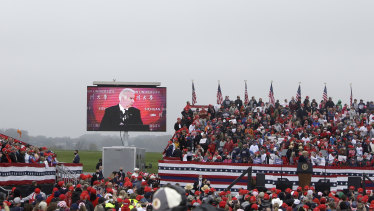 At the conclusion of the video, Trump said: "A vote for Biden ... is a vote to deliver economic ruin to Pennsylvania and your families."
Fact check: Biden on fracking
Let's pause for a moment to look at Biden's position on fracking.
Trump has assailed Biden over his position on fracking, seeking to paint him as a hostage to progressive Democrats' environmental reform wishes. Biden has repeatedly pledged not to abolish fracking.
At one of the Democratic primary debates, Biden misspoke when he addressed the subject, saying that if he became president, there would be "no more - no new - fracking". Biden's campaign quickly corrected his mistake.
Biden's actual position, which he frequently states, is that he would ban new gas and oil permits - including fracking - on federal lands only. The vast majority of oil and gas does not come from federal lands.
He's hewed closely to that middle-of-the-road position, going so far as to tell an anti-fracking activist that he "ought to vote for somebody else" if he was in a hurry to see fracking abolished.
Fracking, or hydraulic fracturing, opened up a years-long oil and gas boom in parts of the Southwest, High Plains and Northeast - including battleground Pennsylvania. The technique went into widespread use during the Obama-Biden administration
Some liberal Democrats wish Biden were taking a tougher line against fracking now. But he isn't.
AP
'He will eradicate Pennsylvania energy': Trump attacks Biden
It didn't take long – Trump is back on the issue of fracking. He's also addressing coal miners in the crowd, telling them a vote for Biden is a vote for "doom, gloom and depression", because he will be a death knell for the mining industry.
"You can't allow this to happen," Trump said.
"Fracking is saving Pennsylvania families $2500 a year. We are energy independent and you're a big part of it, and they want to end that.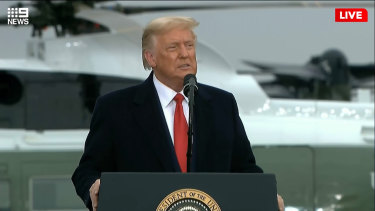 "You want a nice windmill right next to your house, and your house is now worthless?
"If you want to see a bird graveyard go see a windmill. He wants wind and he wants solar. I want solar too, but it's not developed. And solar won't power your big, beautiful plants. He will eradicate Pennsylvania energy."
Trump lauds Supreme Court nominee Barrett
To huge cheers, Trump told the crowd that in a matter of hours Senate Republicans are poised to confirm his Supreme Court nominee Judge Amy Coney Barrett.
As we said earlier, this is a major victory for the president and his party just days before November 3, that promises to push the high court in a more conservative direction for generations to come.
'Four more years, four more years!'
"Sleepy Joe Biden ... travelled from Delaware to a little tiny corner in Pennsylvania and said he doesn't do these types of rallies because of COVID," Trump has told the crowd, which chanted "four more years, four more years".
"He doesn't do these rallies, because no one shows up!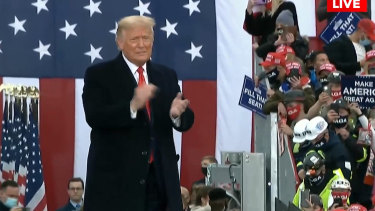 "COVID, COVID, COVID, that's all they talk about."
Trump spoke about his bout with coronavirus earlier this month, saying, "When you're President there are so many doctors. I had 12 doctors," and spruiked the cocktail of drugs he was administered, developed by company Regeneron.
'Hello Pennsylvania, hello Pennsylvania': Trump is on stage
President Donald Trump has taken to the stage to a typical, rousing welcome.
"We tried to come in here, very low key. We wanted to make a low key appearance," he said to laughs from the crowd.
Marine One has landed in Martinsburg, Pennsylvania, ahead of Trump's third rally in Pennsylvania.
And what's blaring over the speakers? "Macho, macho man!" by the Village People.
Fracking, fracking, fracking: Trump's last-ditch appeal to voters in Pennsylvania
Pennsylvania was once known as the "Coal State", then the "Steel State".
But as Peter Eavis wrote earlier this year in The New York Times, the state's most recent economic saviour came from its vast natural-gas reserves ... and fracking.
"Pennsylvania, home to the United States' first major oil wells and a large coal producer for decades, has a long history with the fossil fuel industry. That was a reason the state, unlike New York, allowed gas companies to use hydraulic fracturing - or fracking - to extract gas from the Marcellus Shale formation, estimated to be the largest gas field in the United States," Eavis wrote.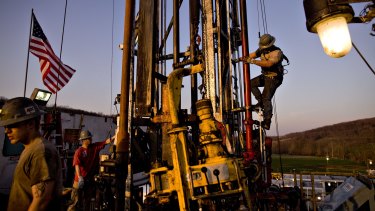 "To many business people and residents, the bet has paid off, not least by creating many well-paying jobs in struggling parts of the state. And though the industry, which Pennsylvania has allowed to operate through the coronavirus emergency, goes through ups and downs, they expect it to remain an important part of their economy for years to come."
It's no surprise Trump used his first stop in Pennsylvania several hours' ago to label Democratic nominee Joe Biden as a death knell for the state's energy industry.
"Biden's plan is an economic death sentence on Pennsylvania's energy sector," Trump told a crowd of thousands at his first stop in Allentown, according to The Hill. "He will eradicate your energy and send Pennsylvania into a crippling depression."
According to Politico, the president added: "Biden confirmed his plan to abolish the entire US oil industry.
"That means no fracking, no jobs, no energy for Pennsylvania families. He wants to go wind."
https://news.google.com/__i/rss/rd/articles/CBMiqwFodHRwczovL3d3dy5zbWguY29tLmF1L3dvcmxkL25vcnRoLWFtZXJpY2EvdXMtZWxlY3Rpb24tMjAyMC1saXZlLXVwZGF0ZXMtdHJ1bXAtY29udGludWVzLXJhbGxpZXMtYWNyb3NzLWFtZXJpY2EtYXMtbmV3LWNvcm9uYXZpcnVzLXdhdmUtcmF2YWdlcy1uYXRpb24tMjAyMDEwMjYtcDU2OHI5Lmh0bWzSAasBaHR0cHM6Ly9hbXAuc21oLmNvbS5hdS93b3JsZC9ub3J0aC1hbWVyaWNhL3VzLWVsZWN0aW9uLTIwMjAtbGl2ZS11cGRhdGVzLXRydW1wLWNvbnRpbnVlcy1yYWxsaWVzLWFjcm9zcy1hbWVyaWNhLWFzLW5ldy1jb3JvbmF2aXJ1cy13YXZlLXJhdmFnZXMtbmF0aW9uLTIwMjAxMDI2LXA1NjhyOS5odG1s?oc=5
2020-10-26 21:57:00Z
52781131890781