Pinned post from
Watch live: Trump's rally in Martinsburg, Pennsylvania
Trump is due to take to the stage for his third Pennsylvania rally today (Monday afternoon US time).
You can watch the rally live, below:
Latest updates
Trump tells the crowd it was necessary to nominate Barrett for Supreme Court
To huge cheers, Trump told the crowd that in a matter of hours Senate Republicans are poised to confirm his Supreme Court nominee Judge Amy Coney Barrett.
As we said earlier, this is a major victory for the president and his party just days before November 3, that promises to push the high court in a more conservative direction for generations to come.
'Four more years, four more years!'
"Sleepy Joe Biden ... travelled from Delaware to a little tiny corner in Pennsylvania and said he doesn't do these types of rallies because of COVID," Trump has told the crowd, which chanted "four more years, four more years".
"He doesn't do these rallies, because no one shows up!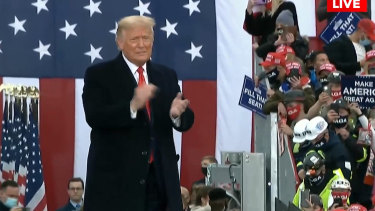 "COVID, COVID, COVID, that's all they talk about."
Trump spoke about his bout with coronavirus earlier this month, saying, "When you're President there are so many doctors. I had 12 doctors," and spruiked the cocktail of drugs he was administered, developed by company Regeneron.
'Hello Pennsylvania, hello Pennsylvania': Trump is on stage
President Donald Trump has taken to the stage to a typical, rousing welcome.
"We tried to come in here, very low key. We wanted to make a low key appearance," he said to laughs from the crowd.
Marine One has landed in Martinsburg, Pennsylvania, ahead of Trump's third rally in Pennsylvania.
And what's blaring over the speakers? "Macho, macho man!" by the Village People.
Fracking, fracking, fracking: Trump's last-ditch appeal to voters in Pennsylvania
Pennsylvania was once known as the "Coal State", then the "Steel State".
But as Peter Eavis wrote earlier this year in The New York Times, the state's most recent economic saviour came from its vast natural-gas reserves ... and fracking.
"Pennsylvania, home to the United States' first major oil wells and a large coal producer for decades, has a long history with the fossil fuel industry. That was a reason the state, unlike New York, allowed gas companies to use hydraulic fracturing - or fracking - to extract gas from the Marcellus Shale formation, estimated to be the largest gas field in the United States," Eavis wrote.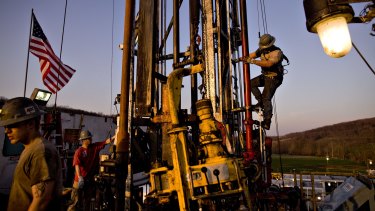 "To many business people and residents, the bet has paid off, not least by creating many well-paying jobs in struggling parts of the state. And though the industry, which Pennsylvania has allowed to operate through the coronavirus emergency, goes through ups and downs, they expect it to remain an important part of their economy for years to come."
It's no surprise Trump used his first stop in Pennsylvania several hours' ago to label Democratic nominee Joe Biden as a death knell for the state's energy industry.
"Biden's plan is an economic death sentence on Pennsylvania's energy sector," Trump told a crowd of thousands at his first stop in Allentown, according to The Hill. "He will eradicate your energy and send Pennsylvania into a crippling depression."
According to Politico, the president added: "Biden confirmed his plan to abolish the entire US oil industry.
"That means no fracking, no jobs, no energy for Pennsylvania families. He wants to go wind."
Trump supporters gather in Martinsburg, Pennsylvania
Trump supporters are in Martinsburg, Pennsylvania, waiting for the president to take to the stage shortly.
A short time ago, the crowd was listening to Phil Collins' "In the Air Tonight".
That's despite Collins issuing Trump's campaign a cease and desist order earlier this month. In the run-up to the 2016 election, Collins told Billboard that Trump "is a big accident waiting to happen".
Now, we're hearing Queen's Bohemian Rhapsody.
Democrats urge Pence to stay away due to latest White House coronavirus outbreak
The White House conceded yesterday that it is "not going to control the pandemic" as it faces another staff outbreak nine days from the US election.
Three weeks after President Donald Trump and members of his inner circle contracted coronavirus, five staffers working for Vice-President Mike Pence – including his chief of staff – have also been diagnosed with COVID-19.
A group of 10 Democratic senators, led by Minority Leader Charles Schumer, is now urging Pence not to preside over the chamber for the confirmation vote of Supreme Court nominee Amy Coney Barrett.
In a letter, the senators argued that Pence's presence would not only violate guidelines from the Centres for Disease Control and Prevention but that it would "be a violation of common decency and courtesy".
"Your presence alone could be very dangerous to many people – not just to senators, but to all the truly essential staff – Democratic and Republican – who must be physically present inside the US Capitol for it to function," they wrote.
The senators said that Pence would not be needed to break a tie and that his presence would be purely "ceremonial".
Republicans hold a 53-to-47 advantage in the Senate, and only one Republican senator – Susan Collins of Maine – has indicated that she would oppose the nomination of the judge, President Donald Trump's third pick for the high court.
The confirmation vote is expected in just several hours - Monday evening in the US.
Senate votes for Trump nominee Barrett; confirmation expected soon
In several hours' time, Senate Republicans are set to confirm Amy Coney Barrett to the Supreme Court, approving President Donald Trump's nominee a week before election day and securing likely conservative court dominance for years to come.
The confirmation vote is expected on Monday evening in the US (Tuesday AEDT). It's currently just after 4pm in Washington, DC.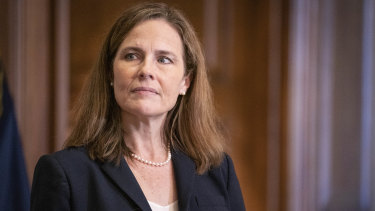 Trump's choice to fill the vacancy of the late liberal icon Ruth Bader Ginsburg potentially opens a new era of rulings on abortion, the Affordable Care Act and even a potential dispute over his own election. Democrats have been powerless to stop Trump's third justice as Republicans race to reshape the judiciary.
Barrett is just 48, and her confirmation will solidify the court's rightward tilt.
Nearly 60m Americans cast early ballots, already surpassing those in 2016
With eight days before election day, more people already have cast ballots in this year's presidential election than voted early or absentee in the 2016 race as the start of in-person early voting in big states led to a surge in turnout in recent days.
The opening of early voting locations in Florida, Texas and elsewhere has piled millions of new votes on top of the mail ballots arriving at election offices as voters try to avoid crowded places on November 3 during the coronavirus pandemic.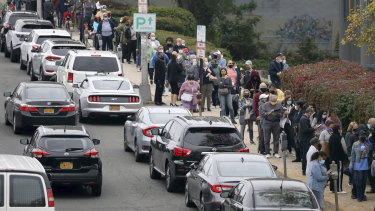 The result is a total of 58.6 million ballots cast so far, more than the 58 million cast through the mail or at in-person early voting sites in 2016.
Democrats have continued to dominate the initial balloting, but Republicans are narrowing the gap. Republican voters have begun to show up at early in-person voting, a sign that many heeded President Donald Trump's unfounded warnings about mail-voting fraud.
On October 15, Democratic registrants cast 51 per cent of all ballots reported, compared with 25 per cent from Republicans. On Sunday, Democrats had a slightly smaller lead, 51 per cent to 31 per cent.
But the early vote totals are an imperfect indicator of which party may be leading. The data only shows party registration, not which candidate voters support. Most Republican voters are expected to vote on election day.
Analysts said the still sizeable Democratic turnout puts extra pressure on the Republican Party to push its voters out in the final week and on November 3. That's especially clear in closely contested states such as Florida, Nevada and North Carolina.
"This is a glass half-full, glass-half-empty situation," said John Couvillon, a Republican pollster who tracks early voting closely. "They're showing up more," he added, but "Republicans need to rapidly narrow that gap".
In Florida, for example, Democrats have out-voted Republicans by a 596,000 margin by mail, while Republicans only have a 230,000 edge in person. In Nevada, where Democrats usually dominate in-person early voting but the state decided to send a mail ballot to every voter this year, Republicans have a 42,600 voter edge in-person while Democrats have a 97,500 advantage in mail ballots.
"At some point, Republicans have to vote," said Michael McDonald, a University of Florida political scientist who tracks early voting on ElectProject.org. "You can't force everyone through a vote centre on election day. Are you going to expect all those Republicans to stand in line for eight hours?"
https://news.google.com/__i/rss/rd/articles/CBMiqwFodHRwczovL3d3dy5zbWguY29tLmF1L3dvcmxkL25vcnRoLWFtZXJpY2EvdXMtZWxlY3Rpb24tMjAyMC1saXZlLXVwZGF0ZXMtdHJ1bXAtY29udGludWVzLXJhbGxpZXMtYWNyb3NzLWFtZXJpY2EtYXMtbmV3LWNvcm9uYXZpcnVzLXdhdmUtcmF2YWdlcy1uYXRpb24tMjAyMDEwMjYtcDU2OHI5Lmh0bWzSAasBaHR0cHM6Ly9hbXAuc21oLmNvbS5hdS93b3JsZC9ub3J0aC1hbWVyaWNhL3VzLWVsZWN0aW9uLTIwMjAtbGl2ZS11cGRhdGVzLXRydW1wLWNvbnRpbnVlcy1yYWxsaWVzLWFjcm9zcy1hbWVyaWNhLWFzLW5ldy1jb3JvbmF2aXJ1cy13YXZlLXJhdmFnZXMtbmF0aW9uLTIwMjAxMDI2LXA1NjhyOS5odG1s?oc=5
2020-10-26 20:56:00Z
52781131890781