Pinned post from
Watch: Biden/Obama speak in Detroit, Trump rallies in Pennsylvania
Former vice-president Joe Biden and former President Barack Obama (plus musical legend Stevie Wonder and Michigan Governor Gretchen Whitmer) appeared at a drive-in rally in Detroit, Michigan today.
President Donald Trump spoke at a mass rally in Pennsylvania this morning.
Latest updates
Record 90 million Americans have voted early
By

Trevor Hunnicutt

and

Jeff Mason
A record 90 million Americans have voted early in the US presidential election, data on Saturday showed, as President Donald Trump and his Democratic rival Joe Biden campaigned across the country to try to sway the few remaining undecided voters.
The high number of early voters, about 65 per cent of the total turnout in 2016, reflects intense interest in the contest, with three days of campaigning left.
Concerns about exposure to the coronavirus at busy Election Day voting places on Tuesday have also pushed up the numbers of people voting by mail or at early in-person polling sites.
The Republican president is spending the closing days of his re-election campaign criticising public officials and medical professionals who are trying to combat the coronavirus pandemic even as it surges back across the United States.
Opinion polls show Trump trailing former vice president Biden nationally, but with a closer contest in the most competitive states that will decide the election. Voters say the coronavirus is their top concern.
Trump has repeatedly claimed without evidence that mail-in ballots are susceptible to fraud and has more recently argued that only the results available on election night should count. In a flurry of legal motions, his campaign has sought to restrict absentee balloting.
"I don't care how hard Donald Trump tries. There's nothing – let me say that again – there's nothing that he can do to stop the people of this nation from voting in overwhelming numbers and taking back this democracy," Biden said at a rally in Flint, Michigan, where he was joined by former President Barack Obama for their first 2020 campaign event together.
Trump held four rallies on Saturday in the battleground state of Pennsylvania, where the campaigns are seeking to win over undecided voters in areas like the suburbs of Philadelphia and the "Rust Belt" west of the state.
"If we win Pennsylvania, it's over," Trump told a large rally in Reading before moving to another big gathering in Butler.
Officials in several states, including Pennsylvania and Wisconsin, say it could take several days to count all of the mail ballots, possibly leading to days of uncertainty if the outcome hinges on those states.
Reuters
DFAT issues 'do not travel' warning for USA citing 'possible civil unrest'
The Department of Foreign Affairs and Trade is warning Australians not to travel to the United States due to concerns about possible civil unrest connected to the US Election.
There are already restrictions on leaving Australia due to COVID-19 but this still makes difficult reading.
In a warning issued on Friday, the department said:
"Protests and demonstrations continue in several US cities. Avoid areas where protests are occurring due to the ongoing potential for violence. Monitor the media for information and updates. Follow the instructions of local authorities. COVID-19 remains a serious health risk. Various restrictions and public health measures are in place and vary by location. Follow the instructions of local authorities, including those related to quarantine, self-isolation, social-distancing and the wearing of masks. The 2020 Presidential Election will be held on Tuesday November 3, with the presidential inauguration taking place on January 20 2021. Monitor the Embassy website for further COVID-19 related information (see Local Contacts)."
US judge to hear Republican bid to void 100,000 votes in Texas
By

Jan Wolfe
A federal judge in Texas scheduled an emergency hearing for Monday on whether Houston officials unlawfully allowed drive-through voting and should toss more than 100,000 votes in the Democratic-leaning area.
In a brief order, US District Judge Andrew Hanen in Houston on Friday agreed to hear arguments by a Republican state legislator and others that votes already cast at drive-through voting sites in the Houston area should be rejected.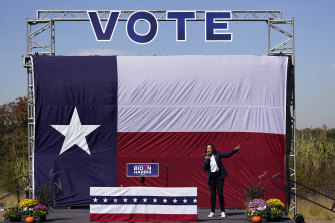 The lawsuit was brought on Wednesday by plaintiffs including Steve Hotze, a conservative activist, and state Representative Steve Toth. They accused Harris County Clerk Chris Hollins, a Democrat, of exceeding his constitutional authority by allowing drive-through voting as an alternative to walk-in voting during the coronavirus pandemic.
Harris County, home to about 4.7 million people, is the third most populous county in the United States. It currently has 10 drive-through polling sites, which are available to all voters.
The lawsuit came after the Texas Supreme Court, one of the most conservative state courts in the United States, rejected similar bids to halt drive-through voting in Harris County.
The plaintiffs ask the court to "reject any votes it finds were cast in violation of the Texas Election Code" and "require all memory cards from the 10 drive-thru voting locations be secured and not entered or downloaded into the tally machine until this court issues an order on this complaint."
Hanen was appointed by President George W. Bush, a Republican.
The request is "wholly unreasonable," Democratic groups, including the Democratic Congressional Campaign Committee, said on Friday in a motion asking to intervene in the case.
"Plaintiffs ask this Court to throw Texas's election into chaos by invalidating the votes of more than 100,000 eligible Texas voters who cast their ballots at drive-thru voting locations at the invitation of county officials and in reliance on the Texas Supreme Court's decision to allow drive-thru voting to proceed," the groups said.
Michael Morley, a professor of election law at Florida State University, called the lawsuit meritless and said it proposes an "extreme remedy."
"I think the county has a strong legal basis under state law for implementing these voting alternatives during a pandemic," Morley said.
"Even if the court disagreed, however, a remedy would most likely be purely prospective - prohibiting continued use of these mechanisms while still counting votes already cast."
Texas, the second largest U.S. state, is a traditionally Republican state, but polls show President Donald Trump and Democratic nominee Joe Biden close, with more than 9 million ballots already cast, eclipsing total turnout from 2016.
Reuters
'When we vote, they lose': O'Rourke says Republicans desperate about Texas
By

Roy Ward
Former Texas congressman Beto O'Rourke says Republicans are 'desperate' to suppress voters in their state.
O'Rourke, who ran in the Democratic Presidential primary, compared the lawsuit trying to throw out 127,000 drive-in votes in Harris County, Houston and Trump supporters chasing the Biden-Harris bus in Texas as signs of their desperation.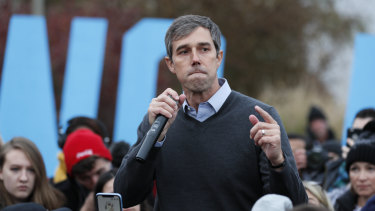 "When we vote, they lose," O'Rourke told CNN on Sunday AEDT.
"This is very much connected to the lawsuit trying to throw out 127,000 votes in Harris County.
"When you can't win by the rules you either try to change the rules after the fact, like in Harris County, or you go beyond the peaceful exercise of your right to vote and use intimidation, the threat of violence or actual violence as captured on video of Trump supporters trying to run the Biden bus off the road and engaging with another vehicle.
"Thankfully no one was seriously hurt."
O'Rourke said tireless work over many years had seen Texas voting turnout rise from last in the United States to being among the best and he also said 9.6 million early votes had already been cast in the state.
Former vice-president Joe Biden hasn't campaigned in Texas in the run-up to the poll but the rise in voters has made the state competitive for Democrats for the first time since the 1970s.
Vice-presidential candidate Senator Kamala Harris made several appearances in Texas on Saturday AEDT.
"I'm really happy Sen Harris came down. We would love to see Joe Biden in Texas, it would be absolutely catalytic," O'Rourke said.
O'Rourke added that if the Biden wins Texas, which would be an upset, then it will be the product of decades of local activism.
"This isn't a fluke. It's something that has been building for a while," O'Rourke told CNN.
"If Biden wins [Texas] on November 3, it will be less about the top of the ticket than about the down ballot candidates who are energising voters and sending them to the top of the ticket."
Trump pulls away in Iowa: Des Moines Register poll
A Des Moines Register poll showed Donald Trump with a seven-point lead over Joe Biden in Iowa, 48 per cent to 41 per cent, after the two were tied in the same series in September with 47 per cent each.
The survey's an outlier after several recent polls showed the Iowa race too close to call. Biden's campaign has targeted the state aggressively with advertising.
The survey of 814 likely voters was taken October 26-29. It had a margin of error of 3.4 percentage points.
"The president is holding demographic groups that he won in Iowa four years ago," said J. Ann Selzer, president of the polling company Selzer & Co.
Since September Trump's standing has improved among independent voters, while his support has slipped among women, according to the poll.
The Real Clear Politics average of recent Iowa polls, updated to include the Des Moines Register survey, shows Trump up by 0.5 points.
Bloomberg
Watch: Donald Trump speaks at his fourth rally of the day in Pennsylvania
US President Donald Trump is speaking at his fourth rally in Pennsylvania today as he appears in Montoursville.
Trump calls on government to find fracking's impact on economy, cost of banning oil, gas
President Donald Trump says he's issued a memorandum that calls on government agencies to determine fracking's impact on the economy and trade and the costs of banning the oil and gas extraction through fracking.
The president has repeatedly charged that Biden will end fracking — a big industry in Pennsylvania and other states — even as the former vice president has said that he does not support such a ban.
Biden's more liberal Democratic primary opponents, including his running mate, Senator Kamala Harris, have said they supported imposing restrictions on the industry.
"In other words, if one of these maniacs come along and they say we're gonna end fracking we're gonna destroy the Commonwealth of Pennsylvania," Trump said in announcing his memorandum at rally in Butler, Pennsylvania. "You can say 'sorry about that.'"
Trump told the crowd he signed the memorandum while on Marine One after landing in Butler.
AP
I'd rather have what I have!": Biden calls out Trump's hair
Former vice-president Joe Biden is letting loose against President Donald Trump in the final days of the presidential campaign.
At a drive-in rally in Detroit on Saturday night, Biden made fun of Trump for everything from his hairdo to his cozy relationship with Russian President Vladimir Putin to Trump's description of himself as a "perfect physical specimen."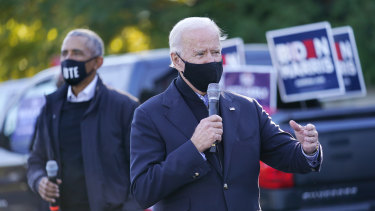 Biden noted the president "likes to portray himself as a tough guy," but noted Trump was laughed at by United Nations leaders.
"Tough guy, my — my word," Biden said, pausing just short of finishing the quip with a vulgar word.
Noting Trump has called himself a "perfect physical specimen," Biden, a devout Catholic, jokingly made the sign of the cross.
And referencing a New York Times report that Trump took $70,000 in tax deductions for hair care, Biden quipped, "I hardly have any hair, but I'll tell you what man, I'd rather have what I have!"
While the Democratic presidential candidate often takes jabs at Trump, on Saturday night, campaigning alongside former President Barack Obama — who also roundly mocked Trump — Biden seemed to be having more fun than usual with his attacks.
AP
North Carolina voter rally ends with pepper spray, arrests
GRAHAM, NORTH CAROLINA: A get-out-the vote rally in swing state North Carolina on Saturday ended with police using pepper spray on some participants and making several arrests.
Multiple people were arrested outside Alamance County's courthouse and police used pepper spray to disperse the crowd, news outlets reported.
Lindsay Ayling, a graduate student and anti-racism activist who participated in the rally, told The Associated Press police used tear gas indiscriminately and without reason on the crowd, including on children.
"The police were looking for excuses to use pepper spray and arrest members of the crowd," she said.
Police did not immediately comment, but the department said it would hold a news conference Saturday afternoon to discuss the arrests.
Saturday is the last day to vote early in North Carolina, a key battleground President Donald Trump needs to win to boost his prospects of defeating Democratic nominee Joe Biden.
North Carolina Attorney General Josh Stein called the events "troubling." He said election officials told him that polling places stayed open and people continued to vote.
"All eligible voters in North Carolina have a constitutional right to cast their vote safely and securely, without threats or intimidation," said Stein, a Democrat.
Alamance County sheriff's deputies began dismantling a sound system and telling the crowd to disperse as people were giving speeches, the Raleigh News & Observer reported.
The "I Am Change" march to the polls was organised by activist Rev. Greg Drumwright, and began as a march from a local church to the courthouse.
A Confederate monument outside the courthouse has been a local target for demonstrations since the death of George Floyd at the hands of Minneapolis Police in May.
Floyd, a Black man, died after a white officer pressed his knee to Floyd's neck for several minutes.
AP
Biden expands Wisconsin lead
Former vice-president Joe Biden expanded his lead over President Donald Trump in Wisconsin over the last month, according to a new poll by Emerson College, their last one before the election on Wednesday AEDT.
The Wisconsin Emerson College poll, conducted October 29-30, had a margin of error of 3.5 percentage points. It showed Biden leading Trump 53 per cent to 45 per cent. Biden's lead over Trump increased by one point from the same poll last month.
In the past week both candidates have campaigned in Wisconsin, which along with Michigan and Pennsylvania is seen as key to winning the White House. Trump won all three states in 2016, the first time a Republican candidate had managed to do so since 1984, and Biden will need to take some of them back to win.
Independent voters in Wisconsin favoured Biden over Trump by 54 per cent to 39 per cent. While Biden has a 16-point lead among suburban voters in Wisconsin and a 17-point lead with urban voters, Trump holds an edge among rural voters, 52 per cent to 45 per cent. The economy ranked as the most important issue for voters, and Trump's approval rating was at 45 per cent.
In Vigo County, Indiana, whose voters have chosen the winning candidate in all but two presidential elections since 1888, it's a dead heat. Biden and Trump each have 48 per cent support. Indiana is usually a heavily Republican state; Trump won the county handily in 2016.
Bloomberg
https://news.google.com/__i/rss/rd/articles/CBMiqgFodHRwczovL3d3dy5zbWguY29tLmF1L3dvcmxkL25vcnRoLWFtZXJpY2EvdXMtZWxlY3Rpb24tMjAyMC1saXZlLXVwZGF0ZXMtam9lLWJpZGVuLWJhcmFjay1vYmFtYS1jYW1wYWlnbi1pbi1taWNoaWdhbi1kb25hbGQtdHJ1bXAtY2hhc2VzLXBlbm5zeWx2YW5pYS0yMDIwMTEwMS1wNTZhZjQuaHRtbNIBqgFodHRwczovL2FtcC5zbWguY29tLmF1L3dvcmxkL25vcnRoLWFtZXJpY2EvdXMtZWxlY3Rpb24tMjAyMC1saXZlLXVwZGF0ZXMtam9lLWJpZGVuLWJhcmFjay1vYmFtYS1jYW1wYWlnbi1pbi1taWNoaWdhbi1kb25hbGQtdHJ1bXAtY2hhc2VzLXBlbm5zeWx2YW5pYS0yMDIwMTEwMS1wNTZhZjQuaHRtbA?oc=5
2020-11-01 02:09:00Z
52781131890781