Pinned post from
Watch: Biden/Obama speak in Detroit, Trump rallies in Pennsylvania
Former vice-president Joe Biden and former President Barack Obama (plus musical legend Stevie Wonder and Michigan Governor Gretchen Whitmer) appeared at a drive-in rally in Detroit, Michigan today.
President Donald Trump spoke at a mass rally in Pennsylvania this morning.
Latest updates
Biden expands Wisconsin lead
Former vice-president Joe Biden expanded his lead over President Donald Trump in Wisconsin over the last month, according to a new poll by Emerson College, their last one before the election on Wednesday AEDT.
The Wisconsin Emerson College poll, conducted October 29-30, had a margin of error of 3.5 percentage points. It showed Biden leading Trump 53 per cent to 45 per cent. Biden's lead over Trump increased by one point from the same poll last month.
In the past week both candidates have campaigned in Wisconsin, which along with Michigan and Pennsylvania is seen as key to winning the White House. Trump won all three states in 2016, the first time a Republican candidate had managed to do so since 1984, and Biden will need to take some of them back to win.
Independent voters in Wisconsin favoured Biden over Trump by 54 per cent to 39 per cent. While Biden has a 16-point lead among suburban voters in Wisconsin and a 17-point lead with urban voters, Trump holds an edge among rural voters, 52 per cent to 45 per cent. The economy ranked as the most important issue for voters, and Trump's approval rating was at 45 per cent.
In Vigo County, Indiana, whose voters have chosen the winning candidate in all but two presidential elections since 1888, it's a dead heat. Biden and Trump each have 48 per cent support. Indiana is usually a heavily Republican state; Trump won the county handily in 2016.
Bloomberg
Trump closing out election criticising those fighting COVID-19
By

Jeff Mason
PENNSYLVANIA: President Donald Trump is spending the closing days of his re-election campaign criticising public officials and medical professionals who are trying to combat the coronavirus pandemic even as it surges back across the United States.
Trump was to hold four election rallies in the battleground state of Pennsylvania on Saturday, as he tries to close ground with Democratic rival Joe Biden before Tuesday's election.
At a small, in-person rally in Newtown, Pennsylvania, Trump mocked Biden for his criticism of the Republican's record of fighting COVID-19, which has killed more people in the United States than in any other country.
"I watched Joe Biden speak yesterday. All he talks about is COVID, COVID. He's got nothing else to say. COVID, COVID," Trump told the crowd, some of whom did not wear masks.
He said the United States was "just weeks away" from mass distribution of a safe vaccine against COVID-19, which is pushing hospitals to capacity and killing up to 1,000 people in the United States each day. Trump gave no details to back up his remarks about an imminent vaccine.
Opinion polls show Trump trailing former Vice President Biden nationally, but with a closer contest in the most competitive states that will decide the election. Voters say the coronavirus is their top concern.
Campaigning in the Midwest on Friday, Trump falsely said doctors earn more money when their patients die of the disease, building on his past criticism of medical experts like Dr. Anthony Fauci, the country's top infectious diseases expert.
The president criticised Democratic officials in Minnesota for enforcing social-distancing rules that limited his rally to 250 people. "It's a small thing, but a horrible thing," he said.
Biden, for his part, has accused Trump of giving up in the fight against the disease, which has killed almost 229,000 people in the United States.
Stanford University economists on Saturday released an estimate that Trump rallies held from June to September led to more than 30,000 additional COVID-19 infections and possibly as many as 700 deaths. The study was based on a statistical model and not actual investigations of coronavirus cases. The paper, which did not cite disease experts among its authors, has not been peer-reviewed.
Public health officials have repeatedly warned that Trump campaign events could hasten the spread of the virus, particularly those held in places where infection rates were already on the rise. Determining the actual impact of those rallies on infection rates has been difficult due to the lack of robust contact tracing in many U.S. states.
Amesh Adalja, an infectious diseases expert at the Johns Hopkins Centre for Health Security, described the report as "suggestive."
"I would just say it's suggestive but hard to completely isolate the specific impact of one event without robust contact trace data from the cases," Adalja said.
Biden's campaign, which has sharply limited crowd sizes at events or restricted supporters to their cars, quickly seized on the Stanford findings.
"Trump doesn't even care about the very lives of his strongest supporters," Biden campaign spokesman Andrew Bates said in a statement. Trump's campaign did not immediately respond to a request for comment on the report.
Reuters
Barricades and boarded-up windows near Trump Tower
By

Megan Levy
NEW YORK: The section of Fifth Avenue near Trump Tower in Midtown Manhattan resembled a construction zone on Saturday morning as police began barricading off roads, and luxury retailers and hotels boarded up their windows in preparation for any potential election day turmoil.
Bergdorf Goodman was still welcoming customers into its high-end department store as workers stood on ladders and drilled plywood boards over its windows, an American flag attached to the building fluttering in the breeze above them.
Next door, the historic Paris Theatre - still shuttered like all of Manhattan's movie theatres due to the coronavirus pandemic - was sealing its doors, while the red carpet welcoming guests at The Plaza Hotel near Central Park led up a set of stairs to an entrance hidden behind plywood panels.
It's a scene repeated all over Manhattan, and in cities across the country, as businesses brace for the possibility of civil unrest linked to the election.
The intersection of Fifth Avenue and 56th Street in front of Trump Tower has been surrounded by concrete barriers and metal barricades since Trump won the 2016 election, but on Saturday NYPD officers were extending the metal barricades along two surrounding blocks.
The already significant police presence around the tower is also expected to be boosted in the coming days.
It was four years ago on the campaign trail that then-presidential hopeful Donald Trump boasted that his supporters were so loyal he could "stand in the middle of Fifth Avenue and shoot somebody and I wouldn't lose voters".
On that very avenue, as the bitter 2020 presidential contest nears an end, extraordinary precautions are being taken to prevent any potential violence linked to the election.
'The mic needs ObamaCare': Obama's microphone drops out
By

Roy Ward
Former US President Barack Obama was forced to wait on stage and joke around during a rally in Detroit, Michigan on Sunday AEST.
As Obama was hitting his stride while hitting out current President Donald Trump for his attacks on ObamaCare, also known as the Affordable Care Act, his microphone faded out with supporters at the drive-in event sounding their horns and yelling they couldn't hear him.
After being told that the microphones and speakers were being reset, a smiling, energised Obama joked with those closest to the stage.
A camera microphone picked up a crowd member yelling 'The mic needs ObamaCare' and another offering him a megaphone.
After a few minutes the speakers kicked in again and he continued his speech encouraging voters to turn out in huge numbers as Michigan is one of the key states in th election.
NBA coach Steve Kerr votes, volunteers at polling booth
By

Janie McCauley
SAN FRANCISCO: Golden State Warriors coach Steve Kerr cast his vote, then spent some of his own time Saturday morning greeting others who visited the ballot drop-off location at Chase Centre, his team's home stadium.
Kerr handed out blue, Warriors-themed "I Voted" stickers to match the one on his gray sweatshirt.
"It's an easy way to vote, I just dropped my ballot off," Kerr said.
"We're trying to remind everybody not only of the importance of voting, but we're trying to make it as easy as possible to exercise your vote. It's important for everybody to have that right and to have easy access."
He posed for photos with fans, stood in for selfies and talked some basketball, too, of course.
But most of all, Kerr wanted to support the early voters and encourage others to take to the polls as the election (Wednesday AEST) nears.
The Warriors' former practice facility in downtown Oakland — now used for their youth camp operations — will be a voting place on Wednesday AEST.
"It's just a good way for us as a company, as a team, an organisation, to remind people we're not just a basketball team. We're hopefully an asset to the community and we want to be able to help people, and hopefully win a bunch of games in the process and keep everybody entertained, but we'd like to think that we're an important part of the community," Kerr said. "And we need to prove that by doing things like this."
Members of Kerr's family also stopped by the first-year arena to turn in their ballots Saturday.
An outspoken NBA face on issues such as gun violence, police brutality and racial injustice, Kerr applauded the youth working to make positive change. He walked in an Oakland peace march this past spring.
His father, Malcolm, president of the American University of Beirut, was murdered in Beirut when Kerr was 18 and a freshman at the University of Arizona.
In March 2018, Kerr took part in the Oakland March for Our Lives.
Earlier that same month, he joined Democratic Congressmen Ro Khanna and Mike Thompson — chair of the House Gun Violence Prevention Task Force — and students from throughout the South Bay during a town hall at Newark Memorial High School to discuss gun violence in schools and cheered the efforts of youth nationwide.
Kerr said it isn't hard to do double duty right now as a basketball coach and a voice as a public figure with a platform for those who don't have one.
"I think in some ways the balance is presented to us, given what's happening around the country," Kerr said.
"I know that when I played, players and coaches were never — maybe not never — rarely asked about politics and voting."
"But the times are different. Our country is in turmoil and everybody plays a role," he said. "If we're truly a democracy, then 'We the People,' that's the key phrase, right, in the Constitution, 'We the People.' So, who's that? That's us. It's not somebody making decisions for us, it's us making decisions about who we're going to elect to help lead our country."
Trump supporters force Democrats to cancel Texas events, court could throw out 100k votes
There are multiple reports and videos from Texas that Biden campaign events had to be cancelled on Saturday AEDT due to harassment from US President Donald Trump's supporters.
State representative Sheryl Cole tweeted that the Biden campaign was forced cancel an event in Pfugerville due to 'security reasons'.
There are also videos of Trump supporters following the Biden-Harris bus.
A report has also emerged that a Federal Court Judge Andrew Haden will hold an emergency hearing on Tuesday AEDT time (Monday US time) after Texas Republicans asked for 100,000 votes from Harris County in Houston to be tossed out.
Their argument is that only state legislatures can make laws about elections and that the 100,000 votes were cast via drive-in services that were set up by the Harris County Clerk due to COVID-19.
Slate legal writer Mark Joseph Stern tweeted in detail about the case and his concerns about Judge Haden.
US sets new daily COVID-19 world record with 99,325 new cases on Saturday
The US reported 99,325 new cases Saturday AEDT, the most for any country in a single day as infections and hospitalizations surged in the lead-up to the presidential election.
With the US reporting almost 100,000 new cases on Friday just days ahead of the election, North Dakota led the increase in infections with a 6.8 per cent rise in cases to almost 43,916, according to data compiled by Johns Hopkins University and Bloomberg.
Wyoming, South Dakota, Montana and Missouri had the next-biggest increases, ranging from 4.2 per cent to 3.1 per cent. Colorado, Kansas and Wisconsin all showed 2.4 per cent increases.
Texas reported the most new deaths with 109.
Bloomberg News
Trump rallies caused more than 30,000 COVID-19 cases and likely led to 700 deaths, study finds
By

Dave Goldiner
President Donald Trump's massive campaign rallies led to more than 30,000 confirmed COVID-19 cases and likely caused the death of 700 Americans, a new study says.
The Stanford University paper released Friday took a close look at 18 Trump rallies between June and September and followed subjects "up to ten post-rally weeks for each event".
"The communities in which Trump rallies took place paid a high price in terms of disease and death," researchers concluded.
Rates of COVID-19 often rose notably in communities that hosted the events, compared with nearby towns where Trump stayed away, the study found.
"There are some indications that compliance with public health guidelines, such as the use of masks, improved at later rallies," researchers wrote. "While it would be worth evaluating the diminution of treatment effects resulting from greater compliance, we currently lack sufficient compliance data to conduct that investigation."
The Trump campaign has insisted that it offers participants masks and temperature checks at his rallies.
A Biden spokesman criticised the Trump rallies as "super spreader" events that violate common-sense public health rules.
Biden's rallies have featured smaller invitation-only crowds, with more masks and social distancing.
New York Daily News
Networks pledge caution for an election night like no other
By

Michael M. Grynbaum
Batches of ballots that will be counted at different times, depending on the swing state. Twitter gadflies and foreign agents intent on sowing confusion. A president who has telegraphed for months that he may not accept results he deems unfavorable.
Television executives overseeing this year's election night broadcasts are facing big challenges. And the world will be watching.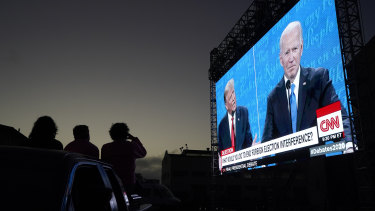 "Frankly, the well-being of the country depends on us being cautious, disciplined and unassailably correct," said Noah Oppenheim, the NBC News president. "We are committed to getting this right."
In interviews, the men and women in charge of network news coverage — the platform that tens of millions of Americans will turn to on Tuesday to make sense of a confusing vote count and learn the future of their country — made similar pledges.
Patience. Caution. And constant reassurance to viewers about the integrity of the results. "We have to be incredibly transparent all through the night with what we know and what we don't know," said George Stephanopoulos, who will anchor the proceedings for ABC News.
To accommodate the idiosyncrasies of this pandemic-era campaign, networks are planning tweaks to the way some election nights looked in the past.
Real-time results will be displayed in the context of the total expected vote, including the absentee and mail-in ballots that will account for a high proportion of it. The usual metric, "precincts reporting," is tied to in-person votes on Election Day, which producers expect to be potentially misleading.
The "decision desks," the teams of data experts at news organisations who project results, say they are not competing over who calls a race first. "We're preparing the audience that this might not be over in one night," said Susan Zirinsky, president of CBS News.
And combating misinformation — be it from online mischief-makers or falsehoods from the commander-in-chief — is a priority, particularly in educating Americans that any delays in declaring a victor stem from care, not chicanery.
"Just because a count may take longer does not mean that something is necessarily wrong," said Sam Feist, CNN's Washington bureau chief. "It may not even mean that it's a close race. We have to constantly remind the viewer that patience will be needed and this may take some time in critical states, and that doesn't mean anything is untoward."
The New York Times
https://news.google.com/__i/rss/rd/articles/CBMiqgFodHRwczovL3d3dy5zbWguY29tLmF1L3dvcmxkL25vcnRoLWFtZXJpY2EvdXMtZWxlY3Rpb24tMjAyMC1saXZlLXVwZGF0ZXMtam9lLWJpZGVuLWJhcmFjay1vYmFtYS1jYW1wYWlnbi1pbi1taWNoaWdhbi1kb25hbGQtdHJ1bXAtY2hhc2VzLXBlbm5zeWx2YW5pYS0yMDIwMTEwMS1wNTZhZjQuaHRtbNIBqgFodHRwczovL2FtcC5zbWguY29tLmF1L3dvcmxkL25vcnRoLWFtZXJpY2EvdXMtZWxlY3Rpb24tMjAyMC1saXZlLXVwZGF0ZXMtam9lLWJpZGVuLWJhcmFjay1vYmFtYS1jYW1wYWlnbi1pbi1taWNoaWdhbi1kb25hbGQtdHJ1bXAtY2hhc2VzLXBlbm5zeWx2YW5pYS0yMDIwMTEwMS1wNTZhZjQuaHRtbA?oc=5
2020-10-31 23:46:00Z
52781131890781