Latest updates
US sets new daily COVID-19 world record with 99,325 new cases on Saturday
The US reported 99,325 new cases Saturday AEDT, the most for any country in a single day as infections and hospitalizations surged in the lead-up to the presidential election.
With the US reporting almost 100,000 new cases on Friday just days ahead of the election, North Dakota led the increase in infections with a 6.8 per cent rise in cases to almost 43,916, according to data compiled by Johns Hopkins University and Bloomberg.
Wyoming, South Dakota, Montana and Missouri had the next-biggest increases, ranging from 4.2 per cent to 3.1 per cent. Colorado, Kansas and Wisconsin all showed 2.4 per cent increases.
Texas reported the most new deaths with 109.
Bloomberg News
Trump rallies caused more than 30,000 COVID-19 cases and likely led to 700 deaths, study finds
By

Dave Goldiner
President Donald Trump's massive campaign rallies led to more than 30,000 confirmed COVID-19 cases and likely caused the death of 700 Americans, a new study says.
The Stanford University paper released Friday took a close look at 18 Trump rallies between June and September and followed subjects "up to ten post-rally weeks for each event".
"The communities in which Trump rallies took place paid a high price in terms of disease and death," researchers concluded.
Rates of COVID-19 often rose notably in communities that hosted the events, compared with nearby towns where Trump stayed away, the study found.
"There are some indications that compliance with public health guidelines, such as the use of masks, improved at later rallies," researchers wrote. "While it would be worth evaluating the diminution of treatment effects resulting from greater compliance, we currently lack sufficient compliance data to conduct that investigation."
The Trump campaign has insisted that it offers participants masks and temperature checks at his rallies.
A Biden spokesman criticised the Trump rallies as "super spreader" events that violate common-sense public health rules.
Biden's rallies have featured smaller invitation-only crowds, with more masks and social distancing.
New York Daily News
Networks pledge caution for an election night like no other
By

Michael M. Grynbaum
Batches of ballots that will be counted at different times, depending on the swing state. Twitter gadflies and foreign agents intent on sowing confusion. A president who has telegraphed for months that he may not accept results he deems unfavorable.
Television executives overseeing this year's election night broadcasts are facing big challenges. And the world will be watching.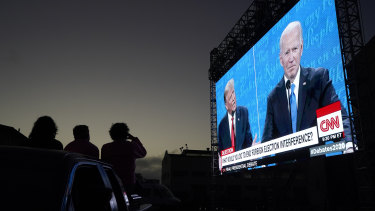 "Frankly, the well-being of the country depends on us being cautious, disciplined and unassailably correct," said Noah Oppenheim, the NBC News president. "We are committed to getting this right."
In interviews, the men and women in charge of network news coverage — the platform that tens of millions of Americans will turn to on Tuesday to make sense of a confusing vote count and learn the future of their country — made similar pledges.
Patience. Caution. And constant reassurance to viewers about the integrity of the results. "We have to be incredibly transparent all through the night with what we know and what we don't know," said George Stephanopoulos, who will anchor the proceedings for ABC News.
To accommodate the idiosyncrasies of this pandemic-era campaign, networks are planning tweaks to the way some election nights looked in the past.
Real-time results will be displayed in the context of the total expected vote, including the absentee and mail-in ballots that will account for a high proportion of it. The usual metric, "precincts reporting," is tied to in-person votes on Election Day, which producers expect to be potentially misleading.
The "decision desks," the teams of data experts at news organisations who project results, say they are not competing over who calls a race first. "We're preparing the audience that this might not be over in one night," said Susan Zirinsky, president of CBS News.
And combating misinformation — be it from online mischief-makers or falsehoods from the commander-in-chief — is a priority, particularly in educating Americans that any delays in declaring a victor stem from care, not chicanery.
"Just because a count may take longer does not mean that something is necessarily wrong," said Sam Feist, CNN's Washington bureau chief. "It may not even mean that it's a close race. We have to constantly remind the viewer that patience will be needed and this may take some time in critical states, and that doesn't mean anything is untoward."
The New York Times
American dream or nightmare?: An investor's field guide for next week's US election
By

Alex Druce
Investors have already endured one of the most dramatic years on record, but the defining moment for markets in 2020 could still be to come: polling day in next week's US Presidential election between Donald Trump and Joe Biden.
Nerves are already on edge with coronavirus case numbers rising, yet with record numbers of mail-in votes, and the size and timing of the next US stimulus package still unknown, it seems the only certainty is that the impact of the result will be felt far beyond America's shores.
Having mostly recovered from the depths of the coronavirus-induced rout in March, the path forward for share prices both in Australia and abroad will be sculpted not only by who wins the Oval Office on November 3 but the colour of the Senate.
Investors appear to have already priced in a Biden win, with many also anticipating a blue wave sweep of the upper house and the added certainty that would bring. But as four years ago showed, all scenarios are still on the table. A Trump victory is still very much possible, so too is the nightmare scenario for investors of a drawn out, contested result.
Trump tries to sow doubt about election at first of four Pennsylvania rallies
By

Chris Brennan

and

Julia Terruso
Philadelphia: US President Donald Trump called Pennsylvania "the state that will save the American dream", as he kicked off his latest blitz of rallies Saturday in defiance of public health guidelines while coronavirus cases reach record levels.
At his first of four events in the state, Trump spoke outside the house George Washington used to stage his crossing of the Delaware River during the Revolutionary War. He drew an ominous parallel to the 2020 election, the stakes of which both parties have framed in apocalyptic terms.
"It was a tough night," Trump said in Newtown. "It was a violent night. ... It turned the entire tide of the war."
"They were determined to live in a country where power belongs to the people. "That priceless inheritance is at stake just three days from now. And a great red wave is forming."
The President continued working to sow doubt about an electoral process already well underway and set to reach its climax next week.
He again encouraged his supporters to go to Philadelphia and scrutinise polling places there. Only official campaign poll watchers certified by the city can do that. He complained that the US Supreme Court hasn't overturned a state Supreme Court ruling extending the deadline for mail ballots (the case remains pending before the high court). He suggested that Governor Tom Wolf, a Democrat, would be tampering with mail ballots. County elections officials process ballots, not the Wolf administration. And he signalled that if results aren't known the night of the election, they can't be trusted.
"You wait and very bad things can happen with ballots," Trump said.
Pennsylvania elections officials aren't allowed to begin opening mail ballots until 7am on Election Day, it could take days to complete that count, and there is no evidence whatsoever that anything nefarious will happen during the process.
"November 3rd is going to come and go and we're not gonna know and you're gonna have bedlam in our country," Trump said.
Pennsylvania Attorney General Josh Shapiro, a Democrat, anticipated Trump's attacks on voting in the state in a statement Friday. "If all of the votes are added up here in Pennsylvania, Donald Trump is going to lose this election, which is why he has been working overtime to try and subtract as many votes as possible from this process," Shapiro told reporters on a conference call.
Trump's daylong trip across Pennsylvania in the closing hours of the campaign is a sign of how important the state is for reelection prospects. Following the rally at Headquarters Farm, near Washington's Crossing, he was set to travel to Berks, Lycoming, and Butler Counties.
Both candidates plan to crisscross the state in the coming days. Democratic nominee Joe Biden will spend Sunday in Philadelphia. On Monday, Jill Biden, Kamala Harris and her husband Dough Emhoff will join him.
The Philadelphia Inquirer
Obama: Trump failed to take pandemic, presidency seriously
By

Steve Peoples

,

Alexandra Jaffe

and

Zeke Miller
Flint, Michigan: Calling Joe Biden his "brother", Barack Obama on Saturday accused Donald Trump of failing to take the coronavirus pandemic and the presidency seriously as Democrats leaned on America's first black president to energise black voters in the battleground state Michigan on the final weekend of the 2020 campaign.
Obama, the 44th president, and Biden, his vice president who wants to be the 46th, held drive-in rallies in Flint and Detroit, predominantly black cities where strong turnout will be essential to swing the longtime Democratic state to Biden's column after Trump won it in 2016.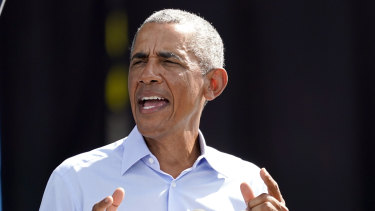 The memories of Trump's win in Michigan and the rest of the Upper Midwest are still searing in the minds of many Democrats during this closing stretch before Tuesday's election. That leaves Biden in the position of holding a consistent lead in the national polls and an advantage in most battlegrounds, including Michigan, yet still facing anxiety it could all slip away.
As of Saturday morning, nearly 90 million voters had already cast ballots, according to a tally by the Associated Press. Tens of millions more will vote by the time polls close on Tuesday night.
Obama said he initially hoped "for the country's sake" that Trump "might take the job seriously. He never has".
The former president, addressing voters in dozens of cars in a Flint high school parking lot, seized on Trump's continued focus on the size of his campaign crowds.
"Did no one come to his birthday party when he was a kid? Was he traumatised?" Obama mocked. "The country's going through a pandemic. That's not what you're supposed to be worrying about."
Trump made an aggressive play for pivotal Pennsylvania, focusing largely on his white, working-class base. His first of four scheduled stops in Pennsylvania was in a small town in Bucks County on the eastern edge of the state.
Repeating what has become a consistent part of his closing message, Trump raised baseless concerns about election fraud, pointing specifically at Philadelphia, a city whose large African American population is key to Biden's fate in the state.
"They say you have to be very, very careful — what happens in Philadelphia," Trump charged. "Everybody has to watch."
The president also railed against a recent Supreme Court ruling that will allow Pennsylvania to count mail ballots received as many as three days after polls close. He predicted "bedlam" and "many bad things" as the nation waits for a result.
Several studies, including one commissioned by Trump himself, have failed to uncover any significant examples of election fraud. Good-government advocacy groups are concerned that the president's repeated calls for his supporters to monitor the polls may lead to widespread voter intimidation.
AP
LIVE: Trump speaks at rally in Pennsylvania
How Joe Biden and a global pandemic might overturn climate politics
By

Nick O'Malley
In the last United States presidential debate, Donald Trump might have been tamed by a mute button but he still believed he carved a climate change-shaped wound into his opponent, Joe Biden.
As the Midwest suffered under heatwaves and once-in-a-lifetime fires incinerated swathes of the south-east for the second consecutive year, as storm cells lined up across the Gulf of Mexico to punch into the southern states, a presidential debate moderator asked a question about climate change for the first time in 12 years.
"I do love the environment," responded Trump, citing a federal tree planting program and a drop in US carbon emissions caused (he failed to note) by the global pandemic.
But he would not sacrifice the economy for it, he added.
"Global warming is an existential threat to humanity," responded Biden, deploying language that might resonate with one former Australian PM. "We have a moral obligation to deal with it and we're told by all the leading scientists in the world we don't have much time."
The surprising habit Trump and Biden have in common
By

Adam Nagourney
A presidential election that has driven a nation to drink is being fought to the bitter end by two men who do not.
For the first time in modern history, both major party candidates for the White House are teetotalers. President Donald Trump and his Democratic opponent, Joe Biden, have not had an alcoholic drink over the course of their lives, by their own accounts.
This teetotaler campaign, and the fact that this circumstance has drawn so little notice, is to some extent evidence of how the once hard-drinking culture of politics is changing. Candidates, campaign aides and reporters are drinking less, aware of the scrutiny that comes in the age of cellphones and Twitter, not to mention the nonstop demands of a round-the-clock campaign.
But it also goes to the way Biden and Trump, for all their stark differences, share some similarities in character and background, according to biographers and others who have observed them over the years. They each grew up in families shadowed by the specter of alcoholism — Trump's brother died from it and one of Biden's favorite uncles, whom he lived with growing up, was a heavy drinker.
Both have distanced themselves from the boozy social circuits in Washington and New York, Biden because he was commuting home to his family in Delaware every night and Trump because he tends to be more comfortable at home watching television.
The New York Times
Good morning all
By

Roy Ward
G'day everyone and welcome to today's US election live blog! I'm Roy Ward and I'll be taking you through today as Joe Biden brings out the big names in Michigan while Donald Trump attempts to fire up his supporters in the vital state of Pennsylvania.
We have plenty to go through today as Biden is joined by former President Barack Obama and Motown legend Stevie Wonder for events in Michigan.
As always, please feel free to leave a comment on the blog and enjoy the stories to come.
https://news.google.com/__i/rss/rd/articles/CBMiqgFodHRwczovL3d3dy5zbWguY29tLmF1L3dvcmxkL25vcnRoLWFtZXJpY2EvdXMtZWxlY3Rpb24tMjAyMC1saXZlLXVwZGF0ZXMtam9lLWJpZGVuLWJhcmFjay1vYmFtYS1jYW1wYWlnbi1pbi1taWNoaWdhbi1kb25hbGQtdHJ1bXAtY2hhc2VzLXBlbm5zeWx2YW5pYS0yMDIwMTEwMS1wNTZhZjQuaHRtbNIBqgFodHRwczovL2FtcC5zbWguY29tLmF1L3dvcmxkL25vcnRoLWFtZXJpY2EvdXMtZWxlY3Rpb24tMjAyMC1saXZlLXVwZGF0ZXMtam9lLWJpZGVuLWJhcmFjay1vYmFtYS1jYW1wYWlnbi1pbi1taWNoaWdhbi1kb25hbGQtdHJ1bXAtY2hhc2VzLXBlbm5zeWx2YW5pYS0yMDIwMTEwMS1wNTZhZjQuaHRtbA?oc=5
2020-10-31 21:06:00Z
52781131890781