Latest updates
Biden pledges task force to reunite children separated at US-Mexico border
Democratic presidential nominee Joe Biden on Thursday vowed to create a task force to reunite more than 500 children who were separated from their families at the US-Mexico border by the Trump administration and whose parents have not been located.
Under Republican President Donald Trump thousands of children were separated from their parents at the border, mostly in 2017 and 2018, because their parents were being prosecuted for illegal entry or over concerns about their identities or criminal histories.
Separations happened both before and after Trump unveiled a "zero tolerance" policy to prosecute all illegal border crossers in May 2018, only to quickly reverse it after an international outcry.
The American Civil Liberties Union sued over the matter in 2018 and US District Judge Dana Sabraw in San Diego, California, ordered the families be reunited.
There are around 4000 children who could fall under the reunification order, but as of October 20 parents of 545 children could not be reached by attorneys and non-profits searching for them, according to a court filing in the San Diego case.
"On his first day as President, Joe Biden will issue an Executive Order creating a federal task force to reunite these children with their parents," the Biden campaign said.
Trump and Biden clashed over the issue during their final debate on October 22, ahead of the November 3 election (US time).
Asked at the debate whether he had a plan to reunite families, Trump said his administration was "working on it."
On Thursday, Trump campaign spokeswoman Courtney Parella said the president's administration was trying to strengthen border security and "is actively working to undo the mistakes of the previous administrations, identify these separated families, and reunite children with their parents."
According to the ACLU, approximately 1400 additional children were separated by the Trump administration but are not currently covered by Sabraw's reunification order.
ACLU attorney Lee Gelernt said there are hundreds of parents who have been located in Central America but have not been allowed to return to the United States to reunite with their children.
Democrats expose taxpayer-funded plan to 'help the President' defeat coronavirus despair
By

Noah Weiland

and

Sharon LaFraniere
Washington: A $265 million ($377 million) public campaign to "defeat despair" around the coronavirus was planned partly around the politically tinged theme that "helping the president will help the country," according to documents released on Thursday, local time, by House investigators.
Michael R. Caputo, the assistant secretary for public affairs at the Department of Health and Human Services, and others involved envisioned a star-studded campaign to lift American spirits, but the lawmakers said they sought to exclude celebrities who had supported gay rights or same-sex marriage or who had publicly disparaged President Donald Trump.
Actor Zach Galifianakis, for instance, was apparently passed over because he had declined to have Trump on his talk show Between Two Ferns.
Ultimately, the campaign collapsed amid recriminations and investigation.
Democrats on the House Oversight and Reform Committee and the select subcommittee on the coronavirus crisis released the records, declaring that "these documents include extremely troubling revelations." They accused Alex Azar, the secretary of health and human services, of "a cover-up to conceal the Trump administration's misuse of hundreds of millions of taxpayer dollars for partisan political purposes ahead of the upcoming election."
The New York Times
US appeals court nixes Minnesota's extended ballot counting
By

Jan Wolfe
A federal appeals court on Thursday said Minnesota's plan to count absentee ballots received after Election Day was illegal, siding with Republicans in the battleground state.
In a 2-1 decision, the US 8th Circuit Court of Appeals said the deadline extension was an unconstitutional maneuver by the state's top election official, Minnesota Secretary of State Steve Simon, a Democrat.
The appeals court said Minnesota election officials should identify and set aside all absentee ballots received after November 3.
"Simply put, the Secretary has no power to override the Minnesota Legislature," the court's majority wrote.
A spokeswoman for Simon did not immediately respond to a request for comment.
Minnesota law requires that absentee ballots be received by Election Day.
But that deadline was extended through a settlement Simon reached with a citizens group that sued earlier this year.
Reuters
Lil Wayne endorses Trump
By

Roy Ward
US hip hop superstar Lil Wayne has given President Donald Trump a surprise endorsement via his Twitter account.
Lil Wayne, also known as Lil Weezy, told his 34 million followers that Trump had won him over with his 'platinum' plan to help African-American businesses proper.
Yesterday legendary golfer Jack Nicklaus endorsed Trump and urged all Americans to vote. He faced some backlash from supporters.
US coronavirus cases approach 9 million with no end in sight
By

Mitch Smith

,

Simon Romero

and

Giulia McDonnell Nieto del Rio
CHICAGO: The United States, which reported one of its earliest coronavirus cases in Washington state in the beginning of the year, approached more than nine million total infections Thursday, including more than half a million in the past week, as the virus spiralled out of control in the lead-up to Election Day.
Across the country, alarming signs suggested the worst was yet to come: More than 20 states reported more cases over the past week than at any time during the pandemic. Patients were sent to field hospitals in El Paso, Texas, and the Milwaukee suburbs. Growing outbreaks led to new restrictions on businesses in Chicago. Zero states reported sustained declines in cases.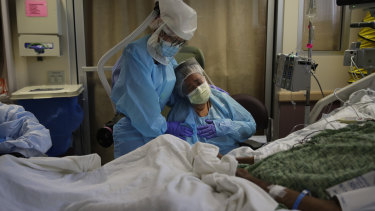 "There is no way to sugarcoat it — we are facing an urgent crisis, and there is an imminent risk to you, your family members, your friends, your neighbours," said Gov. Tony Evers of Wisconsin, where hospitals have been strained, case numbers have exploded and more than 200 coronavirus deaths have been announced in the past week.
With the presidential election days away, the country is now averaging more than 75,000 new cases daily, the worst stretch of the pandemic by that measure. Deaths, which lag behind cases, remain far below their spring levels but have ticked upward to about 780 each day. More cases have been identified in the United States than in any other country, though some nations have higher per capita infection rates.
"This surge is larger than any other wave or surges that we've seen yet," said Amanda Simanek, an epidemiologist at the University of Wisconsin-Milwaukee school of public health, who said she was especially worried to see case numbers spiking just as colder weather forces more people indoors, where the virus can spread easily. "This is the pattern that may continue to happen if we don't suppress the infection down to levels that are manageable."
Recent data is almost uniformly grim.
Twenty-one states added more cases in the seven-day period ending Wednesday than in any other seven-day stretch of the pandemic. In parts of Idaho and Kansas, officials have warned that few hospital beds remained. In North Dakota, where more than 5 per cent of the population has now tested positive, case numbers continue to soar, with a single-day record of more than 1200 new infections Thursday.
The New York Times
Biden rally set for 10am
By

Roy Ward
Apologies I put up the Joe Biden rally in Tampa a little too early! It is due to start at around 10am AEDT, not 9.30am.
Local journalists are reporting 400 cars have filled the available spaces and Biden has just arrived in Tampa.
We will endeavour to have a live stream available closer to 10am.
Watch: Joe Biden hosts drive-in rally in Tampa
Former vice president Joe Biden spoke at a drive-in rally in Tampa, Florida on Friday AEST time.
Walmart temporarily pulls guns, ammo off shelves
Walmart Inc. has temporarily pulled ammunition and guns off its shelves ahead of any possible looting or civil unrest that could take place following next week's election.
"We have seen some isolated civil unrest and as we have done on several occasions over the last few years, we have moved our firearms and ammunition off the sales floor as a precaution for the safety of our associates and customers," Walmart said in an e-mailed statement.
"These items do remain available for purchase by customers."
The retail giant made a similar decision this summer during unrest following the death of George Floyd by police, a move intended to dissuade any potential theft if stores were broken into during protests.
A year ago, Walmart, which only sells firearms in about half its stores, said it would discontinue sales of .223 calibre ammunition and other sizes that can be used in assault-style weapons.
It also announced plans to stop selling handguns in Alaska, the only state where it still sold them.
The move followed deadly attacks at its stores in Texas and Mississippi that left 24 people dead and reinvigorated debate over gun sales at America's largest retailer.
Bloomberg
80 million US votes already cast
More than 80 million Americans have already cast ballots in the presidential election, according to a tally on Thursday from the US Elections Project at the University of Florida, setting the stage for the highest participation rate in over a century.
That surge includes more than 51 million ballots cast by mail, a long-standing practice of American elections that is surging in popularity because of the pandemic. State officials and experts have warned that it may take days or even weeks to tally them as some states have rules that forbid counting early votes before Election Day.
Florida is home to large Latino populations, with Cuban Americans in the south of Florida traditionally tending to favour Republicans, while newer communities of Puerto Ricans in central Florida lean toward the Democrats.
Former vice president Joe Biden's campaign tried on Thursday to dampen concerns among Democrats that Biden is not reaching Latino voters nationally as well as former President Barack Obama used to.
"We are 100 per cent on track to match or exceed the Obama Latino vote numbers in 2012," Matt Barreto, co-founder of the polling and research firm Latino Decisions, said on a media conference call organised by the Biden campaign.
AP
Trump postpones NC rally until Monday due to weather
A planned Trump rally in Fayetteville, North Carolina, for Thursday night was postponed because of a wind advisory stemming from Hurricane Zeta, Trump's campaign said.
The president plans to return to the Midwest on Friday, campaigning in Michigan, Wisconsin and Minnesota.
In all, he plans to visit 10 states in the last days of the campaign and will host 11 rallies in the final 48 hours, a campaign official said.
Trump is still planning to visit Fort Bragg in North Carolina on Thursday. CNN is reporting the NC rally is postponed until Monday.
AP
https://news.google.com/__i/rss/rd/articles/CBMikQFodHRwczovL3d3dy5zbWguY29tLmF1L3dvcmxkL25vcnRoLWFtZXJpY2EvdXMtZWxlY3Rpb24tMjAyMC1saXZlLXVwZGF0ZXMtZG9uYWxkLXRydW1wLWpvZS1iaWRlbi1jaGFzZS1sYXRlLXZvdGVycy1pbi1mbG9yaWRhLTIwMjAxMDMwLXA1Njl4di5odG1s0gGRAWh0dHBzOi8vYW1wLnNtaC5jb20uYXUvd29ybGQvbm9ydGgtYW1lcmljYS91cy1lbGVjdGlvbi0yMDIwLWxpdmUtdXBkYXRlcy1kb25hbGQtdHJ1bXAtam9lLWJpZGVuLWNoYXNlLWxhdGUtdm90ZXJzLWluLWZsb3JpZGEtMjAyMDEwMzAtcDU2OXh2Lmh0bWw?oc=5
2020-10-30 00:30:00Z
52781131890781