Latest updates
Something uplifting from Minnesota
By

Roy Ward
Political ads often bring out the worst insults and slanders in an election but Minnesota Governor Tim Walz and former governors Mark Dayton, Tim Pawlenty and Jesse Ventura have combined to film this ad about voting in the state.
With President Donald Trump and others casting doubt over the legitimacy of any results decided after election night.
Minnesota usually has a high turnout and they have had a large number of early votes cast so the governors wanted to assure voters a late result will still be a legitimate one.
'Who the hell elected you?': US Senate tech hearing becomes political tussle
By

Nandita Bose

and

David Shepardson
Washington: A US Senate hearing to reform an internet law and hold tech companies accountable for how they moderate content quickly turned into a political scuffle as lawmakers not only went after the companies but also attacked each other.
Lawmakers are split on ways to hold Big Tech accountable under Section 230 of the Communications Decency Act – which protects companies from liability over content posted by users but also lets the firms shape political discourse.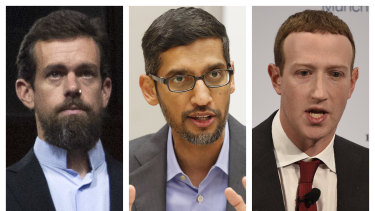 The chief executives of Twitter, Facebook and Alphabet's Google called the law crucial to free expression on the internet.
A little over an hour into the hearing, the conversation turned into a heated exchange between senators of both parties.
Senator Ted Cruz went after Twitter's Jack Dorsey after the CEO said Twitter has no influence over elections.
"Who the hell elected you and put you in charge of what the media are allowed to report and what the American people are allowed to hear?" Cruz said. Ahead of the hearing, the senator released a picture on Twitter titled "Free Speech showdown Cruz vs Dorsey" that showed him and Twitter's Dorsey pitted against each other.
Democratic Senator Brian Schatz said he did not have any questions, calling the hearing "nonsense".
"This is bullying and it is for electoral purposes," he said.
Reuters
Investors fearing a catastrophic market crash more than they have in years
By

Robert J. Shiller
The coronavirus crisis and the November election have driven fears of a major market crash to the highest levels in many years.
At the same time, stocks are trading at very high levels. That volatile combination doesn't mean that a crash will occur, but it suggests that the risk of one is relatively high. This is a time to be careful.
I base these conclusions largely on research I've been doing for years, including findings from the stock market confidence indexes that I began to develop more than three decades ago. These indexes are drawn from surveys of a random sample of high-income individual investors and institutional investors in the United States that are now conducted monthly by the International Centre for Finance at the Yale School of Management.
Consider what my Crash Confidence Index is telling us. That measurement of sentiment about the safety of the stock market is based on this question:
"What do you think is the probability of a catastrophic stock market crash in the US, like that of October 28, 1929, or October 19, 1987, in the next six months, including the case that a crash occurred in the other countries and spreads to the US?"
The New York Times
Supreme Court rejects request from Trump to block North Carolina counting deadline
By

Andrew Chung
The U.S. Supreme Court on Wednesday rejected a request by President Donald Trump's campaign to block North Carolina's extension of the deadline for receiving mail-in ballots in the latest voting case ahead of Tuesday's election.
The justices left in place a lower court-approved agreement allowing the extension, rebuffing a request by Trump's campaign, the Republican National Committee and North Carolina Republican officials for an injunction to block it.
The state election board, citing potential U.S. Postal Service mail delivery delays, opted to allow absentee ballots postmarked by Election Day to be counted if they arrived up to nine days later.
Conservative Justices Clarence Thomas, Samuel Alito and Neil Gorsuch said they would have blocked the deadline extension,
In a dissenting opinion, Gorsuch said last-minute rule changes by a state election board can "invite confusion, risk altering election outcomes, and in the process, threaten voter confidence in the results." The election board impermissibly rewrote state election laws, a power reserved to the legislature, he wrote.
The decision in the North Carolina case was the second setback for Republicans after the justices earlier on Wednesday declined to fast track a decision on whether to hear a Republican bid to block an extended mail-in ballots deadline in Pennsylvania. Both states are to pivotal to Trump's re-election chances.
The court's newest justice, Amy Coney Barrett, a Trump appointee, did not participate in either case. She did not have time to fully review the case filings, a court spokeswoman said in a statement.
The North Carolina dispute is among a number of election-related lawsuits in states around the country over rules governing voting in the Nov. 3 election. Americans are casting early ballots at a record-breaking pace that could lead to the highest voter turnout by percentage in more than a century.
Many states have expanded mail-in voting during the coronavirus pandemic, with voters wary about the spread of the virus at crowded polling places.
Trump has made unfounded claims that voting by mail - a common practice in U.S. elections - is rife with fraud. Such fraud is exceptionally rare in the United States, according to experts.
The North Carolina dispute was focused on an agreement by the state election board, approved by a state court on Oct. 2, to extend the absentee ballot deadline after advocacy groups filed a legal challenge.
The Trump campaign and state Republicans sought an injunction in federal court but on Oct. 20, in a 12-3 vote, the Richmond, Virginia-based 4th U.S. Circuit Court of Appeals rejected the request, saying that under Supreme Court precedent, federal courts must refrain from disturbing state election rules so close to an election.
Reuters
Black men's votes courted as some search for political home
By

Aaron Morrison
NEW YORK: For Phillip Agnew, engaging Black male voters ahead of the general election isn't just about persuading them to choose former Vice President Joe Biden over incumbent Donald Trump.
As an activist and organiser who gained acclaim after leading protests in Florida over the 2012 shooting death of Trayvon Martin, Agnew sees an opportunity to keep the 14.4 million Black men of voting age politically engaged well beyond 2020.
That effort begins with keeping it real about this year's candidates. Trump's positions on race and Biden's decades-old controversial record on criminal justice make neither candidate particularly attractive to Black men.
"You don't lie, you acknowledge the truth, and admit that the choices before Black people in the year 2020 are abysmal," said Agnew, an organiser with Black Men Build, a group created to empower Black men.
His group has paid to run targeted ads on TV and music-streaming services such as Hulu and Spotify, supplemented by mailers and organisers on the ground. The message is geared toward Black men who feel politically homeless.
"We are not choosing a champion, we are choosing an opponent," Agnew said, adding that he is also telling Black men that "a Biden presidency allows for terrain to organise under that is more favourable."
Following an unprecedented surge of protests against racial injustice and the killing of Black people by law enforcement, partisan and nonpartisan organisations have poured significant resources into increasing Black men's participation in the election.
And they're doing so with an acknowledgment that no major political party can lay claim to being a consistently loyal advocate for Black men and women. Whoever comes out ahead among Black men, advocates say, will have succeeded in reaching more of those who are apathetic or feel politically left out.
AP
Trump's narrow - but not impossible - path to victory
By

Matthew Knott
Atlanta, Georgia: If Donald Trump scores a second upset election victory next week, how will it happen?
Although you wouldn't know it from the President's hectic cross-country campaign schedule, Trump's most likely pathway to 270 Electoral College votes is coming into focus as election day approaches. As happened in 2016, he needs to out-perform the polls - which show Biden significantly ahead - and for luck to be on his side.
In this thought experiment, let's assume that the 2016 electoral map holds pretty steady. Biden retains Nevada and Minnesota, states that Hillary Clinton narrowly won four years ago. Trump, meanwhile, holds on to North Carolina, Georgia and Arizona - traditional Republican states that are competitive battlegrounds this year.
In this scenario, Biden is sitting on 232 electoral votes and Trump on 231 with four states still up for grabs.
Please Explain podcast: Campaign crunch time: Presidential candidates contrasting strategies
In this episode, national editor Tory Maguire is joined by North America correspondent Matthew Knott to discuss the impact of these vastly different Presidential campaigns on the election.
Watch: The Final Countdown
Wall Street wrap: Boards run red as virus fears surge
By

Stan Choe

and

James Troise
US President Donald Trump has been talking up his economic achievements throughout the campaign but stocks fell overnight as fears of surging COVID-19 cases in the US and Europe stoked concerns about shutdowns and losses.
Here is the AP report on the US markets:
WALL STREET: Stocks around the world tumbled overnight on worries the worsening pandemic will mean more restrictions on businesses and drag down the economy.
The Dow Jones Industrial Average dropped 943 points as surging coronavirus cases in the US and Europe threaten more business shutdowns and pain for the economy.
The S&P 500 dropped 3.5 per cent, its third-straight loss. The index has now given up 5.6 per cent so far this week and is on track for its biggest weekly fall since March, when markets were in a downward spiral. The tech-heavy Nasdaq fell by 3.7 per cent.
The selling was widespread, and roughly 95 per cent of stocks in the S&P 500 were lower.
Markets were dropping even more sharply in Europe, where investors expect the French President to announce tough measures to slow the virus' spread and German officials agreed to impose a four-week partial lockdown.
The measures may not be as stringent as the shutdown orders that swept the world early this year, but the worry is they could still hit the already weakened global economy.
Coronavirus counts are also climbing at a troubling rate in much of the United States, and the number of deaths and hospitalisations due to COVID-19 are on the rise. Even if the most restrictive lockdowns don't return, investors worry that the worsening pandemic could scare away customers of businesses regardless and sap away their profits.
AP
Senator Sanders says Trump rallies could 'backfire' on him
By

Roy Ward
Senator Bernie Sanders 'cautiously optimistic' about former vice president Joe Biden's hopes of winning next week's US election and he also believes President Donald Trump's refusal to stop hosting mass rallies could 'backfire' on him.
Senator Sanders was an opponent of Mr Biden's during the race for the Democratic Party's presidential nomination and he has since campaigned for Mr Biden.
Senator Sanders wouldn't put much faith in the poll numbers which show Biden on track to win the election but he was critical of Mr Trump's decision to continue hosting mass rallies with few people wearing masks despite the potential for spreading the COVID-19 virus.
Democratic candidates have been hosting 'drive-in' events where supporters can park their cars and listen to their speeches.
"You are talking to someone who loves a rally, I'm a big rally guy myself and we had some of the biggest rallies in this entire election cycle," Senator Sanders told CNN on Thursday AEDT time.
"So I understand why he wants to do this and see thousands of his supporters active but while it may be exciting for him, people are turning on the television and saying 'my god, this pandemic is surging all across the country'.
"We have lost 225,000 people already and hospitals are being filled to capacity yet the president is doing exactly the opposite of what doctors are telling us we have to do.
"I think while it is exhilarating for the president and his supporters doing these rallies, I'm not sure it will work for the folks back home saying 'I'm not sure this kind of anti-science leadership is what we want from our president'.
"In many respects, these rallies might be backfiring. I know it's easy for Trump to make fun of Biden's events and I was in Michigan and Pennsylvania and we talked to automobiles.
"It's not too exhilarating to be talking to cars. It's a very weird, new experience.
"We all have a responsibility to do the best we can not to spread this terrible virus."
https://news.google.com/__i/rss/rd/articles/CBMimAFodHRwczovL3d3dy5zbWguY29tLmF1L3dvcmxkL25vcnRoLWFtZXJpY2EvdXMtZWxlY3Rpb24tMjAyMC1saXZlLXVwZGF0ZXMtdHJ1bXAtYmlkZW4tY2FtcGFpZ24taW4tbWljaGlnYW4tYXMtcG9sbC1zaG93cy1iaWRlbi1sZWFkcy0yMDIwMTAyOS1wNTY5a3kuaHRtbNIBmAFodHRwczovL2FtcC5zbWguY29tLmF1L3dvcmxkL25vcnRoLWFtZXJpY2EvdXMtZWxlY3Rpb24tMjAyMC1saXZlLXVwZGF0ZXMtdHJ1bXAtYmlkZW4tY2FtcGFpZ24taW4tbWljaGlnYW4tYXMtcG9sbC1zaG93cy1iaWRlbi1sZWFkcy0yMDIwMTAyOS1wNTY5a3kuaHRtbA?oc=5
2020-10-29 03:01:00Z
CBMimAFodHRwczovL3d3dy5zbWguY29tLmF1L3dvcmxkL25vcnRoLWFtZXJpY2EvdXMtZWxlY3Rpb24tMjAyMC1saXZlLXVwZGF0ZXMtdHJ1bXAtYmlkZW4tY2FtcGFpZ24taW4tbWljaGlnYW4tYXMtcG9sbC1zaG93cy1iaWRlbi1sZWFkcy0yMDIwMTAyOS1wNTY5a3kuaHRtbNIBmAFodHRwczovL2FtcC5zbWguY29tLmF1L3dvcmxkL25vcnRoLWFtZXJpY2EvdXMtZWxlY3Rpb24tMjAyMC1saXZlLXVwZGF0ZXMtdHJ1bXAtYmlkZW4tY2FtcGFpZ24taW4tbWljaGlnYW4tYXMtcG9sbC1zaG93cy1iaWRlbi1sZWFkcy0yMDIwMTAyOS1wNTY5a3kuaHRtbA