Latest updates
The Campaign - A US election video
If you haven't had the chance yet, it's worth having a look at this video from Tom Compagnoni on the 2020 US election.
The Campaign, produced exclusively for The Sydney Morning Herald and The Age, presents a quick-fire montage of sound bites, speeches, tweets, controversies and trivialities that defined the US media coverage of the 2020 US election campaign.
Edited down from over 200 news bulletins and live streams pulled from over 30 TV networks over eight weeks, The Campaign trails the daily TV and social media appearances of the two septuagenarian candidates, President Donald Trump and former vice-president Joe Biden, in their battle to be the man Americans call the leader of the free world.
Puppies, alcohol and bullet-proof vests: an anxious US readies for election storm
By

Anne Summers
It's like the feeling you get before an exam, or a job interview or signing a mortgage, that gut-churning, chest-tightening, breath-shortening experience of anxiety. And it's the feeling that so many of us are experiencing right now as we worry about what is going to happen next Tuesday, when Americans vote to choose their next president.
People are anxious on so many levels, and about so many possibilities: that Donald Trump might, as in 2016, defy expectations and win this election; that he might lose but refuse to leave office; that his supporters might grab their guns and take to the streets; that we might have Bush v Gore redux, with the election decided by the now ultra-conservative Supreme Court; that the country could be on the verge of utter and complete breakdown.
This anxiety and fear is widespread and openly acknowledged. Political leaders such as congresswoman Alexandria Ocasio-Cortez urge us to "turn our fear into fuel" and get out there and fight for every last vote. Political savants and operatives directly address it: "I'm stressed" is the heading on a fundraising email from James ("It's the pandemic, stupid") Carville this week. "Here's how I deal with pre-election anxiety", from a Democratic Party organiser. (I ask you for money, it turns out).
MSNBC's Joy Reid ran a special program this week on "how to deal with your anxiety", with experts answering viewer questions about the election. Television's Dr Phil cashed in with suggestions on how to cope with "election anxiety" and fears about the pandemic.
The New York Review of Books is offering a selection of classic articles from its archive by the likes of James Baldwin, Joan Didion and Renata Adler for anyone to read free of charge until next Tuesday "for a diversion from the anxieties of the election".
Instagram disabled 'recent' tab for US election hashtags
Instagram took aim at the spread of misinformation on its platform, announcing that it would temporarily eliminate users' ability to view some recent posts ahead of election day.
In two tweets, Instagram said it would remove the "recent" tab from hashtag pages. Previously, users could view the most recent posts tagged with a particular hashtag. Now, only "top" posts under a specific hashtag that have been reviewed by the platform will be viewable.
Instagram, which is owned by Facebook, said the change was made to "reduce the real-time spread of potentially harmful content that could pop up around the election".
The change took effect Thursday night, and the "recent" tab will return sometime after the election, an Instagram spokeswoman said. The platform said it hopes the change will allow it to proactively stop misinformation from spreading, rather than having to wait until a falsehood has already been widely shared.
Instagram's decision follows crackdowns on viral falsehoods by Facebook and Twitter. Twitter recently added context to trending topics and de-emphasized retweets ahead of the election, while Facebook said it would ban political ads indefinitely.
Both companies have added some labels to misleading posts and highlighted accurate voting information after rising alarm about the possibility of a disputed election outcome and the chaos that could follow.
The New York Times
Several thousand Pennsylvania ballots missing reports CNN
CNN is reporting that several thousand ballots may have gone missing a county north of Pittsburgh in the vital swing state of Pennsylvania.
More than 10,000 calls have been made to Butler Country from voters who reported they did not receive ballots they'd asked for.
The country's director of elections, Aaron Sheasley admitted that he didn't know where the ballots were.
"Somewhere between the post office and the Pittsburgh sorting facility something happened," Sheasley told CNN. "We don't know what."
He added, "We haven't given out any numbers because we simply don't know."
Butler County has about 150,000 registered voters. County officials say they've mailed out 40,000 ballots, of which 21,300 have been returned.
Pennsylvania is a key battleground state. Butler County voted for President Donald Trump last time.
Biden is 3.6 per cent ahead on the RealClear Politics aggregate of polls, but his lead is narrowing and Trump has visited several times in the last week to get out the vote.
Trump event in Rochester capped at 250 people but crowds line up
By

Roy Ward
US President Donald Trump is due to host a rally at the airport in Rochester, Minnesota later this morning which is causing some controversy.
The Trump campaign wanted to host another mass rally in a state they think they can take from the Democrats but local health officials wouldn't allow it so a compromise was reached that 250 people would receive tickets to the event.
But the Trump campaign are now calling the event a 'peaceful protest' against the state governor for stopping their free speech with Trump suggesting there will be a large overflow crowd outside, something that is against health regulations preventing mass gatherings.
Trump is openly courting a fight with state officials.
"25,000 people want to be there," Trump said.
"And they say you can only have 250 people. They thought I'd cancel. But I'm not cancelling and we'll find out what happens."
With AP
Biden and Trump focus on Midwestern battlegrounds in final push
By

Trevor Hunnicutt

and

Alexandra Alper
US President Donald Trump and Democratic challenger Joe Biden campaigned on Friday across Midwestern battleground states where the coronavirus has roared back, hunting for support as the White House race entered its final weekend.
With four days left until Tuesday's election, Trump held a rally in Michigan ahead of planned stops in Wisconsin and Minnesota. Biden visited Iowa before heading to Wisconsin and Minnesota on his busiest day of campaigning yet.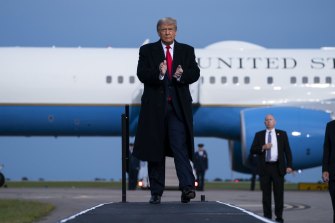 "A vote for me is to keep and create auto jobs and all sorts of jobs in Michigan, where they belong," Trump said in Waterford Township outside Detroit, touting his stewardship of the economy and warning workers in the state's auto-making industry that Biden's policies would threaten their jobs.
In Iowa, where polls show him running close to Trump, Biden said the president's failure to contain the pandemic had cost lives and sent the economy into a tailspin.
"One in six businesses is now out of business because he won't act," Biden said at a drive-in rally at the Iowa state fairgrounds in Des Moines, where a pair of bald eagles circled overhead as he wrapped up.
"We cannot afford four more years of Donald Trump," he said. ​ The coronavirus pandemic, which has killed more than 229,000 people in the United States and cost millions more their jobs, has dominated the final days of the campaign.
Trump has played down the health crisis for months, telling supporters in recent weeks that the country is "turning the corner" even as cases surge. Biden has warned of a "dark winter" ahead and promised a renewed effort to contain the virus.
Trump trails Biden in national opinion polls, partly because of widespread disapproval of his handling of the pandemic. Opinion polls in the most competitive states that will decide the election have shown a closer contest.
The focus on the upper Midwest underlined the region's importance in the race. Michigan and Wisconsin were two of the three historically Democratic industrial states, along with Pennsylvania, that narrowly voted for the Republican Trump in 2016, delivering him an upset victory.
Reuters
Will Kamala Harris increase turnout among black voters? Some Democrats see encouraging signs
By

David Lightman

and

Joe Kovac Jr.
Macon, Georgia: Last Friday, Democratic vice-presidential nominee Kamala Harris hosted a drive-in rally at Morehouse College, a historically black school.
On Saturday, she visited Cleveland, where she gave a rousing shout-out to Democrats Representative for Ohio, Marcia Fudge, a former Congressional Black Caucus chair.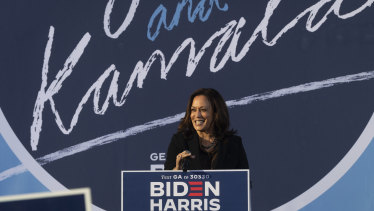 On Sunday, she spoke at the service at the Triumph Church in a Detroit suburb. She also urged people to vote early in a video message just before the Soul of the Nation Gospel Concert.
Harris is pushing hard to get out the black vote, and voters and analysts see evidence that the first woman of colour on a major-party presidential ticket could make a difference in some of the nations' most closely contested swing states.
The California senator, the daughter of Indian and Jamaican immigrants, campaigns before all sorts of constituencies. But she has been appearing frequently recently before groups of black voters who say they appreciate the history they're witnessing.
McClatchy
Donald Trump Jr said COVID-19 deaths were at 'almost nothing' on day 1000 Americans died
By

Timothy Bella
Donald Trump Jr declared that coronavirus deaths had dropped to "almost nothing," questioning the seriousness of the pandemic on a record-breaking day for new cases in which more than 1000 Americans died of the virus.
Speaking to Fox News host Laura Ingraham on Thursday night (Friday AEDT), Trump Jr pointed to data from the Centres for Disease Control and Prevention that he suggested shows a declining coronavirus death rate.
"I went through the CDC data, because I kept hearing about new infections, but I was like, 'Why aren't they talking about deaths?' " Trump Jr said. "Oh, because the number is almost nothing. Because we've gotten control of this thing, we understand how it works. They have the therapeutics to be able to deal with this."
The Washington Post
US faces record surge of coronavirus cases as election looms
By

Lisa Shumaker

and

David Morgan
A record surge of coronavirus cases in the US is pushing hospitals to the brink of capacity and killing up to 1000 people a day, the latest figures show, with much of the country's attention focused on Tuesday's presidential election.
The country broke its single-day record for new coronavirus infections on Thursday, reporting at least 91,248 new cases, as 17 states reported their highest daily number of hospitalised COVID-19 patients since the pandemic started, according to a Reuters tally of publicly reported data.
More than 1000 people died of the virus on Thursday, marking the third time in October that milestone has been passed in a single day. The number of hospitalised COVID-19 patients has risen over 50 per cent in October to 46,000, the highest since mid-August.
Among the hardest hit states are those most hotly contested in the campaign between Republican President Donald Trump and Democratic challenger Joe Biden, such as Michigan, North Carolina, Ohio, Pennsylvania and Wisconsin.
The surge has revived some of the worst images of the devastating first wave of the virus in March, April and May, with people on ventilators dying alone in hospital isolation and medical staff physically and mentally exhausted.
"Our hospitals cannot keep up with Utah's infection rate. You deserve to understand the dire situation we face," Utah Governor Gary Herbert said on Twitter, echoing officials in other states and public health experts.
Reuters
G'day everyone! It's Roy Ward and I'll be tapping the keys against today for our US election live blog as we hit the precious final days before the election this Wednesday (AEDT).
Today we find US President Donald Trump and former vice-president Joe Biden in the midwest where they are chasing the final undecided voters in pivotal states like Michigan, Wisconsin, Iowa and Minnesota.
All three states could have a big say in who wins the election, along with the always important Pennsylvania and Ohio, so this could prove an important day.
We will have plenty of coverage to come and please don't hesitate to leave a comment on the blog.
Enjoy the day to come.
https://news.google.com/__i/rss/rd/articles/CBMisQFodHRwczovL3d3dy5zbWguY29tLmF1L3dvcmxkL25vcnRoLWFtZXJpY2EvdXMtZWxlY3Rpb24tMjAyMC1saXZlLXVwZGF0ZXMtZG9uYWxkLXRydW1wLWpvZS1iaWRlbi1jaGFzZS1taWR3ZXN0LXZvdGVzLWluLW1pY2hpZ2FuLXdpc2NvbnNpbi1pb3dhLWFuZC1taW5uZXNvdGEtMjAyMDEwMzEtcDU2YWE1Lmh0bWzSAbEBaHR0cHM6Ly9hbXAuc21oLmNvbS5hdS93b3JsZC9ub3J0aC1hbWVyaWNhL3VzLWVsZWN0aW9uLTIwMjAtbGl2ZS11cGRhdGVzLWRvbmFsZC10cnVtcC1qb2UtYmlkZW4tY2hhc2UtbWlkd2VzdC12b3Rlcy1pbi1taWNoaWdhbi13aXNjb25zaW4taW93YS1hbmQtbWlubmVzb3RhLTIwMjAxMDMxLXA1NmFhNS5odG1s?oc=5
2020-10-30 20:56:00Z
52781131890781