Pinned post from
Watch: US President Donald Trump to speak in Goodyear, Arizona
US President Donald Trump is scheduled to make a campaign stop in Goodyear, Arizona where he is due to speak at 8.45am AEDT.
Latest updates
Trump renews calls for 'opening up' US, hits out at Biden
US President Donald Trump has called on his supporters in Arizona to come out in 'record numbers' at his second major campaign event in the state on Thursday AEDT (Wednesday US time).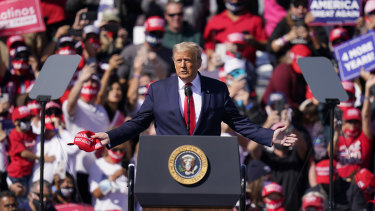 Mr Trump told his supporters they had to stand with him if they wanted to see the usual holidays like Thanksgiving, Christmas, graduations and other events claiming Mr Biden would shut those events down due to the COVID-19 pandemic with US cases rising sharply again this week.
Mr Biden has not endorsed or announced such a plan.
"You will have a good life but you will never see anyone," Mr Trump exclaimed.
"He wants to keep everyone locked down forever."
Mr Trump has also tried to link the economic impacts of COVID-19 with the need for Latino and African-American voters to support him as he will keep them in work.
He also attacked Mr Biden's lack of campaign events after the Democratic candidate remained in his home state of Delaware to vote on Thursday AEDT (Wednesday US time) and to receive a briefing from COVID-19 experts.
"How the hell do you lose to a guy like that? I don't care. I'm going to win," Mr Trump told supporters in Goodyear, Arizona.
"You will lose your country if you lose this election."
Senator Kamala Harris visits Arizona
The importance of the western state of Arizona has come to the fore today with President Donald Trump making multiple campaign events in the state and Democratic vice presidential candidate Senator Kamala Harris also visited the state.
Arizona is only worth 11 electoral votes and has often sided with Republicans in recent elections and it had Senator John McCain as one of its representatives for several decades.
But if Mr Biden can combine those 11 votes with wins in the midwest states like Wisconsin and Pennsylvania then he would leave little room for Mr Trump to get the 270 votes needed to win.
Vaccine is imminent, but virus fight has long way to go: Fauci
By

Adam Carey

and

Liam Mannix
America's top infectious disease expert predicts the world will have a coronavirus vaccine "in the next few months", but says people are unlikely to be able to go about their normal lives until at least the end of next year.
"I think it will be easily be the end of 2021 and perhaps into the next year before we start having some semblance of normality," Dr Anthony Fauci told a Melbourne audience on Wednesday.
"If normal means you can get people in a theatre without worrying about what we call congregate-setting super infections, if we can get restaurants to open almost at full capacity ..."
But the director of the United States' National Institute of Allergy and Infectious Diseases said stubborn anti-vaxxer beliefs, political division and the self-interested meddling of politicians would all make the job of immunising the world against COVID-19 tougher.
Speaking from his US home as part of a University of Melbourne webinar, Dr Fauci – recently called an idiot by President Donald Trump – said scientists must never be afraid to tell politicians what they don't want to hear.
Biden votes 'by appointment' in Delaware
US presidential candidate Joe Biden and his wife Jill have voted early by appointment in their home state of Delaware today.
Watch: US President Donald Trump speaking in Arizona
https://news.google.com/__i/rss/rd/articles/CBMimAFodHRwczovL3d3dy5zbWguY29tLmF1L3dvcmxkL25vcnRoLWFtZXJpY2EvdXMtZWxlY3Rpb24tMjAyMC1saXZlLXVwZGF0ZXMtdHJ1bXAtYmlkZW4tY2FtcGFpZ24taW4tbWljaGlnYW4tYXMtcG9sbC1zaG93cy1iaWRlbi1sZWFkcy0yMDIwMTAyOS1wNTY5a3kuaHRtbNIBmAFodHRwczovL2FtcC5zbWguY29tLmF1L3dvcmxkL25vcnRoLWFtZXJpY2EvdXMtZWxlY3Rpb24tMjAyMC1saXZlLXVwZGF0ZXMtdHJ1bXAtYmlkZW4tY2FtcGFpZ24taW4tbWljaGlnYW4tYXMtcG9sbC1zaG93cy1iaWRlbi1sZWFkcy0yMDIwMTAyOS1wNTY5a3kuaHRtbA?oc=5
2020-10-28 22:33:00Z
52781131890781