Latest updates
'There's only so much time left': Bruce Springsteen on life, love and voting out Trump
By

Katrina Strickland
Bruce Springsteen has been America's great chronicler, the singer songwriter more than any other who has charted his country's ups and downs.
So what does he do, at 71, on the eve of one of the most consequential elections in US history? Return to the studio of course.
His new album, Letter to You, is accompanied by a doco of the same name that is streaming on Apple+.
David Leser has written a beautiful piece about his late life love of The Boss, about the way his life and songs have been entwined with American history, and about how a one hour one-on-one interview with Springsteen turned into a group Zoom with about 16 journalists.
A really beautiful part story part essay that is timed to run only days before the US election.
Biden responds to Trump's claim doctors 'get paid more' for COVID-19 cases
By

Roy Ward
Former vice-president Joe Biden has hit back at President Donald Trump's claims that US doctors are deliberately misdiagnosing deaths as COVID-19 because 'they get paid more' to do it.
Trump has made the baseless claim for several days and cited no evidence to back it up, he repeated it on Saturday AEDT during campaign stops in the midwest.
Biden responded to it while speaking in Milwaukee, Wisconsin later on Saturday AEDT.
"Our doctors are putting their lives on the line, busting their necks," Biden said in part.
"He said they're making up deaths from COVID-19 because they get more money - my lord."
Star power: Stevie Wonder to perform at Biden rally in Michigan
Former vice-president Joe Biden will have a little extra help Saturday, local time, when he tries to get Michigan voters to sign, seal and deliver their ballots — from R&B icon Stevie Wonder.
Wonder will perform at Biden's drive-in rally in Detroit, where the Democrat is slated to appear alongside former President Barack Obama as part of a two-event day to get out the vote in Michigan.
Earlier on Saturday, Biden and Obama will campaign in Flint. The trip will mark their first day campaigning together of the campaign.
Wonder is a perennial performer at Democratic campaign functions — he performed at a number of Obama events in 2008 and 2012, including the 2008 Democratic Convention, and "Signed, Sealed, Delivered" became an anthem of sorts for the Obama campaign that year.
He also performed for Hillary Clinton in 2016.
AP
US coronavirus cases set new record as infections soar
CHICAGO: More than 92,000 coronavirus infections were reported across the United States on Friday, setting the single-day record for cases as the nation's outbreak spiralled further out of control.
The previous record had been set only a day earlier, providing a sense of how quickly the current surge is mounting.
"The cases continue to increase, the hospitalizations continue to increase, and the deaths continue to increase," said Dr Ngozi Ezike, director of the Illinois Department of Public Health, as more than 8000 new cases, a record, were announced statewide Friday and as the governor imposed business restrictions in more counties.
The national case total, which was certain to grow through the evening as more states and counties reported data, was but one sign of the country's extraordinarily bleak outlook.
Through Thursday, 24 states had reported more cases in the previous week than in any other seven-day stretch. At least 12 states set single-day case records Friday. And deaths, though still far below their spring peak, have started to rise again, now exceeding 800 a day on average.
"The virus is raging throughout the state, and there is no place to hide," Governor Mike DeWine of Ohio said this week. Nearly 20,000 cases have been identified in Ohio since last Friday, a stretch that includes the state's four worst daily totals of the pandemic.
With cases rising in 42 states and relatively flat in the other eight, an uptick that started weeks ago in the Upper Midwest and the Rocky Mountains has now reached every region.
Montana, North Dakota, South Dakota and Wisconsin continue to report new infections at the highest rates in the country, with none of them showing real signs of improvement. But Alaska, Kentucky, New Mexico, Tennessee and West Virginia are among those now also struggling.
"Remember," Governor Andy Beshear of Kentucky said Friday, "the more cases, the more people in the hospital, the more people in the ICU, and the more people who die."
The New York Times
Watch: Former vice-president Joe Biden speaks in Milwaukee
Former vice-president Joe Biden will speak in Milwaukee, Wisconsin on Saturday at around 10.30am AEDT.
US says Iranian hackers behind threatening emails accessed voter data
WASHINGTON: US officials said on Saturday AEDT that the Iranian hackers behind a wave of threatening emails sent to thousands of Americans earlier this month successfully accessed voter data.
The statement, issued jointly by the FBI and the Department of Homeland Security's Cybersecurity and Infrastructure Security Agency (CISA), partially confirms the authenticity of a video distributed as part of a disinformation campaign that briefly drew attention when it became public last week.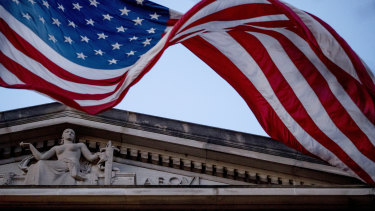 The campaign - which consisted of thousands of threatening emails sent to random U.S. voters in the name of a pro-Trump far right group - featured a video in which a hacker purported to demonstrate how they could cause havoc by breaking into a voter registration records.
Experts who examined the footage said it amounted to little more than an attempt to scare voters about the integrity of the November 3 contest, but the question of whether the hackers actually did break in anywhere had gone unanswered until now.
CISA and the FBI confirmed Friday that "the actor successfully obtained voter registration data in at least one state."
The state was not identified, although purported personal details of Alaska voters were briefly flashed on the video. The FBI, CISA, and the Alaska Division of Elections did not immediately return messages seeking comment. CISA and the FBI said the Iranian hackers also scanned a number of other states' election sites for vulnerabilities.
Cyberscoop, which first reported on CISA and the FBI's findings, said 10 states were scanned altogether.
US officials have been on high alert over the threat of potential cyber interference in the upcoming election, which pits Republican President Donald Trump against Democratic challenger Joe Biden.
Earlier on Friday, Reuters reported that Russian hackers had this year targeted the California and Indiana branches of the Democratic Party.
Reuters
Macy's boards up windows to prepare for potential election unrest
By

Megan Levy
The Macy's flagship department store in Herald Square in New York City has started boarding up its windows in preparation for potential unrest ahead of Tuesday's presidential election.
The Macy's windows would usually be a drawcard at this time of year for thousands of people who crowd the 34th Street store to see its popular Christmas displays.
Instead, on Friday afternoon, workers began nailing plywood to the front of the store, and more businesses were expected to follow suit.
Macy's issued a statement confirming that "out of an abundance of caution", the company was "implementing additional security measures at several of our stores", including in New York City and Chicago.
In June, at the height of the unrest following the death of George Floyd, the Macy's store in Herald Square was significantly damaged in widespread looting across the city.
The store's windows, and those of hundreds more business in Manhattan, were boarded up at the time.
Police Commissioner Dermot Shea acknowledged in interviews earlier this week that some businesses may choose to preemptively board up their windows, but said the department hoped that was a precaution "that is not needed".
Watch: US President Donald Trump speaks at a rally in Rochester, Minnesota
US President Donald Trump appeared in Rochester, Minnesota on Saturday AEDT despite having his crowd capped at 250 people.
Brooklyn, NY residents waiting two hours to vote
By

Roy Ward
New York state is still battling to handle the level of interest in early voting as shown by this line in Brooklyn Park City Hall today where it is reportedly taking two hours to vote.
New York is allowing early voting for the first time and it's been regularly reported that officials are struggling to keep those wait times from blowing out.
Tech slide, pandemic surge slam Wall Street, biggest weekly loss since March
By

Herbert Lash
NEW YORK: US stock indexes closed lower on Friday to cap Wall Street's biggest weekly sell-off since March, as losses in richly priced tech heavyweights, a record rise in coronavirus cases and jitters over the presidential election snuffed investor sentiment.
The pandemic pushed U.S. hospitals to the brink of capacity as coronavirus cases surpassed 9 million, while the prospect of wider COVID-19 restrictions in Europe raised concerns about the economic recovery.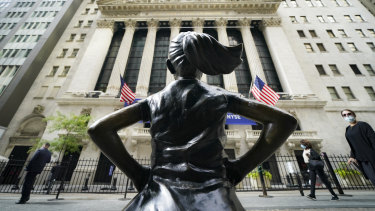 The CBOE volatility index closed just below a 20-week high, a sign of investor jitters ahead of the final weekend before Election Day on Tuesday. The main indexes pared steeper losses toward the closing bell, with the Dow down less than 1 per cent.
"We're two market days away from Election Day and people want to make sure that they're not completely caught off guard," said Pete Santoro, a Boston-based equity portfolio manager at Columbia Threadneedle.
The S&P 500 has fallen about 8.9 per cent since hitting an all-time high in early September in a rally driven by the tech mega caps whose quarterly results this week failed to meet highly optimistic expectations.
Apple Inc tumbled 5.6 per cent after it posted the steepest drop in quarterly iPhone sales in two years due to the late launch of new 5G phones.
Amazon.com Inc slid 5.45 per cent after it forecast a jump in costs related to COVID-19, while Facebook Inc fell 6.3 per cent as it warned of a tougher 2021.
"All these names are eventually going to be repriced, they're all ridiculously valued. It's just that I don't know when and I don't know from what stratospheric valuation they inevitably reprice," said David Bahnsen, chief investment officer at The Bahnsen Group in Newport Beach, California.
Communication services got a boost from a jump in shares of Alphabet after the Google parent beat estimates for quarterly sales as businesses resumed advertising.
Google may have benefited as it has been trading at about 36 times earnings, far less than the 119 times earnings valuation of Amazon, Bahnsens said.
"There is a big selloff in those big tech names because they didn't live up to the hype and people are really worried about next week's election," said Kim Forrest, chief investment officer at Bokeh Capital Partners in Pittsburgh.
Republican President Donald Trump has consistently trailed Democratic challenger Joe Biden in national polls for months, but polls have shown a closer race in the most competitive states that could decide the election.
https://news.google.com/__i/rss/rd/articles/CBMisQFodHRwczovL3d3dy5zbWguY29tLmF1L3dvcmxkL25vcnRoLWFtZXJpY2EvdXMtZWxlY3Rpb24tMjAyMC1saXZlLXVwZGF0ZXMtZG9uYWxkLXRydW1wLWpvZS1iaWRlbi1jaGFzZS1taWR3ZXN0LXZvdGVzLWluLW1pY2hpZ2FuLXdpc2NvbnNpbi1pb3dhLWFuZC1taW5uZXNvdGEtMjAyMDEwMzEtcDU2YWE1Lmh0bWzSAbEBaHR0cHM6Ly9hbXAuc21oLmNvbS5hdS93b3JsZC9ub3J0aC1hbWVyaWNhL3VzLWVsZWN0aW9uLTIwMjAtbGl2ZS11cGRhdGVzLWRvbmFsZC10cnVtcC1qb2UtYmlkZW4tY2hhc2UtbWlkd2VzdC12b3Rlcy1pbi1taWNoaWdhbi13aXNjb25zaW4taW93YS1hbmQtbWlubmVzb3RhLTIwMjAxMDMxLXA1NmFhNS5odG1s?oc=5
2020-10-31 00:53:00Z
52781131890781